Aries, Taurus, Gemini, Cancer, Leo, Virgo, Libra, Scorpio, Sagittarius, Capricorn, Aquarius, Pisces
Overview of this week
The Center for the New Age is pleased to present
your Free Weekly Horoscope for May 24 — May 30, 2015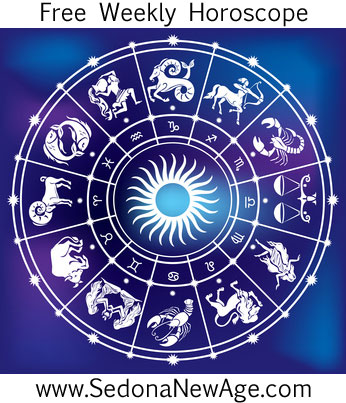 Aries, Taurus, Gemini, Cancer, Leo, Virgo, Libra, Scorpio, Sagittarius, Capricorn, Aquarius, Pisces
Mars in Gemini squares Neptune in Pisces on Monday (May 25 –June 6). This aspect brings the potential for accidents and temper tantrums, especially with regard to opinions about substance abuse and sacred matters. While Mars square Neptune occurs, it is best to anticipate confrontations concerning moral or spiritual issues. As this aspect passes, it will be easier to put spiritual beliefs and practices back on course without too much conflict or interference. Meanwhile, stay aware and ready to deal with whatever comes along.
First Quarter Moon in Virgo (May 25) emphasizes the need to keep things flowing both on a logical and practical level of application especially when passing on information. As we anticipate our summer plans, there is a strong desire to follow through on dreams and desires with detailed clarity. Virgo Moon encourages us to assess matters properly, and to be pragmatic and specific when delegating certain tasks or jobs. First Quarter Virgo Moon is an excellent time to launch a health program and to cleanse the body of excess toxins.
Mercury and Mars are conjunct in Gemini (May 27 –June 10) bringing the forces of communication (Mercury) together with the forces of action (Mars). This conjunction brings words and deeds together, and in this case, the greatest action occurs with honest toil and is empowered in the expression of the message. This is an excellent time to get others motivated through speech, but it also may be a time of angry words being spoken. Some might say the best way to win an argument is to begin by being right; taking this approach during this aspect is likely to win you favors but not friendship. Take caution with your words.
Mercury in Gemini squares Neptune in Pisces on May 29 for just a few days. This aspect often brings difficulty in communications about the spirit world, and with understanding and accepting spirituality and beliefs. As a result, talk and discussion concerning what we believe in may be greatly misunderstood. Deep subjects must not be treated lightly while Mercury squares Neptune. The square represents struggle and difficulty, so whatever sort of trouble you may be having with regard to the relaying of spiritual messages, this is the time to work through it with a thorough effort, and to be patient and considerate of the hypersensitivity levels of others.
Aries, Taurus, Gemini, Cancer, Leo, Virgo, Libra,
Scorpio, Sagittarius, Capricorn, Aquarius, Pisces
For more information about your Horoscope and what the stars
have in store for you, order one of our detailed
Astrology Reports!
Compatibility Report compares your temperaments and personalities. This information is powerful if you are married or living together.

Love Cards Report will reveal as much information about you and your partner as possible, using an ancient and highly accurate system called "The Book of Destiny".
Free Weekly Horoscope for your Sign
Aries: This is likely to be a busy week without enough hours in the day. For this reason, take a moment-to-moment approach, and don't rush or procrastinate. Simply do what you need to do, being present in each activity, and do not focus or worry about all the other things on your list. Also, if things don't go according to plan, adopting a "what will be, will be" attitude will ensure that you reach the end of the week with your sanity intact. We can't control everything, and when annoying hitches occur, it is better to view them as invitations to do something else, such as taking time out from our normal schedules, so be alert to opportunities for something different, even if it's not what you planned –in fact, especially if it's not what you planned!
Numerology Report is a personal profile and one year forecast based on advanced calculations of your name and birth date.
---
Taurus: As the Sun, Mars and Mercury retrograde gather in your money zone, you are likely to focus your energy, thoughts and motivation on your financial and material life. Though you certainly look keen to get moving, Saturn once again appears in opposition to test your commitment. How viable are your ideas? How serious are you? Are you prepared to put in the necessary effort? Any obstacles will be easy to negotiate if you are dedicated to your cause. On a deeper level, it looks as though there is some sort of transformation going on that you need to be aware of as you navigate the trials and challenges of your material world this week. Something in you is changing; maybe your values or your views of money and work are shifting. Maybe what you once felt was important no longer is. Either way, being mindful of your internal shifts will help you make the most of what is on offer financially and materially. Remember, your self-worth is at the root of it all, and that's what's changing for the better.
New Age Natal Report is designed as a guide for your growth and personal evolution in the New Age.
---
Gemini: With the Sun, Mars and Mercury all gathered in your sign, you should be blessed with energy, motivation and a glittering mind full of ideas and inspiration. However, the combination of Mercury retrograde and Saturn in opposition conjure the effect of a stern parent reminding you to take it steady, pace yourself and remember to be realistic in your endeavors. If you come up against a block, take a step back and ask yourself about the meaning behind the frustration. Is it because it's not the right time? Is your commitment being tested? Or is it just a test of your patience? Sometimes it's healthy to have to wait for something; it makes us value it all the more when it finally does happen.
Merlin Report could be beneficial in self-help and self-transformation.
---
Cancer: As the plants gather in your zone of quiet repose, this is your cue to take some time to relax. It's not easy in our modern world that is constantly switched on, to follow the laws of nature by balancing doing with being. We tend to overdo the doing and then wonder why we burn out. Mercury retrograde along with the Sun in the weakest area of your chart suggests that you need to recharge so that you can emerge renewed and refreshed when the Sun enters your sign next month. See the present as your time to retreat and to enjoy the renewal process. Sleep more and schedule fewer things. Whatever restful pursuits appeal to you, make the time for them because although these things may seem like a waste of time to many people, it could actually be the most productive use of your own time as you reconnect with what really matters to you.
---
Leo: It's time to celebrate as the planets align in the most auspicious area of your chart which bodes well for your future and your hopes and wishes, and also highlights your social life, making this the perfect time to get out there and mingle with others. You may be experiencing a celebratory mood at this time, or you may be invited to enjoy a happy event. On a more serious level, the planets are asking you to direct your energies into something that you consider worthwhile –maybe helping others or doing your bit for your community. Either way, what you do this week will be positive in nature and will return blessings in your future.
Child Astrology Report is been designed as a guide for parents, to help with the child's growth and alerting the parents to problems that the child could face in their life.
---
Virgo: Your direction comes into focus this week as a cluster of planets gather at the top of your chart. This bodes well for successful endeavors with your work and ambitions, but it also advises you to take action, particularly if you've been stalling. Perhaps whatever it is that you want to do feels a bit scary and requires courage. Perhaps it requires you to be bold to take a big step forward. If you don't take this forward step, ask yourself what will happen. Chances are that nothing will change, and while you'll be safe and comfortable, you'll feel frustrated at not having acted. While Mercury retrograde might be advising you to take your time and not "rush in where angle fear to tread," it's also important that you don't put off doing something that could lead you to a happier place. This quote from Goethe may be helpful: "Whatever you can do, or dream you can, begin it; boldness has genius, power and magic in it. Begin it now."
Astrological Solar Return Report offers you a practical guide that helps you analyze this year's prospects and to learn from them.
---
Libra: The Sun's entry into Gemini is good news for you as it signifies a lightening of your spirit and a return of optimism. Gone are the heavier days of the past few weeks, and in their place come a spirit of adventure and positivity and a sense that anything is possible, so give some thought to your big dream, along with beginning to put the wheels in motion. This is also a good week to focus on raising your consciousness, which you can do through engaging in activities that you enjoy and experiencing new people and places. Make this a week to push out of your comfort zone, and if the chance comes to do something you haven't done before or would normally shy away from, then take it. We can all become far too set in our ways, especially as we get older, and when the S un journeys through our house of adventure, it's a good idea to challenge that rigidity and open up to new experiences. In so doing, you stay young, fresh, flexible and open to the wonder of life.
Astro Forecast Report gives you actual dates when the energies influence your life in a given time period.
---
Scorpio: As the planets, including Mercury retrograde, gather in the deepest, darkest area of your chart, you're being called to venture into places that less courageous souls might shy away from. Life isn't always sweetness and light, which is something you understand very well. You know that we sometimes have to come face to face with our own demons and that, at least once in our lifetime, we will experience a dark night of the soul. Events this week might see you either helping someone else with their uncomfortable emotions or confronting something within yourself that needs some attention. By having the courage to face your demons, you will emerge with a golden nugget of wisdom that will help you create a new vision of your life.
Cards of Destiny Report is a one year forecast based on Robert Camps book and age-old "cards of destiny" our ancestors gave us.
---
Sagittarius: As the Sun moves into Gemini, the focus shifts from your work, health and daily responsibilities toward your relationships and dealings with others. Although this is generally a lighter transit, the fact that Mars is in there along with a retrograde Mercury suggests that anger and irritation might creep into the mix, and one person in particular is likely to get your hackles up. The best course of action is to be assertive and to calmly and reasonably communicate how you feel about the situation. This may require a certain amount of courage as you're not normally one for conflict. However, if you play it right, there needn't be any conflict but instead the opportunity to clear the air and improve matters. Once all that's resolved, you can get on with the business of enjoying life with people whose company you enjoy.
Relocation Information Report (3 locations) can be of great assistance if you are contemplating a move.
---
Capricorn: As Mercury grounds to a halt in your zone of health and work, these two areas may become new focal points in your life. You can accomplish a lot now, but take care to not burn yourself out in the process. While the Sun and Mars are giving you extra energy, Mercury's backward step reminds you to pace yourself; otherwise, you run the risk of depleting yourself. This, though, is a wonderful time to become more organized and efficient at work or home, so now is the time to see to books that need accounting or cupboards, filing systems or paperwork that need sorting. Anything that will help you to be more efficient will be a good use of your time right now.
Cayce Past Life Report describes your character traits, relationship potentials and challenges as well as career potentials and even more based on Edgar Casey Readings.
---
Aquarius: As the planets shuffle into your house of fun, the vibe changes from a heavy one to a lighthearted, playful one. Of course this is good news for you, as it sets the tone for an enjoyable time ahead. You can capitalize on this by accepting opportunities for fun, romance, play and recreation. However, Mercury's backward motion suggests you might have to consciously make the effort to break out of the modern-day trap of constant busyness. Sometimes we need to just do nothing, for that is when our minds are best able to rest. It's also important to make time for play, since doing activities we enjoy recharges our batteries. The word "recreation" means to re–create ourselves, so bear this in mind as you go through this week. What can you do to re-create yourself? What do you need to do to charge up your battery? You know what works for you, so make sure to carve out some time for it and remember that playtime is an essential part of our daily routine.
Karmic Past Life Report examines possible past life connections using astrological methods.
---
Pisces: A cluster of planets along with Mercury retrograde puts the focus firmly on your home and domestic life. While Mars and the Sun suggest taking action, Mercury's backward motion advises you not to rush into anything and that your time might be better spent reviewing family matters and fixing things in the home. Since these planets are currently in the deepest area of your chart, your thoughts may reasonable follow suit, making this a good time to explore your inner self, embark on a bit of self analysis, and/or make amends with your past. Pisceans are naturally good at forgiveness, and this is a time when it would be healthy to take an innocent view on all that you've experienced. Avoid labeling anything as good or bad, but just reflect on your experiences as situations that allowed you to learn and discover who you so that you can celebrate your life and all that you have accomplished.
Karmic Insight Report comes from an esoteric point of view your birth chart is a portrait of your soul's intention for this lifetime, the lessons to be learned, qualities to develop, problems to be resolved, services to be rendered.
---
For more information about your Horoscope and what the stars
have in store for you, order one of our detailed
Astrology Reports for Couples!
Compatibility Report compares your temperaments and personalities. This information is powerful if you are married or living together.

Love Cards Report will reveal as much information about you and your partner as possible, using an ancient and highly accurate system called "The Book of Destiny".