Aries, Taurus, Gemini, Cancer, Leo, Virgo, Libra, Scorpio, Sagittarius, Capricorn, Aquarius, Pisces
Overview of this week
The Center for the New Age is pleased to present
your Free Weekly Horoscope for June 7 — June 13, 2015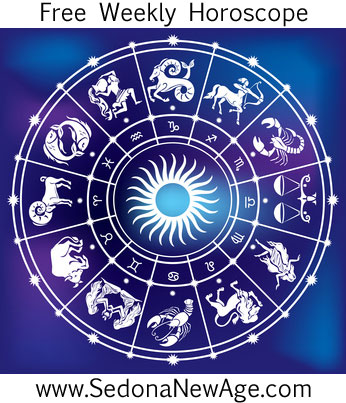 Aries, Taurus, Gemini, Cancer, Leo, Virgo, Libra, Scorpio, Sagittarius, Capricorn, Aquarius, Pisces
Last Quarter Moon in Pisces on June 9 brings a dreamy sort of atmosphere. A mysterious and enchanting quality of reflection is occurring, allowing the imagination to roam with consistent accuracy and touching the core of our beliefs. Waning Pisces Moon tends to keep us entranced by those areas of our life that bring depth and meaning. This is a good time to cleanse the spiritual cobwebs from our own lives. Reinforce personal fortitude with the strength to overcome addictions by using sheer will power and belief in oneself.
Mercury in Gemini sextile Venus in Leo (June 10 – June 26). Mercury sextile Venus teaches us of the necessity to speak out about our love needs, and focuses discussion on the things to which we are attached and which we treasure. This is an opportunistic and beneficial time to sing your praises of love!
Mercury turns direct on June 12 providing the right time to settle any misunderstandings or disputes that have cropped up this past month. Unsettled contracts can be corrected and negotiated more clearly and swiftly and there is likely to be much less difficulty interpreting and translating. Mercury is the planet that carries the message and for the past month and a half this retrograde planet has been leaving us clueless as to how communications have been so mixed up. Now at least the majority of us that are so strongly affected by Mercury retrograde can move forward in our thinking and our way of presenting our thoughts. We can interpret others better and get on with business. This week, it's down to the business of celebrating that Mercury has gone direct!
Aries, Taurus, Gemini, Cancer, Leo, Virgo, Libra,
Scorpio, Sagittarius, Capricorn, Aquarius, Pisces
For more information about your Horoscope and what the stars
have in store for you, order one of our detailed
Astrology Reports!
Compatibility Report compares your temperaments and personalities. This information is powerful if you are married or living together.

Love Cards Report will reveal as much information about you and your partner as possible, using an ancient and highly accurate system called "The Book of Destiny".
Free Weekly Horoscope for your Sign
Aries: Mercury turning direct on June 12 is good news for you especially if life has recently been frustrating. Mercury's change of direction will result in obstacles being removed and the feeling that you can get on with your life again. Don't be in a rush, though, and don't try to force matters; otherwise, frustration could be the result. It's far better to so adopt a fluid, easygoing approach that allows you to be in the moment. It's this kind of mindfulness that will enable you to accomplish a lot and negotiate challenges without feeling tired or frustrated.
Numerology Report is a personal profile and one year forecast based on advanced calculations of your name and birth date.
---
Taurus: Sometimes we need to have the courage to stand up for what we believe in, to say what we think, and to ask for what we want. There are also times when patience is the best response to a difficult situation. This week you may need to decide whether courage or patience (or a bit of both) is what you need to progress in a tricky matter. Mercury's change of direction on Friday will at least enable you to move forward where your material life is concerned, but you could move forward much quicker with a courageous and patient attitude.
New Age Natal Report is designed as a guide for your growth and personal evolution in the New Age.
---
Gemini: After what might have been a frustrating few weeks, now is the time when the pressure on the brakes is lifted, allowing you to charge full steam ahead toward your goals. Mercury turns direct on June 12, effectively giving you a green light to go, while Mars and the Sun in your sign instill you with renewed power, enthusiasm, motivation and energy. This is a great combination for moving forward. In your desire to get moving, though, be wary of trying to do too much. That will only lead to being overwhelmed and stressed. Take advantage of the forward moving energies, but try to pace yourself, and don't overload yourself with things to do, people to see and places to go.
Merlin Report could be beneficial in self-help and self-transformation.
---
Cancer: Your inner world demands your attention right now. You'll recognize the signs of your inner self calling to you by how you feel –tired, unwell, irritable, frustrated, resentful or angry. See any of these as symptoms of soul malaise to which the cure is easy enough: Stop doing and start being! Reconnect with your source through meditation, dream analysis, counseling or giving form or color to your feelings through artwork, music, dance, poetry or journaling. These examples may also help you to divine answers to questions or to get to the root of any buried anger or illness. Once Mercury turns direct on June 12, things will begin to improve, but you'll hasten the process by taking time to listen to yourself and your body.
---
Leo: You have full permission from the heavens to enjoy yourself this week, so there's no need to feel guilty when the laundry piles up in a corner and people grumble about stuff not being done. Jupiter and Venus in your sign encourage you to tune into what makes you happy and to indulge in what gives you pleasure. Meanwhile, the Sun, Mars and Mercury now turning direct, shine the spotlight on your social life, so this is the week to accept invitations and take yourself out into the world. This could be a time of great opportunity, so be mindful of this as you go about your business; saying "yes" could lead to all kinds of positive developments.
Child Astrology Report is been designed as a guide for parents, to help with the child's growth and alerting the parents to problems that the child could face in their life.
---
Virgo: Mercury turns direct at the top of your chart on June 12, effectively giving you a green light in matters relating to work, goals and ambitions. It's also good news for your general direction in life and might indicate a stronger sense of vocation or purpose. The previous week's full moon might have given you a clearer idea of what you're trying to achieve and why. One mistake you must try to avoid is overloading yourself; if you find yourself in this position with too much to do and not enough time, then perhaps you need to take a step back and ask yourself why you're expending so much energy. Sometimes, we have little choice because of family responsibilities, busy times at work, and so on. However, sometimes, we do things for the wrong reason: to impress someone else, to impress ourselves, or to be somebody else for a bit. If your ego is running the show, it might be time to take a step back and concentrate on the things that really matter.
Astrological Solar Return Report offers you a practical guide that helps you analyze this year's prospects and to learn from them.
---
Libra: As Mercury turns direct in your adventure zone, your sense of what's possible begins to broaden, and you may now get glimpses of how your big idea could work. As Ralph Waldo Emerson said, "Once you make a decision, the universe conspires to make it happen," so make your decision, and let the universe worry about the practicalities. This is not a time to play it safe or stick within your comfort zone. On the contrary, it's time to become more adventurous, to try new experiences, to broaden your horizons, and to allow yourself to absorb new places, people and vistas. In short, now is the time to really participate in life, and with Jupiter and Venus in the most auspicious area of your chart, it's fair to say that your future looks as bright as a diamond sparkling in the Sun.
Astro Forecast Report gives you actual dates when the energies influence your life in a given time period.
---
Scorpio: Mercury's change of direction is good news for you, especially if you've been faced with an uncomfortable problem recently. Things should begin to improve from this point, and you may consequently feel a sense of liberation. It's not all plain sailing this week, though, because Saturn returns to your sign, which is a bit like having to go to the dentist for a check-up: there's nothing to worry about, but still, it's something you could do without. If you've done what you needed to do during the past two years, Saturn's visit could pass you by almost unnoticed. If, however, there's still work to be done, Saturn will simply remind you of that fact. Perhaps now is the time to face your fears and do what needs to be done.
Cards of Destiny Report is a one year forecast based on Robert Camps book and age-old "cards of destiny" our ancestors gave us.
---
Sagittarius: "A man is already halfway in love with any woman who listens to him." We could easily reverse this quote by Brendan Behan to say, "A woman is already halfway in love with any man who listens to her." We all love to be listened to. In fact, there are times when it's essential to feel heard. So the question is, do you feel you're being heard? Are you taking the time to sit and listen to someone who needs to be heard? On a deeper level, are you making the time to listen to yourself? Are you too busy to hear what your soul whispers to you? This is a week for getting quiet and listening.
Relocation Information Report (3 locations) can be of great assistance if you are contemplating a move.
---
Capricorn: Mercury turns direct on June 12, enabling you to take control of your life again. Part of this control may involve taking charge of your health so that you can function better, because when you function better, your life functions better. To ensure that you are at your optimum, you need to pace yourself and find pockets of relaxation among the busy times. It's likely you will find it difficult to relax as there is so much to do, but if you combine your relaxation with movement such as yoga or walking, your body will benefit from your activity.
Cayce Past Life Report describes your character traits, relationship potentials and challenges as well as career potentials and even more based on Edgar Casey Readings.
---
Aquarius: There is a feeling of ripeness in your chart as the planets gather in your creative zone. This is your opportunity to give birth to something: an idea, a project, an art form, or even a baby! It's certainly appropriate to look at your ability to create through new eyes and to express yourself in a way that feels fun, healthy and authentic. Speaking of authenticity, a good question to ask yourself now is how much your life reflects your real self. In other words, are you living the life you were born to live, or are you making too many compromises? The planets are currently urging you to follow your heart and focus on what makes you feel excited.
Karmic Past Life Report examines possible past life connections using astrological methods.
---
Pisces: Sometimes we are our own worst enemies. We cut ourselves off –from others, from the source, from supply, or from the world –and then wonder why we're miserable. It may help you to know that your perceived emptiness, loneliness or general sense of malaise is nothing more than an illusion, and by mustering some courage, you can greet the world with a smile on your face again.
Karmic Insight Report comes from an esoteric point of view your birth chart is a portrait of your soul's intention for this lifetime, the lessons to be learned, qualities to develop, problems to be resolved, services to be rendered.
---
For more information about your Horoscope and what the stars
have in store for you, order one of our detailed
Astrology Reports for Couples!
Compatibility Report compares your temperaments and personalities. This information is powerful if you are married or living together.

Love Cards Report will reveal as much information about you and your partner as possible, using an ancient and highly accurate system called "The Book of Destiny".