Aries, Taurus, Gemini, Cancer, Leo, Virgo, Libra, Scorpio, Sagittarius, Capricorn, Aquarius, Pisces
Overview of this week
The Center for the New Age is pleased to present
your Free Weekly Horoscope for June 21 — June 27, 2015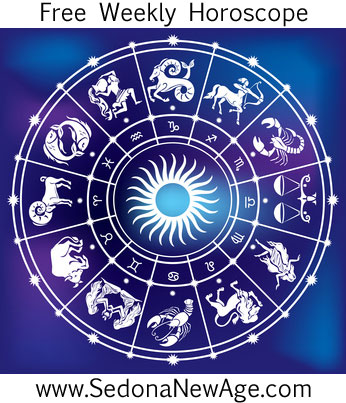 Aries, Taurus, Gemini, Cancer, Leo, Virgo, Libra, Scorpio, Sagittarius, Capricorn, Aquarius, Pisces
Mercury in Gemini is square Neptune in Pisces (June 23 –June 28). This aspect often brings difficulty in communications with the spirit world, and with understanding and accepting spirituality and beliefs. As a result, talk and discussion concerning what we believe in may be greatly misunderstood. The square represents struggle and difficulty, so whatever sort of trouble you may be having with regard to the relaying of spiritual messages, this is the time to work through it with a thorough effort, and to be patient and considerate of the hypersensitivity levels of others. Anticipate the possibility of religion related arguments and disputes.
Mars enters Cancer June 24 until August 7th. Mars in Cancer emphasizes a focus on the home, household improvement or remodeling –possibly even a move to a new home or on making the adjustments following a big move. Cancer represents large bodies of water such as the oceans and great lakes and while Mars is in Cancer, marine activities are emphasized. Mars in Cancer represents the defenses of the emotions and the tender aspects of our being that we strive so hard to protect. Mars is a natural protector and defender but is also quite capable of offensive attack. Cancer people especially need to be aware of the potential for emotional flare ups, particularly with regard to the home. While Mars is in Cancer, Cancer born people are stirred up with a lot of heat and activity in their lives. Too much worry or fear is likely to lead to some serious anger issues and defensiveness.
First Quarter Moon in Libra on June 24 encourages us to harmonize with our partners and friends. This is the Moon that brings out a focus on the need to create balance in various kinds of relationships, particularly close relationships. This would be a good time to connect with our loved ones. We may be challenged at this time to tread softly with regard to the dreams of others, and to read between the lines concerning the inconvenient qualities of facing the difficulties of life. Waxing Libra Moon brings a positive team spirit. It is all about making adjustments.
Aries, Taurus, Gemini, Cancer, Leo, Virgo, Libra,
Scorpio, Sagittarius, Capricorn, Aquarius, Pisces
For more information about your Horoscope and what the stars
have in store for you, order one of our detailed
Astrology Reports!
Compatibility Report compares your temperaments and personalities. This information is powerful if you are married or living together.

Love Cards Report will reveal as much information about you and your partner as possible, using an ancient and highly accurate system called "The Book of Destiny".
Free Weekly Horoscope for your Sign
Aries: The focus shifts to your home and family and your inner self. There might, for example, be a lot to do at home but there should be no shortage of enjoyable opportunities. You are likely to be fortunate in areas connected with children and creativity so now is a good time to direct your energies into artistic pursuits, creative projects and fun with youthful spirits. This lighthearted vibration should nicely offset the heavier energies of the Sun and Mars at the base of your chart, and an ideal use of these fiery planets would be to give expression to your inner self and emotions through artistic or creative means.
Numerology Report is a personal profile and one year forecast based on advanced calculations of your name and birth date.
---
Taurus: This is a good time to catch up on your reading and to attend lectures and seminars and to catch up on those letters and emails that you owe. Assertiveness is your key word as the Sun and Mars join forces in your communication zone, adding weight to your words and power to your thoughts. If you have a good knowledge base or expertise in a given field, this is a good time to disseminate that knowledge, but be careful what you say and how you allow your thoughts to drive you. By embracing a positive can-do approach, you will make the most of this powerful planetary combination; this wonderful duo will encourage you to state your case or ask for what you want.
New Age Natal Report is designed as a guide for your growth and personal evolution in the New Age.
---
Gemini: Any recent confusion should now be clearing and you're on track for having a much clearer sense of where you're going and what you want and need. All you need to do is make sure you get it. It's lucky for you, then, that Mars and the Sun are joined at the hip in your zone of resources, arming you with whatever you need to acquire your desires. This is a great week to put your efforts into creating more money, for making purchases (so long as you don't rush into things), and for being assertive and stating your case. It is also good to focus on the home, family and your emotional well-being at this time enhancing a strong psychological foundation for success in all your endeavors.
Merlin Report could be beneficial in self-help and self-transformation.
---
Cancer: The Sun and Mars arrive in your sign this week, imbuing you with energy, determination, motivation and enthusiasm. Personal power and independence are now at their maximum extent for the year (as it is next month too.). Use this power to create what you want in your life. You can achieve anything you set your mind to. Remind yourself that courage will see you though and get you to your destination. Focus your energies on a goal, move forward and believe that anything is possible. This is the perfect week to keep in mind this famous quote commonly attributed to Goethe: Whatever you can do or dream you can, begin it. Boldness has genius, power and magic in it. Begin it now."
---
Leo: After what has probably been a busy time, it's now time to rest. You've probably expended a lot of energy over the past few weeks, and you might feel the need to let the dust settle after the recent social whirl. It won't be long before the busyness starts up again when the Sun enters Leo next month, so now is the time to conserve your energy. Rested, you'll be in the best position to make the most of what the future has in store. The Sun and Mars in your soulful zone encourage you to get in touch with your inner self and connect with the mysterious side of life. This is an ideal week to pay attention to your dreams, write in your journal, get extra rest, meditate, paint or listen to music. Leos don't especially like solitude, but this week you might crave it. Don't worry; there's nothing wrong with you. There are just times when we need to be alone and feel our own energies and connect with our true selves.
Child Astrology Report is been designed as a guide for parents, to help with the child's growth and alerting the parents to problems that the child could face in their life.
---
Virgo: Your career goals are more or less achieved, and even if they are not completely established, good progress to that end has been made. Your interest shifts to friends, groups and group activities and chances are high that you will be in demand in some way. Whether it's being called on in your community or whether you feature more in groups or an organization, or whether you simply find yourself out and about a lot more or spending time with friends, you can expect to be busy. Perhaps the best use of the Sun and Mars in your social zone is to plough your energies into something useful that benefits others.
Astrological Solar Return Report offers you a practical guide that helps you analyze this year's prospects and to learn from them.
---
Libra: On the 24th, Mars enters your 10th career house. This shows a change in your love attitudes. You are attracted to people who can help you career-wise. Romance can happen with bosses or with people involved in your career. You have the aspects for an office romance now. Your social magnetism and allure are unusually powerful –another positive for love –but your health and energy are more stressful, so make sure you get enough sleep and rest and eat healthier. Yes, career is hectic and demanding. It is very important, but you can approach it in a calmer way. Alternate work with rest periods. Delegate tasks wherever possible. Let go of lesser concerns and focus on what is really important to you.
Astro Forecast Report gives you actual dates when the energies influence your life in a given time period.
---
Scorpio: This is the week when darkness gives way to the light. As the Sun and Mars move into your zone of adventure, you should feel your mood lighten and a returning sense that anything is possible. Now is the time to drop the dishcloth and head off to the bright horizon in search of your own personal pot of gold. Career energy is getting stronger day by day and you haven't yet reached your peak. Continue to focus there and let home and family issues go for a while. You probably can't completely ignore them, but you can downplay them for a while. Moods and emotions always play a role in health, but this week more so and more dramatically. Work to keep your mood positive and constructive because your moods and emotions have more impact than usual.
Cards of Destiny Report is a one year forecast based on Robert Camps book and age-old "cards of destiny" our ancestors gave us.
---
Sagittarius: The focus begins to shift from other people –and all the ups and downs associated with that –to your inner world, which includes your secret fears. If you feel you have become out of balance, this is a good time to redress that imbalance. This may require a certain amount of courage, as you may have to face a fear. It may be, for example, time to see whether your life matches your values, and if it doesn't you will need courage to admit that and begin making the necessary changes. Or you may need to question whether you have issues around money that are in need of transformation. In fact, transformation is your key word for the time being, and whatever is going on in your life right now is most probably pushing you to clear what you don't need in order to become that which you do need. Welcome the rebirth –chances are it won't be as painful as you think.
Relocation Information Report (3 locations) can be of great assistance if you are contemplating a move.
---
Capricorn: Passions are likely to run high this week as Mars and the Sun join forces in your relationship zone. If it's the kind of passion that you don't want –anger, frustration, impatience and irritation –the best advice is to go somewhere quiet and meditate. Then, when you return with a calmer perspective, you will be in a better position to state your case calmly and clearly. This simple act of refusing to get embroiled in dramas could be a life saver in your personal world this week, and if you can remember the following wise words from Joseph Joubert, you will be an inspiration to others: "A part of kindness consists in loving people more than they deserve."
Cayce Past Life Report describes your character traits, relationship potentials and challenges as well as career potentials and even more based on Edgar Casey Readings.
---
Aquarius: Hopefully, you have plenty of energy at your disposal because you're entering a busy period when you might hardly have a chance to sit down. This is certainly the time to make hay while the Sun shines, and you can accomplish a lot now so long as you pace yourself. In the midst of work and general activity, try to direct your focus toward your health and well-being because good nutrition, moderate exercise and spiritual practices such as yoga and meditation will keep you healthy and balanced. This is a wonderful period for job seekers as there are many job opportunities out there. It is also good for those who employ others. Though your financial planet Neptune has been retrograde since the 12th, this week is the beginning of a prosperous period.
Karmic Past Life Report examines possible past life connections using astrological methods.
---
Pisces: The heaviness of the previous weeks begins to lift and be replaced by a lighter, more fun state of affairs. This is the time to focus on what brings you joy and to invite more of it into your life. This is a great time to channel your energies into creative enterprises, recreational activities and hobbies, children, the arts and a more romantic view of life. There is also no need to rush. In fact, this is a phase in which you can dance your way through the days, and the more fluid and in the moment you can be, the more magical your life will become.
Karmic Insight Report comes from an esoteric point of view your birth chart is a portrait of your soul's intention for this lifetime, the lessons to be learned, qualities to develop, problems to be resolved, services to be rendered.
---
For more information about your Horoscope and what the stars
have in store for you, order one of our detailed
Astrology Reports for Couples!
Compatibility Report compares your temperaments and personalities. This information is powerful if you are married or living together.

Love Cards Report will reveal as much information about you and your partner as possible, using an ancient and highly accurate system called "The Book of Destiny".