Aries, Taurus, Gemini, Cancer, Leo, Virgo, Libra, Scorpio, Sagittarius, Capricorn, Aquarius, Pisces
Overview of this week
The Center for the New Age is pleased to present
your Free Weekly Horoscope for June 28 — July 4, 2015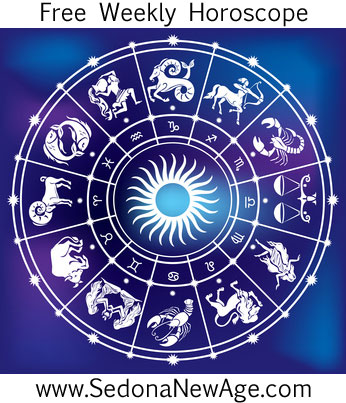 Aries, Taurus, Gemini, Cancer, Leo, Virgo, Libra, Scorpio, Sagittarius, Capricorn, Aquarius, Pisces
On Wednesday Venus and Jupiter are conjunct in the sign of Leo. The influence of beauty, love and attraction (Venus) blends and melds with the powers of production, expansion and prosperity (Jupiter). In the sign of Leo, these two highly regarded planets are stirring up an awareness and an experience which are very self gratifying as well as entertaining, outgoing and fun loving, and for some, quite fulfilling. This is a time to enhance love relationships and realize the precious value of love in its most limitless sense, since the influence of Jupiter reminds us the resources of love in the universe are inexhaustible and love's great bounty is designed to be shared. The more love that is spread around, the more there is to partake of and expound on.
Full Moon in Capricorn on July 1 & 2 focuses on the accomplishment of goals through the application of persistence and diligence. The gold is in your integrity and work. This is an excellent time to focus on accomplishing and setting important goals that will eventually bring satisfaction.
Mercury in Gemini is sextile Jupiter in Leo (July 3 –July 7). This is a most favorable, although short lived aspect that brings the potential to receive good news of expansion and prosperity to those who are open to broadening their awareness. Mercury brings news while Jupiter brings wealth and prosperous advancement. For some folks this serves as an advantageous time to ask for a job or a loan. This is an especially good time to look openly for opportunity when sharing information, and to promote oneself and one's actions. For some folks this may even be a good time to start a new enterprise.
Aries, Taurus, Gemini, Cancer, Leo, Virgo, Libra,
Scorpio, Sagittarius, Capricorn, Aquarius, Pisces
For more information about your Horoscope and what the stars
have in store for you, order one of our detailed
Astrology Reports!
Compatibility Report compares your temperaments and personalities. This information is powerful if you are married or living together.

Love Cards Report will reveal as much information about you and your partner as possible, using an ancient and highly accurate system called "The Book of Destiny".
Free Weekly Horoscope for your Sign
Aries: If you can document your thoughts and feelings with color, imagery, words or movement this week, you will free up a lot of potentially blocked energy, leaving you to feel lighter and happier in the weeks to come. This time could also be very enlightening as you discover things about yourself that may previously have been hidden. And the Full Moon on July 1-2 brings the opportunity to transform a key area of your life. This may require making a big change, or it may mean being kind to yourself in the face of tension and conflict. Challenges at home are likely to come to the fore, so this Full Moon will illuminate and make the matter clear for you.
Numerology Report is a personal profile and one year forecast based on advanced calculations of your name and birth date.
---
Taurus: The beautiful conjunction of Venus and Jupiter suggests your greatest opportunities for joy and blessings lie within your home and family, so you should absolutely pay attention to these words of Thomas Jefferson: "The happiest moments of my life have been the few which I have passed at home in the bosom of my family." The Full Moon on Monday and Tuesday challenges you to open up and share yourself –perhaps through your material wealth, your talents or your love and kindness. When a stream is blocked and prevented from flowing, it becomes stagnant. This is something you need to remind yourself as Saturn squares your ruler, which could, if you're not careful, cause you to withdraw or shut down. Resist this urge to hold back, reminding yourself that the more you give, the more you receive.
New Age Natal Report is designed as a guide for your growth and personal evolution in the New Age.
---
Gemini: Venus and Jupiter are joined together this week and for you this means good news in the following areas: communication, studying, teaching, and brief travels. You could get a lot of enjoyment from visiting people or getting together with your neighbors or siblings. Learning something new could also be a real source of joy. The Full Moon on July 1-2 will illuminate an issue that was previously shrouded in darkness. It could therefore be time to confront your fears and insecurities, possibly making this a very transformative week.
Merlin Report could be beneficial in self-help and self-transformation.
---
Cancer: Venus and Jupiter join forces in your money zone this week acting as a fairy godmother to protect you from harm and to bring you what you need, so there should be no need to worry about material matters. Hand over any concerns to a higher power, relaxing you to end the month of June with the sense that you have been rather lucky. The Full Moon, however, is likely to highlight an inequality in a relationship. Be on the alert for manipulation, imbalances of power and a clash of wills. If someone opposes what you want or tries to manipulate you, it's probably time to step back, take a deep breath, and suggest you both try to deal with the problem as adults. It looks as though you want what you want, and the other person wants something else, and there's not much meeting in the middle. Try to create a win-win situation so that everyone is happy.
---
Leo: You may benefit from facing up to uncomfortable feelings and emotions. All that's needed is a little courage. The beautiful and auspicious alignment of Venus and Jupiter in your sign suggests a very positive and abundant state of affairs, so whatever happens this week, you're likely to feel rather fortunate and quite blessed. And, the Full Moon July 1-2 is a very transformative one. The areas ripe for change include your health, work and daily life. Transformations aren't normally easy; they often involve struggle or a descent into depths before emerging renewed and different, but you can ease the process greatly by letting go of the past.
Child Astrology Report is been designed as a guide for parents, to help with the child's growth and alerting the parents to problems that the child could face in their life.
---
Virgo: This is a great time to think about what you have to offer the world and begin taking action. The Full Moon July 1-2 is urging you to transform a situation to lighten your heart. This could relate to a creative project, giving of your time for a good cause, helping a friend in need or simply looking at how you can allow more of who you are to shine forth into the world. Trying to change a situation that feels blocked might seem difficult initially, but all that's required is faith and a willingness to step in a new direction.
Astrological Solar Return Report offers you a practical guide that helps you analyze this year's prospects and to learn from them.
---
Libra: With a beautiful alignment of Venus and Jupiter at the very top of your chart, you are invited to focus on your future, and the best way to do this is to let go of the past. Whatever has been tagging along with you needs to be released now so that you can make the most of what's coming. If you're not sure how to do this, ask for guidance. Once you let go of whatever hinders your progress, you will be in a wonderful position to make hay while the Sun shines. Now is the time to focus on your direction, to push forward with an ambition or a goal, and to show the world what you're capable of. You can make huge progress now; just remember not to let success go to your head. Instead, keep in mind all the people who have helped you get to where you are now.
Astro Forecast Report gives you actual dates when the energies influence your life in a given time period.
---
Scorpio: Venus and Jupiter are holding their position at the very top of your chart like a pair of guardian angels or fairy godmothers, helping to clear your path and sprinkling fairy dust along the way. It will be almost impossible for you to put the wrong foot forward as far as your purpose and direction in life are concerned with these two planets looking out for you. All you have to do is follow the path that appears the most joyful and abundant and have faith that it is what it appears to be. There is a Japanese proverb worth contemplating as you journey through this first week in July that commences with a powerful Full Moon in your communication zone: "There is nothing that cannot be achieved by firm imagination." Be mindful of how you use your mind making sure you are allowing positive images to enable and inspire you as opposed to conjuring darker pictures and allowing negative thoughts to creep in and undermine your efforts or well-being.
Cards of Destiny Report is a one year forecast based on Robert Camps book and age-old "cards of destiny" our ancestors gave us.
---
Sagittarius: Finances are much improved but Saturn, your financial planet, is still retrograde and your financial review should continue. You have made great progress learning about the spiritual dimensions of wealth, and it would be good to review your knowledge for the next few months as it seems very important on the financial level these days. The Full Moon on July 1-2 brings with it an opportunity to transform an aspect of your financial or material world. Perhaps you will receive an important insight about how to better manage or increase your finances. Courage is the quality that is needed now, whether it's the courage to tackle a difficult issue or to take action to improve your circumstances.
Relocation Information Report (3 locations) can be of great assistance if you are contemplating a move.
---
Capricorn: You are in the midst of a yearly love and social peak. Mars, your family planet, entered your 7th house of partnership last week and will be there all of July. This signals more socializing with the family and perhaps socializing from home. It also shows a more aggressive attitude to love. You are being more proactive; if you like someone, that person will know it. You're not playing games now. You seem direct and honest about your feelings and the family is starting to play "Cupid." The Mars transit often indicates the reappearance of an old love which can be actual or metaphorical. You are getting ready to meet a person with similar personality patterns or appears as an old love. This may or may not develop into something, but it is useful in other ways: it helps to resolve old love issues from the past and its purpose is social healing.
Cayce Past Life Report describes your character traits, relationship potentials and challenges as well as career potentials and even more based on Edgar Casey Readings.
---
Aquarius: A lovely conjunction of Venus and Jupiter is good news for your relationships. Many of you are certainly involved in serious, committed kinds of relationship and the more time you can spend with your significant other, the better, as this area of your life can be a real source of joy if you allow it to be. For those of you sill unattached, love and romantic opportunities happen at work or with co-workers as the workplace is very social these days. Love and social opportunities also happen as you pursue your health goals and with people involved in your health. You're likely to be full of passion and power this week, and you'll certainly have the energy to get things done and make plenty of progress. Just be mindful, though, of the Full Moon which could temporarily derail you with dark moods and negative thoughts. It may actually help to go into this rather than trying to ignore it, since there is a certain amount of power contained in these strong feelings.
Karmic Past Life Report examines possible past life connections using astrological methods.
---
Pisces: The Full Moon July 1-2 invites you to transform guilt into joy. Too often, people –especially Pisces –feel guilty about having fun, indulging in pleasure or simply feeling happy. When there is so much suffering going on in the world, the humble Fish finds it difficult to view life in a celebratory mode, yet this is what the planets are asking you to do. Perhaps they're encouraging you to see that you've done enough, that you try hard enough, and that you give enough. Maybe now is the time to give back to yourself. If that feels uncomfortable, you know you have some work to do!
Karmic Insight Report comes from an esoteric point of view your birth chart is a portrait of your soul's intention for this lifetime, the lessons to be learned, qualities to develop, problems to be resolved, services to be rendered.
---
For more information about your Horoscope and what the stars
have in store for you, order one of our detailed
Astrology Reports for Couples!
Compatibility Report compares your temperaments and personalities. This information is powerful if you are married or living together.

Love Cards Report will reveal as much information about you and your partner as possible, using an ancient and highly accurate system called "The Book of Destiny".