Aries, Taurus, Gemini, Cancer, Leo, Virgo, Libra, Scorpio, Sagittarius, Capricorn, Aquarius, Pisces
Overview of this week
The Center for the New Age is pleased to present
your Free Weekly Horoscope for July 5 — July 11, 2015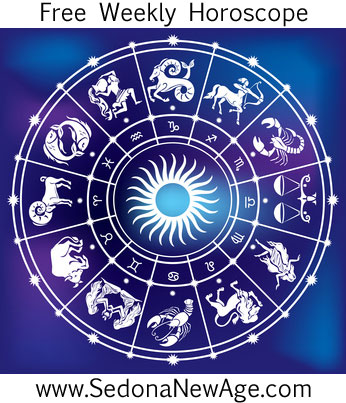 Aries, Taurus, Gemini, Cancer, Leo, Virgo, Libra, Scorpio, Sagittarius, Capricorn, Aquarius, Pisces
Mercury in Gemini sextile Venus in Leo (July 5 –July 12) brings good news and opportunities concerning love, music and the arts. This is a good time to get the message of love across where it is needed most. This is surely a time to share love messages and spread them like seeds. Love will come back to sustain the heart and this is a good time to call it to the attention of those people we treasure.
Last Quarter Moon in Aries on Wednesday brings energetic moods, but we may find that barriers may occur between one's emotions and sense of personal identity. Since the Moon is in Aries, this expression of mood has little trouble emerging and creating new energies. Last Quarter Moon requires us to release intensified emotional energy, unless of course, the energy creates a desired positive response in which case, congratulations. Dropping problems with the ego is one of the keys to this waning Moon. Overcoming tension, anxiety and grudges are other ways to work out Last Quarter Aries Moon energy.
On Wednesday, Mercury enters Cancer (July 8 –July 23). The shift in communications turns our attention from an emphasis on detailing and logic (Mercury in Gemini) to a focus on feelings and senses (Mercury in Cancer). This is a time when many people will appear to intuit their way through conversations. Thoughts may blend with mood as the emphasis on emotional expression takes the stage. As Mercury goes through the sign of Cancer, take special note of a tendency for people to talk more specifically about their feelings, defenses and the need to be nurtured.
Mars in Cancer trine Neptune in Pisces (July 8 –July 21) brings exhilarating emotional indulgences, spiritually enhanced acceptance, and uplifting as well as moving types of energy. This aspect creates an active trend to empower our beliefs. Mars guarantees activities will occur and with Neptune in the trine position, these activities will be favorably stirred up with spiritual and psychic awareness. This serves as a good time to initiate creative and imaginative spiritual practices and ceremonies, and to empower the personal outlook and spiritual wellbeing.
Aries, Taurus, Gemini, Cancer, Leo, Virgo, Libra,
Scorpio, Sagittarius, Capricorn, Aquarius, Pisces
For more information about your Horoscope and what the stars
have in store for you, order one of our detailed
Astrology Reports!
Compatibility Report compares your temperaments and personalities. This information is powerful if you are married or living together.

Love Cards Report will reveal as much information about you and your partner as possible, using an ancient and highly accurate system called "The Book of Destiny".
Free Weekly Horoscope for your Sign
Aries: The tension you may have been experiencing last week has most probably died down, but if it's a repeating pattern, you might want to say enough is enough and begin to make changes in your life. There is nothing wrong with self interest, nothing wrong with independence –these are wonderful qualities –but now, because you are in a different stage of your yearly cycle, these qualities should be downplayed. Now is the time to be a team player; to achieve your goals through cooperation with others; to focus more on the needs of the other people in your life and let them have their way –so long as it isn't destructive for you.
Numerology Report is a personal profile and one year forecast based on advanced calculations of your name and birth date.
---
Taurus: This is the beginning of a slow month in many areas of life. Slow doesn't mean "bad," just a slower pace of life. Half the planets are or will be in retrograde motion. It is a great period to review your image, your career, love life and health regime. See where improvements can be made, and when all the planets that are or will be retrograde start moving forward again, you can set your plans in motion. Now is a time for resolving doubts and gaining mental clarity. This is the most important thing now. If this period is used properly, your future actions will be more successful. Though there are many retrograde movements, Mercury, your financial planet, is moving forward speedily, bringing prosperity from good family support which leads to all kinds of opportunities for you.
New Age Natal Report is designed as a guide for your growth and personal evolution in the New Age.
---
Gemini: You are in a yearly financial peak, but is it time to transform a financial situation? Perhaps this involves changing your attitude, developing a new perspective, or working to fix a situation. Imbalances of power may also need to be addressed, which may require courage to stand up and ask for what you want or feel you deserve. Not surprisingly, your communication skills play a huge role here. Mercury is in your money house this week and will remain there the next two weeks. The ruler of your Horoscope always brings benefit. Spend on yourself and project an image of wealth; personal appearance and over all demeanor is a big factor in earning power. Mercury is there to assist you in this regard.
Merlin Report could be beneficial in self-help and self-transformation.
---
Cancer: This week the planetary power begins to shift energizing the bottom half of your chart. Career becomes less important. The focus is on the home, family and emotional well being and will remain there for the next six months or so. Career opportunities may happen, but you should examine them closely. No matter how lucrative they seem, they should not violate your emotional or family harmony. This is a period where you serve your family by being there for them, in a physical kind of way. Rather than negotiating the next deal or angling for the next promotion, it is better to attend events that bring solidarity and pleasure for your loved ones.
---
Leo: The Venus-Jupiter conjunction in your sign speaks of brighter times for you right now if you choose. All you have to do is say goodbye to all that has gone before and no longer has a place in your world. As you release and let go, much healing will take place and life will begin to change for the better. The only problem is that planetary retrograde activity is at its peak this month. Progress will tend to be slower so take your time.
Child Astrology Report is been designed as a guide for parents, to help with the child's growth and alerting the parents to problems that the child could face in their life.
---
Virgo: Your ruling planet Mercury is beautifully supported by Venus, Jupiter and Uranus, suggesting that the path ahead is much smoother than it was, so believe that all will be well and it almost certainly will be. You can have life on your own terms now more or less. You have the power to create conditions to your liking. You don't need to depend on others for your good or happiness. Your self-interest is as important as anyone else's and the cosmos is supporting it. The only problem with this is that many planets are retrograde this month and change might happen more slowly than you'd like, but it will happen!
Astrological Solar Return Report offers you a practical guide that helps you analyze this year's prospects and to learn from them.
---
Libra: This week it's time to move on so that you can focus more on the world at large and what you can achieve. Or maybe it's time to change things in or around your home. Maybe it would be helpful to try to see a challenging matter in a different light. If you feel that you are a powerless prisoner of a situation, think again. You have more power than you realize. The planets this week suggest that by changing things on the inner plane, the outer will change accordingly which would be very good for you as your health and energy have been stressed and more rest is called for. Many things in your life will straighten themselves out of their own accord so there's no need to force things and increase your stress levels.
Astro Forecast Report gives you actual dates when the energies influence your life in a given time period.
---
Scorpio: We often seek to find a source to blame for our problems, but that doesn't get us anywhere. Instead, remind yourself that you are the source of power that can change anything –your health, your finances, your work and your relationships. Use your mind to imagine what you want, and make it your mission to not allow negativity to undermine your efforts. Things are moving slowly; there are delays. It is the increased retrograde activity that is causing this, but your success both financial and career wise are on the move. Much of the success is already taking place behind the scenes and so you might not be aware of it. It's at a slower pace than you would like, but rest assured that it is happening!
Cards of Destiny Report is a one year forecast based on Robert Camps book and age-old "cards of destiny" our ancestors gave us.
---
Sagittarius: Your 8th house of transformation is in a powerful state. Your spouse, partner or current love is in a yearly financial peak and he or she is being more generous with you. You are feeling more sexually alive and are expressing love in this way. Physical intimacy is important, but so is emotional intimacy. You are gravitating to people who are easy to share feelings with; people you can learn from –mentor types. Religious and philosophical compatibility are essential to you; a relationship will not work if you are not on the same page philosophically. Your love planet is moving very fast signaling confidence and someone who covers a lot of social territory coming into your life.
Relocation Information Report (3 locations) can be of great assistance if you are contemplating a move.
---
Capricorn: Mercury enters your 7th house of partnerships on Wednesday indicating an affinity for health professionals or for people involved in your health. This week there are romantic opportunities with co-workers and more socializing at work. Mentors, ministers and foreigners also become more alluring to you and there are romantic opportunities in your place of worship or at school. Be wary of getting embroiled in a power struggle as it is likely that you and someone you'll meet won't see eye to eye which could result in conflict. You probably have the balance of power, so in the words of Andre Gide, 'You have to let other people be right" was his answer to their insults. "It consoles them for not being anything else."
Cayce Past Life Report describes your character traits, relationship potentials and challenges as well as career potentials and even more based on Edgar Casey Readings.
---
Aquarius: July is prosperous in spite of Neptune's retrograde. There can be delays and glitches, but prosperity will be in the forefront. You can alleviate things, speed things up, by being as perfect as you can be with your financial transactions. Make sure you date everything and keep all receipts. Make sure bills and payments are made out properly and the addresses are correct; double-check your accounts. Your financial life is under review. Where can improvements be made? What kind of savings or investment plan will bring you to your goals? The important thing is to gain mental clarity on your finances. Things are not as they seem on the surface when a retrograde is in effect so starting this week, take action to assure your financial stability now and for the future.
Karmic Past Life Report examines possible past life connections using astrological methods.
---
Pisces: Your financial planet in the sign of Cancer is basically a harmonious aspect for you, but there may be some down sides to it this week. You can be too moody and your spending and investing depend on your mood. If your mood is negative mistakes can be made. If there are major decisions to be made, sleep on things more. Make the decisions when you are in a state of peace and harmony. With Mars in your 5th house of fun and enjoyment, you could be lucky in speculations. Money can be earned in happy ways and provide you with extra income to spend on leisure and fun-type activities. . Know that you deserve the wealth that you have, but make sure to remember that extravagance can be a problem if you let it get control of you.
Karmic Insight Report comes from an esoteric point of view your birth chart is a portrait of your soul's intention for this lifetime, the lessons to be learned, qualities to develop, problems to be resolved, services to be rendered.
---
For more information about your Horoscope and what the stars
have in store for you, order one of our detailed
Astrology Reports for Couples!
Compatibility Report compares your temperaments and personalities. This information is powerful if you are married or living together.

Love Cards Report will reveal as much information about you and your partner as possible, using an ancient and highly accurate system called "The Book of Destiny".