Aries, Taurus, Gemini, Cancer, Leo, Virgo, Libra, Scorpio, Sagittarius, Capricorn, Aquarius, Pisces
Overview of this week
The Center for the New Age is pleased to present
your Free Weekly Horoscope for July 12 — July 18, 2015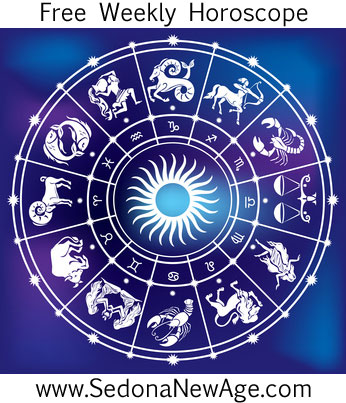 Aries, Taurus, Gemini, Cancer, Leo, Virgo, Libra, Scorpio, Sagittarius, Capricorn, Aquarius, Pisces
Mercury in Cancer trine Neptune in Pisces (July 13- July 17) brings thoughtful and engaging discussions and intuitive knowledge and perception. This is a superb aspect for discussing personal philosophies and metaphysical subjects. Confessions and spiritual confidentialities will be beneficial and easier to relay at this time.
Venus in Leo is square to Saturn in Scorpio (July 14 –July 23). It may be difficult to engage in pleasures, romance or to adequately protect the ones you love, particularly when complex obligations and responsibilities are involved. It may seem as if something is always getting in the way of basic pleasures. It is best not to get bent out of shape over some people's need to create restrictions in order to protect their own sense of security while love related troubles are being worked out. No matter how much one prioritizes a focus on love, it is still likely to be misinterpreted on some level during Venus square Saturn.
New Moon in Cancer on July 16 beckons to our moods to tune into newly emerging feelings about ourselves. The New Cancer Moon invites new desires to nurture the child within and build up a fresh outlook on our home life. Cancer focuses on the nurturing strength of the mother. This is a good time to bring new things to the home and brighten up one's outlook with encouraging and uplifting moods and feelings.
Mercury in Cancer conjunct Mars in Cancer (July 15 –July 28) brings the forces of communication (Mercury) together with the forces of action (Mars). This is not a very good time to bluff, especially with regard to banking or sentimental subjects. This is an excellent time to get others motivated through speech, but this may also be a time of angry words being spoken. Some might say the best way to win an argument is to begin by being right; taking this approach now is likely to win you favors but not friendship. Take caution with your words; if they are intended to incite a battle, this is the time to put on your boxing gloves.
Mars and Mercury in Cancer are both opposite Pluto in Capricorn from July 15 to July 19. The Mercury aspect brings emotional perspectives of the intense and grotesque aspect of the news that may be emphasized, causing horror, fascination, realization, and for some people, a kind of triumph as well. The news highlights power issues and the ensuing struggles for a breakthrough. Mars opposing Pluto stirs up emotional activities in the home over career related transformations. This aspect activates big changes and may create conflict between generations and between those with diametrically opposed cultures. This period is a time to be vigilant and guarded and to expect swift, permanent changes.
Aries, Taurus, Gemini, Cancer, Leo, Virgo, Libra,
Scorpio, Sagittarius, Capricorn, Aquarius, Pisces
For more information about your Horoscope and what the stars
have in store for you, order one of our detailed
Astrology Reports!
Compatibility Report compares your temperaments and personalities. This information is powerful if you are married or living together.

Love Cards Report will reveal as much information about you and your partner as possible, using an ancient and highly accurate system called "The Book of Destiny".
Free Weekly Horoscope for your Sign
Aries: The New Moon at the base of your chart on July 16 brings the opportunity to start afresh. You might witness an end of some sort, but it will be an end that needs to happen. Allow what needs to go to do so, and then focus your attention on creating greater harmony in your life. It is likely you have been living with a source of stress for some time, and this New Moon is your chance to let it go. New beginnings are the order of the day, especially with your home, family and issues connected to your past. It is time to break free and head in a new direction.
Numerology Report is a personal profile and one year forecast based on advanced calculations of your name and birth date.
---
Taurus: The New Moon on Thursday calls for a new vision in your life. The time has come to throw out an old belief or perception that does you no favors. This may require courage, but it will be courage well used if you can rise to the challenge. Perhaps the thing you need to tell yourself is that you won't get what you want from others. No matter if it's love, approval, security or recognition, you will make yourself unhappy if you look to others to give you what you need. Saturn's ongoing square to Venus suggests that now is the time when you have to unearth your own inner riches, and in so doing, you'll discover that you already have what you've been searching for.
New Age Natal Report is designed as a guide for your growth and personal evolution in the New Age.
---
Gemini: The New Moon on Thursday brings a wonderful opportunity to turn over a new leaf where your finances are concerned. This would be an ideal time to direct your thoughts to abundance and prosperity and to leave behind old, limiting concepts that may have prevented you from accepting life's gifts. This could be a time for change for you, as the Universes encourages you to not let any situation –financial or otherwise –prevent you from moving forward in your life. It may help, for example, to refuse to allow what you perceive to be a lack of resources to stop you from doing what you would love. There is a way to make the separate areas of your life function as a whole, and your challenge this week is to find out what that way is.
Merlin Report could be beneficial in self-help and self-transformation.
---
Cancer: The New Moon on July 16 falls in your sign, bringing opportunities for a fresh start. Think of this as your own personal new year; any intentions you set will be more powerful than at any other time of year. Wipe the slate clean of any grievances, baggage, or past problems. The New Moon suggests that you need to break old patterns and liberate yourself from old ways, perhaps even changing your direction. It seeks to remind you that you don't have to keep doing things in the same old way with the same old results; you can choose differently. And it may help to remember that you don't have to do everything. Try letting go of the controls a little, and relax.
---
Leo: The New Moon on Thursday in your zone of the past underscores again the need to let go so that you can move forward. You may find that, with a cluster of planets in this area, memories you're holding onto surface, bringing little outbursts of anger or irritation. Pay attention to these outbursts, and observe your thoughts and the memories that appear, as they could be revealing. It takes a lot of energy to keep emotions suppressed, so the more you can release, the more energy you will free up to direct into the here and now.
Child Astrology Report is been designed as a guide for parents, to help with the child's growth and alerting the parents to problems that the child could face in their life.
---
Virgo: With a cluster of planets including a New Moon in the most auspicious zone of your chart, this is a time to be optimistic about your future and to act on that optimism. The New Moon may bring opportunities for social connections that could help further your interests or ambitions, or you could simply use the opportunities as a good excuse for a fun time with people whose company you enjoy. This is a great time to make new friends, new contacts and new impressions. There may come a point though –probably around July 15-16 –when you will feel a bit overwhelmed, so try to take it easy around these days, and aim to distance yourself from emotional dramas.
Astrological Solar Return Report offers you a practical guide that helps you analyze this year's prospects and to learn from them.
---
Libra: The planets are aligning in your zone of success, making this an ideal time to focus on what you want to achieve in the outside world. When the New Moon occurs on July 16, you will be in a wonderful position to create new beginnings in the work and success area of your life. On one level, it will be helpful to remain open to possibilities and to say yes to whatever comes your way. On another level, this may feel like a time of completion, so don't be afraid to move on to something else if that's what's calling you. Much of what you choose to do now –and whether you're successful –has more to do with other people, your home and your family than you might realize, so make sure your personal life and inner world are in order. Don't be afraid to change things and break old patterns. A new path may be calling.
Astro Forecast Report gives you actual dates when the energies influence your life in a given time period.
---
Scorpio: The New Moon on Thursday encourages you to believe in the impossible –or to at least challenge your preconceived notions about what is or isn't possible. This New Moon accompanied by powerful Mars and imaginative Mercury encourages you to think optimistically and to push out of your comfort zone. This may mean trying something new or going on a stimulating adventure. Or consider taking up a course or picking up a book that will provide you with more knowledge. Do not be content to stay as you are, for the heavens are reminding you that you can be so much more, as long as you believe.
Cards of Destiny Report is a one year forecast based on Robert Camps book and age-old "cards of destiny" our ancestors gave us.
---
Sagittarius: Prepare for new beginnings on a deep inner level as a powerful New Moon highlights your psychological depths. This is an opportune time to experience some sort of cleansing –perhaps by healing yourself of emotional wounds or ridding yourself of toxins or clutter. Think of this New Moon as an opportunity to arise like the phoenix from the ashes. Whatever has been keeping you down will lose its power now as you gain strength. The New Moon may also bring attention to your finances or a private relationship matter. Again, the message is the same: you are growing in strength and no longer need to be held prisoner by fears and insecurities.
Relocation Information Report (3 locations) can be of great assistance if you are contemplating a move.
---
Capricorn: The New Moon on Thursday brings the opportunity for new beginnings in your relationships, so this is the time to mend rifts, heal fractures, listen to people (even those you have no patience for), and make sure that you are heard in what matters most to you. In short, this is a time for honest communication that will enable your relationships to move forward or to at least be more at peace. With Mars and Pluto involved, you will need to make a big effort to not get personal and to avoid angry accusations and feeling that you'd be better off on your own. Whatever comes up this week does so for a very good reason, and whatever you choose isn't the most important issue. What's most important is that you make decisions in the spirit of love.
Cayce Past Life Report describes your character traits, relationship potentials and challenges as well as career potentials and even more based on Edgar Casey Readings.
---
Aquarius: When changing something –the way you work, the food you eat, or the arrangement of the furniture –new possibilities begin to emerge. As the old saying goes, "If you always do what you've always done, you'll always get what you've always got." Now is the time to change. Think about how you can modify any area in your life that feels in need of improvement. You might decide, for example, to change your health by altering your diet and lifestyle. Or you might decide to increase your job satisfaction by changing the way you work. Be open to all possibilities because this really is a week in which anything could happen.
Karmic Past Life Report examines possible past life connections using astrological methods.
---
Pisces: The New Moon in your zone of fun is at odds with Uranus in your house of money. Maybe this means you lack the resources –or at least you think you do –to do what you want. If so, maybe it's time for a little reframing. The Universe asks you to break or change your patterns so that you can do more of what you love. It asks you to change your beliefs so that you can either have more of what you want or live a more authentic life. Success is open to you now; you just have to believe that you're entitled to it and be brave enough to make the necessary changes.
Karmic Insight Report comes from an esoteric point of view your birth chart is a portrait of your soul's intention for this lifetime, the lessons to be learned, qualities to develop, problems to be resolved, services to be rendered.
---
For more information about your Horoscope and what the stars
have in store for you, order one of our detailed
Astrology Reports for Couples!
Compatibility Report compares your temperaments and personalities. This information is powerful if you are married or living together.

Love Cards Report will reveal as much information about you and your partner as possible, using an ancient and highly accurate system called "The Book of Destiny".