Aries, Taurus, Gemini, Cancer, Leo, Virgo, Libra, Scorpio, Sagittarius, Capricorn, Aquarius, Pisces
Overview of this week
The Center for the New Age is pleased to present
your Free Weekly Horoscope for July 19 — July 25, 2015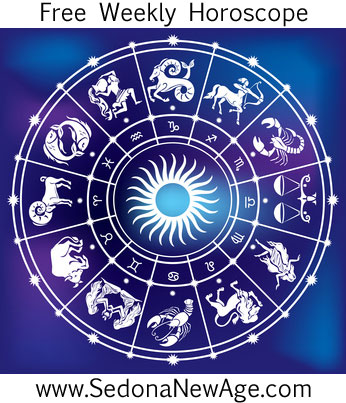 Aries, Taurus, Gemini, Cancer, Leo, Virgo, Libra, Scorpio, Sagittarius, Capricorn, Aquarius, Pisces
Mercury in Cancer trine Saturn in Scorpio (July 22 –July 29) brings favorable dialog concerning where to draw the lines. This is a good time to make an impression, to teach and to communicate to others those important matters that must be clarified. Timely information and news represents a gift or blessing, Important news comes with this aspect. News concerning the end of a long and arduous task brings relief.
First Quarter Moon in Scorpio on July 23 arouses our moods in deep and impassioned ways. Intense exchanges between people leave strong impressions. Throughout the day, this waxing Quarter Moon of Scorpio continues to bring moods to a strange and intense level of existence. Don't go looking for trouble or you'll surely find it, and this brand of trouble has teeth! The waxing Scorpio Moon often brings out strong sexual appetites and desires. This is a good time to get in touch with one's creative and imaginative side.
Mercury enters Leo on Thursday (July 24 –August 6) putting the focus of information, news and discussions on entertainment and the connection of families. This is the time when many kids are turning to, or away from, family, in an effort to find answers. They seek answers with which they can live, answers with regard to determining self-identity, as well as survival skills. This serves as a time when the mind establishes, reaffirms and maintains a self-created identity. Self-expression and fortitude will be more evident in conversation.
Venus enters the sign of Virgo (July 25 –July 31) where love and attraction are highlighted with such Virgo-like traits as shyness, prudence, purity and virginal beauty. While Venus is in Virgo, the expression of love and beauty will be analyzed and reflected up, and love related activities are more often reserved or calculated than they are acted upon. Venus in Virgo is referred to as "the fall," a less ideal position for Venus and a time when disappointment in love matters may be felt by some folks. Keep faith in your affections, despite the cooling of passions.
Aries, Taurus, Gemini, Cancer, Leo, Virgo, Libra,
Scorpio, Sagittarius, Capricorn, Aquarius, Pisces
For more information about your Horoscope and what the stars
have in store for you, order one of our detailed
Astrology Reports!
Compatibility Report compares your temperaments and personalities. This information is powerful if you are married or living together.

Love Cards Report will reveal as much information about you and your partner as possible, using an ancient and highly accurate system called "The Book of Destiny".
Free Weekly Horoscope for your Sign
Aries: As the planets shuffle into your house of fun, a lighter vibration begins to present itself as the universe invites you to lighten up and enjoy yourself. There may still be an element of tension, but it will feel less bothersome as you adopt a more carefree what-will-be-will-be approach. There is no need to have the answers to everything; simply take life one step at a time, enjoying the journey as you go.
Numerology Report is a personal profile and one year forecast based on advanced calculations of your name and birth date.
---
Taurus: As the planets gather at the base of your chart, this is a good time to focus on your inner needs and your home and family. Changes in these areas will be for the best, and any ideas you have –home improvement, family matters, and so on –should prove to be beneficial. Ideally, look to liberate yourself from something that has held you captive, especially if doing so will enable you to live more authentically. As Venus grinds to a halt in your creative area, now is the time to look honestly at what you need to be happy and not let fear stop you from being the master of your own life.
New Age Natal Report is designed as a guide for your growth and personal evolution in the New Age.
---
Gemini: When you block your natural flow through fear, you prevent what you need from coming to you. This doesn't just relate to money; it can also relate to love in that the more you hold back and play it cool, the more likely you are to have that mirrored back to you. The answer is to open yourself up and freely give your time, your money, your love or your gifts. By sharing what you have, more will come to you. Abundance is a state of mind, so whatever you do and whatever thoughts you entertain, ask yourself whether they are thoughts and actions of abundance or lack. As you experiment and aim to cultivate an inner state of abundance, life will open up with richness and happy surprises.
Merlin Report could be beneficial in self-help and self-transformation.
---
Cancer: There is a strong financial theme in your chart at present as the Sun, Mercury, Venus and Jupiter all gather in your house of resources. This is a great time to increase your fortunes, make hay while the sun shines, and generate ideas that will increase your income. With Mars in your sign, you should have no shortage of energy when it comes to taking action, so it seems you have everything at your disposal to change your circumstances for the better. If, though, you find yourself working hard with little reward, you need to address the bottom line: your self-worth. How much do you value yourself and what you have to offer? Do you respect yourself enough? Is this mirrored in what you charge for your services? Confidence is a priceless commodity, and your challenge now is to value yourself, which will then be mirrored back to you via the actions of others.
---
Leo: The Sun and Mercury move into Leo on July 24, shifting the focus from the past's low energy to you in the here and now. Your energy levels and enthusiasm should begin to rise, and this is a good time to shine the spotlight on your well-being and happiness. Remember that with Jupiter still in your sign, this is your big opportunity to begin a new cycle, plant new seeds, and embrace new beginnings. If there's something you would love to do, draw on your courage to take the necessary steps, and begin making your desires into a reality.
Child Astrology Report is been designed as a guide for parents, to help with the child's growth and alerting the parents to problems that the child could face in their life.
---
Virgo: Venus enters your sign this week and stays till the end of the month. This feels important, as if she has a message for you. That message might be about how much you enjoy and celebrate life and to encourage you to choose to focus on the good and joyful. Venus, after all, is the goddess of pleasure, as well as beauty and harmony. For the next two weeks, immerse yourself in the world of Venus. Treat yourself to small or large pleasures, enjoy your food, make your abode or yourself more beautiful, and seek art and culture. Reject all that is harsh, ugly, brash and vulgar, for these have no place in Venus's realm. Make yourself into a goddess (or get in touch with your feminine side). Perhaps most importantly, begin the process of loving yourself that little bit more so that the world will reflect your wonderful radiance back to you.
Astrological Solar Return Report offers you a practical guide that helps you analyze this year's prospects and to learn from them.
---
Libra: Sometimes in our quest for success, we try too hard and end up stressed and worn out. Mars at the top of your chart is urging you on to bigger and better things and to reach the top of the mountain where you can say, "Hurrah, I've done it!" If you feel, though, that it's taking too much out of you and that you're not enjoying the process, it might be time to pause for a rethink. Consider a more relaxed approach. Success is still attainable by going with the flow. In fact, the more able you are to go with the flow, the more successful you are likely to be because there is no struggle and strain –just a natural process of whatever is meant to be. And so with a cluster of planets in your social area, try to remember that other people can make your life a lot easier. This week, it's very much a case of who you know not what you know, so make socializing top your agenda.
Astro Forecast Report gives you actual dates when the energies influence your life in a given time period.
---
Scorpio: If you want to be successful, perhaps you need to participate more. As the planets move into your zone of career, purpose and success, you are in a good position to focus on achieving your goals and ambitions and to progress further along your chosen path. Remember, though, that you don't have to go it alone. Indeed, the more you can involve yourself with others –through contacts, acquaintances or friends –the more successful you're likely to be. You may be full of ideas and optimism now, which will be a great help in getting you to where you want to be, but just remember that no person is an island and the world works better when we join forces and work together.
Cards of Destiny Report is a one year forecast based on Robert Camps book and age-old "cards of destiny" our ancestors gave us.
---
Sagittarius: Sagittarians are not known for letting the grass grow under their feet; yours is the sign of adventure and exploration, and now as the planets align in your adventurous zone, you may be getting itchy feet. This would be a good time to take yourself on a journey keeping in mind that journeys of the mind can be just as satisfying as an expedition. What's important is that you have free reign to explore new ideas and concepts, so push out of your comfort zone, entertain new ideas, believe in the impossible, follow your big idea, and see where the un-trodden path may take you.
Relocation Information Report (3 locations) can be of great assistance if you are contemplating a move.
---
Capricorn: Sometimes your own company is the best antidote to stress and tension. Sometimes you just need quiet time, and when you return, things don't seem quite so bad. The planets this week have an introspective feel about them, urging you to delve deep within yourself to find the answers you need. It is unlikely you will find these answers going about your normal daily business or by keeping yourself busy and distracted, but by making the time to be alone –perhaps by taking a solitary walk in the woods or an afternoon to yourself at home –life's challenges will begin to take on a new perspective. Try not to judge others or situations, but instead ask for guidance on what to do next. The more you listen, the more likely the answers are to appear right in front of you.
Cayce Past Life Report describes your character traits, relationship potentials and challenges as well as career potentials and even more based on Edgar Casey Readings.
---
Aquarius: "Charisma is a fancy name given to the knack of giving people your full attention." Robert Brault sums up your theme of the week as the planets gather in your relationship zone. If you want your dealings with others to be more successful –whether it's your partner or the person who serves you in the supermarket –try giving them your full attention. The Aquarian mind is so full of ideas to save the world that sometimes the people around you get overlooked. This week brings a great opportunity to forge closer relationships with people and that in itself will be enough to warm the cockles of your heart.
Karmic Past Life Report examines possible past life connections using astrological methods.
---
Pisces: "Never hurry. Take plenty of exercise. Always be cheerful. Take all the sleep you need. You may expect to be well." You are reminded that good health is as easy as ABC. All you need to do is apply common sense, but it's most difficult to never hurry, isn't it? Modern life is structured in such a way that makes us feel we never have enough time and that there's too much to do. This would be a good week to have an information detox; limit your exposure to TV, newspapers, the news, the Internet, and the media and communication in general. Have some time in the day when your phone is switched off, and go for a walk in the woods instead of checking your email. The simple life is what's called for now. As Einstein once said, I believe that a simple and unassuming manner of life is best for everyone, best for both the body and the mind." And we all know how brilliant Albert Einstein was!
Karmic Insight Report comes from an esoteric point of view your birth chart is a portrait of your soul's intention for this lifetime, the lessons to be learned, qualities to develop, problems to be resolved, services to be rendered.
---
For more information about your Horoscope and what the stars
have in store for you, order one of our detailed
Astrology Reports for Couples!
Compatibility Report compares your temperaments and personalities. This information is powerful if you are married or living together.

Love Cards Report will reveal as much information about you and your partner as possible, using an ancient and highly accurate system called "The Book of Destiny".