Aries, Taurus, Gemini, Cancer, Leo, Virgo, Libra, Scorpio, Sagittarius, Capricorn, Aquarius, Pisces
Overview of this week
The Center for the New Age is pleased to present
your Free Weekly Horoscope for July 26 — August 1, 2015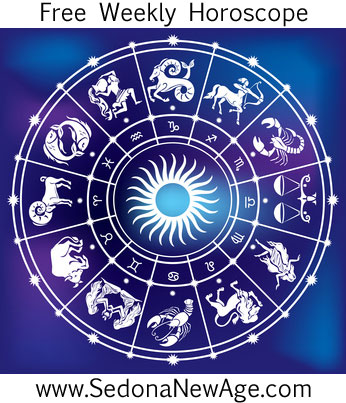 Aries, Taurus, Gemini, Cancer, Leo, Virgo, Libra, Scorpio, Sagittarius, Capricorn, Aquarius, Pisces
Friday Venus will retrograde in Leo (July 31 –October 8).The retrograde phase of a planet causes more of an internal than an external process of experience. While Venus is retrograde in Leo, the internal process of our love related focuses will be commonly examining our desires for personal attention or affection. Venus brings a yearning for affection, pleasure, beauty and for the things we love. It is important to maintain and respect the source from which loves flows, as well as maintaining a love and respect for yourself and your personal appearance. Hang in there, lovers. Venus retrograde in Leo will be teaching us about the importance of not trying to control our love pursuits and pleasures, but simply to learn to enjoy what comes our way. True control comes from within, and the retrograde Venus helps us to internalize our understanding of love relationships altogether.
July 31 the Full Moon in Aquarius, the second Full Moon of July, enlivens our senses with the need to apply clarity and definition. The mood of the day is likely to be blanketed in bizarre and unusual occurrences, and it's often focused on modern technological breakthroughs and inventions. People may seem idealistic and generous in some respects of this lunar expression, or out of hand and downright unrealistic in others. This is a good time to celebrate knowledge.
Aries, Taurus, Gemini, Cancer, Leo, Virgo, Libra,
Scorpio, Sagittarius, Capricorn, Aquarius, Pisces
For more information about your Horoscope and what the stars
have in store for you, order one of our detailed
Astrology Reports!
Compatibility Report compares your temperaments and personalities. This information is powerful if you are married or living together.

Love Cards Report will reveal as much information about you and your partner as possible, using an ancient and highly accurate system called "The Book of Destiny".
Free Weekly Horoscope for your Sign
Aries: Why put off living a more colorful life? Many people save their best clothes for the finest events, and some people even have rooms that are kept vacant and saved for special occasions. On a psychological level, we restrict ourselves through the excuse that we lack a variety of resources: time, money, qualifications, youth and so on. This week, as the planets align in your zone of enjoyment, ask yourself whether you have been putting off something that would be good for you. A more colorful world awaits; all you have to do is step into it.
Numerology Report is a personal profile and one year forecast based on advanced calculations of your name and birth date.
---
Taurus: The second Full Moon of the month on July 31 illuminates your path ahead and asks you to dig deep within yourself to determine what's next. When you are uncertain of your direction, the best thing to do is to get quiet and allow the answers to float up to the surface of your being. Venus at the first degree of your zone of creativity and authentic self-expression suggests that the clue to any dilemma is to connect with the Creator within, the divine spark housed in your heart, so journey into your heart, and allow its wisdom to guide you forward. It may also help to ask yourself what you love and then make your answers the foundation of your life.
New Age Natal Report is designed as a guide for your growth and personal evolution in the New Age.
---
Gemini: The second Full Moon of the month on Friday highlights the beliefs and adventure areas of your chart, making this the perfect opportunity to broaden your horizons and push out of your comfort zone. This would be a good time to question your beliefs and to see whether you're stuck in a rut or are habitually reactive. A good antidote to this is to have a change of scene, which could range from an excursion or a new activity to trying a new restaurant or type of film you wouldn't normally watch. By being open to new experiences, you will begin to see the world in a new light, and that in turn will begin to instigate changes within.
Merlin Report could be beneficial in self-help and self-transformation.
---
Cancer: We're programmed for stress because of the negative beliefs we have running in our unconscious, so now, as the second Full Moon of the month brings forth another challenge, you have an opportunity to weed out whatever causes you to choose the stressful option. The first step is to become mindful of your thoughts, and whenever you have a thought that creates stress –"there isn't enough money" or "my partner won't do what I want" –alert yourself to the fact that these are stressful thoughts that won't help the situation. What will help is asking yourself what positive steps you can take to change things for the better.
---
Leo: "Always be a first-rate version of yourself instead of a second-rate version of somebody else." Keep this Judy Garland quote in mind as the Full Moon in your opposite sign on Friday reminds you of the futility of comparing yourself to others. Only you are capable of being you, with your unique gifts, talents, ideas, quirks and qualities. With the Sun, Mercury and Jupiter all in Leo, and Venus retrograding back into your sign, it's as if the cosmos is calling your attention to yourself and asking you how you can do more to express the truth of who you are. How can you radiate more of your you-ness into the world? Don't worry about what anyone else thinks or does; you've got to do it your way. As the month draws to a close, spend some time with yourself contemplating whether you're being true to yourself and how you can express more of your unique self in a playful fashion.
Child Astrology Report is been designed as a guide for parents, to help with the child's growth and alerting the parents to problems that the child could face in their life.
---
Virgo: As the planets begin to line up in your zone of the soul, now is the time to get quiet and reconnect with your inner self. In our busyness, we often neglect our inner self to the extent that we begin to lose our center and suddenly everything feels like a big deal. If you regularly meditate or do a spiritual practice such as yoga, that's great, but if not, make it your mission this week to commune with your soul in any way you can –by paying attention to your dreams, writing in a journal, going for a long walk, or sitting in quiet contemplation. Venus is inviting you to do less and be more, to enjoy more and stress less. The planets urge you to case off your burdens, hand your problems over to a higher power, and get on with the business of enjoying your life.
Astrological Solar Return Report offers you a practical guide that helps you analyze this year's prospects and to learn from them.
---
Libra: The second Full Moon of the month on Friday falls in your house of fun, which is not a bad place to be, as it will draw your attention to your current state of joie de vivre and may encourage you to seek to make life more joyful. It could be as simple as getting out and mixing with like-minded people, so seize every opportunity to attend events and partake in recreational activities. You may also want to reconnect with your friends or expand your contacts. You're certainly likely to feel sociable, but you need to remember that Venus has ground to a halt in your zone of soul and spirit, effectively calling you home. Try to make time for quiet contemplation among the social whirling because the more you can connect with your inner voice, the more likely you are to find yourself in the right place at the right time.
Astro Forecast Report gives you actual dates when the energies influence your life in a given time period.
---
Scorpio: The second Full Moon of the month on July 31 illuminates your home and vocation axis, asking you where you want to be and what you want to be doing. If you're already fairly sure about these areas of your life, then this Full Moon is likely to pass with little more than a minor bout of tension or aggravation. If, however, these areas of your life are open to question, the Full Moon will enable you to start gathering answers. Trust that the possibilities opening up now are the right ones and that you will find yourself heading in the right direction.
Cards of Destiny Report is a one year forecast based on Robert Camps book and age-old "cards of destiny" our ancestors gave us.
---
Sagittarius: The Second Full Moon of the month seeks to remind you of the power of belief and that you can if you think you can. Likewise, you can't if you think you can't. It's very important now to be alert to your negative thoughts, fears and worries churning in your mind on a daily basis. Even if your head is just full of cluttered thoughts and mental busyness, this constant running commentary can get in the way of progress. This is a good time to meditate and clear the busyness in your head so that space can be made for empowering insights to emerge. Positive, optimistic thinking will get you where you want to be quicker than anything else.
Relocation Information Report (3 locations) can be of great assistance if you are contemplating a move.
---
Capricorn: The second Full Moon of the month on Friday highlights the financial area of your chart, questioning whether you have enough resources for your needs. Is there room for improvement financially? How can a joint matter be resolved? This Full Moon also triggers the deeply personal area of your chart that poses questions of a more intimate nature. Strangely, sex and money have a strong connection, and it's worth it to look for any imbalances in these areas. As you correct one, the other may automatically slot into place. Once again, this is a solitary week when you may overpoweringly find the need to be alone in order to resolve matters. Don't resist this need because the planets are very clear that any effort made to connect with your inner self –through quiet time or mystical and spiritual pursuits –will be richly rewarded.
Cayce Past Life Report describes your character traits, relationship potentials and challenges as well as career potentials and even more based on Edgar Casey Readings.
---
Aquarius: This week's Full Moon on July 31 is likely to highlight the difference between you and another person, so you will need to work toward bridging the gap to create trust and unity. There is great potential to create a richer personal life –from joyful relationships to networking. The big challenge, as evidenced by the Full Moon and Venus grinding to a halt in your zone of intimacy, is how much you're prepared to give of yourself, trust and reveal your fears and insecurities. By reaching out to others and taking the risk of being vulnerable, you are likely to experience wonderful developments in your personal life.
Karmic Past Life Report examines possible past life connections using astrological methods.
---
Pisces: The second Full Moon of the month occurs in your health and work axis on July 31m bringing to light the sense that something needs to change in order for you to move on. You may need to bring closure to a matter that is interfering with your life and well-being. Try to not be afraid of entering a period of instability as the world around you shifts and feels chaotic. What you may need to remember as Venus stations at the very beginning of your relationship zone is that you can't change others; they can only change themselves when they are ready. Take control of your own existence wherever possible. Allow others to be as they are, and before very long, everything will have righted itself.
Karmic Insight Report comes from an esoteric point of view your birth chart is a portrait of your soul's intention for this lifetime, the lessons to be learned, qualities to develop, problems to be resolved, services to be rendered.
---
For more information about your Horoscope and what the stars
have in store for you, order one of our detailed
Astrology Reports for Couples!
Compatibility Report compares your temperaments and personalities. This information is powerful if you are married or living together.

Love Cards Report will reveal as much information about you and your partner as possible, using an ancient and highly accurate system called "The Book of Destiny".