Aries, Taurus, Gemini, Cancer, Leo, Virgo, Libra, Scorpio, Sagittarius, Capricorn, Aquarius, Pisces
Overview of this week
The Center for the New Age is pleased to present
your Free Weekly Horoscope for August 2 — August 8, 2015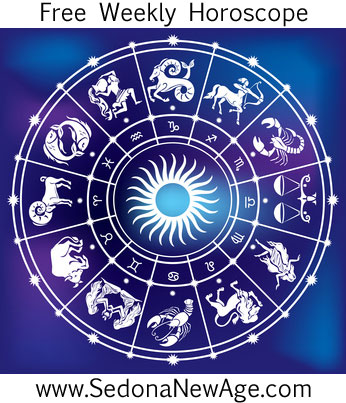 Aries, Taurus, Gemini, Cancer, Leo, Virgo, Libra, Scorpio, Sagittarius, Capricorn, Aquarius, Pisces
What an active week this is in the heavens!
Saturn, retrograde since the middle of March, goes direct August 2 allowing us to more freely organize and stabilize our priorities and disciplines to allow projects to get back on a productive and progressive path. Discipline is the key to perseverance. We are now a little freer to take on responsibility with less hassle and restraint. We can focus in a more timely fashion on finding solutions to classic old problems and we stand a chance to make progress in a more practical manner so this is the time to get back on track with personal goals and disciplines.
Jupiter in Leo is square to Saturn in Scorpio (August 3 –September 5). Jupiter represents joy, attainment, expansion and the place where economic growth occurs. Saturn is the guard at the edge of time and represents the work, discipline, timing and responsibility that comes with prosperous growth. These two planets have a natural relationship as with each bountiful step of attainment there is always the restriction required to maintain it and the duty of labor necessary to keep it growing or expanding in value and quality.
(August 4 – August 17) Venus and Jupiter are conjunct in Leo. The powers of attraction (Venus) blend with the powers of prosperity and dominion (Jupiter). The influence of Jupiter reminds us that the resources of love in the universe are inexhaustible and love's great bounty is designed to be shared.
Venus in Leo square Saturn in Scorpio (August 5 – August 20) creates obstacles and restrictions concerning the timely expression of love. This aspect sometimes creates blocks in the flow of care and love due to external responsibilities and restrictions that cause and create separation. No matter how much one prioritizes their focuses of love, it is still likely to be misinterpreted on some level during Venus square Saturn.
August 6 Last Quarter Moon in Taurus focuses the general course of our moods on creating some sense of order in our financial situations. It also encourages the need for creature comforts and esthetically pleasing or luxurious surrounds. This is a good time to clean up personal work areas and transform one's atmosphere into a more useful and practical working order. Letting go of attachment to material things that have bogged one down with too much maintenance or disruptive costs may very well be the best move; if ever there is a time to do this, it is during the Last Quarter Moon of Taurus.
Mars in Cancer trine Saturn in Scorpio (August 6 –August 18) affects our actions with a sense of good timing. For some, though not all, this aspect will be helpful and this may be just the time to favorably put an end to those factors in life which have held us back from a sense of achievement. To benefit from this aspect, one must be persistent in taking action regarding important matters. It is the action of doing something with the application of energy (Mars) while applying responsibility and awareness of limitation (Saturn) that allows the perfect timely quality of completion, as well as new beginnings to occur with this strong but favorable aspect.
Mercury and Venus are conjunct in Leo (August 6 – August 11). When these two planets are conjunct, the energy suggests the need to communicate love. Be sure to let those you truly love know it: sometimes it's what isn't said that disquiets the heart. Know that there is a need to communicate the love occurring now, without getting too hung up on emotional issues. Hold no expectations in the expression of love, and take no offense if your own attempts to express your love are poorly interpreted.
Mercury in Leo is square Saturn in Scorpio (August 6 – August 12) affecting communications and information in a way that is often difficult to take or to get around. Mercury governs communications and the square aspect presents an obstacle, making it difficult for information to penetrate very easily. Instead, information is likely to be stifled by obstacles getting in the way of deadlines. It is wise to use caution when attempting communications during Mercury square Saturn, especially concerning matters of time and timing.
August 7 Mercury and Jupiter are conjunct in Leo until August 11. This aspect creates expansive talk which spreads quickly with news about the economic state of affairs. Thoughts and information (Mercury) regarding some form of visionary breakthrough (Jupiter) highlight this aspect. This may be the time to share our thoughts and our visions with others, and it is a great time to boost the morale of others by complimenting them on their skills. On a more mundane level, this is also a prosperous aspect for communicating the need for a job or a financial loan.
On Friday, Mercury enters Virgo until August 27. This is a most advantageous place for Mercury, a place of its rulership. Mercury in Virgo will focus our minds more clearly on the pending events of autumn and also brings out the skeptical and analytical side of every argument and topic of discussion, keeping us on our toes.
Mars enters Leo on Saturday (August 8 –September 24) generally bringing positive and fortifying energy to the scope of all action. Leo is a fearless place for the planet Mars. Sheer action is stimulated and animated here. During this aspect, it's a good time to get in touch with one's instincts and to activate personal willpower.
Aries, Taurus, Gemini, Cancer, Leo, Virgo, Libra,
Scorpio, Sagittarius, Capricorn, Aquarius, Pisces
For more information about your Horoscope and what the stars
have in store for you, order one of our detailed
Astrology Reports!
Compatibility Report compares your temperaments and personalities. This information is powerful if you are married or living together.

Love Cards Report will reveal as much information about you and your partner as possible, using an ancient and highly accurate system called "The Book of Destiny".
Free Weekly Horoscope for your Sign
Aries: Most of the planets are lined up in your house of fun this week, so the message is quite clear: take every opportunity to enjoy yourself and engage in activities that make you feel happy. For the creative Aries, this will be a productive and satisfying week, so make hay while the sun shines. Let those creative juices flow! Even if you're not artistically minded, much enjoyment could be gained from picking up an instrument, painting a picture, singing along to your favorite tunes, or getting into the kitchen and creating something tasty. On a deeper level, this cluster of planets invites you toward a more authentic expression of living. Now is the time to ditch anything that you do solely for the money or because you feel you have to do. Or at the very least, take a break from it to immerse yourself in whatever uplifts your soul and ignites your heart.
Numerology Report is a personal profile and one year forecast based on advanced calculations of your name and birth date.
---
Taurus: Home is where the heart is during this first week in August, and your greatest chances of happiness and contentment will be found in the company of loved ones or the peace and tranquility of your home. Venus retrograding through this area is your invitation to make your home more beautiful; make it a soulful, nurturing place of peace. Or it's an invitation to focus on creating more loving bonds with your family. This is Jupiter's last week in this area of your chart, so make the most of his benevolent influence by appreciating all your blessings and being happy with what you've got. Nobody's life is perfect, but we've all got plenty to be thankful for.
New Age Natal Report is designed as a guide for your growth and personal evolution in the New Age.
---
Gemini: We don't always know the answer, but chances are that there is someone out there who does. If you need to find the truth and you can't find it in a book or another person's wisdom, turn instead to your higher self or guardian angel, who will guide you to what you need to know. Sometimes all we need to do is trust that gut feeling. If it doesn't feel right, it probably isn't. it might also help to slow down, because when we're rushing from here to there –always busy, active, and engaged –it's very difficult to hear those quiet whispers or sense those subtle feelings, so try to find a few moments in what is likely to be a very busy week in order to get quiet and allow inner serenity to guide you.
Merlin Report could be beneficial in self-help and self-transformation.
---
Cancer: Opportunities for financial increase are ripe, making this a good time to focus on abundance and prosperity. Now is the time to act on money making ideas and to pursue new ventures that have every chance of being successful. It could also help to ask yourself whether you're making the most of your gifts and talents or whether it would help to feel more deserving. An applicable quote is, "you don't get what you deserve; you get what you negotiate." This is certainly a great time to ask for what you feel you deserve and to give your all in what you do, which in turn will make you a more appetizing prospect for customers, clients and prospective employers.
---
Leo: "Let the good times roll" should be your motto as a cluster of planets aligns in your sign. Even if you have challenges in your life, this cluster of planets will do much to enable you to see the silver linings while simultaneously bringing opportunities for success. Keep your thoughts aligned with positive outcomes, because it will be far easier to attract positive outcomes than negative ones so long as you steer clear of negative thinking. Venus retrograding through your sign makes this an ideal time to turn your attention to love and relationships, aiming to heal or correct any imbalances in your relations with others. Spending time with people you care about and opening your heart to love can help you find much joy and happiness. This is also an ideal time to indulge in something pleasurable or to treat yourself –get a new haircut, some new clothes, a massage, a facial, a bottle of fine wine or an indulgent box of chocolates. In short, it's a week to enjoy.
Child Astrology Report is been designed as a guide for parents, to help with the child's growth and alerting the parents to problems that the child could face in their life.
---
Virgo: This is a big month for you as Jupiter enters your sign for the first time in twelve years. This is very exciting, even more so next week. For now, you need to concentrate on closing the door on the past, especially if it's not been great. Whatever trials and tribulations you've experienced and endured over the past few years, a new life beckons. The first thing you need to do is embrace that sense of the old making way for the new. Let go of regrets, recriminations and remorse. Tell yourself that everything happens for a reason, and all experiences can be valuable. Soon it will all be happening, so take this opportunity to rest. Be quiet and reflective, perhaps holding in your mind a positive vision of what you would like your life to look like, and then get ready to celebrate.
Astrological Solar Return Report offers you a practical guide that helps you analyze this year's prospects and to learn from them.
---
Libra: As Venue retrogrades through your social zone, you might find yourself feeling a little on the periphery of life rather than being an active player. First, check that this is really true and not just your faulty perception. Secondly, if you feel that you can't get to where you want to be with the people you'd like to be with, you need to ask yourself why. Are you sabotaging yourself? Is fear holding you back, or is it because the thing in question isn't right for you? There is a strong focus at present on finding your tribe and aligning yourself with people and principles that match your own. When you're clear within yourself about what is most important to you in terms of your hopes and dreams, everything else will fall into place.
Astro Forecast Report gives you actual dates when the energies influence your life in a given time period.
---
Scorpio: With Saturn back in your sign, it's time to make constructive changes to any area of life that has room for improvement, and if it feels that certain things are out of your hands, just go with it, knowing that whatever is happening is doing so for a good reason, even if you can't see it yet. Tuning into your inner voice will enable you to find a calm within the storm and to get a feel for what you need to do. With a cluster of planets at the top of your chart, it would seem that you are being called to bigger and better things, so don't resist or hold on to the old ways. This is a great time to focus your energies on where you're going in life, to get yourself noticed by those who could help you further your ambitions, and to take advantage of any business or professional opportunities that come your way.
Cards of Destiny Report is a one year forecast based on Robert Camps book and age-old "cards of destiny" our ancestors gave us.
---
Sagittarius: There is a very adventurous theme to your chart at present, so if you can't get away, make it your mission to step out of the ordinary and do something different. It's also an ideal week to stretch your mind by immersing yourself in higher-mind subjects that could help raise your consciousness or simply generate a new way of seeing things. With your ruler Jupiter on the verge of changing signs, it would be good to put your energies into whatever is calling to you right now and make the most of whatever adventurous opportunities come your way.
Relocation Information Report (3 locations) can be of great assistance if you are contemplating a move.
---
Capricorn: Sometimes when we're under stress it's difficult to see the possibilities that lie behind the clouds. Very soon things are about to change for the better, but first it seems that you need to turn your attention to matters that need sorting. Don't be afraid to confront those difficult issues, especially emotional and personal ones, because once these are dealt with, it will be so much easier to move forward in other areas of your life. If things feel a bit heavy right now, it's only because deeper issues that you've allowed to build up are calling your attention. Face your fears, focus on intimacy, heal those broken areas of life and relationships and pretty soon you will witness a transformation.
Cayce Past Life Report describes your character traits, relationship potentials and challenges as well as career potentials and even more based on Edgar Casey Readings.
---
Aquarius: A cluster of planets, including a retrograde Venus in your house of relationships, puts the emphasis firmly on matters of the heart. From this could emerge a range of possibilities –from meeting a new love to bringing an existing relationship to completion. Less dramatic scenarios include improving a relationship that has been struggling for a while as Venus urges you to focus on what can be improved. Ultimately, what's needed is the courage to face up to that which needs to be dealt with, and then you can move on.
Karmic Past Life Report examines possible past life connections using astrological methods.
---
Pisces: Can you take better care of yourself? Can you put more love into your work and daily chores? These are the questions to consider as a whole host of planets join forces in your zone of health and work, making this a good week to focus on the everyday practicalities. Perhaps you could be more organized or efficient? Maybe you could utilize your time better? Perhaps you could aim to be more moderate in your habits, eschewing both excess and deprivation. Most important of all, though, is the love that you put into what you do, as the more you do this, the greater your sense of happiness and fulfillment will be.
Karmic Insight Report comes from an esoteric point of view your birth chart is a portrait of your soul's intention for this lifetime, the lessons to be learned, qualities to develop, problems to be resolved, services to be rendered.
---
For more information about your Horoscope and what the stars
have in store for you, order one of our detailed
Astrology Reports for Couples!
Compatibility Report compares your temperaments and personalities. This information is powerful if you are married or living together.

Love Cards Report will reveal as much information about you and your partner as possible, using an ancient and highly accurate system called "The Book of Destiny".