#Aries, #Taurus, #Gemini, #Cancer, #Leo, #Virgo, #Libra, #Scorpio, #Sagittarius, #Capricorn, #Aquarius, #Pisces
#Horoscope – overview of this week
The Center for the New Age is pleased to present
your Free Weekly Horoscope for August 9 — August 15, 2015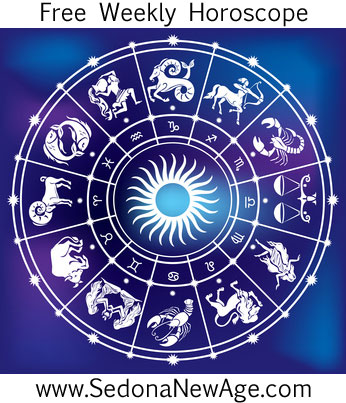 Aries, Taurus, Gemini, Cancer, Leo, Virgo, Libra, Scorpio, Sagittarius, Capricorn, Aquarius, Pisces
Jupiter enters Virgo on August 11. For the next thirteen months (until September 9, 2016) Jupiter, the planet of skill, fortune, luck, wealth, expansion, well being and joviality, will be putting out its expansive opportunities for carefully considered investments and budgetary plans, as this is the nature of Virgo. Jupiter engages one with a sense of happiness and achievement; this is done in the sign of Virgo with a keen, practical and accurate method of doing work. With Jupiter in the sign of Virgo for over an entire year, it is evident that economic matters will require careful planning. A stabilization of growth and expansion can occur with jovial Jupiter in the practical earth nature of Virgo, reminding us that our basic needs are always something to inspire gratitude and joy.
Mercury in Virgo opposite Neptune in Pisces (August 12 –August 17) makes us acutely aware of discussions concerning religious beliefs. It is wisest to be clear on one's own beliefs, and not to put oneself in a position of having to defend or expose those beliefs before a pack of merciless critics. Spiritual growth and enlightenment are not easy things to relay in conversation, and during this aspect it may seem particularly overwhelming for some folks to try to communicate effectively, or to comprehend what others are trying to communicate about spiritual matters.
New Moon in Leo on Friday is a time of personal discovery. Leo is the optimist and the New Leo Moon brings positive new perspectives to personal goals, as well as inspiring a fresh outlook on one's personal image.
Mercury in Virgo trine Pluto in Capricorn (August 15 –August 22) brings the message of hope and gives a very methodical, discriminating and meticulous expression to our methods of communication. Mercury trine Pluto brings greater definition to the meaning of fate, and allows us to more easily communicate about the power struggles occurring collectively around the world. Mercury is the communications tower that transmits information. Pluto's disruptive energy is focusing our attention on painful realities. This is a good time to express encouraging words and reinforce the troubled people of our world with a sense of hope.
Aries, Taurus, Gemini, Cancer, Leo, Virgo, Libra,
Scorpio, Sagittarius, Capricorn, Aquarius, Pisces
For more information about your Horoscope and what the stars
have in store for you, order one of our detailed
Astrology Reports!
Compatibility Report compares your temperaments and personalities. This information is powerful if you are married or living together.

Love Cards Report will reveal as much information about you and your partner as possible, using an ancient and highly accurate system called "The Book of Destiny".
Free Weekly Horoscope for your Sign
Aries: "Seek to do good, and you will find that happiness will run after you." This quote shows you the way forward as Jupiter's move into Virgo brings opportunities to serve others and expand or positively change what you do for a living. Service can be expressed in many forms, though, not just our paid work. We serve our families, our neighbors and our friends and Jupiter's message is that the more you give with a happy heart, the happier you will be while discovering more about yourself in the process.
Numerology Report is a personal profile and one year forecast based on advanced calculations of your name and birth date.
---
Taurus: The New Moon on August 14 brings a window of opportunity connected to your domestic life, making this a great time to turn over a new leaf or to enjoy new beginnings. Meanwhile, Jupiter's move into Virgo invites you to spend more time engaged in pursuits that make you feel glad to be alive. Now is the time to focus more on your creative talents, and time spent with your children is likely to be particularly enjoyable. Jupiter's main wish for you, though, is to create a more authentic life –one that beats in time with your heart. In order to discover what that is, you might first need to heal a problem and then pay attention to your hunches. As Frank Capra said, "A hunch is creativity trying to tell you something."
New Age Natal Report is designed as a guide for your growth and personal evolution in the New Age.
---
Gemini: The big news this week is that Jupiter moves into Virgo and will stay there for the next 13 months. For you, this is very auspicious for your home and family. Perhaps there will be a new addition or an improvement in a family relationship. Maybe there'll be a change of abode or simply greater happiness spent at home with your family. Jupiter's change of signs is set to remind you of how much you already have. In short, your personal life is set to blossom with the scent of contentment.
Merlin Report could be beneficial in self-help and self-transformation.
---
Cancer: The New Moon on August 14 is good news for your finances, joined as it is by Venus which is akin to having a fairy godmother wave her magic wand over your bank balance. This is a really abundant New Moon, so make sure your thinking is in line with prosperous beliefs and intentions. Shortly after that, comes Jupiter's move into Virgo, which for you will bring about a more positive mindset and a more expanded way of seeing the world and your place in it. It is likely that you're on the verge of discovering some important truths about yourself, others or life, and this is going to liberate you from a less than ideal situation. If you've felt limited or restricted, you're about to discover a whole lot more freedom and inspiration. As Jupiter changes signs and effectively broadens your mind, expands your consciousness, and increases your contacts, you can expect to see life opening up, which in turn will bring opportunities and change.
---
Leo: If you're looking for a breakthrough, look no further as the New Moon aligned with Venus occurs in your sign. This is great news, as it signifies positive developments and the opportunity to start afresh. Now is the time to close the door on the past and begin a new chapter with hope, faith and optimism in your heart. The other big news this week is Jupiter leaving your sign. No doubt there will have been at least one major development in your life over the past twelve months as Jupiter encouraged you to embrace change. Endings and new beginnings might have been a feature, but now life begins to settle into something more routine, and the focus shifts to money and abundance. Enhance your good fortune by considering how you can better utilize your gifts and talents. Not only will this bring you a deeper sense of fulfillment, but you'll increase your chances of improving your long term income too.
Child Astrology Report is been designed as a guide for parents, to help with the child's growth and alerting the parents to problems that the child could face in their life.
---
Virgo: Jupiter's arrival in your sign should be accompanied by a fanfare as he augurs the beginning of a new cycle in which you can decide to live differently. Therefore, any negative elements of your life can be swept away as you move into a new, more optimistic phase. Now is the time to push out of your comfort zone, embrace life and opportunities, believe that anything is possible and focus on positive outcomes. This is a great time to plant new seeds, knowing that whatever you do now will bear fruit in times to come. The New Moon on August 14 is your big opportunity to lay the past to rest and prepare to move on.
Astrological Solar Return Report offers you a practical guide that helps you analyze this year's prospects and to learn from them.
---
Libra: "Intuition is a spiritual faculty and does not explain, but simply points the way." Florence Scovel Shinn reminds us that we lose our way because we forget to listen to our inner voices or become blind to the messages that the universe sends us. All this is about to change as Jupiter moves into your zone of soul and spirit, dramatically strengthening your connection to the divine. This is a great gift to have, and you can enhance this process by working with your dreams, taking a psychic development course, connecting with the angels or making art, yoga or meditation a regular part of your life. By opening up to the spiritual realm, it will in turn open up to you. On August 14, the New Moon brings the opportunity for positive change and new beginnings with your social life, friends and your hopes and wishes for the future, so this is a great day for clarifying your dreams and then asking for guidance on how best to manifest them.
Astro Forecast Report gives you actual dates when the energies influence your life in a given time period.
---
Scorpio: Albert Schweitzer once said, "In everyone's life, at some time, our inner fire goes out. It is then burst into flame by an encounter with another human being. We should all be thankful for those people who rekindle the inner spirit." If your inner fire has gone out or dwindled, you can expect Jupiter's move into Virgo to revive your optimism by introducing you to people and groups of like minds or folk who are able to open doors for you. Expect to make a new friend, join a group, or meet people who will inspire you to follow your dreams. At the very least, you're likely to feel less alone or isolated, and the New Moon on August 14 is your cue to take a step forward into new beginnings, especially where your vocation and your purpose in life are concerned.
Cards of Destiny Report is a one year forecast based on Robert Camps book and age-old "cards of destiny" our ancestors gave us.
---
Sagittarius: Don't allow guilt to sabotage your opportunities or your attempts to create a new vision of life. The time for staying in your comfort zone is coming to an end as Jupiter beckons you toward bigger and better things. Part of this might involve more success in your professional life. Bear in mind this quote: "Success is not the key to happiness. Happiness is the key to success. If you love what you are doing, you will be successful." It might have felt difficult to love what you're doing recently as Saturn in your sign has been piling on the pressure, giving life a heavy and relentless feel. However, Jupiter's change of signs will do much to reignite your natural optimism and inspire you to create a better future.
Relocation Information Report (3 locations) can be of great assistance if you are contemplating a move.
---
Capricorn: Life begins to lighten up and "adventure" is your keyword as Jupiter takes up residence in your zone of expansion. While it might not be possible for you to be constantly jetting off, it could be useful to consider how you can bring more adventure into your life by challenging yourself to do or try new things or to explore new ideas, concepts, people and places. Question your old beliefs for they might not be serving you anymore. As Marcel Proust said, "The real voyage of discovery consists not in seeking new landscapes, but in having new eyes."
Cayce Past Life Report describes your character traits, relationship potentials and challenges as well as career potentials and even more based on Edgar Casey Readings.
---
Aquarius: In what way are you compromising yourself? Are you in a situation that doesn't make you feel good or a relationship that doesn't honor who you are? Any person, place or situation that leaves you feeling less than this, needs to be addressed. Perhaps it can be resolved by having the courage to confront it. Jupiter's move into your zone of intimacy means that you're no longer prepared to endure situations that feel empty, shallow or meaningless. You're looking for greater depth now, and a richer life can be yours by honoring your values.
Karmic Past Life Report examines possible past life connections using astrological methods.
---
Pisces: "The greatest thing you can do for another is not just share your riches, but reveal to him his own." Benjamin Disraeli hints at your current theme as Jupiter takes up residence in your opposite sign. This is good news for your personal life, as you'll naturally be focusing on others and forgoing relationships based on fun and enjoyment rather than needs and insecurities. All this will lead to a happier state of affairs whether you find a new love, rediscover joy in an existing partnership, or see yourself in a new light as a result of others. A few days after Jupiter changes signs, a New Moon occurs in the health and work region, making August 14 the perfect day to turn over a new leaf in these areas.
Karmic Insight Report comes from an esoteric point of view your birth chart is a portrait of your soul's intention for this lifetime, the lessons to be learned, qualities to develop, problems to be resolved, services to be rendered.
---
For more information about your Horoscope and what the stars
have in store for you, order one of our detailed
Astrology Reports for Couples!
Compatibility Report compares your temperaments and personalities. This information is powerful if you are married or living together.

Love Cards Report will reveal as much information about you and your partner as possible, using an ancient and highly accurate system called "The Book of Destiny".