#Aries, #Taurus, #Gemini, #Cancer, #Leo, #Virgo, #Libra, #Scorpio, #Sagittarius, #Capricorn, #Aquarius, #Pisces
#Horoscope – overview of this week
The Center for the New Age is pleased to present
your Free Weekly Horoscope for August 16 — August 22, 2015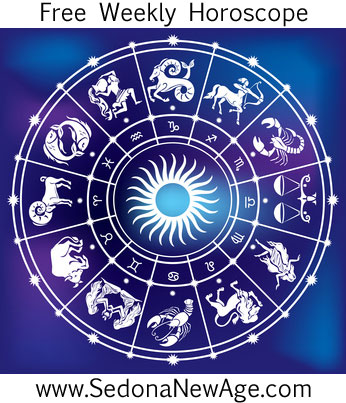 Aries, Taurus, Gemini, Cancer, Leo, Virgo, Libra, Scorpio, Sagittarius, Capricorn, Aquarius, Pisces
First Quarter Moon in Scorpio on Saturday brings out our moods in a precise and very concentrated manner. Get in touch with your creative and perceptive side. It is often true that emotional damage can be greater than physical damage. What heals on the outside cannot be as hidden as what does –or doesn't –heal on the inside. This is a time to address internal wounds with reassurance and care to mend emotional scars with love and encouragement.
Aries, Taurus, Gemini, Cancer, Leo, Virgo, Libra,
Scorpio, Sagittarius, Capricorn, Aquarius, Pisces
For more information about your Horoscope and what the stars
have in store for you, order one of our detailed
Astrology Reports!
Compatibility Report compares your temperaments and personalities. This information is powerful if you are married or living together.

Love Cards Report will reveal as much information about you and your partner as possible, using an ancient and highly accurate system called "The Book of Destiny".
Free Weekly Horoscope for your Sign
Aries: Jupiter's move into your house of health and work brings you many benefits; the first is improved health, as Jupiter offers protection. You just need to make sure you don't overindulge or become a bit sedentary, which is easily done under Jupiter's influence. Moderation and plenty of exercise will enable you to make the most of this transit in terms of your health. The other perk is that your daily life is about to become more satisfying, or at least previous difficulties –especially those connected with work – will change or ease. Better working conditions or an extra perk often come into play when Jupiter is around, so this is a good time to focus on gaining more enjoyment from your work. At the same time, you have a group of planets in your house of fun, making this another good week to enjoy yourself with the focus on pleasure, fun, recreation, romance and general enjoyment.
Numerology Report is a personal profile and one year forecast based on advanced calculations of your name and birth date.
---
Taurus: As Jupiter settles into your house of fun for the next thirteen months, you have every reason to feel quite pleased with yourself. Perhaps this will be the beginning of a more creative you or a happier, more relaxed you. At the very least, Jupiter will give you the courage to be yourself and not hide from the world, which in turn will ensure that you naturally gravitate toward people, places, work, activities and situations that are right for you and that feel good. Don't worry if you're not feeling that yet, because the transit is only just beginning, and there's a long way to go. Also, your ruling planet, Venus, is still retrograde, and it won't be until she turns direct next month that you will feel the full force of Jupiter's benevolent inspiration. Until then, contemplate what you would like to be and do, and trust that this will come to fruition in good time.
New Age Natal Report is designed as a guide for your growth and personal evolution in the New Age.
---
Gemini: An old Arab proverb advises, "When you shoot an arrow of truth, dip its point in honey." Gemini is the sign of communication. It is said that you have the gift of gab, but it's more truthful to say that you just like talking and exchanging information. Sometimes, though, your verbal skills can put others off balance, and as Mars arrives in your house of communication, you may need to watch how you interact with others. You're likely to have less patience than normal this week, probably because things are busy and you may feel that you don't have enough time. Or it might be that what you would normally keep quiet about or turn a blind eye to becomes more difficult to ignore. If you need to say something to someone, then do so while remembering the aforementioned Arab proverb.
Merlin Report could be beneficial in self-help and self-transformation.
---
Cancer: With Jupiter in Virgo, it is likely that this will inspire within you a new vision of what your life could be like. This is especially true if life in recent years has been challenging or restrictive. Now is the time to see what you're capable of; perhaps study a subject that interests or inspires you, explore your talents, expand on any communication skills that you might have (such as teaching, writing, speaking or selling) and so on. Now is the time to be thinking of getting your message out there. Not only that, but you've also got the added bonus of the Sun, Venus and Mars in your prosperity zone protecting you from difficulties and bringing opportunities for abundance –or at the very least, enabling you to see a solution to any difficulties. You're now in a position where everything is up for grabs, so get out there and see what you can do.
---
Leo: Worry and guilt are pointless wastes of time, yet many of us indulge in them on a regular basis. We worry about what might happen, we worry whether we said or did the right thing, and we feel guilty when we conclude that we failed in some way. This week as Saturn squares your ruling planet, try to stand strong in the face of negative mental states. Don't punish yourself for mistakes and question whether you did actually make a mistake or whether you're just being hard on yourself. It's far better to adopt a playful spirit in the face of small failures and to apologize if you make a mistake; then learn from it, and move on. It could help this week to give yourself a pep talk or have a chat with someone who is good at singing your praises. This little dip in confidence won't last long, but it would be a shame to let it spoil an otherwise positive outlook.
Child Astrology Report is been designed as a guide for parents, to help with the child's growth and alerting the parents to problems that the child could face in their life.
---
Virgo: Do you have a vision of what you want your life to look like? If not, it's time to get imagining as Jupiter settles into your sign for the next thirteen months. Many people don't make the most of their Jupiter transits because, as life gets easier, the temptation is to just sit back and allow things to happen. This, though, results in a life not much different from how it was before, and these opportunities for change don't come around very often so if there's something you'd love to do, make an effort to get the ball rolling. Jupiter will do the rest.
Astrological Solar Return Report offers you a practical guide that helps you analyze this year's prospects and to learn from them.
---
Libra: There is a nice mix of social and spiritual going on now, making this a good time to mingle in groups, connect with friends, make new contacts and enjoy social excursions. At the same time, you are happy enough in your own company and enjoying some quiet reflection. This could in fact be a time of blossoming as you become happier in your own skin, finding it easier to connect with others and letting your love for people shine through. Aside from the financial side of life, which might benefit from a little attention and constructive action, there isn't much you need to do right now other than enjoy life and scatter your happy spirit among others.
Astro Forecast Report gives you actual dates when the energies influence your life in a given time period.
---
Scorpio: The planets are moving into positions that are very favorable for you, because they are trying to open doors, bring you opportunities and instill a feeling that your future is bright. However, with Saturn in your sign, you may be forgiven for having moments when you doubt it all and slip into a negative mindset. Don't let fear, doubt, guilt or despondency color your attitude for too long; things look as if they're going to improve. You just need to keep the faith. You can help to offset the dour negativity of Saturn by exercising, bringing warm colors into your life, engaging in fun activities and making it your mission to laugh a bit more and see the funny side of life. As the old saying goes, laughter is the best medicine.
Cards of Destiny Report is a one year forecast based on Robert Camps book and age-old "cards of destiny" our ancestors gave us.
---
Sagittarius: Jupiter's change of signs is good news for you as it promises a new chapter of life. It is probable that you will, at some point over the next thirteen months, experience a change in direction, witness a door opening that beckons you to new pastures, or benefit from an increase in success, such as a promotion or an opportunity to do more of what you love and be rewarded for it. For all of these reasons, it's vital that you approach life with an expectant attitude, know that wherever life seems to be taking you is precisely where you need to be heading. This could require a more philosophical approach if life isn't turning out the way you had originally hoped or planned. Acknowledge instead that sometimes the universe knows more than we do about the reasons behind events. Trust that you are on the right path and that all is unfolding as it should, and let go of all fears, doubts or judgments to the contrary.
Relocation Information Report (3 locations) can be of great assistance if you are contemplating a move.
---
Capricorn: Soon the Sun enters your ninth house of adventure and the heaviness of recent times will begin to fade like snow in the Sun. Armed with a new positive attitude, you will be able to move mountains and begin to create a vision of what you would like to manifest in your life. First off, though, this week you would benefit from taking stock of your life. Are there any imbalances? Do you spend too much time in some areas and not enough in others? For example, Capricorns normally gravitate toward work and making a success of things, but if that means that other areas of your life are left wanting, then it might be time to reprioritize. The main thing, though, is to consider what it is that you really want, and begin to believe that it's possible.
Cayce Past Life Report describes your character traits, relationship potentials and challenges as well as career potentials and even more based on Edgar Casey Readings.
---
Aquarius: There is still a strong relationship theme in your life, but it doesn't just relate to a love relationship; all relationships are coming under the microscope, including your ways of relating to others in general. How can you be more present in your relationships and in the company of others? Are you truly listening, or are you somewhere else? Are you really committed to a relationship –romantic, business or friendship? Could you be kinder, softer, more loving and more tolerant? Or do you need to be more assertive and set better boundaries? How can you give more and perhaps also receive more? In other words, can the flow between you and others be opened up so that there is a stronger current flowing between you? All you need to do is make other people your main focus for the time being, which is bound to result in greater happiness all around.
Karmic Past Life Report examines possible past life connections using astrological methods.
---
Pisces: Life is likely to be busy now, and if you can refrain from burning yourself out by remembering to be moderate and pace yourself, you can make great progress. Aside from getting things done, the focus is on service and you'll get the most out of the current planetary alignments if you give from your heart to others with no thought of reward. This is something that Pisces are generally good at, but if you find yourself under stress or wondering what you should be doing, contemplate the following words by Gandhi: "The best way to find yourself is to lose yourself in the service of others."
Karmic Insight Report comes from an esoteric point of view your birth chart is a portrait of your soul's intention for this lifetime, the lessons to be learned, qualities to develop, problems to be resolved, services to be rendered.
---
For more information about your Horoscope and what the stars
have in store for you, order one of our detailed
Astrology Reports for Couples!
Compatibility Report compares your temperaments and personalities. This information is powerful if you are married or living together.

Love Cards Report will reveal as much information about you and your partner as possible, using an ancient and highly accurate system called "The Book of Destiny".