#Horoscope #Aries, #Taurus, #Gemini, #Cancer, #Leo, #Virgo, #Libra, #Scorpio, #Sagittarius, #Capricorn, #Aquarius, #Pisces
#Horoscope – overview of this week
The Center for the New Age is pleased to present
your Free Weekly Horoscope for August 23 — August 29, 2015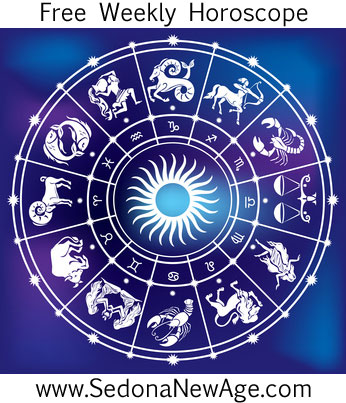 Aries, Taurus, Gemini, Cancer, Leo, Virgo, Libra, Scorpio, Sagittarius, Capricorn, Aquarius, Pisces
Mercury in Virgo sextile Saturn in Scorpio (August 26 – September 3) is an excellent time to do some serious research, and to learn vital lessons concerning boundaries, limitations and responsibilities. This tends to be a time when struggles and difficulties are frequently discussed, and many people collectively draw conclusions on how best to handle their problems or responsibilities. This is also an opportunistic aspect for setting up guidelines and communicating work skills.
On Thursday Mercury enters Libra (August 27 –November 2) aligning us with diplomacy, tact and the need to connect with friends and loved ones. Libra is the cardinal sign that emphasizes balance and adjustment. Mercury in Libra brings a focus on harmonizing with others and preparing for the change of the season. This is a good time for people to communicate by gathering important information as our decision making process kicks into high gear.
August 29 the Full Moon in Pisces brings out the psychics in everyone. People can be very sensitive and as a result, some people express themselves in very artistic or perhaps nonsensical manners.
Imaginations run wild and anything is possible. Pisces says "I believe" and while the Moon is full in Pisces, it is vitally important to carry our beliefs wisely, as destructive tendencies may bring us down if we're not careful. This will also be a time to watch out for low self-esteem or substance abuse.
Aries, Taurus, Gemini, Cancer, Leo, Virgo, Libra,
Scorpio, Sagittarius, Capricorn, Aquarius, Pisces
For more information about your Horoscope and what the stars
have in store for you, order one of our detailed
Astrology Reports!
Compatibility Report compares your temperaments and personalities. This information is powerful if you are married or living together.

Love Cards Report will reveal as much information about you and your partner as possible, using an ancient and highly accurate system called "The Book of Destiny".
Free Weekly Horoscope for your Sign
Aries: The Full Moon on August 29 invites you to close the door on something that is done and gone. Putting the final piece of the puzzle into place will bring a sense of closure, allowing you to move on. Your priority now should be the here and now and your place in the world. There are many blessings in your life, and your challenge this week is to put your attention on those and turn it away from any events or situations that have brought sorrow. Look to see what you can do for others, as this will be the best antidote to any less than positive situations in your life.
Numerology Report is a personal profile and one year forecast based on advanced calculations of your name and birth date.
---
Taurus: While this week's Full Moon is a challenging one, at least it falls in a pleasant area of your chart: creativity and social life. There could be tension with another person though, and you need to be wary of closing yourself down or putting up a wall between you and that person. Perhaps there is some pain or sorrow from the past getting in the way of your ability to embrace new friendships, give freely of yourself, or relate more positively in a romantic relationship. Look to see whether you are holding back your creative gifts. Is there something you have to offer the world that for some reason you're not doing? Much of the challenges contained in this Full Moon could be alleviated by paying attention to these words of wisdom: "There is no personal charm so great as the charm of a cheerful temperament."
New Age Natal Report is designed as a guide for your growth and personal evolution in the New Age.
---
Gemini: This week's Full Moon is likely to highlight any existing tensions in both your personal and professional lives. Home, family and work are likely areas of challenge or conflict with the result that you feel a bit like an outsider. Perhaps what's needed is the courage to confront the issue or to see things differently. Sometimes we see ourselves as being excluded or feeling different, but often that has more to do with the energies we put out. Feeling shy or feeling that others aren't on our wavelength can result in our feeling left out, but as soon as we have the courage to reach out and connect, all the barriers fall away. Your self-worth and inner confidence are on the rise. Use this to create positive outcomes in all areas of your life.
Merlin Report could be beneficial in self-help and self-transformation.
---
Cancer: On the one hand, you're full of positive beliefs. On the other, there's a doubt, a fear, or a blockage that's holding you back. Fortunately, what transpires around the Full Moon on August 29 will shed light on what that block is. Once you're aware of it, you will be able to tackle it. It may be, though, that a restriction in the external world (a person or child, for example) seems to be thwarting your progress or taking up valuable time, preventing you from doing what you need to do. There is a lesson or a purpose to all of this, however. It could be the lesson of patience or perseverance. Maybe you're being tested to see how committed you are. Either way, if you hang in there and do the right thing for all concerned, your reward will come.
---
Leo: This week you have a choice. You can either feel a little sorry for yourself or take charge and make things happen. The Full Moon illuminates the financial and intimate region of your chart, making this the ideal time to deal with uncertainties regarding money and to use your positive dynamic spirit to bring about desired changes. The same applies to emotional and personal situations in the sense that you can feel alienated in some way, allowing oversensitivity to keep you from connecting in a heart centered way. Conversely, you can be brave and push open the door to a better situation.
Child Astrology Report is been designed as a guide for parents, to help with the child's growth and alerting the parents to problems that the child could face in their life.
---
Virgo: The Full Moon on Saturday offers a respite from the active yang energies and suggests you take a minute to reflect and contemplate one or two things. One of those things might involve your personal life as a relationship looks a little confusing or uncertain. However, you have more than enough confidence and positive spirit to deal with anything that crops up this week, and your constructive action and optimistic spirit will quickly cut through the fog. Don't allow others to derail you, which could happen, as negativity is contagious. Be vigilant of this and remain focused on your vision. A good quote for you now is the following by Henry Ford: "You can do anything if you have enthusiasm. Enthusiasm is the yeast that makes your hopes rise to the stars."
Astrological Solar Return Report offers you a practical guide that helps you analyze this year's prospects and to learn from them.
---
Libra: It's time to bring closure to a matter that might be undermining your health or affecting your capacity to be all that you can be in your work. The Full Moon throws a confusing light on health and work issues, but a positive can-do spirit will quickly alleviate this problem. As an additional boost, you might also want to draw on the assistance of your guides and angels; don't forget that for the next twelve months your ability to connect to the spiritual realm is going to be getting stronger, enabling you to receive when you ask for help. Sometimes it will seem as though you are instantly manifesting, which will be a great boost if you have any lack in your life, particularly in your material world. There really is never any need for any of us to feel alone or lacking in what we need, but for you now especially, it's very much a case of knock and the door shall be opened.
Astro Forecast Report gives you actual dates when the energies influence your life in a given time period.
---
Scorpio: The antidote to the current challenges is playfulness. The Full Moon on Saturday is a challenging one, as it involves Saturn in your sign, which could feel a bit heavy initially, but with a positive, lighthearted approach, you will find yourself feeling more inclined to make changes or see things in a different way. All this could result in a positive change of circumstances whereby you gain a sense of liberation and expansion. The more you can channel positive thoughts and energies into your future hopes and dreams, the better. Questions to ask this week include the following: "Can I put more of myself out into the world? In what way can I be more authentic and fully present in what I do and the people I'm with? What would it take to be fully committed, passionate and positive in my life?" Use this Full Moon to generate a shift in attitude or a change in circumstances that will result in your being able to create the sort of life you want to live.
Cards of Destiny Report is a one year forecast based on Robert Camps book and age-old "cards of destiny" our ancestors gave us.
---
Sagittarius: The Full Moon on Saturday invites you to slow down. This may be important because there is something you need to bring to a close, and it would help if you don't rush the process. While there certainly are opportunities –possibly a big one –to progress, move forward and expand, there is also a situation perhaps closer to home or of a personal nature that also needs your attention. Don't run away from sadness. It is important that you honor your feelings and take the time to be where your heart is. All of this will help you bring closure to a situation, resulting in a much healthier outcome in the long run than rushing or distancing yourself from the process.
Relocation Information Report (3 locations) can be of great assistance if you are contemplating a move.
---
Capricorn: Be prepared to have any defeatist or negative attitude challenged as the Full Moon on August 29 provokes you into considering that the impossible actually is possible. First, though, you need to get a handle on whatever undermines your confidence and wherever you sabotage yourself. We all have a saboteur –the part of us that fears change and tries to stop it from happening. It's the part of us that hits the bottle before an important date, ruining our chances of a relationship. It's the part of us that turns down an invitation because we're afraid, and it's the part of us that forgets to send the application for a new job. The Full Moon will help illuminate your saboteur so that you can talk to it and reassure it that change is good and that all will be well.
Cayce Past Life Report describes your character traits, relationship potentials and challenges as well as career potentials and even more based on Edgar Casey Readings.
---
Aquarius: The Full Moon encourages you to take off your mask and allow yourself to be seen as you really are. This might mean that you have to be courageous in setting out your terms and conditions, or it might mean that you level the playing field so that you and another person are on equal footing. It could be total honesty and the baring of your soul. While this might feel uncomfortable, in the long run it will be extremely beneficial, as everyone will know where they stand, and you will be able to live in a more authentic manner. Some of the above might relate to your financial situation too, and if there are issues here, such as dependency from either you or another person, then now is the time for change. Remember that debt is a form of dependency and it should be your aim now to create empowerment and independence both sexually and financially.
Karmic Past Life Report examines possible past life connections using astrological methods.
---
Pisces: Saturday's Full Moon shines the spotlight on your relationships and invites you to leave behind sadness and sorrow and focus on the positive side of a relationship. It's all too easy to allow frustrations to build up into anger and resentment or to allow past pain to cloud our view of what wonders we already have, so for this week at least, try to focus on the good and leave the rest behind. The conjunction of the Sun with Jupiter is a wonderful opportunity to experience happiness with others –and perhaps with one person in particular. And you might find yourself benefiting from the generosity and positive actions of another that in turn will help counter any sorrow in your own heart. In short, this might be the week in which your faith in human nature is restored.
Karmic Insight Report comes from an esoteric point of view your birth chart is a portrait of your soul's intention for this lifetime, the lessons to be learned, qualities to develop, problems to be resolved, services to be rendered.
---
For more information about your Horoscope and what the stars
have in store for you, order one of our detailed
Astrology Reports for Couples!
Compatibility Report compares your temperaments and personalities. This information is powerful if you are married or living together.

Love Cards Report will reveal as much information about you and your partner as possible, using an ancient and highly accurate system called "The Book of Destiny".