#Horoscope #Aries, #Taurus, #Gemini, #Cancer, #Leo, #Virgo, #Libra, #Scorpio, #Sagittarius, #Capricorn, #Aquarius, #Pisces
#Horoscope – overview of this week
The Center for the New Age is pleased to present
your Free Weekly Horoscope for August 30 — September 5, 2015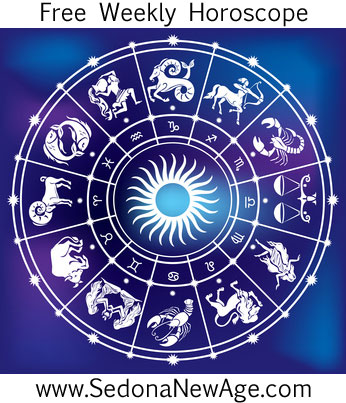 Aries, Taurus, Gemini, Cancer, Leo, Virgo, Libra, Scorpio, Sagittarius, Capricorn, Aquarius, Pisces
On Tuesday, September 1st, Venus and Mars are conjunct in Leo. This aspect brings together the feminine and the masculine in the sign of Leo. This conjunction puts us in touch with the power of love in action and active attraction. This will undoubtedly serve as a good time to express love ardently and sincerely, and to receive love just as well. This is also a good time for an individual to get in touch with both the masculine and feminine aspects of the self, and to create peace between those active and passive parts of the personality.
Last Quarter Moon in Gemini on Saturday brings out talkative moods and informative interactions. People will have a lot on their minds and intellectual pursuits are emphasized – a great time to enjoy games, puzzles and social conversations. Waning Gemini Moon is always the time to release those unwanted or frustrating mixed emotions by talking them through with others. This is a good time to ease the mind by not using it so much to stir those emotions!
Aries, Taurus, Gemini, Cancer, Leo, Virgo, Libra,
Scorpio, Sagittarius, Capricorn, Aquarius, Pisces
For more information about your Horoscope and what the stars
have in store for you, order one of our detailed
Astrology Reports!
Compatibility Report compares your temperaments and personalities. This information is powerful if you are married or living together.

Love Cards Report will reveal as much information about you and your partner as possible, using an ancient and highly accurate system called "The Book of Destiny".
Free Weekly Horoscope for your Sign
Aries: September is all about health, work and service and the growing possibilities within these areas. It may, for example, be time to push out of your comfort zone to see what you're really capable of. It may be time for a new role at work or aiming to give greater and more meaningful service to others. Your health should generally be good unless you've been overdoing it in some way, in which case you could be dealing with the consequences of that. Don't rest on your laurels – either physically with your diet and lifestyle or mentally with what you're capable of. The time to expand is now, but remember the virtue of patience!
Numerology Report is a personal profile and one year forecast based on advanced calculations of your name and birth date.
---
Taurus: With the Sun and Jupiter in your house of fun, there should be plenty to feel good about, but the key to making the most of this transit is to make it your mission to be authentic in all you do. In other words, your goal now should be to be true to yourself and act from your heart. This may mean having to say no to certain things as you discover what it is you really want to do. It may mean taking a step toward being more creative or doing more of what you love. At the very least, these two celestial bodies give you permission to play and spend time discovering your passion and who you are.
New Age Natal Report is designed as a guide for your growth and personal evolution in the New Age.
---
Gemini: Your current challenge is to take off the mask and reveal your true self. How do you really feel? What do you really want? The typical Gemini is very good at appearing all sweetness and light to the outside world, but behind closed doors, it can be a very different state of affairs. As the planets build in your zone of authenticity, it will become more and more important to allow your true self to shine through. If, for example, you're not happy about something, say so. If you're tired of wearing the mask of happiness, take it off and let your sadness out. If deep in your heart you long for a change, then let it be known. Once you begin to express your real self, the world will begin to change around you. Listen most attentively to your inner voice now, and act on it.
Merlin Report could be beneficial in self-help and self-transformation.
---
Cancer: "The mind is like a parachute; it only works when it is open." This quote shows you the way forward as Jupiter and the Sun shine light and optimism on your way of thinking. Seize on your increasing positivity and openness because, as we all know, a positive mind will attract and create far better results than a closed, negative mind, so if there's something you'd like to do, tell yourself it's possible and you are capable. If you wish to impart your wisdom to others, now is a great time to write, teach, speak and generally express yourself. It's also a fine time to enlarge your own body of knowledge by taking a course of study. Whichever path you choose – so long as you're expanding your mind, learning, growing, or communicating – you will be making the most of the current transits.
---
Leo: You shouldn't have to work too hard to be financially blessed, since Jupiter and the Sun are currently dancing their way through your money zone, but if you really want to see the benefits that these two can bring, you'll make hay while the Sun shines and seize opportunities. Now is a great time to drop negative judgments about yourself and your talents, and to give yourself a pep talk. The more you can believe in yourself and what you have to offer, the more prosperity you're likely to experience.
Child Astrology Report is been designed as a guide for parents, to help with the child's growth and alerting the parents to problems that the child could face in their life.
---
Virgo: The Sun and Jupiter in your sign lend a feel-good factor, giving you permission to let your hair down, relax and enjoy. This isn't the time to push yourself to work hard; instead, do what brings you pleasure and embrace opportunities that will allow you to do that. These two celestial bodies also encourage you to focus on what is important for you and your well-being, so it's perfectly okay to focus on your own needs for a change. If you have a problem you need assistance with, remember that God is always there; all you have to do is ask.
Astrological Solar Return Report offers you a practical guide that helps you analyze this year's prospects and to learn from them.
---
Libra: It's all about your inner world – at least until the Sun moves into your sign on September 24. Until then, and with Mercury about to turn retrograde in your own sign, this is a time to turn within and give careful thought to one or two matters. With the two benefic forces, the Sun and Jupiter, in your zone of soul and spirit, you mustn't forget the importance of asking for and being open to receiving spiritual guidance. This will be your guide and your strength for the next twelve months, so whenever you're unsure, off path, or worried, turn to God as your solace. A great book to read at this time is the Power of Positive Thinking by Norman Vincent Peale, which is actually more about the power of faith and prayer. It's a wonderfully inspiring reminder that there is a creative and loving force that surrounds us and can help in times of uncertainty.
Astro Forecast Report gives you actual dates when the energies influence your life in a given time period.
---
Scorpio: This could be a time to rejoice as Saturn comes to the end of his long stay in your sign. If things have been arduous, then you have even more reason to feel buoyant because in two weeks time Saturn will leave your sign and won't be back for another twenty-eight years. Of course, Saturn's visit has a constructive side: perhaps he's enabled you to make changes or has showed you that you're made of stronger stuff than you thought. Maybe you're glad of the experiences you've been through the past few years because they have taught you something. But it's probably fair to say that you wouldn't want to go through it all again! After all the hard work, you can look forward to the rest and the play that follows. You may need courage to deal with any last challenges, but when that's done and sorted, the Sun and Jupiter invite you out into the world to play.
Cards of Destiny Report is a one year forecast based on Robert Camps book and age-old "cards of destiny" our ancestors gave us.
---
Sagittarius: With the Sun and Jupiter at the top of your chart, this is a great opportunity to make hay while the Sun shines and move toward success. It might be worth considering what success means to you. Do you agree with Bob Dylan's definition: "A man is a success if he gets up in the morning and gets to bed at night, and in between he does what he wants to do"? If so, now is the time to consider how you want to spend your days. What brings you joy? What do you love? The Sun and Jupiter encourage you to move toward what gives your life meaning; only then will you be truly successful.
Relocation Information Report (3 locations) can be of great assistance if you are contemplating a move.
---
Capricorn: Your keyword this week is "possibilities." All too often we become used to things being a certain way, and that includes our lives. Our perspective narrows, and we become shortsighted. Every so often it is important to break out of our confines and see things with new eyes. This is what you have to look forward to now as Jupiter and the Sun journey through your zone of adventure. Perhaps this would be an ideal time for you to take yourself off on an adventure or at least to experience something new. As you do so, previous limitations will fall away, giving you a glimpse of new possibilities.
Cayce Past Life Report describes your character traits, relationship potentials and challenges as well as career potentials and even more based on Edgar Casey Readings.
---
Aquarius: Something is stirring and awakening within, but patience is the key. This is a process that can't be rushed, so take it day by day, hour by hour, trusting that whatever is unfolding will do so in the right way at the right time. It may help to watch the phases of the Moon, noticing that life is constantly changing and that there are right moments to act and to wait, times to be yin and times to be yang. In the modern world, people are in a constant state of yang, of action – doing, rushing, and striving. Following this path solely can lead to illness and mental disturbance. Allow yourself time for quiet to replenish. Trust that all is unfolding exactly as it should.
Karmic Past Life Report examines possible past life connections using astrological methods.
---
Pisces: Do you love how you spend your days? Do you love your work or the service you offer? Is there room for improvement? Could you put more love into what you do, more energy, more motivation? Do you need courage to make a change that will bring forth love, passion and enthusiasm? Sticking with the love and passion theme, your relationships are a key area at the moment as the Sun and Jupiter dance their way through this region of your chart. This is the time to enjoy your relations with others; see how you can explore more together and share adventures and journeys. People will be eating out of the palm of your hand; conversely, you're likely to benefit from other people's kindness and generosity. All this is due to a positive shift in the way you relate to people. As Henry Van Dyke says, "There is no personal charm so great as the charm of a cheerful temperament."
Karmic Insight Report comes from an esoteric point of view your birth chart is a portrait of your soul's intention for this lifetime, the lessons to be learned, qualities to develop, problems to be resolved, services to be rendered.
---
For more information about your Horoscope and what the stars
have in store for you, order one of our detailed
Astrology Reports for Couples!
Compatibility Report compares your temperaments and personalities. This information is powerful if you are married or living together.

Love Cards Report will reveal as much information about you and your partner as possible, using an ancient and highly accurate system called "The Book of Destiny".