#Horoscope #Aries #Taurus #Gemini #Cancer #Leo #Virgo #Libra
#Scorpio #Sagittarius #Capricorn #Aquarius #Pisces
#Horoscope – overview of this week
The Center for the New Age is pleased to present
your Free Weekly Horoscope for September 6 — September 12, 2015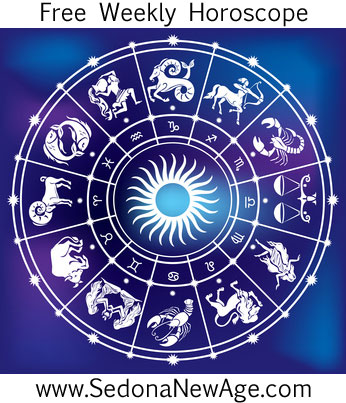 Aries Taurus Gemini Cancer Leo Virgo Libra Scorpio Sagittarius Capricorn Aquarius Pisces
Every other year, Venus goes retrograde for over a month and with this comes distractions, confusion, and complexity in the course of our affections and the ways we use the attraction magnet. Since July 25, Venus has been retrograde in the sign of Leo. On September 6, Venus moves direct in Leo bringing a forward moving sense of faith and harmony in our relationships. Now that Venus is direct, expressions of affection and love matters can begin to move forward with much more clarity.
Mercury in Libra is square Pluto in Capricorn (September 9 – September 14). Attempts at communicating the need for balance may be difficult with regard to dominant powers that are fatefully at work creating permanent changes that will affect the generations to come. Procrastinating and vacillating thoughts make it especially difficult to communicate with those of another generation, or to discuss hardships and matters of fate in a constructive manner. This is a particularly hard time to deal with burdensome issues and discuss them in a manner that relieves tension.
Aries Taurus Gemini Cancer Leo Virgo Libra
Scorpio Sagittarius Capricorn Aquarius Pisces

For more information about your Horoscope and what the stars
have in store for you, order one of our detailed
Astrology Reports!
Compatibility Report compares your temperaments and personalities. This information is powerful if you are married or living together.

Love Cards Report will reveal as much information about you and your partner as possible, using an ancient and highly accurate system called "The Book of Destiny".
Free Weekly Horoscope for your Sign
Aries: You should use your friendly nature to attain your objectives. Seek the cooperation of others and adapt yourself to situations in order to succeed. There may be conflict between family relations and romantic partnerships so you have to strike equilibrium between family and romance by devoting sufficient time for both. Sometimes individuals are on the wrong track. Sometimes we make plans that are not in our highest cosmic interest. This week, Aries, make sure that whatever you decide in any area of your life is well thought out beforehand and does not occur as a spur of the moment pronouncement.
Numerology Report is a personal profile and one year forecast based on advanced calculations of your name and birth date.
---
Taurus: The stage is being set for greater happiness this month. Venus, the ruler of your Horoscope, starts moving forward on the 6th bringing more self-confidence and self-esteem. It is all about releasing the rubbish from your life so that you can embrace some glorious new horizons. Letting go is your least favorite endeavor and yet you've nearly achieved mastery when it comes to non-attachment in your relationships. This week, count your blessings and stay present in the gratitude of what is rather than what was. Pleasure and love can be yours so savor every second and give yourself permission to truly indulge in the goodness that life insists on delivering in a major way.
New Age Natal Report is designed as a guide for your growth and personal evolution in the New Age.
---
Gemini: If there's a hard way and an easy way, it seems like you are intent on doing it the hard way. Is there someone you could ask for help? You can get some really good advice this week but you really do have to ask for it. No one is a mind reader, so they won't know if you're in trouble unless you tell them. There isn't a person around you with whom you can't have a meaningful conversation with Mercury square to Pluto, because your communication skills are head and shoulders above everyone else's. You know that apology you should have made a long time ago? All is sure to be forgiven if you get it out now.  If you are wondering about a commitment in an alliance, it might be better to discuss it rather than come to conclusions. Life can be made more delightful with some give and take on both sides.
Merlin Report could be beneficial in self-help and self-transformation.
---
Cancer: This is a good period for you financially. Earnings come through family members and they will be supportive of your monetary objectives. If you are in sales, marketing or communication fields, money will be sufficient to meet all your expenses unless you go about giving expensive gifts needlessly. Your health is normal at this point, but you may incur negative issues starting next week and you will have to take it easy, so make this commitment right now: "I will eat healthily and I will not skip meals." In terms of body and mind, skipping meals frequently is like skipping sleep, it is very detrimental and literally toxic to you in the long run so you need to maintain yourself in case you are subject to any future problems that may occur.
---
Leo: Decide what you want in life and exert yourself this week if you want career growth. You're the most vivacious person in any group when Mercury squares Pluto this week, and your charm and charisma open doors that were previously closed to you. Cooperation of other people is necessary, but you are not dependent on that entirely; independence and self-will will be more important than social collaboration and adaptability. If you are currently searching for a job, many positive instances will occur; employed Leos will make further progress in their professional lives. It is important that you should be happy with what you do or any business venture that you are getting into. This is a good time to review your strategies and formulate new ones for the future.
Child Astrology Report is been designed as a guide for parents, to help with the child's growth and alerting the parents to problems that the child could face in their life.
---
Virgo: You can have your own way and need not depend on others while making important decisions, but it is also important to keep your options open as you never know when you will need someone's help. This week home and emotional matters dominate over career issues for you. Learning to control your thoughts, activities, demands and pressures will improve all aspects of your routine life, so it would be a good idea to look at your own motivation, empathy, self-control, enthusiasm and social skills in order to manage your life as effectively as possible.
Astrological Solar Return Report offers you a practical guide that helps you analyze this year's prospects and to learn from them.
---
Libra: This may be a tough period for your finances as household expenses will require extra money. It is important to achieve a harmonious flow of chi or energy in order to provide what is needed. It is preferable to not block the energy flow and keep it stagnant by keeping a lot of clutter. If you look into your home and realize you keep way too many things, then it's time for clutter-clearing. Separate the things you need from the stuff you do not need, especially inside your closet. If you find things you have not used in a very long time and things you don't think you'll ever use again – get rid of them! By cleaning your space and moving things about, you will tap on and stir existing energy that would have been stagnant – increasing harmonious flow of the energy inside your home. A harmonious energy flow will also influence any conflicts in present relationships causing the negativity to blow over.
Astro Forecast Report gives you actual dates when the energies influence your life in a given time period.
---
Scorpio: Balancing home and career will be necessary for professional growth and will be a source of stress this week. Planetary power is in the eastern half of your birth chart suggesting that you can be independent to make decisions over your growth, but it would be to your advantage to seek the cooperation of others where required. You have the support of your superiors in your professional successes. Social connections and hard work will help you in the further progress of your career. Your monetary situation is stable despite the volatility of world markets, but major transformations in financial planning are likely to match your interests. However, financial goals should be decided based on the welfare of your family and not on your personal likes and dislikes.
Cards of Destiny Report is a one year forecast based on Robert Camps book and age-old "cards of destiny" our ancestors gave us.
---
Sagittarius: The majority of planets are in the Northern half of your birth chart which helps you to accomplish your professional objectives. Planetary positions are favorable in resolving conflicts with associates. With more diligence you will succeed and you will have dramatic progress in your career. Job seekers will get help from friends and social contacts in going forward on the work front. Your monetary situation is positive and your financial strategies are quite effective right now. Surplus money should be used to clear old loans and large expenses should be cut down. Current relationships will face challenges as you are moving around socially powerful people. Your social circle is expanding and it is possible that love is to be found while pursuing individuals in this expanded group.
Relocation Information Report (3 locations) can be of great assistance if you are contemplating a move.
---
Capricorn: Harmonizing career needs and family requirements are a source of friction at this time. You may be worried about your financial prospects but you will earn enough money to cover all your expenses. Your savings will help you in times of difficulty and your apprehensions about your current monetary situation are unwarranted. A pleasure trip with family may enhance your health if you are feeling under the weather. Spiritual meditation will improve your emotional well-being bringing more confidence and optimism in life. Do not let anxiety and stress dominate your thoughts this week. Instead, use a positive mantra: I am OK. I can get through this. And I will! And, you most certainly will!
Cayce Past Life Report describes your character traits, relationship potentials and challenges as well as career potentials and even more based on Edgar Casey Readings.
---
Aquarius: Finances are fragile right now for Aquarians and you may have to depend on your life partner or family members to bail you out. You will be able to raise capital from various sources but it is also necessary to cut your expenses. You may want to look at your propensity to dine out and for the moment at least, enjoy feasting in your very own kitchen. Your health is good at this time and it gets better as the month progresses. Focus on your fitness routine to stay in shape. This is a good time to quit smoking and give up alcohol or other similar addictions to not only save money, but to enhance your well being.
Karmic Past Life Report examines possible past life connections using astrological methods.
---
Pisces: Your monetary situation is a little delicate and it might be causing you stress, but the situation will be better later on in the month. You should avoid making major financial decisions right now. Large scale investments and money purchases should be critically studied and can be done at a later date. Is stress affecting your health? The only remedy necessary is to take sufficient rest and sleep well for at least eight hours every day. Sometimes eating a meal in a tense manner or too quickly causes you indigestion. If this is the case, eat or drink some form of peppermint. You can have peppermint mints. For a more natural source, why not have a soothing cup of natural peppermint tea? You could also drink a cup of Fennel or Anise tea. All will remove any signs of indigestion and leave you feeling relaxed and contented.
Karmic Insight Report comes from an esoteric point of view your birth chart is a portrait of your soul's intention for this lifetime, the lessons to be learned, qualities to develop, problems to be resolved, services to be rendered.
---
For more information about your Horoscope and what the stars
have in store for you, order one of our detailed
Astrology Reports for Couples!
Compatibility Report compares your temperaments and personalities. This information is powerful if you are married or living together.

Love Cards Report will reveal as much information about you and your partner as possible, using an ancient and highly accurate system called "The Book of Destiny".