#Horoscope #Aries #Taurus #Gemini #Cancer #Leo #Virgo #Libra
#Scorpio #Sagittarius #Capricorn #Aquarius #Pisces
#Horoscope – overview of this week
The Center for the New Age is pleased to present
your Free Weekly Horoscope for September 27 — October 3, 2015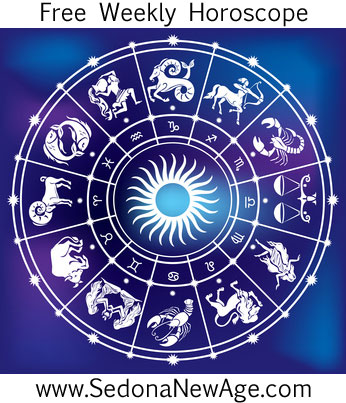 Aries Taurus Gemini Cancer Leo Virgo Libra Scorpio Sagittarius Capricorn Aquarius Pisces
The Full Moon in Aries on September 28 inspires action and the momentum of its influence charges our spirits with an extra dose of energy. All the high pomp and hype of this time comes to a crescendo and is marked with the burning and willful force of Aries Moon activity. A warrior spirit touches us all, particularly with regard to the personal challenges in our lives. Be prepared for headstrong attitudes and potential rudeness. Avoid hastiness and impetuosity. There will also be a great deal of confidence, enthusiasm, masculine energy and a pioneering spirit.
The second eclipse of this month occurs on Monday with the Full Moon. Eclipses are always exciting times of no return that affect us in ways that change our lives for many years to come. We need to be very careful regarding what we say on an eclipse day, as our words could be irreversible. On this Lunar Eclipse Full Moon, we seek harmony and peace and are likely to work hard to make as many people as possible aware of the importance of living in harmony regardless of creed, color or culture. This eclipse enhances our awareness as to our responsibility in what unravels in our relationships and asks us to step into the generosity of our spirit to find within ourselves all the magic that we would readily recognize outside of ourselves.
Aries Taurus Gemini Cancer Leo Virgo Libra
Scorpio Sagittarius Capricorn Aquarius Pisces

For more information about your Horoscope and what the stars
have in store for you, order one of our detailed
Astrology Reports!
Compatibility Report compares your temperaments and personalities. This information is powerful if you are married or living together.

Love Cards Report will reveal as much information about you and your partner as possible, using an ancient and highly accurate system called "The Book of Destiny".
Free Weekly Horoscope for your Sign
Aries: The lunar eclipse falls in your sign on September 28, signaling the end of the old and the beginning of the new. This, therefore, is an ideal week to release old habits and patterns, to embrace whatever changes are occurring, and to tell yourself that life isn't meant to stay the same. There may be issues within a relationship, and you will need to take a mature approach in order to move through this challenge with grace and equanimity. Keep the channels of communication open and remember the importance of laughter. As James J. Walsh says, "People who laugh actually live longer than those who don't laugh. Few persons realize that health actually varies according to the amount of laughter."
Numerology Report is a personal profile and one year forecast based on advanced calculations of your name and birth date.
---
Taurus: The lunar eclipse on September 28 invites you to put the last piece of the puzzle into place. It's time to move on and draw a line under the past, releasing old habits, patterns and ways of being and living. A new, more adventurous life beckons now, so ask yourself what will enable you to live more adventurously. Do you need to push out of your comfort zone? Do you need to experiment, take the un-trodden path? This isn't always easy for the Taurus who likes comforts, security and routines. Habits are easy to get stuck in and not so easy to get out of for the Bull, but this is the one time when the cosmos is giving you a gentle kick. Your quote for this week is by Ralph Waldo Emerson: "Do not go where the path may lead; go instead where there is no path and leave a trail."
New Age Natal Report is designed as a guide for your growth and personal evolution in the New Age.
---
Gemini: This week's lunar eclipse is likely to bring insight, illumination or much-needed changes to the areas of friendships, groups, organizations or your role in society. In one of these areas, you may need to issue a break. The past should no longer have a hold over you, as you need to move forward now in a direction that speaks to your heart – not what others or society expects of you. You may not be able to see the forest for the trees right now though, so don't worry if you don't have all the answers. Turn within to hear your own voice to allay confusion. The Bach flower remedy cerato may be particularly useful to enable you to connect with your intuition, to know your own mind, and to trust your own decision-making process. If you find yourself constantly searching for answers but then not following through with any of them, cerato can help you find your path. You can also use art to connect with your inner voice; mandalas and creative writing are two great ways to uncover what you really feel.
Merlin Report could be beneficial in self-help and self-transformation.
---
Cancer: Home and work are the areas likely to be under the spotlight this week, as a lunar eclipse spans the career and domestic areas of your chart. Perhaps what's needed is courage to step out in a new direction, make a change, or create a new vision of your life. You may need to leave behind old patterns and break from the past if you want to move forward. Don't be afraid of change; it's what will give you a new lease on life. In the meantime, don't forget your home life, which may need your attention. Getting the balance right between home and work is often a tricky task, but this eclipse should help shed some light on how you can do this.
---
Leo: "Without leaps of imagination, or dreaming, we lose the excitement of possibilities. Dreaming, after all, is a form of planning." Gloria Steinem's quote reflects the essence of the lunar eclipse this week, which encourages you to imagine that which excites you. Don't let practicalities stop you from believing that something is possible. You must first have faith and take a step in the direction of your dreams before the universe will move in to help. You have to be seen taking your quest seriously. The eclipse asks you to cast out all limiting negative beliefs you may have picked up in the past; instead, believe in your dreams, and be prepared to push out of your comfort zone.
Child Astrology Report is been designed as a guide for parents, to help with the child's growth and alerting the parents to problems that the child could face in their life.
---
Virgo: The second eclipse of the month is a deep and powerful one for you that is likely to shed light on a very personal or private matter. This could relate to your fears and insecurities or intimate areas of a relationship. Either way, this eclipse is likely to highlight a wound you now have the potential to heal. In effect, this could be a very cathartic and transformational eclipse if you allow it to be. All you have to do is be with any uncomfortable feelings and allow them expression. That in itself will be therapeutic. Since this eclipse is opposite retrograde Mercury, it may be helpful to communicate your thoughts or express your feelings. The more you can release around the end of the month, the better. Don't be afraid to make changes; change will be your path to transformation.
Astrological Solar Return Report offers you a practical guide that helps you analyze this year's prospects and to learn from them.
---
Libra: The Sun's arrival in your sign will be a welcome boost to your spirits, lifting your motivation and enthusiasm levels and bringing greater energy. If you have felt low at all recently, the Sun's arrival should spell the end of any gloom. Mercury is still retrograde in your sign, putting the spotlight firmly on you and your life and what you need for happiness and well-being. Perhaps you need to liberate yourself from a stressful situation. That's easier said than done, no doubt, but remember that Jupiter's presence in your zone of the spirit acts as a helpful, invisible hand whenever you need help. Jupiter will bring assistance in the form of lucky events, helpful people, or miraculous situations. All you need do is trust in this process. Have faith that you are being watched over and guided, and all will be well.
Astro Forecast Report gives you actual dates when the energies influence your life in a given time period.
---
Scorpio: The lunar eclipse is likely to bring illumination to matters connected with work and health this week. It could be time to change your approach in these areas. If, for example, your health isn't great, instead of just focusing on practical steps, which may work in the short term, try turning your attention to your inner landscape to find creative ways to reveal the hidden truth behind any malaise. Art, music, poetry, journaling and dream work could all be wonderful tools for understanding yourself better. This lunar eclipse asks you to be open to change and break any patterns or habits from the past. In short, it's time to make changes to how you live your life.
Cards of Destiny Report is a one year forecast based on Robert Camps book and age-old "cards of destiny" our ancestors gave us.
---
Sagittarius: The lunar eclipse in your house of fun highlights the importance of doing something for the love of it rather than because you have to or are driven to by a need to compete with others, gain applause, maintain security, or receive recognition. The beauty of this eclipse is that it offers you insight to see where you might have gone wrong. Have you been approaching something in a way that isn't heart-centered? Have you been doing something or living in a way that is less than authentic? Another question for you this week is how can you put more of your true self out into the world. This might mean looking at how you can be more creative or how you can express your skills and talents in a way that illuminates the hearts and minds of others. If things have felt a bit foggy recently, the lunar eclipse will do much to shed light and illuminate the way forward.
Relocation Information Report (3 locations) can be of great assistance if you are contemplating a move.
---
Capricorn: The lunar eclipse at the base of your chart is an opportunity to connect with yourself at a very deep level. Do not run from any uncomfortable feelings as they will show you what you need to know. Only when we are conscious of something can we do anything about it. Although being conscious can be painful, in the long run it's preferable to being asleep. This lunar eclipse asks you to break an old pattern or release an old burden – something that's keeping you stuck – to wake up from your slumber. When you do that, you will free yourself to take steps in the outside world that speak of success and achievement and a growing sense of direction. On a mundane level, there could be issues with your home or family, but these could be reflective of something amiss at a deeper level of your psyche. Either way, this eclipse will shed light on a matter that has been holding you back, and that's got to be a good thing.
Cayce Past Life Report describes your character traits, relationship potentials and challenges as well as career potentials and even more based on Edgar Casey Readings.
---
Aquarius: The lunar eclipse this week invites you to remove the mask and speak your truth. This may not be easy, but once you begin, you'll feel a sense of relief. You may have wrongly convinced yourself that it's okay to put up with a particular situation that makes your heart and soul suffer. When we're not true to ourselves or we endure situations that aren't in our best interests – a soulless but well-paid job or an unhappy relationship – we become shadows of our true selves. It's time to speak up and communicate what you really feel. Do not be afraid to change your beliefs, attitudes, or opinions if they have been holding you back. Move toward what gives you a sense of meaning and purpose, and everything will begin to fall into place.
Karmic Past Life Report examines possible past life connections using astrological methods.
---
Pisces: The lunar eclipse this week is likely to bring illumination to a financial matter, and if the opportunity comes to break from the past or leave your old patterns behind, then do so. This may be the week you experience a sense of completion with money or material matters which could feel very empowering as you begin to tread a new path. This is a good time to explore new ways of relating to money, from making changes to how you earn it, to halting it from having power over you. The message of this eclipse for you is to let go of your old financial ways. A good quote to muse on this week comes from James W. Frick: "Don't tell me where your priorities are. Show me where you spend your money and I'll tell you what they are."
Karmic Insight Report comes from an esoteric point of view your birth chart is a portrait of your soul's intention for this lifetime, the lessons to be learned, qualities to develop, problems to be resolved, services to be rendered.
---
For more information about your Horoscope and what the stars
have in store for you, order one of our detailed
Astrology Reports for Couples!
Compatibility Report compares your temperaments and personalities. This information is powerful if you are married or living together.

Love Cards Report will reveal as much information about you and your partner as possible, using an ancient and highly accurate system called "The Book of Destiny".