#Horoscope #Aries #Taurus #Gemini #Cancer #Leo #Virgo #Libra
#Scorpio #Sagittarius #Capricorn #Aquarius #Pisces
#Horoscope – overview of this week
The Center for the New Age is pleased to present
your Free Weekly Horoscope for October 4 — October 10, 2015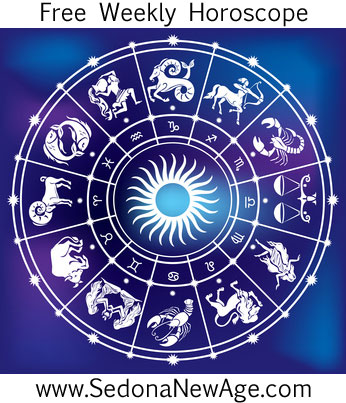 Aries Taurus Gemini Cancer Leo Virgo Libra Scorpio Sagittarius Capricorn Aquarius Pisces
Last Quarter Moon in Cancer on Sunday often brings emotional concerns that require an extra bit of nurturing and understanding. This is an excellent Moon to boldly examine and courageously drop emotional baggage, resentments, grudges and any other types of emotional complications that are no longer serving a purpose. This is a good time practice patience and to lend a listening ear. However, don't get caught up in allowing others to bend your ear if you feel like they are being manipulative or wasting your precious time. In group situations, it is wise to be patient and to practice a kind and cool composure.
For a short space in time, Mercury sextile Saturn (October 6 – October 9) gives people the opportunity to learn vital lessons concerning boundaries, limitations and responsibilities. It tends to be a time when struggles and difficulties are frequently discussed, and people collectively draw conclusions concerning how to best handle their problems or responsibilities.
Mars in Virgo is opposite Neptune in Pisces (October 7 – November 11). Mars activates and stirs up action, while Neptune calms and dissolves all concerns. When in opposition, these two planets create an acute awareness of our expressions of spiritual belief. For some people, this aspect helps create a spiritual breakthrough, while for others the rising spiritual awareness will present a challenge to established personal beliefs.
Venus enters Virgo on Thursday (October 8 – December 4). Love and attraction are highlighted with such Virgo-like traits as shyness, prudence, purity and virginal beauty. While Venus is in Virgo, the expression of love and beauty will be analyzed and reflected upon, and love related activities are more often reserved or calculated than they are acted upon. Venus in Virgo is referred to as "the fall," a less ideal position for Venus and a time when disappointment in love matters may be felt. Keep faith in your affections, despite the cooling of passions.
Since September 17, Mercury has been retrograde in Libra. This may well have caused a lot of arguments, disputes and emotional mayhem. Now we can breathe a greatly needed sigh of relief as Mercury, the planet governing the realms of communication, becomes stationary on Friday, October 9 and will soon begin to move forward. Our faculties and manner of communicating will definitely improve and this will be a good time to begin clearing up various misunderstandings that have occurred over the past few weeks.
Aries Taurus Gemini Cancer Leo Virgo Libra
Scorpio Sagittarius Capricorn Aquarius Pisces

For more information about your Horoscope and what the stars
have in store for you, order one of our detailed
Astrology Reports!
Compatibility Report compares your temperaments and personalities. This information is powerful if you are married or living together.

Love Cards Report will reveal as much information about you and your partner as possible, using an ancient and highly accurate system called "The Book of Destiny".
Free Weekly Horoscope for your Sign
Aries: Bob Dylan once said, "A man is a success if he gets up in the morning and gets to bed at night, and in between he does what he wants to do." What is it that you want to do? Perhaps all you want is to be happy with another person, to experience less conflict and a little more harmony. Or maybe you want better health or a happier situation at work. These are great things to ask for, and you are entitled to be happy in these areas. First you may need to assert that right. Once you believe something, you'll naturally find life adapting to that new belief, and this week your challenge is to realize that obstacles can be steppingstones to success.
Numerology Report is a personal profile and one year forecast based on advanced calculations of your name and birth date.
---
Taurus: The focus this week is on your work, health and daily life and you would gain the most benefit from attempting to create a new vision in one of these areas. It is also important to look at whether your life is properly balanced. For example, is work lopsided? Or is your personal life in need of more time and attention? Are you making the most of your creative skills? In short, look at your life as a mechanic might look at a car. Check that everything is in good working order, and give your attention to those areas that have been neglected.
New Age Natal Report is designed as a guide for your growth and personal evolution in the New Age.
---
Gemini: With retrograde Mercury in your house of heart centered self-expression early in the week, it is important that you strive toward greater authenticity. Relevant questions for you to ask may include, "Who am I? What do I want? What would I love to do, and how can I spend more time engaged in activities that I love? What calls to my heart?" You may need to look honestly at any aspect of your life that makes you feel flat, empty or depressed, and work toward changing that. If you're not experiencing enough fun and joy, then you need to set to work. Life is for enjoying and now is the ideal time to sit down and figure out what you love doing, then make sure you go and do it.
Merlin Report could be beneficial in self-help and self-transformation.
---
Cancer: As the planets descend to the lowest part of your chart, it could be useful to slow down and maybe follow Mercury's example by doing a bit of backtracking. Perhaps there's something from the past that needs revisiting or maybe there's something you need to tend to that you've been putting off. This is a good time to mend both your physical home and your emotional self. Like a loose wheel or a faulty spark plug, once you and your environment are functioning more effectively, you will move much more easily.
---
Leo: Pluto's square to your ruler, the Sun, may impress upon you a certain heaviness. It may even feel as if you're taking a short journey into the underworld. However, it is advisable not to let stress get the better of you; instead, work on cultivating a highly positive attitude, in the face of which, no problem seems too troubling. Earl Nightingale had this to say about attitude: "A great attitude does much more than turn on the lights in our worlds; it seems to magically connect us to all sorts of serendipitous opportunities that were somehow absent before the change."
Child Astrology Report is been designed as a guide for parents, to help with the child's growth and alerting the parents to problems that the child could face in their life.
---
Virgo: With Mars and Jupiter in your sign, this is the time to push the boundaries. Can you do or be more than you're currently being or doing? This combination is reminiscent of the old saying, "Shoot for the moon, because even if you miss, you'll land among the stars." You need to aim high and to apply boldness, passion, intensity and positive self-belief to all that you do. With this duo of planets in your sign, the world is your oyster, and you could surprise yourself by how much you achieve.
Astrological Solar Return Report offers you a practical guide that helps you analyze this year's prospects and to learn from them.
---
Libra: As Mercury turns direct in your sign, this is your cue to move forward with intensity. An old proverb goes, "time and tide wait for no man," and this is something to keep reminding yourself of this week. You can sit and wait, and you can shy away from the hustle and bustle of life, but that won't get you anywhere. Everyone makes a big deal of stress these days as though in an ideal world it would be nonexistent. But consider the pearl in the oyster shell. Without the friction, the tiny grain of sand would never become the beautiful pearl. Without the stress of transformation, a butterfly would never emerge from the chrysalis. Embrace the challenges that are designed to toughen you up or transform you, and take a bold step forward in the direction that calls to you.
Astro Forecast Report gives you actual dates when the energies influence your life in a given time period.
---
Scorpio: A quick and easy way to make ourselves miserable is to place judgments on everything. When we fall into a black-and-white attitude of "That's right or that's wrong," life begins to tighten and if we become too rigid in our thoughts and beliefs, it isn't long before we've inadvertently squeezed all the joy out of life. If you find yourself pointing the finger, passing judgment or being rigid in your thinking, pause and remind yourself that life embraces all kinds of differences and as Shakespeare said, "There is nothing either good or bad, but thinking makes it so."
Cards of Destiny Report is a one year forecast based on Robert Camps book and age-old "cards of destiny" our ancestors gave us.
---
Sagittarius: Sometimes you have to fight for what you want – not in an aggressive way, but in a determined, assertive kind of way. Mars and Jupiter at the top of your chart suggest that you're in a prime position to go for what you want and achieve it. Therefore, your challenge this week is to pursue your ambitions and desires without treading on other people's toes or going to the other extreme and waiting passively, hoping that it will all come your way. Take action and be determined, but remember the importance of compassion. That way you'll achieve what you want and at the same time, keeping everyone around you happy.
Relocation Information Report (3 locations) can be of great assistance if you are contemplating a move.
---
Capricorn: Sometimes the path ahead seems too arduous, and we doubt that we'll make it to the top. This is when we need courage and determination to press on. If it's a dream you'd secretly love to bring to manifestation or a goal you'd like to achieve, don't let doubt, fear or practicalities put you off. The Sun at the top of your chart is strongly suggestive of a need to allow yourself to shine, pursue a particular direction, or take a step forward toward your purpose. What you need is faith, courage and belief. So long as you believe you can do it, you will.
Cayce Past Life Report describes your character traits, relationship potentials and challenges as well as career potentials and even more based on Edgar Casey Readings.
---
Aquarius: Sometimes what we want to do and what we have to do are at odds with each other. This is a good week to try to balance the stuff you have to do with what you'd rather be doing and to be aware of where any inner conflict might be coming from. The challenge is to get each area of your life working efficiently and harmoniously with the other areas. You might look at work, social life, hobbies, relationships, home, family health and so on, to see which areas are currently in need of your attention. Then when you've resolved those issues, switch your focus toward travel, adventure and expansion. It may be that when the details of your life are taken care of, you will have more time and energy to allow your spirit to soar.
Karmic Past Life Report examines possible past life connections using astrological methods.
---
Pisces: As the Sun and Mercury journey through your psychological zone, they offer a transformation of some kind. It could be an emotional transformation, but in order to experience this, you must first be willing to unearth something that may not be all that pleasant. Quite often, when the Sun journeys through this deep dark house, we are confronted with the shadow side of our nature. Perhaps we experience jealousy, anger, rage or compulsion – something that takes us by surprise and makes us feel a little bit out of control. This isn't anything to feel bad about; we all have stuff happen to us that we don't deal with at the time. Now is your opportunity to deal with something that, when cleared, will leave you in a much stronger, brighter, happier and healthier state of being.
Karmic Insight Report comes from an esoteric point of view your birth chart is a portrait of your soul's intention for this lifetime, the lessons to be learned, qualities to develop, problems to be resolved, services to be rendered.
---
For more information about your Horoscope and what the stars
have in store for you, order one of our detailed
Astrology Reports for Couples!
Compatibility Report compares your temperaments and personalities. This information is powerful if you are married or living together.

Love Cards Report will reveal as much information about you and your partner as possible, using an ancient and highly accurate system called "The Book of Destiny".