#Horoscope #Aries #Taurus #Gemini #Cancer #Leo #Virgo #Libra
#Scorpio #Sagittarius #Capricorn #Aquarius #Pisces
#Horoscope – overview of this week
The Center for the New Age is pleased to present
your Free Weekly Horoscope for October 11 — October 17, 2015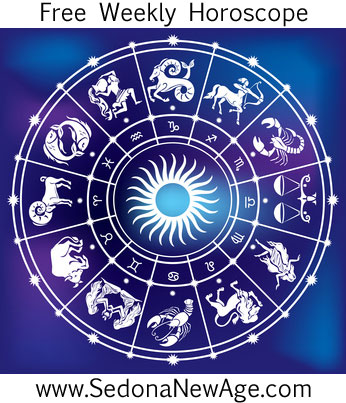 Aries Taurus Gemini Cancer Leo Virgo Libra Scorpio Sagittarius Capricorn Aquarius Pisces
Jupiter in Virgo trine Pluto in Capricorn (October 11 – November 7) is likely to bring an economic shift which will bestow many gifts of opportunity and promote advancement towards some form of new power for some of those hard working folks among us. Jupiter represents expansion, prosperity, social advancement and opportunities towards growth. Pluto represents transformation, power, fate and the transfer of lifestyles from one generation to the next. Through this aspect, various different power structures will be taking their fill and will of advancement in the world.
The New Moon in Libra on October 13 is a time of reaffirming and harmonizing our relationships with friends and partners, as well as a time of initiating friendships while autumn activities create a fresh working environment for many people. New rules also set the standard for how to create a more harmonious environment in the days of autumn.
Mercury in Libra sextile Saturn in Sagittarius (October 13 – October 17) provides us with opportunities to assist us in communicating vital information in a more organized and pragmatic fashion. This aspect gives people an opportunity to learn vital lessons concerning boundaries, limitations, responsibilities and timely completion of deeds.
October 15 Mars in Virgo is trine Pluto in Capricorn (October 15 – November 7). Discerning, cautious and practical action leads to positive, monumental and powerful transformations. Actions taken now are more likely to have favorable results or to be influential with higher powers.
Venus in Virgo opposite Neptune in Pisces (October 16 – October 25) brings on an acute awareness of the opposing struggle between classic feminine archetypes in today's changing modern culture and the universal and natural or spiritual expression of femininity, which is often at odds with a new model of beauty. There is a lot of focus at this time on what is and what isn't ladylike behavior, appearance or poise, while there is a need for the feminine spirit to be free and connect with a more divine image of womanhood.
Mars and Jupiter are conjunct in Virgo (October 17 – November 2). Strong actions will occur, possibly even warlike or defensive actions with regard to the distribution and management of large sums of wealth and revenue. Mars represents action as it occurs, while Jupiter symbolizes expansion and matters of skill building, investing, joviality, vision quests and achievement. This could be a time for exceedingly active breakthroughs with great wins or losses in economic endeavors.
Aries Taurus Gemini Cancer Leo Virgo Libra
Scorpio Sagittarius Capricorn Aquarius Pisces

For more information about your Horoscope and what the stars
have in store for you, order one of our detailed
Astrology Reports!
Compatibility Report compares your temperaments and personalities. This information is powerful if you are married or living together.

Love Cards Report will reveal as much information about you and your partner as possible, using an ancient and highly accurate system called "The Book of Destiny".
Free Weekly Horoscope for your Sign
Aries: The New Moon on October 13 brings the opportunity to turn over a new leaf in a relationship. First, though, you may have to work your way through a dark night of the soul. Fortunately, this won't last long, and when you emerge on the other side, you'll have a much clearer idea of what you want and what you're not prepared to endure. This could, therefore, be a good time to put your cards on the table, state your case and set ultimatums. The New Moon's opposition to Uranus suggests that for some Aries this is make-or-break time in relationships, but for all Rams it's definitely a time of change and moving on. At the very least, examine the unhealthy patterns and habits of your relationships to see whether you can change them.
Numerology Report is a personal profile and one year forecast based on advanced calculations of your name and birth date.
---
Taurus: As Venus edges closer to dynamic Mars, you're likely to be gripped by a passion to get moving with something dear to your heart, and the New Moon on October 13 gives you a green light to start something new especially if it is work related. Your health may benefit from your turning over a new leaf too, making this the perfect time to begin a new regime – change your diet or adapt your lifestyle. There are many possibilities waiting for you now, so don't let a defeatist attitude spoil what could be.
New Age Natal Report is designed as a guide for your growth and personal evolution in the New Age.
---
Gemini: The New Moon on October 13 invites you to create or embrace new beginnings that make you feel glad to be alive. This is most definitely the time to step out in a new direction and trust that all will be well. This is a fabulous time to explore your passions or begin a creative venture which could, in the long run, turn out to be more successful than you might have envisaged.
Merlin Report could be beneficial in self-help and self-transformation.
---
Cancer: Perhaps it's time for a new vision. At the very least, your mind is expanding to entertain possibilities that might have seemed ridiculous a few years ago. This is as it should be, for the more you can entertain new ideas and enlarge your scope of what's possible, the more likely you are to manifest the kind of life that has been quietly whispering to you for some time now. The New Moon on October 13 invites you to put the past behind you and move on.
---
Leo: The more we tread a familiar path, the more that path deepens. Conversely, when we plow our way through the undergrowth, the going is hard at first. However, the second time we walk that same path through the undergrowth, it gets a bit easier and the more we walk it, the more visible the path becomes. The same process applies to the thought patterns in our brains. The more we think a particular kind of thought, the more habitual it becomes, like a well worn groove. It's hard to change that thought into its opposite, but with perseverance, it becomes more familiar. Your big opportunity under the New Moon on October 13 is to break a damaging or limiting thought pattern. Perhaps you need to change a belief of "I can't" to "I can." A little courage and determination will go a long way toward liberating you from a habit or situation that has been doing you no favors. The time for a new kind of thinking is now.
Child Astrology Report is been designed as a guide for parents, to help with the child's growth and alerting the parents to problems that the child could face in their life.
---
Virgo: Venus joins forces with Mars and Jupiter in your sign, making this a hugely important time in your life and one in which you could be very successful. So what will you make of the possibilities currently appearing in your world? Will you embrace opportunity? Will you try a few doors to see which open? Will you pursue your desires with positive determination? Will you also remember that this is a time when fortune is smiling on you, a time for you to enjoy and discover more about yourself? If there's room for improvement in your material world or financial situation, then the New Moon on October 13 brings potential for new beginnings so long as you're prepared to make the change. Cast out your old financial habits and beliefs, and trust that a different approach will yield better results.
Astrological Solar Return Report offers you a practical guide that helps you analyze this year's prospects and to learn from them.
---
Libra: The New Moon in your sign is a great omen for you in terms of new beginnings and moving forward. Now is the time to begin afresh in some way, to start something new or allow a positive change in attitude to direct your course. This is a powerful week for you, and if you wish to make the most of it, you should refuse to take no for an answer. With Saturn's square to Venus, it would be all too easy to give up or to allow negative thoughts to hold you back. The cluster of planets in your zone of quiet reflection may interfere with your capacity to get moving and fully join in life, but really, the best use of these subtle and gentle energies would be to call on the higher powers for assistance in pursuing your dream. Ask for help, and be bold in stepping forward.
Astro Forecast Report gives you actual dates when the energies influence your life in a given time period.
---
Scorpio: The New Moon calls you to listen to your inner voice and suggests that this is the pathway to freedom. When we trust our inner voices, when we listen to our internal promptings – whether a gut feeling or knowing – and act on them, we naturally begin to move in the right direction. Problems occur when we don't trust our own judgment or when we override our gut feelings. This week, your inner self will be speaking. Make sure you're quiet enough to hear it, and then take action.
Cards of Destiny Report is a one year forecast based on Robert Camps book and age-old "cards of destiny" our ancestors gave us.
---
Sagittarius: Venus joins Mars and Jupiter at the top of your chart, putting extra importance on your direction and destiny. You should find it easier to progress toward or begin fulfilling more of your purpose. Meanwhile, the New Moon along with Mercury having turned direct in your social zone makes this a time of opportunity with your social life, so why not join a new group or become part of an organization that you believe in? The omens are good for making new friendships and contacts. It's time to quit feeling like an outsider and look at how you can join in more. As far as your future is concerned, this is a great week to turn over a new leaf and to begin taking steps toward what you want to accomplish.
Relocation Information Report (3 locations) can be of great assistance if you are contemplating a move.
---
Capricorn: Now is the time when you can really begin to move forward. With the New Moon and Mercury having turned direct at the top of your chart, it's as if all blockages are being swept away leaving the path ahead clear. Focus on new beginnings, especially in terms of where your life is going with your vocation/career. Any goals and ambitions are more likely to be able to get off the ground now and contain within them the seeds of success. It is really important that you believe in whatever you're doing since faith is the currency that will ensure your long-term success.
Cayce Past Life Report describes your character traits, relationship potentials and challenges as well as career potentials and even more based on Edgar Casey Readings.
---
Aquarius: Your keyword for this week is "adventure." While it's not always possible to go away, it is always possible to break out of your everyday patterns by trying something new, from checking out a new art gallery to trying a different kind of food. We all get stuck in our habits and patterns which can, if perpetuated for too long, make life start to feel a bit stale or stagnant. The New Moon brings an opportunity to be more adventurous in your daily life, which in turn will filter down to your everyday tasks, which you may then undertake with a greater degree of happiness and motivation.
Karmic Past Life Report examines possible past life connections using astrological methods.
---
Pisces: The New Moon on October 13 asks you to break limiting patterns, particularly in the areas of finances, relationship and emotional responses. It may also signal the end of something, but that being the case, you mustn't feel guilty. This is clearly a time for letting go and you won't be able to complete your rebirth if you don't shed your old skin. Instead of feeling guilty, rejoice at the opportunity to change, move on and break free of old patterns. Be like the caterpillar in the chrysalis and trust that whatever strange things are happening, do so for a good reason.
Karmic Insight Report comes from an esoteric point of view your birth chart is a portrait of your soul's intention for this lifetime, the lessons to be learned, qualities to develop, problems to be resolved, services to be rendered.
---
For more information about your Horoscope and what the stars
have in store for you, order one of our detailed
Astrology Reports for Couples!
Compatibility Report compares your temperaments and personalities. This information is powerful if you are married or living together.

Love Cards Report will reveal as much information about you and your partner as possible, using an ancient and highly accurate system called "The Book of Destiny".