#Horoscope #Aries #Taurus #Gemini #Cancer #Leo #Virgo #Libra
#Scorpio #Sagittarius #Capricorn #Aquarius #Pisces
#Horoscope – overview of this week
The Center for the New Age is pleased to present
your Free Weekly Horoscope for October 18 — October 24, 2015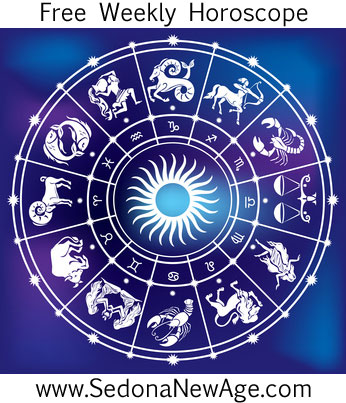 Aries Taurus Gemini Cancer Leo Virgo Libra Scorpio Sagittarius Capricorn Aquarius Pisces
First Quarter Moon in Capricorn on October 20 brings a strong emphasis on the need for serious labor. Some staunch determination is required. There is a steadily mounting concern to achieve notable levels of accomplishment or completion of projects.
Mercury in Libra square Pluto in Capricorn (October 22- October 27) is a particularly difficult time to deal with burdensome issues and discuss them in a manner that relieves tension. Mercury square Pluto often brings harsh and sometimes fatal news. Talk revolves around the corruption of superpowers and the setbacks caused by this corruption. This may be an especially complicated time to discuss matters involving permanent change.
Venus in Virgo trine Pluto in Capricorn (October 23 – October 30) is certainly exciting – with fate, power, love and intensity at work. This aspect often allows a breakthrough to occur for those who have trouble accepting the work of fate. Loving energy flows more easily between generations and Venus trine Pluto can often help us to overcome the pain of separation. It is the place where love triumphs over death. Replace what is lost with the act of love itself. In this there is great power.
Aries Taurus Gemini Cancer Leo Virgo Libra
Scorpio Sagittarius Capricorn Aquarius Pisces

For more information about your Horoscope and what the stars
have in store for you, order one of our detailed
Astrology Reports!
Compatibility Report compares your temperaments and personalities. This information is powerful if you are married or living together.

Love Cards Report will reveal as much information about you and your partner as possible, using an ancient and highly accurate system called "The Book of Destiny".
Free Weekly Horoscope for your Sign
Aries: Health and work are the big features in your world right now with relationships and matters connected with other people still fairly strong. Now that Mercury has turned direct in your relationship zone, you should find that any hiccups and challenges can be ironed out, or it may be that things just naturally resolve themselves. This should leave you with more time and energy to focus on other aspects of your life that are calling your attention. You need to take the time to assess your well-being. If you feel sad, allow the tears to flow. This release will be very healing. If you're tired and run down, take time to rest. The pressure may be on to work and get lots of jobs done, and if you have the energy, then great; you can take advantage of the opportunity to make hay while the Sun shines, but remember that with Mars and Jupiter together in your work zone, you could easily go overboard and burn yourself out. Pace yourself, deal with feelings that bubble up, take all the time you need, and you may find that this still ends up being a very productive week.
Numerology Report is a personal profile and one year forecast based on advanced calculations of your name and birth date.
---
Taurus: There is a very creative element to your chart at the moment that begs the question: Are you spending enough time doing what you love? Creative energy flows best when we are engaged in work or hobbies that make us feel glad to be alive. At the very least, this should be a time when you have the opportunity to feel much better about yourself and your life, and this can be enhanced by spending time tuning into your real wants and desires and making the effort to allow them to come to fruition. With the lucky trio of Venus, Mars and Jupiter in your house of fun, this is a great time to love what you do and do what you love.
New Age Natal Report is designed as a guide for your growth and personal evolution in the New Age.
---
Gemini: One of the often overlooked features of the Sun traveling through the fifth house of self-expression is that it encourages you to slow down and spend more time engaged in leisurely pursuits. This is not a time for working too hard, striving, being rigid or being a perfectionist. The Sun in this part of the chart is the equivalent of the long summer holiday from school. It blesses us with permission to just do nothing if we feel like it, to get away with spending our time in the way that we want to spend it – free from too much duty, obligation and responsibility. This is why it's a good time to take a break, indulge in a creative passion, simply meander in the countryside, or spend an afternoon browsing a bookshop. Remind yourself that there's no hurry, and the more you step into this relaxed pace of life, the more alert you'll become to the possibilities around you.
Merlin Report could be beneficial in self-help and self-transformation.
---
Cancer: In order to create the sort of life we want, we need to display courage. It's much easier to stay in the safe, comfortable life that you've slotted into, but what if you want more than what you currently have? What if you want to do more, experience more and be more? The Venus-Mars-Jupiter alignment is very encouraging in this respect, and as the week ends, you may be feeling a growing desire to live in greater accordance with your heart. This may mean taking a risk, but it's a risk that will be well worth it.
---
Leo: A most auspicious alignment is taking place in your money zone making this a time of abundance and prosperity. It is also, though, a time when you may need to apply some courage, so bear in mind these old sayings: "You have to speculate to accumulate" and "You've got to be in it to win it." Be bold, be daring and believe in what you have to offer, and it's more than likely that the universe will respond favorably to your desires.
Child Astrology Report is been designed as a guide for parents, to help with the child's growth and alerting the parents to problems that the child could face in their life.
---
Virgo: "Enthusiasm," "motivation," "creativity" and "enjoyment" – these are a few of your keywords this week as Venus, Jupiter and Mars all align in your sign. You could also add adventure, passion , expansion and beauty to the list. This is a time of new beginnings for you, so don't be too cautious when it comes to moving forward in the direction that calls to you. As the old saying goes, "fortune favors the brave." Your finances look set to improve too, and to make the most of future opportunities, you would do well to take a positive approach to all financial matters.
Astrological Solar Return Report offers you a practical guide that helps you analyze this year's prospects and to learn from them.
---
Libra: Whether it's a new vision of your life that you need some guidance in manifesting, or a problem that you need help with, the planets are currently aligned in such a way as to bestow assistance if you ask for it, so call on whatever deity you most strongly believe in, or the universe. In fact, you might be amazed at the miracles that occur when you tune into the spiritual realm. You may also get very positive results from visualizing your desires or by writing down your goals and seeing them come to fruition. In short, if you wish to overcome problems and manifest your dreams, tap into a higher power and allow your ego to take a back seat.
Astro Forecast Report gives you actual dates when the energies influence your life in a given time period.
---
Scorpio: As the Sun moves into your sign and Mars, Jupiter and Venus align in your social zone, this should be a positive time of opportunity for you. Your only potential problem is in not being able to make a decision. If you find yourself caught between two options, it may be difficult to move in any direction. You do, of course, know the answer and it can be found by going within and paying attention to whatever feelings or sensations arise. It's also important that you make the most of your social opportunities, for this is the area in which you're likely to find yourself on the receiving end of good fortune and lucky breaks. And these could well point the way forward.
Cards of Destiny Report is a one year forecast based on Robert Camps book and age-old "cards of destiny" our ancestors gave us.
---
Sagittarius: Your ruling planet, Jupiter, is nicely sandwiched between Mars and Venus in your zone of success and vocation, which is akin to having a warrior on one side and a fairy godmother on the other. It is difficult then, to see how you could possibly fail, but a word of caution is applicable: consider whether you are putting off something that could lead to better things. Don't allow personal problems such as family concerns to dampen your enthusiastic spirit. Deal with whatever needs dealing with as philosophically as possible, and then get on with the business of moving yourself and your life into a better place.
Relocation Information Report (3 locations) can be of great assistance if you are contemplating a move.
---
Capricorn: Faith, expansion, belief, travel, adventure – one of these words is likely to resonate with you right now, so take it and maybe write it down. Put it somewhere you will see it and be reminded of its importance. What all these words have in common is becoming more than you are. It's time to push out of your comfort zone and push the boundaries of what you believe is possible. Going off on an adventure, experiencing different cultures, taking up a course of study, or having faith in something you can't see will help you break out of your mold and push you in some way. Heed the words of David Lloyd George – "Don't be afraid to take a big step if a big step is indicated. You can't cross a chasm in two small jumps."
Cayce Past Life Report describes your character traits, relationship potentials and challenges as well as career potentials and even more based on Edgar Casey Readings.
---
Aquarius: Although the past doesn't have to affect the present, it often does. Most times, though, we're unaware of how events in the past are affecting the choices and outcomes of our present. With Mars, Jupiter and Venus in your psychological zone, you have an opportunity to get to the root of a problem. All that's needed is a willingness to break a long-standing pattern, whether it's a pattern from this life or from a previous existence. The universe is currently offering you the gift of healing your psyche and soul.
Karmic Past Life Report examines possible past life connections using astrological methods.
---
Pisces: A lovely alignment of planets is occurring in the relationship area of your chart, making this the week to enjoy and truly experience the people who matter most. Commitments, new relationships, adventures with soul mates, passion and romance – it's all happening. Or it should be. If there are any problems in this area, it could be because the past is getting in the way. Try to let go of what has been. Relationships can't flourish when they come with a load of baggage so release, let go and move on. Then you'll find wonders await you.
Karmic Insight Report comes from an esoteric point of view your birth chart is a portrait of your soul's intention for this lifetime, the lessons to be learned, qualities to develop, problems to be resolved, services to be rendered.
---
For more information about your Horoscope and what the stars
have in store for you, order one of our detailed
Astrology Reports for Couples!
Compatibility Report compares your temperaments and personalities. This information is powerful if you are married or living together.

Love Cards Report will reveal as much information about you and your partner as possible, using an ancient and highly accurate system called "The Book of Destiny".