#Horoscope #Aries #Taurus #Gemini #Cancer #Leo #Virgo #Libra
#Scorpio #Sagittarius #Capricorn #Aquarius #Pisces
#Horoscope – overview of this week
The Center for the New Age is pleased to present
your Free Weekly Horoscope for October 25 — October 31, 2015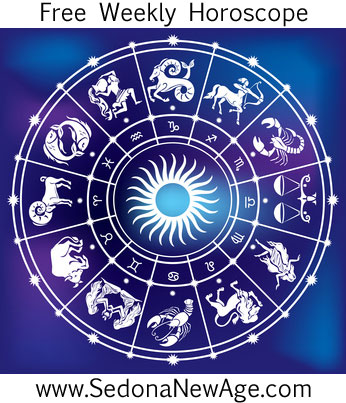 Aries Taurus Gemini Cancer Leo Virgo Libra Scorpio Sagittarius Capricorn Aquarius Pisces
Venus and Jupiter are conjunct in Virgo (October 25 – November 3). Here, the powers of attraction (Venus) blend with the powers of production, expansion and prosperity (Jupiter). The influence of Jupiter reminds us that the resources of love in the universe are inexhaustible, and love's great bounty is designed to be shared. The more love that is spread around, the more there is to partake of and expound upon.
Full Moon in Taurus on Tuesday invites us to celebrate beauty and the perfection of the valuable elements of the earth, and brings us an appreciation for the beauty in Nature. This Full Moon reminds us to take the time to enjoy and create beauty around us, and indulge ourselves a little in some luxurious pleasures or leisure time. Of course, you can expect emotional currents to be full of some unexpected focuses on polarizing desires and needs. If you don't have the things you need to live a practical existence, you will be acutely aware of those needs at this time. Ask Mother Moon to bring you what you need and she will teach you how to sow for the harvest of your desire.
Aries Taurus Gemini Cancer Leo Virgo Libra
Scorpio Sagittarius Capricorn Aquarius Pisces

For more information about your Horoscope and what the stars
have in store for you, order one of our detailed
Astrology Reports!
Compatibility Report compares your temperaments and personalities. This information is powerful if you are married or living together.

Love Cards Report will reveal as much information about you and your partner as possible, using an ancient and highly accurate system called "The Book of Destiny".
Free Weekly Horoscope for your Sign
Aries: We are all creative, even if we don't realize it. In fact, we're constantly creating – better or worse relationships with those close to us, better or worse health, or a better or worse place to be within ourselves depending on our dominant thoughts and feelings. As Venus applies to your ruler, Mars, it's time to focus less on striving and achieving and more on being, creating and enjoying Get in tune with your feminine side, and imagine you're the artist of your life. What will you create?
Numerology Report is a personal profile and one year forecast based on advanced calculations of your name and birth date.
---
Taurus: The Full Moon occurs in your sign on October 27, making this a great time to take stock of where you are. Are you moving in the right direction or do you need to adjust your course? Also, as the Sun moves into your relationship zone, your personal life becomes more important. This is a good time to connect with others, to join forces and blend your talents and abilities with the strengths of another person. Ideally, you would focus on working together as a team. Consider both your own needs and the needs of the other person. That way, there will be a wonderful sense of harmony in your partnerships. As Venus aligns with Jupiter and Mars in your house of fun, this is a great time to focus on romance, enjoyment, art, children, animals and creativity. Whichever of these rings your bell, make it your focus for the rest of the month.
New Age Natal Report is designed as a guide for your growth and personal evolution in the New Age.
---
Gemini: As the Sun moves into your house of work and health, the emphasis shifts from pleasure and enjoyment to service and jobs to be done. A good use of this transit is to become more organized – to streamline your work. Look at how you can work more efficiently, tend to your paperwork, and do the boring stuff. Your health will benefit from this diligent and dutiful approach as you take more time to focus on what you're putting into your body and make the effort to exercise properly. If we don't move, we begin to rust and decay. Make sure all the important components of your life are moving nicely. It's not all work and duty, though, as the Mars-Jupiter-Venus alignment occurs in your home area, making this week a potential source of joy as you come back to home base. The rest of the world can get on with its business while you tend to your family, curl up in front of the fire, or decorate and make your home more beautiful and soulful. Your greatest happiness right now is to be found in your own four walls, pursuing activities that nourish your soul.
Merlin Report could be beneficial in self-help and self-transformation.
---
Cancer: "Playfulness" is your keyword this week as the Sun drifts happily into your house of fun. This is the week to put down tools and give yourself permission to enjoy the lighter side of life, whether it's spending more time engaged in your passions and interests, or simply having a slower pace so that you have a chance to smell the roses. If life has been serious, or if you've been focused on heavy matters recently, then now is the time to remind yourself that life should be fun. If you need more laughter, watch a comedy or spend some time with people who make you laugh. As the great poet Lord Byron once said, "Always laugh when you can. It is cheap medicine."
---
Leo: The more burdens we carry, the more difficult it is to be playful. The more responsibilities we have, the harder it is to be lighthearted. The more we work, the easier it is to forget that life is a gift, not an endurance test. Saturn's journey through your house of fun and self expression urges you to release some of your burdens so that you can feel lighter and express more of your true self, either through creative ventures or through being more heart centered. Saturn challenges you to ask yourself why you do certain things and if, in some cases, your time could be better spent. Now is a great time to ask yourself, "What do I want to create? Who do I want to be?" It's time to hear your Lion's roar so that you can dare to be who you are at all times.
Child Astrology Report is been designed as a guide for parents, to help with the child's growth and alerting the parents to problems that the child could face in their life.
---
Virgo: You are still blessed by the presence of Jupiter, Mars and Venus while the Full Moon in your zone of adventure encourages you to break out of your confines, question your limitations, and challenge your beliefs. Now is the time to be experimental in order to discover what works and what doesn't. Remind yourself that there's no right and wrong for you at this phase in your life; it's more important that, like a child, you just try things to see what fits. As Ralph Waldo Emerson said, "Don't be too timid and squeamish about your actions. All life is an experiment. The more experiments you make, the better."
Astrological Solar Return Report offers you a practical guide that helps you analyze this year's prospects and to learn from them.
---
Libra: There is still a strong element of divine protection surrounding you, resulting in a kind of charmed existence – so long as you acknowledge your blessings. And things may improve further after the Full Moon on October 27 which will bring about some kind of transformation, cleansing or healing. This could be the time when you get to put the final piece of the puzzle into place providing a sense of completion. Certainly, now is a good time to release the past, tie up loose ends, and clear the decks for new things to come. Don't look back, and release all that is no longer beautiful or useful in your life.
Astro Forecast Report gives you actual dates when the energies influence your life in a given time period.
---
Scorpio: Problems in relationships most likely occur when we project our own stuff onto the other person. This is often difficult to spot, and we often don't realize we are doing it, so if there is currently an issue with another person, look deeply at the source of the conflict and ask yourself honestly how much you may have contributed to it. Projection can occur in a positive way too, in that we project our repressed greatness onto others, admiring them for their wonderful characteristics while not realizing that those same traits are within us but perhaps not yet brought to fruition. Write down whatever is currently irking or inspiring you in someone else, and see whether these traits are hidden within you. The Full Moon on October 27 is bound to be enlightening and will help you to move forward with greater understanding in a particular relationship.
Cards of Destiny Report is a one year forecast based on Robert Camps book and age-old "cards of destiny" our ancestors gave us.
---
Sagittarius: The Full Moon in your house of health is your cue to slow down and pay attention to body, mind and soul. If there is room for improvement, this Full Moon will help bring clarity as to what you need to do for increased well-being. Perhaps you simply need more rest. Or a change in diet or lifestyle may be beneficial. Or maybe you just need to laugh a bit more. Sagittarius is a jovial sign, but with Saturn paying a visit, life could feel a bit more serious than it used to. Take time out for fun and play, reminding yourself of Lord Byron's quote "Always laugh when you can. It is cheap medicine."
Relocation Information Report (3 locations) can be of great assistance if you are contemplating a move.
---
Capricorn: The Full Moon on October 27 falls in your fifth house of creativity, children and love affairs. Any one of these could be a feature, and you can expect the Full Moon to shed some light and bring clarity to any areas of confusion or uncertainty. This Full Moon is also about not rushing or striving or worrying about how you're going to get from where you are to where you want to be. Simply take each day as it comes, relaxing in the process. A fifth house Full Moon encourages you to relax into a sense of spaciousness, so don't cram your days with activities and jobs. Leave space for meandering, because it's in the meanderings that insights and intuition can be heard.
Cayce Past Life Report describes your character traits, relationship potentials and challenges as well as career potentials and even more based on Edgar Casey Readings.
---
Aquarius: The Full Moon in your home and family zone brings to your attention any conflict or confusion between your personal life and your life in the outside world. Examples of this possible conflict include tension between your work and your family or your past and your future. Alternatively, the need for privacy and security may be at odds with your desire to achieve in the outside world. The planets strongly suggest a need to overcome fears that might be holding you back or to get on top of domestic issues that might be sapping your time and energy. Of course it's very important to have a balance between the inner and the outer, between family and work, between being and doing, but present indications are that your focus needs to be on what success means to you and then seek to manifest that with passion and intensity.
Karmic Past Life Report examines possible past life connections using astrological methods.
---
Pisces: Travel, adventure and relationships are the big topics this week, and it would be great if you could somehow combine these themes. Of course, you don't have to go far to experience a sense of adventure: a day out exploring somewhere new is more adventurous than jetting off to the same hotel in the old, familiar resort. And, if you can take a playmate to share your journey – even better. A lot of fun and enjoyment can be experienced with another person, so make the most of your opportunities in this area. Ultimately what's needed is courage to push out of your comfort zone, try something new, take a risk, and dare to be different.
Karmic Insight Report comes from an esoteric point of view your birth chart is a portrait of your soul's intention for this lifetime, the lessons to be learned, qualities to develop, problems to be resolved, services to be rendered.
---
For more information about your Horoscope and what the stars
have in store for you, order one of our detailed
Astrology Reports for Couples!
Compatibility Report compares your temperaments and personalities. This information is powerful if you are married or living together.

Love Cards Report will reveal as much information about you and your partner as possible, using an ancient and highly accurate system called "The Book of Destiny".