#Horoscope #Aries #Taurus #Gemini #Cancer #Leo #Virgo #Libra
#Scorpio #Sagittarius #Capricorn #Aquarius #Pisces
#Horoscope – overview of this week
The Center for the New Age is pleased to present
your Free Weekly Horoscope for November 1 — November 7, 2015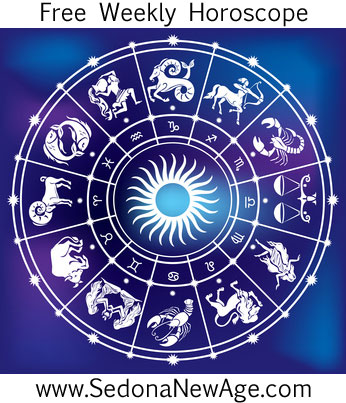 Aries Taurus Gemini Cancer Leo Virgo Libra Scorpio Sagittarius Capricorn Aquarius Pisces
Monday Mercury enters Scorpio (November 2 – November 20). This is often a time when communications are veiled in secrecy, and talk revolves around matters of intensity and sensitivity. Passionate issues are communicated with creativity and intuition. This is also a time to be aware that a sharp tongue may easily cause a violent or challenging reaction. It is through this medium of Mercury in the sign of Scorpio that the expression of communications is seemingly fearless, obstinate, reckless and passionate. From indecent babble to the subtle perfection of clear articulation, discussions frequently deliver a powerful punch. Not only our words but also our appearance, mannerisms and attitudes all send out the message of who we are. The mask we choose for the grand masquerade of autumn's darkening days teaches us much about ourselves.
Venus and Mars are conjunct (November 3 – November 8) bringing together the feminine and the masculine in the sign of Virgo. Venus conjunct Mars in Virgo puts us in touch with the power of love in action and active attraction. Here, we are easily seduced by love. This may serve as a good time to express love ardently and sincerely, and to receive love just as well. This is also a good time for an individual to get in touch with both the masculine and feminine aspects of the self, and to create peace between those active and passive parts of the personality.
The Last Quarter Moon in Leo on Tuesday urges us to take special care of ourselves as well as the children in our life. Projects of interest are sometimes considered children, too. If there is a hobby of special interest to you, take the time to brighten and enliven this work which represents your own talent and self-reflection. Throughout this day, moods will reflect childlike frolic and revel. If you're serious about not being distracted by such playfulness, a quiet workspace is the key. If you must work with others, allow the frivolity to flow; the work will get done, but the child in everyone has to play now and then.
Mercury in Scorpio trine Neptune in Pisces (November 6 – November 11) brings thoughtful and engaging discussions and intuitive knowledge and perception. Communicate about spiritual needs with helpful counsel and receive gifts of renewed faith in your own beliefs. Accept that some messages are there to spiritually uplift you. Spiritual affirmations and important messages may seem complex while these planets are trine, but they are designed to ease the mind and comfort the heart. This is a superb aspect for discussing personal philosophies and metaphysical subjects. Confessions and spiritual confidentialities will be beneficial and easier to relay at this time.
Aries Taurus Gemini Cancer Leo Virgo Libra
Scorpio Sagittarius Capricorn Aquarius Pisces

For more information about your Horoscope and what the stars
have in store for you, order one of our detailed
Astrology Reports!
Compatibility Report compares your temperaments and personalities. This information is powerful if you are married or living together.

Love Cards Report will reveal as much information about you and your partner as possible, using an ancient and highly accurate system called "The Book of Destiny".
Free Weekly Horoscope for your Sign
Aries: If you feel ready to shed your old skin, this could be a time of rebirth. At the very least, you could benefit from letting go of an emotional issue or to cleanse yourself of psychological, physical or emotional toxicity. This process may require a period of introspection, so welcome a little quiet time on your own so that you can transform yourself. There is a strong emphasis on work and health at the moment; one or both of these might need to be considered as you venture down to your core. A great deal of progress can be made now, and with a little bit of effort and by putting love into what you do, you could find that your day-to-day life becomes an ever increasing source of joy.
Numerology Report is a personal profile and one year forecast based on advanced calculations of your name and birth date.
---
Taurus: We all feel the pressure to do more and get things done, but what if (for this week at least) the universe gives you permission to not do anything? What if you're allowed to do exactly what you want to do? Of course, there are still the children to look after and work to be done, but outside of our most pressing obligations, we still often manage to fill our time with other stuff that we tell ourselves needs doing: housework, errands, DIY, lists of things to do. Perhaps some of this can wait, given that a cluster of planets in your house of fun and recreation along with the Sun and Mercury in your relationship zone are calling you toward more heart-centered activities. Spend some time with the people who matter to you, and don't feel guilty for taking time to do what you enjoy.
New Age Natal Report is designed as a guide for your growth and personal evolution in the New Age.
---
Gemini: The focus needs to be on the present, not on the past. As the Sun and Mercury journey through your daily life zone, you now have an opportunity to focus on how you can make the here and now better rather than ruminating on what has been and gone. It's difficult to move forward when we carry the weight of the past around with us, so forgive whomever needs forgiving, let go of whatever needs letting go of, and begin to streamline and organize your life so that it – and you – begin to function more effectively.
Merlin Report could be beneficial in self-help and self-transformation.
---
Cancer: As the Sun journeys through your house of fun and self-expression, it's important to have the courage to be yourself. This could simply mean saying no to something you don't want to do or yes to something you do want to do. It might mean having to push a little bit to do what you want, or you might have to have a conversation with the strict part of yourself that says there's no time to play or not enough money to be creative. Your message this week is: Pursue your passions with intensity!
---
Leo: As the Sun ventures down to the deepest part of your chart, it's time for you to do the same by coming back to yourself and trusting your inner voice. Most of life is spent in a hectic whirlwind, where the inner voice is inaudible. Therefore, this is a prime time to become receptive to your intuition, your soul's whispers, and your gut feelings. Act on your impulses, and remember to listen to what your body is saying. The truth can be felt in your body's whispers, flutters, heartbeats or aches and pains. Don't be in a rush to do anything or go anywhere in particular. Time spent journeying within or enjoying quiet time at home will be time well spent.
Child Astrology Report is been designed as a guide for parents, to help with the child's growth and alerting the parents to problems that the child could face in their life.
---
Virgo: Your month begins with the positive alignment of Venus, Mars and Jupiter in your sign. Make the most of this auspicious and benevolent array of planets visiting you by making a concerted effort to leave the past behind or to break old limiting patterns so that you can bounce into the future and embrace opportunity, pleasure and fun. Don't be afraid to be more assertive and to go for what you want as the planets encourage you to reach out for more. With the Sun and Mercury in your communication zone you're likely to be feeling more buoyant and positive in what is possible. Since a positive attitude is the cornerstone of success and happiness, this is a week in which you should feel like you can do pretty much anything.
Astrological Solar Return Report offers you a practical guide that helps you analyze this year's prospects and to learn from them.
---
Libra: Sometimes you have to cause a bit of a stir in order to get what you want. Nice, quiet people often get overlooked or put to the bottom of the list while the more demanding ones get what they want. Libras are usually keen to avoid ruffling feathers and upsetting apple carts, but if you're finding yourself experiencing little outbursts of frustration, irritation, or anger, it may be because you've been settling for too long. Now it's important for you to honor your own values; to heck with what anyone else thinks! If you want to be more successful and prosperous, you want to be heard, or you're fed up with making do with less than, it might be time to start speaking up for yourself.
Astro Forecast Report gives you actual dates when the energies influence your life in a given time period.
---
Scorpio: With the Sun and Mercury in your sign, this is the time of year when the spotlight turns to you and gives you permission to do more of what you enjoy and to focus on fulfilling your own needs a little bit more. Most of us spend our days in some kind of service, such as work, caring for families, or doing jobs and fulfilling responsibilities. We can get lost among all the roles we play, so periodically it's important to make sure your personal priorities are met. Use this week to recharge yourself and focus more on personal matters and less on the world at large.
Cards of Destiny Report is a one year forecast based on Robert Camps book and age-old "cards of destiny" our ancestors gave us.
---
Sagittarius: With a cluster of very positive and dynamic planets at the top of your chart, you are encouraged to break with the past – or to at least make peace with some less-than-cheerful aspect of your home and family life. Despite a fair amount of sadness in your personal life, the planets are calling you onward and upward to new destinations, new vistas and new adventures. Trust that wherever the path leads is exactly where you're meant to be going.
Relocation Information Report (3 locations) can be of great assistance if you are contemplating a move.
---
Capricorn: Aside from a little confusion or anxiety, the planets are generally shaping up in a very positive way, encouraging you to be more adventurous and to have more faith in possibilities. To really make the most of what's on offer, try to resolve any hidden fears. These might be at the root of any anxiety. Your dreams might offer clues. Engaging in therapy or enjoying a psychic or astrological reading might help you to uncover what's holding you back. You could become inspired through self-help or positive-thinking CD's or books, as these will help keep your mind on the right track. As it is said, "If you can feel the fear and do it anyway," the world is your oyster right now.
Cayce Past Life Report describes your character traits, relationship potentials and challenges as well as career potentials and even more based on Edgar Casey Readings.
---
Aquarius: As the Sun arrives at the top of your chart, you are invited to examine your life to see whether it is heading in the right direction. Do you feel you're making adequate progress? If not, will a little bit of courage help to move things along? This is a good time to push yourself forward, take on a little bit more responsibility and pursue your goals and ambitions with confidence and enthusiasm. Allow yourself to shine and to not be reticent or embarrassed about displaying your gifts and talents to the world.
Karmic Past Life Report examines possible past life connections using astrological methods.
---
Pisces: It was Henry Ford who remarked, "You can do anything if you have enthusiasm. Enthusiasm is the yeast that makes your hopes rise to the stars." This is what you need to know for the time being. As long as you can be enthusiastic in your dealings, desires and hopes, you will achieve a great deal. Whether you want to turn your life around or simply make something small happen, it's enthusiasm that will carry you there.
Karmic Insight Report comes from an esoteric point of view your birth chart is a portrait of your soul's intention for this lifetime, the lessons to be learned, qualities to develop, problems to be resolved, services to be rendered.
---
For more information about your Horoscope and what the stars
have in store for you, order one of our detailed
Astrology Reports for Couples!
Compatibility Report compares your temperaments and personalities. This information is powerful if you are married or living together.

Love Cards Report will reveal as much information about you and your partner as possible, using an ancient and highly accurate system called "The Book of Destiny".