#Horoscope #Aries #Taurus #Gemini #Cancer #Leo #Virgo #Libra
#Scorpio #Sagittarius #Capricorn #Aquarius #Pisces
#Horoscope – overview of this week
The Center for the New Age is pleased to present
your Free Weekly Horoscope for November 8 — November 14, 2015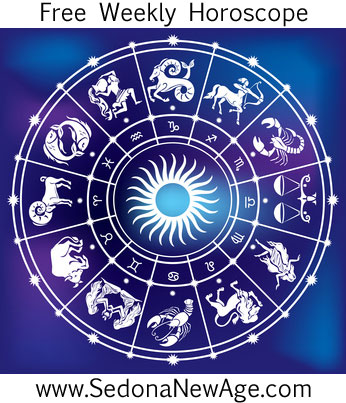 Aries Taurus Gemini Cancer Leo Virgo Libra Scorpio Sagittarius Capricorn Aquarius Pisces
Venus enters Libra on Sunday (November 8 – December 5, 2015) encouraging the course of magnetism, affection and feminine perception to focus on harmonizing and balancing relationships, marriages and friendships. Venus in Libra emphasizes a love and desire for stability wherever possible. Compromising and attempting more sensitivity and living with and showing affection to those with whom we have chosen to be, becomes the focus of this time.
Mercury in Scorpio sextile Pluto in Capricorn (November 10 to November 19) affects our actions with good timing. Movement and the application of energy (Mars), plus responsibility and awareness of limitation (Saturn) allow the timely qualities of completion and new beginnings to occur. This may be a good time to start a new enterprise, and is an especially opportunistic time to practice control or discipline.
New Moon in Scorpio on Wednesday puts us in touch with a new understanding of the passionate depths of life that we experience through birth, sex, death and transformation. This is the time to lighten up on the work load and to be prepared for melancholy tendencies from some folks. Coming through intense darkness emphasizes the equally intense qualities of light. The new lunar light brings hope for a regenerative process to occur this month.
On Thursday Mars enters Libra (November 12 – January 3, 2016) focusing more heat on the necessity for harmony in relationships. Heated energy will be directed to law related matters – particularly domestic disputes. When discord seems evident among loved ones, it is best to try to defuse and creatively redirect anger before irrational actions become a source of regret. Look for the signs of relationship trouble, anticipate trouble before it happens, and actively divert potential trouble – these are some of the best ways to manage the Mars-in-Libra-days. It may be best to be a careful observer, but to withhold judgments about relationships during this Mars in Libra period.
Venus in Libra sextile Saturn in Sagittarius (November 13 – November 19) is the time to protect loved ones with guidance, and to teach them about discipline. Perfect timing brings pleasure. Venus sextile Saturn teaches us how to hold on to and maintain the things we love – those places, people, and things that matter to us. True love has a binding and lasting affect and this aspect often shows us the ways in which love stands the test of time.
Mercury in Scorpio sextile Jupiter in Virgo (November 13 – November 18) brings the potential for good news that encourages growth and prosperity, especially for those who are open to broadening their awareness. Mercury brings news and talk, while Jupiter brings wealth and prosperous advancement. There is much talk of opportunity – how to find it, and where the big money is headed next. This may be an advantageous time to ask for a job, a raise or a loan.
Aries Taurus Gemini Cancer Leo Virgo Libra
Scorpio Sagittarius Capricorn Aquarius Pisces

For more information about your Horoscope and what the stars
have in store for you, order one of our detailed
Astrology Reports!
Compatibility Report compares your temperaments and personalities. This information is powerful if you are married or living together.

Love Cards Report will reveal as much information about you and your partner as possible, using an ancient and highly accurate system called "The Book of Destiny".
Free Weekly Horoscope for your Sign
Aries: This week's New Moon occurs in your zone of transformation, making this a time for change, rebirth and renewal. You could feel as if you're emerging like the phoenix from the ashes or a butterfly from its chrysalis. Welcome a sense of newness into your world, and take heart that if recent times have been difficult or emotionally draining, this New Moon marks the beginning of a new, more optimistic period. If you wish to let go of something (or someone), this would be a good week to perform a ritual that severs any chords and connections, allowing you to move on unencumbered.
Numerology Report is a personal profile and one year forecast based on advanced calculations of your name and birth date.
---
Taurus: This week's New Moon is good news for your relationships, as it brings the opportunity to turn over a new leaf in an important partnership or embrace a new way of relating. Communication is key now, so make sure you say whatever is on your mind and return the favor by listening attentively to the other person. As Brendan Francis Behan said, "A man is already halfway in love with any woman who listens to him."
New Age Natal Report is designed as a guide for your growth and personal evolution in the New Age.
---
Gemini: The New Moon on Wednesday is your cue to create a new beginning in the area of work or health. Therefore, this would be a good time to turn over a new leaf in regard to your health, perhaps changing your diet or adopting a new regime. This New Moon also bodes well for your work so long as you can avoid alienating your needs or feeling like an outsider. Mercury's helpful link to Jupiter suggests that far from being a threat or uninterested in you, other people can be a welcome boost to your success now, so take advantage of all the opportunities and invitations that come your way. The chances are good that one of them will lead to something. Make this the week to greet the world with a fresh new face, and get ready to embrace change.
Merlin Report could be beneficial in self-help and self-transformation.
---
Cancer: The New Moon in your house of fun makes this a good week to begin a new creative venture. Examples include joining an art class, picking up your camera, joining in a project, or sitting down to start a book. Enjoying other people's art is also a good use of these New Moon energies. Whatever you decide to do this week, the most important thing is that you do it with passion, so consider what calls to your heart and then make that your goal. This New Moon that is full of hope, opportunity and the promise of success in all creative ventures, is also favorable for turning over a new leaf where children are concerned.
---
Leo: The New Moon on November 11 is an auspicious moment for new beginnings in your home and domestic life. You can turn over new leaves with family members and it's a great time to start afresh at home by decorating or making some simple but transformative changes. Consider engaging in some feng shui by clearing out your clutter and moving things around so that your living space feels more harmonious. The changes you make in your environment could lead to a transformation in your life, so take a look around your home to see how you can raise the vibration.
Child Astrology Report is been designed as a guide for parents, to help with the child's growth and alerting the parents to problems that the child could face in their life.
---
Virgo: The New Moon on the 11th invites you to alter your thinking. Could you be more positive? Could you leave negativity behind? We all like to think we're positive, but when you listen to the things people say, their language is very revealing. Ask someone close to you to point out when you're being defeatist, cynical, skeptical, critical, petulant, doubtful and so on. Listen for certain words or phrases such as "What's the point?" or "I can't" or "I'm fed up with this." We all let negativity seep into our words and this week is a great opportunity to become mindful of the way you communicate, which reveals what you're really thinking. This New Moon is also a positive omen for getting your message across and is especially good for writers, teachers, speakers and so on. For all Virgos, the message is clear: Speak your truth, but keep it positive.
Astrological Solar Return Report offers you a practical guide that helps you analyze this year's prospects and to learn from them.
---
Libra: Venus comes home to your sign this week so honor her presence by focusing on beauty, harmony and celebration. Venus loves nothing more than to take pleasure in life – such as enjoying a beautiful bouquet of flowers, a sensual mass, a glorious sunset, a moving piece of music, a lovingly prepared meal in the company of friends, or stylish clothes – or letting go of your inhibitions through dancing or movement. Venus is also happy when everyone gets along, and her presence should be a blessing for many of your relationships. Meanwhile, the New Moon invites you to turn over a new leaf financially speaking, and this is a great week to appreciate your abundance or generate more. If the Libran hedonist appears this week, indulge it, for this is a week to enjoy your senses and celebrate all the good things in life.
Astro Forecast Report gives you actual dates when the energies influence your life in a given time period.
---
Scorpio: This week's New Moon on November 11 falls in your sign, inviting you to focus with laser beam precision on what you want to manifest. The helpful link from Jupiter suggests that whatever you focus on now – especially if it's something new – will manifest much more easily than normal. So don't waste this opportunity to create something that could mean a lot to you. Goals for the future, your hopes and dreams, social activities and groups and organizations are all very favorable now. New energies put into one or more of these areas will be charged with the vibration of success, so get moving.
Cards of Destiny Report is a one year forecast based on Robert Camps book and age-old "cards of destiny" our ancestors gave us.
---
Sagittarius: This week is all about completion as a New Moon falls in your zone of the past. Now is the time to put the final piece of the puzzle into place, let go, and move on. Everything happening in your life now brings about a greater sense of maturity, which will set you up for more fulfillments. For now, though, embrace an ending, and get as much rest as you need. Your vital energy might not be at its strongest, so you need to take good care of yourself; allow yourself to be nurtured and nourished.
Relocation Information Report (3 locations) can be of great assistance if you are contemplating a move.
---
Capricorn: This week's New Moon falls in your zone of socializing and hopes for the future, so any new ventures connected with these are very favorable now. For example, there might be an opportunity to make a new friend or to join a new group. You might be able to start something that you once dreamed of. This is certainly a New Moon for pursuing your dreams or reigniting long-forgotten dreams. As Jupiter links up with this New Moon, you could expect an opportunity or two, so be vigilant and focus on the future.
Cayce Past Life Report describes your character traits, relationship potentials and challenges as well as career potentials and even more based on Edgar Casey Readings.
---
Aquarius: "Whatever you can do, or dream you can, begin it. Boldness has genius, power and magic in it. Begin it now." Keep this saying in mind at this time. The New Moon in your career and success area is perfect for new beginnings and pushing ahead with new projects, ambitions and goals. It could even be time for a new vision of your life so whether your ambitions are large or small, use this New Moon to start something new and to push your life forward in the direction you want it to go. Assistance might come through other people; if so, welcome it, for Jupiter in your relationship zone suggests that opportunities and assistance could soon be forthcoming.
Karmic Past Life Report examines possible past life connections using astrological methods.
---
Pisces: Enthusiasm is the currency that will get you what you want, but what if you just can't seem to muster up the enthusiasm? If there's an area of your life or a situation that you just don't have the eagerness for, then maybe it's not right for you. The New Moon encourages you to begin afresh or make a change and to let go of that which is stale. If you're simply going through the motions in a particular situation, maybe you need to be honest with yourself. Focus on what excites and motivates you, and don't be afraid to drop a few plates that you've been trying to keep spinning.
Karmic Insight Report comes from an esoteric point of view your birth chart is a portrait of your soul's intention for this lifetime, the lessons to be learned, qualities to develop, problems to be resolved, services to be rendered.
---
For more information about your Horoscope and what the stars
have in store for you, order one of our detailed
Astrology Reports for Couples!
Compatibility Report compares your temperaments and personalities. This information is powerful if you are married or living together.

Love Cards Report will reveal as much information about you and your partner as possible, using an ancient and highly accurate system called "The Book of Destiny".