#Horoscope #Aries #Taurus #Gemini #Cancer #Leo #Virgo #Libra
#Scorpio #Sagittarius #Capricorn #Aquarius #Pisces
#Horoscope – overview of this week
The Center for the New Age is pleased to present
your Free Weekly Horoscope for November 15 — November 21, 2015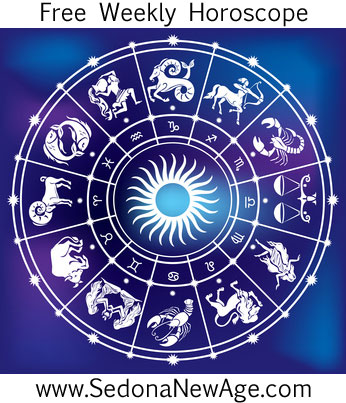 Aries Taurus Gemini Cancer Leo Virgo Libra Scorpio Sagittarius Capricorn Aquarius Pisces
First Quarter Moon in Aquarius on November 19 puts the spotlight on humankind's eccentric and unusual breakthroughs. We are all aware of great shifts of energy and the Aquarius Moon will assist our moods to meet and formally address humanity's newest challenges.
Mercury, the planet of communication, information and news enters Sagittarius (November 20 – December 10) providing new perspectives. News is always more philosophical and visionary when Mercury is in this sign. Word travels fast and further than expected. Sagittarius is the challenging "detrimental" place for Mercury and this is a time when Mercury's greatest weapon – words – are best communicated with carefully considered diplomacy. People will be increasingly curious to know what is happening in the world, and to be more aware of global perspectives. Mercury in Sagittarius offers an opportunity to share your vision of a better world with others, and also brings adventure to the world of communications.
Venus in Libra is square Pluto in Capricorn (November 20 – November 29). The diplomatic, peaceable, cooperative and naturally harmonious side of our affections (Venus in Libra) is likely to take a pretty good beating, while a seemingly major transformation is occurring on a physical level (Pluto in Capricorn.) Our concepts of beauty may be challenged as the corruption of superpowers prompts action which threatens or alters the beauty and pleasure in our lives. Venus square Pluto usually involves such difficulties as loss or death of a loved one, the obstacles of rejection and general oppression for those aspects of life to which we are undeniably attached and which we hold dear. If something of this nature is occurring for you, it is best to recognize that love will triumph in every dimension, despite the pain of separation, or the disease and strife of the beloved. Be both strong and gentle in matters of love. Let the obstacles of love's pain become the building blocks of a better outlook, and a stronger love will supersede these current trials of the heart.
Aries Taurus Gemini Cancer Leo Virgo Libra
Scorpio Sagittarius Capricorn Aquarius Pisces

For more information about your Horoscope and what the stars
have in store for you, order one of our detailed
Astrology Reports!
Compatibility Report compares your temperaments and personalities. This information is powerful if you are married or living together.

Love Cards Report will reveal as much information about you and your partner as possible, using an ancient and highly accurate system called "The Book of Destiny".
Free Weekly Horoscope for your Sign
Aries: The theme of transformation is still relevant as the Sun travels through your underworld, taking you on a journey that might be painful at times, but is also rather interesting and illuminating. This is an opportune time to do some soul work or inner-child healing. There are many possibilities to be discovered, and the more you venture within and focus on your own healing, the more those possibilities will begin to emerge. Don't forget your relationships among all this soul searching, for Venus and Mars in your partnership zone are attempting to add some sparkle to your personal life. A dash of romance or a sprinkling of passion will certainly lighten the heaviness in other areas.
Numerology Report is a personal profile and one year forecast based on advanced calculations of your name and birth date.
---
Taurus: As Venus begins to oppose Uranus, it's important to be open to change. It doesn't have to be big change; sometimes small steps, such as changing the furniture around or trying something new, can be enough to bring about a new perspective. The name of the game is revitalization, so if you're feeling a bit stagnant or things feel stuck, the answer could be to shake yourself up a bit. Get yourself moving, break a habit, or change a pattern. This simple method could well be the key to your success.
New Age Natal Report is designed as a guide for your growth and personal evolution in the New Age.
---
Gemini: We are all conditioned by our society, family, school and peers. It's hardly surprising, then, when we wake up one day and realize that we no longer know our own minds or who we are because we've taken on so much of other people's thoughts, idea and beliefs. This is a particular hazard for Geminis, being a mutable chameleon-like sign, all too able to take on the views and opinions of others. If you feel that you've become a bit lost, take some time to rediscover who you are. Write down all the things you love or used to love doing. Write down all the things you're passionate about. If you could do anything, what would you do? Who would you be? Once you get back in tune with yourself, you'll soon see the possibilities for a happier life.
Merlin Report could be beneficial in self-help and self-transformation.
---
Cancer: Saturn's purpose as he settles into your house of work and health is to enable you to sort your life out. This could simply mean improving your health, because if you're not firing on all cylinders, it's difficult to go out into the world and perform at your best. Or Saturn's message to you could be to become more organized so that your life flows more smoothly. When your environment is ordered – you know where everything is, all your accounts are up to date, and all your work is done – your mind will feel more spacious. Perhaps some areas of your life are pulling too much of your energy while other areas are suffering from neglect. Look at your life in a holistic way, and know that with a few simple changes, you can make big improvements.
---
Leo: As the Sun journeys to the lowest point, it's natural to feel more introspective. Perhaps you feel a little bit heavier emotionally speaking; if so, this would be a good time to get to the root of any uncomfortable feelings. Healing old wounds can be more easily done now, and this is a constructive time to let go of the past. Use whatever tools and techniques that will help you to do this; however, paying more attention to your dreams may be the key. If you're creative, use your skills – writing, painting, music, and so on – to express your inner self. Giving forms and color to your emotions will help to release them, leaving you feeling lighter and more able to move on.
Child Astrology Report is been designed as a guide for parents, to help with the child's growth and alerting the parents to problems that the child could face in their life.
---
Virgo: The theme is still on communication and all forms of self-expression from writing about your feelings and having important conversations to working at clearing any blockages in your throat chakra. Being able to express yourself without fear of attack or ridicule is very important, but many Virgos feel the pressure to be good and to do the so-called right thing. Perhaps it's more important now for you to say and do what's right for you. This is one time in your life when you need to be true to yourself and to honor what's important to you. This could mean identifying your values and priorities and making sure you're living them. Or it could mean breaking out of your comfort zone to do something that feels important even if it means disgruntling others. You can't live halfheartedly any more, and the planets are urging you on to be all that you came here to be.
Astrological Solar Return Report offers you a practical guide that helps you analyze this year's prospects and to learn from them.
---
Libra: With Mars in your sign, it's a case of "on your mark, get set, go!" Oh, wait a minute. Venus is in your sign too, and she's saying "Slow down; what's the rush?" This is the dilemma that you face this week – whether to work or to play, whether to do or to be, whether to achieve or enjoy. Of course, you can do both, but be prepared for your best-laid plans to fall by the wayside when more tempting offers present themselves. The best approach may be to use the creative charms of Venus by creating something such as a vision plan or a treasure map that reflects your Martian aims and ambitions. That would keep both of them happy. Then give Mars his time to get things done and allow Venus her time to play, indulge and enjoy. Voila! You've sorted it all out.
Astro Forecast Report gives you actual dates when the energies influence your life in a given time period.
---
Scorpio: Here comes another week with success imprinted on it. It seems there's a lot going for you right now, and with the Sun and Mercury still joined at the hip in your sign, you have the universe's permission to spend time thinking and communicating about what is important to you. You should have increasing clarity about what you want and where you want to be heading. With Jupiter waving a magic wand over your hopes and wishes for the future, it would be a waste not to do something with these favorable energies. If you have a dream, now is the time to start bringing it into reality. However, with Mars moving into your zone of rest and endings, your energy and motivation levels may drop a little as this transit augers a need to recharge your batteries before the big push in December and January. There's no need to rush, but make sure you're making plans for your future happiness.
Cards of Destiny Report is a one year forecast based on Robert Camps book and age-old "cards of destiny" our ancestors gave us.
---
Sagittarius: Transformations don't usually happen in an instant. Much like a caterpillar, there is quite a process of outer stillness while much happens on an inner level. This outer stillness is what you would benefit from now as the Sun and Mercury take up residence in your zone of soul and spirit. Some things just can't be rushed, and although you like things to happen quickly, something in your life is likely to be testing your patience. Perhaps there's something you wish you could speed up. Instead of hurrying things along, maybe you could just allow matters to develop in their own time. It's important to adopt a moment-to–moment approach by being present in this moment and appreciating all that is good about it.
Relocation Information Report (3 locations) can be of great assistance if you are contemplating a move.
---
Capricorn: Your theme for this week is constructive progress. You can get a lot done and make good progress so long as you don't tie yourself up in knots with shoulds and should nots or rights and wrongs. Let other people get on with whatever they're doing, whether you agree with them or not, and concentrate on channeling your energies into manifesting, building and achieving. Mars moving into your success area makes this a time when you can make really good progress and perhaps get yourself noticed, so if there's something you want to do, this is the time to do it.
Cayce Past Life Report describes your character traits, relationship potentials and challenges as well as career potentials and even more based on Edgar Casey Readings.
---
Aquarius: Although the Sun is still in your success region, encouraging you to make hay while the Sun shines, you need to remind yourself that there is no rush. Often we are too focused on the completion of a project; we want to get the book done or the deal signed. We rush to meet the deadline rather than enjoying the work. We have the end in sight when really it's the journey that's most important. Take a moment to stand back to see whether, in your desire to reach the destination, you're enjoying the journey.
Karmic Past Life Report examines possible past life connections using astrological methods.
---
Pisces: With Saturn's long journey through your career and vocation area, success and achievement can be yours if you have the confidence to go for what you want. Again, we're back to that magic word, "enthusiasm." Find what you're enthusiastic about, and make that your mission. It could be helping others. It could be creative endeavors. Perhaps it's music, dance, photography, art or writing. It might be connecting with the divine, or the spirit of Earth. It might be healing. Whatever it is needs to be your focus so that you can live it more. Integrate enthusiasm into your life, and soon everyone will be wondering what your secret is.
Karmic Insight Report comes from an esoteric point of view your birth chart is a portrait of your soul's intention for this lifetime, the lessons to be learned, qualities to develop, problems to be resolved, services to be rendered.
---
For more information about your Horoscope and what the stars
have in store for you, order one of our detailed
Astrology Reports for Couples!
Compatibility Report compares your temperaments and personalities. This information is powerful if you are married or living together.

Love Cards Report will reveal as much information about you and your partner as possible, using an ancient and highly accurate system called "The Book of Destiny".