#Horoscope #Aries #Taurus #Gemini #Cancer #Leo #Virgo #Libra
#Scorpio #Sagittarius #Capricorn #Aquarius #Pisces
#Horoscope – overview of this week
The Center for the New Age is pleased to present
your Free Weekly Horoscope for November 29 — December 5, 2015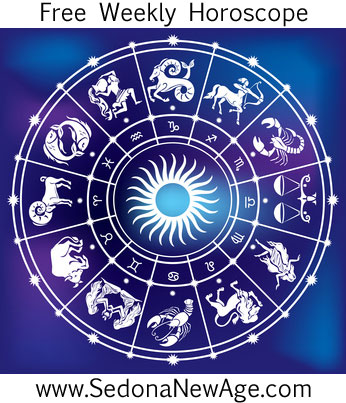 Receive our Free Weekly Horoscope in your Inbox

---

Aries Taurus Gemini Cancer Leo Virgo Libra Scorpio Sagittarius Capricorn Aquarius Pisces
December 3 the Last Quarter Moon in Virgo gears our moods towards the need for pragmatic and realistic strategies to our approach to life. Virgo Moon disposes us to create protective defenses, which may cause skeptical, analytical, or even cynical interactions with others. Let the doubts and fears of your life be flushed away in order to achieve the benefits of health and wellbeing. Waning Virgo Moon emphasizes the need to dispel all doubts and to improve health matters that require some attention.
Mercury in Sagittarius is square Jupiter in Virgo (December 4 – December 11). With this aspect it is best to beware of negative views that discourage prosperous growth, as deceptive words, lies and even the truth are easily misconstrued on a much larger scale. During this aspect, it may be best to hold off on a job request, asking for a raise or signing any binding contracts concerning long term investment and payment schedules
Venus, which influences love, beauty, art and attraction, now moves through Scorpio, bringing out deep and passionate levels of love's expression (December 5 – December 29). We may feel preoccupied with theme of birth, sex, death and rebirth, and transformation. Magnetism runs strong with Venus in Scorpio, and love affairs are often torrid and well hidden. Sometimes the dark side of our love and our hidden fears surface while Venus is in Scorpio; this forces us to come clean about these feelings and to take strong measures to ensure the power of our love. Venus is in detriment in the sign of Scorpio. This may be a time to work out anxiety, fear, mourning and emotional stress relating to love. Love with passion is an empowering thing, but it is wise to ensure the experience does not hinder the wellbeing of those who are close to you. The intensity of Scorpio love can sometimes overwhelm loved ones. Love shines best when it is mutually expressed.
Aries Taurus Gemini Cancer Leo Virgo Libra
Scorpio Sagittarius Capricorn Aquarius Pisces

For more information about your Horoscope and what the stars
have in store for you, order one of our detailed
Astrology Reports!
Compatibility Report compares your temperaments and personalities. This information is powerful if you are married or living together.

Love Cards Report will reveal as much information about you and your partner as possible, using an ancient and highly accurate system called "The Book of Destiny".
Free Weekly Horoscope for your Sign
Aries: Career opportunities may not have been good of late, but this does not mean it will continue in this vein. Career is a long term project that requires much time. However you will see good progress towards your goals starting this week. Mars, the ruler of your Horoscope, makes some dynamic aspects from Saturday until the end of next week. Take it nice and easy during this period. Avoid risk taking and confrontations. Your financial planet, Jupiter, is moving speedily showing quick financial progress. Your social skills and other people are very important financially so attending or hosting parties and gatherings will certainly help your bottom line. This may indicate a good period for starting new projects, but for you it is best to wait until the Spring.
Numerology Report is a personal profile and one year forecast based on advanced calculations of your name and birth date.
---
Taurus: Your health and energy are much improved this week and optimism is high as you seem to be catching the lucky breaks in life. The shift of planetary power to the upper half of your horoscope becomes even stronger as Venus moves into Scorpio on Saturday bringing good news in the love department. Venus spends most of the month in your 7th house of one-to-one relationships and you are looking out for others very much (which is as it should be). You are putting others first and you are more popular in general. You are not sitting around waiting for the phone to ring but are proactive in love. Mars makes dynamic aspects with Pluto at the end of the week that impacts more on your partner than on you. Let him or her take it easy during this week. Watch to make sure they drive more defensively and avoid confrontations and stressful activities.
New Age Natal Report is designed as a guide for your growth and personal evolution in the New Age.
---
Gemini: Your health is generally good, but if you are tired, rest and in general try to get more sleep. Try to arrange your activities so that more gets done with less effort and delegate tasks wherever possible. When energy is low things that normally can be done easily become major labors and influence performance. Mars makes dynamic aspects with Pluto and Uranus from this Saturday until next Saturday, so avoid risky kinds of activities, arguments or confrontations during this period. If a medical condition arises, get a second opinion before making any decisions. These aspects of Mars affect computers and high-tech equipment. Make sure your files are backed up and your anti-virus software is also up to date. Foremost of all, do not over-react to any situation of any kind right now.
Merlin Report could be beneficial in self-help and self-transformation.
---
Cancer: Try to be as quiet as a lamb throughout this week and until the New Moon next week. This will allow you to ride out a whole heap of very serious problems due to a confluence of adverse circumstances. Then you can do whatever you want. You will have a lot of energy and no less of opportunities, so you will be able to completely resolve any problematic situation and emerge victorious from any confrontation. Gather yourself and define the most important priorities in which you will invest your fundamental resources. That is the only way you will be able to realize the maximum of possibilities available to you. Try to spend most of your free time this week with friends. In relations with your lover – be yourself and that will be enough. This is good time for the implementation of the old creative ideas to which you could get around earlier. Now you have the time and have all the necessary resources that can be used in full. 
---
Leo: There are good job opportunities appearing on the 29th or 30th and before Mercury squares Jupiter (December 4) so make sure you have a nice easy schedule, avoid making any trips and avoid confrontations to give you the ability to take part in what is being offered you. You are in the mood for work and employers are picking up on this. Leos dislike details but right now you can handle them better so if you have detail oriented tasks to do, this is a good time to do them. Your health and energy are okay, but it never hurts to enhance your health further by initiating health regimes and focusing on prevention. Overall you are in a prosperity cycle that will continue well into next year but there could be some bumps along the way in the form of over spending. Make sure to watch your outlays and wait till Mercury starts making good aspects to Jupiter after the 21st that will bring prosperity and financial increase.
Child Astrology Report is been designed as a guide for parents, to help with the child's growth and alerting the parents to problems that the child could face in their life.
---
Virgo: Your 4th house of home and family is in a very powerful place. This signals the importance of family and emotional well-being. These should be the focus now. The planetary power is at its low point in your chart and, symbolically, it is midnight in your year. Outer activity is lessened. Inner activity is more prominent. The victories in life are won in the midnight hour: this is when they actually occur – they only become visible, manifest, during the day. When there is power in the 4th house we have opportunities for emotional healing and cleansing. It is a period when we can come to terms with the past. The traumas and pains of the past need not shape our future. In many cases the so-called trauma was only a child's interpretation of an event. When it is looked at from the present with adult consciousness, the trauma loses its power. This is why the cosmos has arranged things so that the past can be looked at and reviewed in natural ways. A cosmic digestion of the experience is happening. The nutrition (the wisdom) from the experience will be extracted and the waste (the pain and false interpretations) will get eliminated and put to rest forever.
Astrological Solar Return Report offers you a practical guide that helps you analyze this year's prospects and to learn from them.
---
Libra: Mars, the love planet, makes dynamic aspects with Pluto and Uranus from the 5th to the 12th. Be more patient with your beloved during this time, as he or she could be having personal dramas and should stay out of harm's way. Confrontations, temper tantrums and risky activities should be avoided but love between you is good and he/she is still devoted to you. On Saturday, Venus enters your money house which shows a personal focus on finance. You want to look and appear wealthy. You feel that you should be dressing more expensively in anticipation of a very nice job opportunity that will occur soon. Your financial planet Pluto will start receiving positive aspects and the future will be even better than you could ever imagine.
Astro Forecast Report gives you actual dates when the energies influence your life in a given time period.
---
Scorpio: Many of the trends of last month are still very much in effect. The planetary power is still in the Eastern sector and Pluto is moving forward. You have power to create conditions as you desire them to be, to have your own way in life, to take charge of your own happiness. There's no need to seek the approval of others. They will adjust and will probably support you. This is a time for having life on your own terms. Even love is on your terms right now. Venus enters your sign on the 5th. This is wonderful for love. First off, it makes you more attractive to the opposite sex. Males are attracting beautiful women into their life. Females are becoming more glamorous and beautiful. Love seeks you out and there's nothing much you need to do. Just go about your daily business. One thing however – avoid confrontations at work or with fellow workers this week. They can overreact to things. And encourage those who play a decided role in your life to arrange nice easy schedules for themselves so that their interactions with you will be on the positive side as well.
Cards of Destiny Report is a one year forecast based on Robert Camps book and age-old "cards of destiny" our ancestors gave us.
---
Sagittarius: The planetary power is now at its maximum Eastern position. You are at the peak of personal independence and personal power. Your personal goals have a lot of cosmic support (so long as they aren't destructive). You are having things your way this week and this is as it should be. Though you have three long-term planets in stressful alignment with you, health and energy are good. The short-term planets are easing the stress and of course, your health would be even better if the long-term planets were leaving you alone. Until Saturday, you can enhance your health by giving more attention to your kidneys and hips. Regular hip massage would be good. From the 5th onwards, give more attention to your colon and bladder. Try a detox as detox regimes are more beneficial than usual. Good health is about getting rid of things that don't belong in the body, not about adding things to the body. Spiritual healing is powerful. If you feel under the weather a spiritual healer, or spiritual healing techniques, will be a big help and you will respond very well.
Relocation Information Report (3 locations) can be of great assistance if you are contemplating a move.
---
Capricorn: Mars is making dynamic aspects to Pluto and Uranus for a whole week starting on Saturday. You should encourage parents and parent figures to stay out of harm's way and avoid confrontations. There is some short term financial disturbance also – perhaps some unexpected expense in the home or with the family. You and another are not in financial agreement, but in spite of this short-term bump, your finances are good. Mars is in your 10th house of career, signaling that you are putting in long hours, fending off the competition, and being more aggressive in career matters. It also shows the involvement of family members and their support. Social connections are always important for you career wise, and it will be advantageous to be involved with groups and professional or trade organizations as this helps your career objectives and boosts your status.
Cayce Past Life Report describes your character traits, relationship potentials and challenges as well as career potentials and even more based on Edgar Casey Readings.
---
Aquarius: Venus, your family planet, crosses the Mid-heaven and enters your 10th career house on Saturday. You have excellent family support for your career goals. The family as a whole seems more elevated now and a parent or parent figure is successful in helping your career. The shift in planetary power gets stronger this week so it is time to be more self-reliant and to focus on your personal interests. Keep in mind that your interest is as important as anyone else's. It is time to take personal responsibility for your own happiness and this is the perfect week to begin. Day by day your personal power and independence grows. If conditions irk you, change them to your liking. There is less need to adapt to situations. Your way is the best way (at least for you) these days
Karmic Past Life Report examines possible past life connections using astrological methods.
---
Pisces: Watch your health this week. You are ambitious and this is good, but be careful of over-working and over-exerting yourself. Pursue your career calmly. Delegate tasks wherever possible. If you experience physical discomfort, back and knee massages will be good. Regular visits to a chiropractor or osteopath will also be good. And it might be a good idea to schedule a visit to the dental hygienist. In your career, social connections and your social skills are still very important (especially this week) but so are hard work and personal merit. The past year did not bring much honor or recognition, but this week you will have more than usual. You are starting a period of steady, methodical, and step-by-step career growth. No, all your career goals will probably not be achieved, but you will see solid progress made. The long term view is needed now, so be sure to start it this week!
Karmic Insight Report comes from an esoteric point of view your birth chart is a portrait of your soul's intention for this lifetime, the lessons to be learned, qualities to develop, problems to be resolved, services to be rendered.
---
For more information about your Horoscope and what the stars
have in store for you, order one of our detailed
Astrology Reports for Couples!
Compatibility Report compares your temperaments and personalities. This information is powerful if you are married or living together.

Love Cards Report will reveal as much information about you and your partner as possible, using an ancient and highly accurate system called "The Book of Destiny".