#Horoscope #Aries #Taurus #Gemini #Cancer #Leo #Virgo #Libra
#Scorpio #Sagittarius #Capricorn #Aquarius #Pisces
#Horoscope – overview of this week
The Center for the New Age is pleased to present
your Free Weekly Horoscope for December 13 — December 19, 2015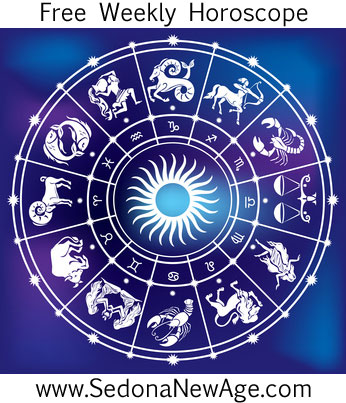 Receive our Free Weekly Horoscope in your Inbox

---

Aries Taurus Gemini Cancer Leo Virgo Libra Scorpio Sagittarius Capricorn Aquarius Pisces
Mercury in Capricorn sextile Neptune in Pisces (December 14 – December 19) is an opportunistic time to cautiously attempt communication with regard to beliefs and spiritual matters. Mercury adds an earthy, practical and responsible look at the question of how to face Neptune related subjects – spiritual strength, guidance and inspiration. Mercury sextile Neptune allows us to share beliefs in a way that encourages people.
Venus in Scorpio sextile Pluto in Capricorn (December 17 – December 21) may bring exceptional breakthroughs in relationships. Sometimes this aspect helps us to recognize the devotion of our loved ones, to see the acceptance of the difficulty and hardship that comes with their devotion. This is a good time to recognize and acknowledge the efforts of loved ones. This aspect may also allow some to find true love by virtue of some unexpected twist of fate.
First Quarter Moon in Pisces on December 18 is a good time to recharge the spiritual batteries with some activity that puts us in touch with our divinity. Our moods are filled with artistic flair and great enthusiasm. Crafts, a musical atmosphere and creative endeavors call out to us during the waxing Pisces Moon. Effervescent drinks and a festive holiday environment will enliven the imagination. Meditative moods also give us a relaxed and comforted feeling with a strong psychic awareness.
Mercury and Pluto conjunct in Capricorn (December 19 – December 25) raises issues of power. The areas of our lives that have required challenge, struggle, sacrifice and transformation now bring us to a place where we can talk about them. With Mercury and Pluto in the sign of Capricorn, a very strong sense of duty is instilled in the delivery of messages. This is a time when people instinctively know their own fate. Mercury conjunct Pluto in Capricorn allows us to voice our hardships, and to contemplate and deliberate over the powerful occurrences that challenge and change our lives. There will be a great deal of intensity in our conversations at this time, especially with regard to the fate of the world and our ongoing efforts to end hardship and suffering.
Aries Taurus Gemini Cancer Leo Virgo Libra
Scorpio Sagittarius Capricorn Aquarius Pisces

For more information about your Horoscope and what the stars
have in store for you, order one of our detailed
Astrology Reports!
Compatibility Report compares your temperaments and personalities. This information is powerful if you are married or living together.

Love Cards Report will reveal as much information about you and your partner as possible, using an ancient and highly accurate system called "The Book of Destiny".
Free Weekly Horoscope for your Sign
Aries: If you've been experiencing conflict and disturbance, you can heave a sigh of relief as the planetary dynamics shift in your favor in time for Christmas. Yes, you've still got Mars in the zone of others, which means you have to work at creating harmony in relationships, but it's also an opportunity for you to be assertive, especially if you feel you've been taken advantage of recently. No matter what is going on in your personal life, the Sun's journey through your zone of adventure and inspiration is propelling you to imagine a new vision of your life.
---
Taurus: Whenever we feel left out, it's helpful to examine this feeling to see where it comes from. More often than not, feelings of exclusion first took root during childhood, but the tape keeps playing over and over. This week as the Moon activates Uranus in your zone of the past, you might temporarily feel like an outsider. Chances are, though, that no one is actually excluding you, but your own fear of not being good enough is what's preventing you from feeling accepted.
---
Gemini: This week you may feel crazed; that you are coming and going without end. Such is the hectic nature of your life at present, but Venus sits like a soothing balm in your day-to-day life area, suggesting that really, there's no need to get so worked up because all will be well and harmonious. Trust in the power of Venus to smooth ruffled feathers, iron out the creases, and ensure that everything that needs to get done is done with the minimum of fuss.
---
Cancer: How conscious are you in your relationships with others? Are you coming from old patterns or conditioning? Is anger, fear, suspicion, resentment or frustration playing a part? If you want to enjoy your Christmas, you need to make a sterling effort to rise above these emotional responses and reach instead for that place within you that is full of love and compassion. Try also not to put any pressure or expectations on situations; instead allow them to unfold naturally in the best way that they can, which will be supported by imbuing them with love.
---
Leo: With the lovely Venus in your domestic zone, abundant Jupiter in your money zone and the Sun still shining brightly in your house of fun, there's every reason to expect the run up to this Christmas to be full of warmth, prosperity and good cheer. All you have to do is keep your thoughts focused on the positive and not burn yourself out dashing here, there and everywhere! Try not to let work, responsibilities and obligations spoil things. The more you put your heart into everything you do, the more you will get out of the week ahead.
---
Virgo: "No problem can be solved from the same level of consciousness that created it." These wise words from Albert Einstein are highly applicable this week. Mercury's square to Uranus implies that any current difficulty in your life needs to be approached by a higher level of consciousness; in other words, you need to think outside the box. Try a different approach. Stretch your mind to entertain new and different possibilities. Your mind and mental capabilities will be extra powerful starting Saturday when Mercury meets Pluto in your creativity zone. As a clue, deep insights and revelations are heightened through creative activities so the answer to your problem might appear as you pick up a pen, paintbrush, guitar or camera.
---
Libra: Mars in your sign gives you the necessary energy to do everything that needs to be done this week. Venus is also favorably placed in your zone of money, which is likely to result in a sense of abundance and generosity regardless of your actual financial situation. Meanwhile, Jupiter is acting behind the scenes to ensure that things go your way as long as you trust in the higher process and allow life to unfold as it wishes to. Sometimes we try too hard to control the outcome of events when, actually, if we let go, we'd get better results with less stress and worry.
---
Scorpio: Venus in your sign lifts your cares and enables you to feel good about yourself and life. Of course, this is great news for your ability to experience a happy and jolly festive season, and so long as you direct your focus toward your relationships and enjoy time spent with people as opposed to all the things you need to do, then all should be well. Let go of the need to do too much because with Mars in your zone of quiet contemplation, you're probably not going to be firing on all cylinders.
---
Sagittarius: This week contains the seeds of success if you're able to plant them in the right soil and nurture them. If you're really lucky, you won't have to do much at all other than watch as some piece of good news or a positive event, opportunity or reward rolls in. Saturn is in your sign reminding you to work hard and attend to your responsibilities which are no doubt more substantial than they have been in previous years. And it's easy to forget that Jupiter that is currently located in your house of achievement, purpose and success, is working hard on your behalf to open doors and pave the way to a more glorious future.
---
Capricorn: Sometimes anxiety isn't so much about too much to do and not enough time; often it comes down to a negative state of mind. We tell ourselves we haven't enough time and stress ourselves by thinking of all the things we have to do rather than just staying in the moment and enjoying where we're at right now. We judge situations when they supposedly go wrong – even when we trust that everything happens for a reason – but there is no wrong. Try to keep an eye on your mental state this week. When you start judging things as good or bad, right or wrong, and black or white, you narrow your options and squeeze the juice out of life
---
Aquarius: Pluto's alignment with Mercury in your unconscious zone is like a laser beam of truth penetrating down to the recesses of your psyche, potentially illuminating long-forgotten memories. While some of what gets unearthed might be positive – a happy memory or useful insight – there is also the chance that something less than pleasant may make its way to the surface of your conscious mind. It could manifest as a bad dream or a sudden bout of anxiety, suspicion or fear. This week, it's worth going into these feelings, as they will only get stronger or reemerge more powerfully at a later time when they are ignored.
---
Pisces: This week brings a breakthrough, so if you've been waiting for a certain result or for an impasse to end, then this could be the week you can finally say, "Yes, I did it!" There is a strong theme of success in your life. Provided that you're willing to accept the reasonability and stay the course, there's no reason why you can't achieve big things. There are other areas of your life that are equally ripe for success. Your relationships look set to be a source of joy and since most Pisces don't need any excuse to eat, drink and be merry in the company of people they love, you have every reason to anticipate an enjoyable holiday.
---
For more information about your Horoscope and what the stars
have in store for you, order one of our detailed
Astrology Reports for Couples!