#Horoscope #Aries #Taurus #Gemini #Cancer #Leo #Virgo #Libra
#Scorpio #Sagittarius #Capricorn #Aquarius #Pisces
#Horoscope – overview of this week
The Center for the New Age is pleased to present
your Free Weekly Horoscope for December 20 — December 26, 2015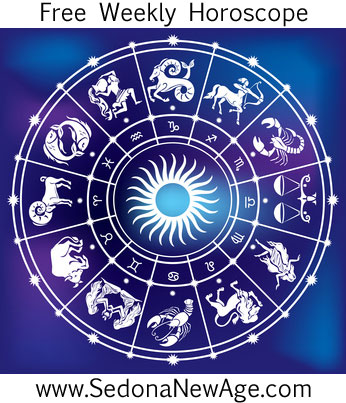 Receive our Free Weekly Horoscope in your Inbox

---

Aries Taurus Gemini Cancer Leo Virgo Libra Scorpio Sagittarius Capricorn Aquarius Pisces
Venus in Scorpio sextile Jupiter in Virgo (December 24 – December 31) leads matters concerning love and attraction to a favorable opportunity allowing for advancement to more prosperous realms. This serves as an excellent time to shower loved ones with gifts and compliments. A lover's get away may be just the ticket to recapture some romance. Keep those gifts of love flowing. This is the time to allow expansion to occur in love matters, and to take the next step towards enlivening and enhancing a love relationship. A greater opportunity for advancement at work, or towards increasing your skills or enhancing your livelihood is available, especially if you focus on doing what you love.
Mercury in Capricorn trine Jupiter in Virgo (December 25 – December 30) is a most favorable aspect that brings good news of expansion and prosperity to those who are open to broadening their awareness. Mercury brings news, while Jupiter brings wealth and prosperous change. Mercury trine Jupiter is often considered to be an advantageous time to advertise and put information out there, and to ask for a job or a loan. Look openly for opportunity when sharing information, and promote yourself and your capabilities.
The Full Moon in Cancer on Christmas day emphasizes Mom and maternal energy throughout the land, and there is a tendency for people to be moody and somewhat preoccupied with their feelings. Nurturing activities and emotional support are the best ways to approach the Full Cancer Moon and this should be relatively easy on today of all days. Be careful not to overeat, but be sure to enjoy the heartwarming, delicious and nourishing foods of this Christmas holiday.
Aries Taurus Gemini Cancer Leo Virgo Libra
Scorpio Sagittarius Capricorn Aquarius Pisces

For more information about your Horoscope and what the stars
have in store for you, order one of our detailed
Astrology Reports!
Free Weekly Horoscope for your Sign
Aries: Although this is a busy time, you'll hopefully be able to make time this week to let your mind wander and entertain your dreams for the future. In the meantime, enjoy the Christmas festivities, but be mindful of moderation. With Jupiter, the god of plenty, in your health zone, it will be very easy to overindulge. Jupiter impresses on you the desire for your daily life to be more fulfilling than it currently is. Perhaps it's time for a new role or an expansion of some kind and to realize that life can be more meaningful than you've been settling for.
---
Taurus: Instead of wanting to escape an uncomfortable situation this week, give yourself a pep talk: tell yourself that you have as much to offer as anyone else and that the only person excluding you from any pleasures is you yourself. The planets are lining up favorably to ensure you have a good Christmas. Jupiter is in your house of fun. Venus is helpfully supported in your zone of relationships, ensuring smooth relations with others, while a Full Moon activates the communication angles, ensuring the flow of conversation and your ability to tune into all going on around you.
---
Gemini: Your 8th house of transformation and renewal is powerful from the 22nd onwards. This is wonderful for detox and weight loss regimes, and also for dealing with other issues. It will be beneficial to do serious house cleaning after the 22nd. The house cleaning should be physical, but also mental and emotional. Get rid of possessions that you don't use or need. Get rid of ideas, thoughts and emotions that don't serve your interests. These just clog up the works and prevent further progress. Many of your current fears are ungrounded and are more likely the result of paranoia than any factual events, so relax and enjoy the run up to Christmas. You've more to be thankful for than you sometimes realize as this Christmas looks set to be one of your better ones abounding with family bliss and domestic contentment.
---
Cancer: As the Sun enters Capricorn on Tuesday, you will be more conservative about money and less of the free-spender you were earlier in the month. You want value for your cash and take a long range view of finance which is good. A Full Moon falls in your sign on Christmas day. What does this mean for you? First, you're likely to be full of feeling. Your personal situation will determine whether those feelings will be warm and joyful, sentimental and nostalgic, or tinged with sadness. For some Cancers all manner of feelings could be experienced on this special day. Perhaps it doesn't really matter whether your feelings are positive or negative, only that you use them as a gauge to show where you want to be or what you need to avoid.
---
Leo: Love has been wonderful all year and is still positive but as of Tuesday, you will notice that more compromise is necessary as you and your closest ones will be in disagreement over a number of things. Yes, there will be moments of intensity and times when you will feel you're going to meet yourself coming backward, but this is all part of the holiday stress. Put on your biggest smile and you'll find yourself laughing your way through most of the week and enjoying Christmas day. On Saturday, your love planet, Uranus, that has been retrograde for many months, starts moving forward again, bringing more clarity in love; thus, your love life will get much smoother as you approach the New Year.
---
Virgo: Venus, your financial planet, spends most of the month in Scorpio and the ruler of your 8th house of regeneration. Mars spends the month in your money house. This is a very clear message. Reduce waste and redundancy. Get rid of old possessions that you no longer need or use. Rid yourself of material that obstructs your financial life. Pay down debt. However, if you do need to borrow, this is a good time too. Keep financial interests foremost in your mind, but with Jupiter in your sign and a cluster of planets in your house of fun, this is one Christmas when you can really let your hair down and enjoy yourself. Aim to balance your family and domestic commitments with time for yourself and whatever you want to do.
---
Libra: If you find yourself up against a relationship, family or domestic problem this week, you need to know that it won't be solved at the same level it was created. In other words, you probably need to delve deep into your psyche for the answers and be innovative. Sometimes we need to do the opposite of our usual response; change in behavior results in a shift in consciousness. This Christmas is likely to feel busier than previous years. Whether it actually is or not is open to debate; it may just appear that way because you're raring to go. Mars in your sign might not make for the most peaceful or relaxing Christmas, but then it's only one day of the year and it's more important for you to feel as if you're finally going somewhere and have a mission once again.
---
Scorpio: If your body needs to rest, let it, remembering the most important aspect of Christmas isn't the number of presents you need to buy, but the people you share it with. The planets are very favorably aligned to help you experience a wonderful holiday. Venus is still in your sign, bestowing harmony and love. Venus makes you more attractive to the opposite sex. Love seeks you out and there's nothing much you need to do – just go about your daily business. Jupiter in your social zone suggests that events will be full of merriment. The Sun in your communication zone brings a bright and breezy feeling to activities. All will be well and good this week.
---
Sagittarius: After the Winter Solstice on Monday, you are in a very good period for starting new activities or releasing new products into the world. This could well be a week when you have something to feel very pleased about, but Christmas itself may at times feel more of a chore than a celebration. That's probably because you've got too much to do. Try not to let the pressure spoil things because, actually, you've got a lot going for you right now. Important things are happening in your world, and it's as if the planets are saying that you have the power to shape things so relax and enjoy, for this week at least!
---
Capricorn: Right after the Winter Solstice (Monday) you enter a yearly personal pleasure peak, but you don't seem likely to over-do it. By going with whatever happens this week, you'll find yourself much more able to enjoy the Yuletide festivities. On one hand, we can be thankful that there's a Full Moon on Christmas Day, because full moons represent a social climax. People are usually in full flow under a Full Moon, and social events usually go well. However, this particular Full Moon is in your opposite sign which means you need to be mindful of your emotional state and aim to neither suppress nor be at the mercy of passion coursing through your veins.
---
Aquarius: Most miseries are due to our unhappiness with what is. We want something, but when we get it, we want something else. We focus on what we don't like about our situations – our jobs, our relationships, our homes – and we wish it were different. However, if we are able to accept all that we have and see that it is all right and good, happiness becomes much more attainable. This Christmas, you may find yourself looking at your world and shaking your head. Have the courage to face your demons and liberate yourself from your past. This will result in a lightening of consciousness and you will have the ability to enjoy Christmas that much more.
---
Pisces: Finances have been good for you, Pisces, but you will need to work harder and overcome some obstacles right after the Winter Solstice. Your financial planet Mars is in your 8th house of transformation and regeneration. This is a good time to detoxify your financial life. It is not more money that you need; rather, you need to get rid of the waste and redundancies. If you do this, you will find that you have ample resources to enjoy the holidays. The Sun moves into your social zone just in time for Christmas, taking the emphasis off work and achievement and putting it onto social enjoyments. That sounds like a pretty good deal, for who wants to focus on the world of work and business over Christmas?
---
For more information about your Horoscope and what the stars
have in store for you, order one of our detailed
Astrology Reports for Couples!