#Horoscope #Aries #Taurus #Gemini #Cancer #Leo #Virgo #Libra
#Scorpio #Sagittarius #Capricorn #Aquarius #Pisces
#Horoscope – overview of this week
The Center for the New Age is pleased to present
your Free Weekly Horoscope for December 27, 2015 — January 2, 2016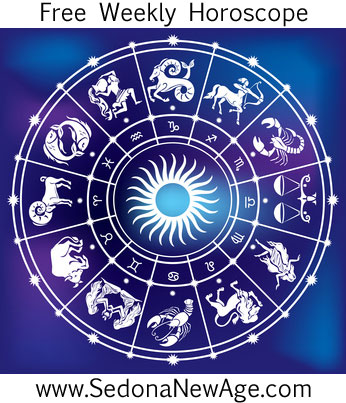 Receive our Free Weekly Horoscope in your Inbox

---

Aries Taurus Gemini Cancer Leo Virgo Libra Scorpio Sagittarius Capricorn Aquarius Pisces
Mercury in Capricorn square Mars in Libra (December 29 – January 4, 2016) is not a good time to lose one's temper. Be especially careful to watch what you say, preferably before you speak, because words can be easily taken the wrong way. This requires thinking before acting, as this aspect arouses arguments and mental blocks concerning the actions of others. This is a good time to hold off on making risky comments, particularly around associates, customers and strangers. It is also an important time to be careful not to misinterpret information as being hostile or personal.
Venus enters Sagittarius (December 30 – January 23, 2016) and with this aspect comes an outgoing spirit of camaraderie among people in general. The effort to take affections beyond the usual bounds is certainly present at this time.
January 2 Mercury enters Aquarius before going retrograde in Capricorn on January 8. Mercury in Aquarius is a time when we explore the power of knowledge through our communications. Mercury is the planet that represents the thought process, as well as the means by which we communicate the message we are sending out into the world. Aquarius represents humanity's knowledge. As Mercury travels through the constellation of fixed thought and meditation (Aquarius), there are great opportunities for us to share and to empower each other through our knowledge. Mercury in Aquarius is also a special time to speak out on humanitarian issues and the rights of freedom.
Last Quarter Moon in Libra on January 2 reminds us of the need to continue working on imbalances in our personal relationships. This is a good time to just get on with it and deal with emotional matters that have been brought to our attention. Libra's adage is simple: "I balance." This is the time to let the emotional pressure be released, and to handle situations with friends and loved ones carefully and congenially.
Aries Taurus Gemini Cancer Leo Virgo Libra
Scorpio Sagittarius Capricorn Aquarius Pisces

For more information about your Horoscope and what the stars
have in store for you, order one of our detailed
Astrology Reports!
Free Weekly Horoscope for your Sign
Aries: Although this is a busy time, you'll hopefully be able to make time this week to let your mind wander and entertain your dreams for the future. In the meantime, enjoy the Christmas festivities, but be mindful of moderation. With Jupiter, the god of plenty, in your health zone, it will be very easy to overindulge. Jupiter impresses on you the desire for your daily life to be more fulfilling than it currently is. Perhaps it's time for a new role or an expansion of some kind and to realize that life can be more meaningful than you've been settling for.
---
Taurus: Instead of wanting to escape an uncomfortable situation this week, give yourself a pep talk: tell yourself that you have as much to offer as anyone else and that the only person excluding you from any pleasures is you yourself. The planets are lining up favorably to ensure you have a good Christmas. Jupiter is in your house of fun. Venus is helpfully supported in your zone of relationships, ensuring smooth relations with others, while a Full Moon activates the communication angles, ensuring the flow of conversation and your ability to tune into all going on around you.
---
Gemini: Are you somewhat nervous about what this week, and 2016 in general, will bring to your door? It's true that relationships are still a source of concern, but this is an ongoing theme offering important lessons. Those lessons may involve maturity, commitment, assertiveness and honesty, but perhaps what's more important is that you are able to shed your old skin so that you can step forward into a new life. The process may not be easy, requiring effort, courage and struggle, but the rewards will be worth it. Don't be afraid to delve deep within to find the answers that you need. In the words of Joy Page, "Your inner knowing is your only true compass," so start the process now.
---
Cancer: This week continues the theme of following your feelings and invites you to make changes in your personal life with the intention of getting the balance of power right. Once your relationships are on a more even keel, you can more easily make changes to other areas of your life, most notably your direction and your work and health. For some Cancers, the theme of education – teaching, studying, writing or learning – will prevail, and all and all, 2016 is a year of expanding your mind and refining your skills so that you can become more of a master of your chosen craft, which incidentally will have a positive effect on your health. It's worth remembering that when we're fulfilling our mission with passion and joy, it's almost impossible to get ill. You've a lot to do, but it's no more than you're capable of.
---
Leo: As you celebrate on New Year's Eve, and look toward to 2016, the big question is, what do you really want to do? Perhaps an area of your life has become unsatisfying or there's something you'd love to do but don't know how. Maybe you want to see a change in your day-to-day life, your work, or your health. Perhaps you want to be more creative and live life more on your own terms. To make a change, especially a big one, requires courage, but since you were born under the most courageous sign of the zodiac, this shouldn't be a problem for you. All you need to do is allow your heart to lead the way, and you will find that in 2016 everything else just slots into place.
---
Virgo: Be mindful of where in your life you may currently be compromising yourself. This is the theme for the New Year as you are invited to assert your right to be you and to reject anything that does not make you feel good about yourself. This may mean digging deep to find your courage to say enough is enough. Perhaps you need to stand up for yourself and cast off a burden or two. It's difficult to push out of your comfort zone and be more adventurous – which is what 2016 calls you to do – when you are weighed down, so whether that weight is from the past or present in the form of duties and responsibilities, be dispassionate in assessing what you can feasibly let go of so that you become light and free enough to pursue your life's meaning.
---
Libra: If you feel a bit restless this week, it's all well and good because it's a sign that you want to get moving, and there'll be plenty of movement in 2016. In fact, this could be a very big year for you – not the least because Jupiter will arrive in your sign signaling the beginning of a brand new chapter in your life, but we're rushing ahead a bit here. Some planning and preparation must be done first. Look at old memories that come up. Observe your opinions and judgments about them. Be an impartial observer. If the emotions are too strong and you find you lose your objectivity, write out your feelings and then throw the paper away. You will feel much better and the old memories will lose their power. Use this last week of 2015 to get clarity on what you want your life to look like. Write it down, draw or paint it, or make a collage that reflects your chosen path. Then go out there and let your voice be heard. It seems you have a message to impart, and the world is ready to hear it.
---
Scorpio: This week, you might need to think about doing things differently in the areas of your health and work. It is time to build up your energy for your next career push and it is time to take care of your inner needs – the emotional and family needs. You are not abandoning your career, but approaching things in a different way. Perhaps something needs to be closed or completed. Make whatever changes are necessary to support your well being because the world is going to need you to be at your best in 2016. The social theme persists for you well into the New Year which is good news because it means that other people are going to be your key to success. You won't have to try too hard because it looks as though helpful people will be sent to smooth the way. Friendships are favorable, as are groups, and it looks to be that you will feel able to do more for the world which should prove very satisfying indeed.
---
Sagittarius: Jupiter is currently located in your house of achievement, purpose and success and is working hard on your behalf to open doors and pave the way to a more glorious future. Think about this and file it away so that you will be able to review it again when the responsibilities in 2016 become a bit much, making you feel as if it's all work and no play. Your hard work and efforts won't be for nothing and for much of the year, you will stand on the brink of a more successful life. New opportunities will balance out the responsibilities and commitments, which should enable you to take your life in a new direction. See which doors open for you, and step right through them.
---
Capricorn: With your 12th house of the unconscious very strong, it is a good time to review the past year, assess your achievements or failures, correct mistakes and set goals for the year ahead. To do this successfully, find a quiet place where you can be alone to release any built-up stress and tension of the holiday season. Walk them off or meditate, journal, sing, dance or paint them out. This inner work, this quiet contemplation, is part of your mission for 2016. You're in the process of a rebirth, but first you need to shed your old skin and push out of your comfort zone. As you do so, you'll begin to sense the new life that awaits you.
---
Aquarius: Most miseries are due to our unhappiness with what is. We want something, but when we get it, we want something else. We focus on what we don't like about our situations – our jobs, our relationships, our homes – and we wish it were different. However, if we are able to accept all that we have and see that it is all right and good, happiness becomes much more attainable. This New Year's you may find yourself looking at the world and shaking your head. There is so much to do, mend, sort and fix, and as a concerned humanitarian, the world's troubles bother you more than most. While it's true that your mission in 2016 is to do more for humanity, it's pointless to pile this pressure and guilt on your own shoulders. Healing yourself of your inner demons will perhaps be the greatest gift you can give the world – not because you have any more demons than anyone else, but because as you heal, you emit a stronger light that goes out into the world and does more good than you might imagine.
---
Pisces: Saturn is still up there at the top of your chart as he will be for the next two years, so there will be an ongoing theme of your direction, purpose, success, career, and vocation. Hard work will of course be rewarded, but it may be much easier than you think to get to where you want to be because Jupiter in your house of others will appear in your life under the guise of helpful and benevolent people. Look out for opportunities that come as a result of who you know, not what you know. The more you seek to forge contacts and connections, the luckier and more successful you're likely to be and for any Pisces looking for love, 2016 could be full of surprises
---
For more information about your Horoscope and what the stars
have in store for you, order one of our detailed
Astrology Reports for Couples!