#Horoscope #Aries #Taurus #Gemini #Cancer #Leo #Virgo #Libra
#Scorpio #Sagittarius #Capricorn #Aquarius #Pisces
#Horoscope – overview of this week
The Center for the New Age is pleased to present
your Free Weekly Horoscope for January 3 — January 9, 2016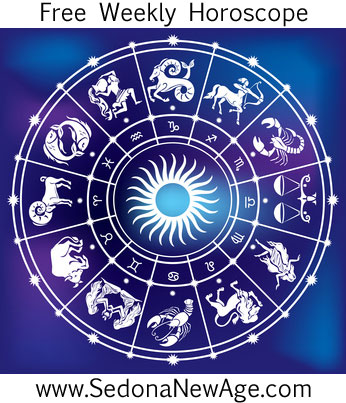 Receive our Free Weekly Horoscope in your Inbox

---

Aries Taurus Gemini Cancer Leo Virgo Libra Scorpio Sagittarius Capricorn Aquarius Pisces
Mars in Scorpio (January 3 – March 6) brings a very passionate and daring edge to our activities. In Scorpio, the execution of activity (Mars) is done with precision and intense clarity. Mars in Scorpio often brings out aggressive acts in people, but not necessarily ones that are cruel or destructive. When tension builds, it is often best to channel aggressive impulses into sports or outdoor activities.
Mercury in Aquarius square Mars in Scorpio (January 5 – January 10) is not a good time to lose one's temper. Be especially careful to watch what you say, preferably thinking before you speak; words can be easily taken the wrong way. This aspect stimulates arguments and mental blocks concerning people's actions, and it may lead to verbal abuse and destruction. Mercury square Mars makes it difficult for some to justify their actions or explain why they take a certain stand in life. Refrain from making risky comments, and be careful not to misinterpret information as being hostile or personal.
Venus in Sagittarius square Neptune in Pisces (January 5 – January 12) brings expansive pleasures, love and expressions of beauty and femininity into a place where they run up against the obstacles represented by the higher, more refined goddess image. A conflict of beliefs about womanhood is common with this aspect. With Venus square Neptune, what we want is challenged by what we intuitively know is best for us. Consequently, it may be difficult for some people to make a personal connection with spiritual attractions. Beliefs concerning love matters may be tested. Despite the conflicts, this is a time to rise to the challenge of believing in love and loving your own choice of spiritual path.
Venus and Saturn are conjunct in Sagittarius (January 9 – January 15). This aspect represents our commitment and responsibility to the people we love and care about. It may also indicate there is a strong timely quality about love matters taking place, or that other matters are undergoing a restriction, or possibly even closure of some kind. This aspect can go either way on the positive-negative scale, since the loving attraction of Venus can be either encouraged or thwarted by the responsible, serious and limiting discipline of Saturn's energy.
Aries Taurus Gemini Cancer Leo Virgo Libra
Scorpio Sagittarius Capricorn Aquarius Pisces

For more information about your Horoscope and what the stars
have in store for you, order one of our detailed
Astrology Reports!
Free Weekly Horoscope for your Sign
Aries: This new year brings the potential for you to envisage a new life for yourself. What changes would you like to make? How would you like to see your future unfolding? Remember that you are the master of your destiny and you can create the kind of life you want. At this stage, though, you only need to plan and maybe begin the first stages of creating change. Mercury is backtracking through your future and career zones, so this isn't a good time to take action or to begin new projects, but it's certainly a good time to think, contemplate, revise and renew your sense of mission. Meanwhile, Jupiter in your zone of everyday life and service, encourages you to take on a bigger role and to move toward what gives your life meaning.
---
Taurus: You begin this first week of the new year with the focus on where you're going in life, including your plans and aspirations that you think of as your impossible dreams. Actually, there's very little that isn't possible, and your biggest challenge is believing that. Once you tell yourself that you can rather than you can't, you will find yourself able to move mountains. The beginning of 2016 sees you transforming your beliefs about what's possible, and the more you are able to believe in your dream, the closer to success you'll get.
---
Gemini: This week indicates an intense feeling as the Sun joins Pluto in your zone of transformation and your ruler Mercury joins Pluto and the Sun in the deepest area of your chart. This time certainly won't feel light and frivolous, but you can offset the heaviness to a certain extent by calling on a higher power to bless you with grace and working toward compromises with difficult people and situations. Meeting others halfway should be your goal as Saturn aligns with Venus in your partnership zone, and by striving for a win-win situation, you may find that 2016 has gotten off to a better start than you might have hoped.
---
Cancer: This week focuses on your relationships and an ongoing need to get the balance of power right. While the Sun aligns with Pluto in your relating zone, it's highly likely that strife or conflict of some form is on the horizon. This isn't something to be feared or wished away. In fact, Pluto is encouraging you to stand up for yourself and ensure that fairness and equality prevail in your relationships. This will lead to a healthier state of affairs all around, and the more empowered you become, the more equal your relationships will be and the less resentment you will feel. Or if you're the one doing the controlling, this approach will ease your fear of allowing others to step into their own power. Remember, as James Keller said, "A candle loses nothing by lighting another candle."
---
Leo: As 2016 gets under way, your work and health are spotlighted and likely in need of care and attention. Many Leos have had difficulties with their health, which is largely due to the influence of Pluto traveling through your health zone. This transit has a tendency for encouraging a purging of the body of toxins and completely transforming the physical vehicle. This, then, is a perfect time to look at ways in which you can improve your health and begin a detoxification process. Because winter doesn't support harsh detoxifications, try gradual and gentle detoxing. You may also benefit from looking at your work or daily life to ascertain whether you've got the balance right here and whether what you are doing is a true reflection of your soul's calling.
---
Virgo: As 2016 gets under way, there are two main areas battling for your attention: the needs of your home and family versus your desire to do whatever the heck you feel like doing. Jupiter in your sign is encouraging you to follow the path of adventure and greater freedom. Likewise, the Sun and Pluto – soon to be joined by Mercury – highlight your need for enjoyment and perhaps a more creative life, a life that feels more in tune with who you really are. All of this has to be balanced, though, with your responsibilities and commitments to your home and your nearest and dearest. Remember that needlessly worrying about your loved ones wastes a lot of energy, so try to channel that worry into constructive actions. Ultimately, this week gives you permission to be yourself, but the best use of the current energies is not only to be yourself but to know yourself.
---
Libra: Your home, family and sense of security are the main areas of concern now that 2016 has started. Perhaps all you really want is for you and those you love to feel safe. Pluto at the base of your chart aligned with the Sun could generate a fair amount of anxiety around such areas, but this combination brings the opportunity for greater security at a deeper level. In fact, a victory may be heading your way that enables you to feel better about the whole home and family situation. Release any ties to the past that are holding you back. Let go of anything that you have outgrown and is no longer relevant.
---
Scorpio: The early days of 2016 are likely to see you with a lot on your mind. You may feel concerns around your home or your place in the world, while Saturn asks you to become a master of money perhaps by managing it better or, alternatively, by not letting it rule you and your choices. Of course, you have to be sensible where money is concerned; Saturn wouldn't have it any other way, but he also wants to ensure that you don't limit yourself with fears of not having enough. Mars is about to enter your sign, so you should find a change in your energy and motivation, encouraging you to start moving forward in the direction you want. For now, consider what Earl Nightingale said: "A great attitude does much more than turn on the lights in our worlds; it seems to magically connect us to all sorts of serendipitous opportunities that were somehow absent before."
---
Sagittarius: The big question is about how you can be more in charge of your own destiny. You may need to stop dancing to other peoples' tunes or break free from the conditioning or expectations that have kept you stuck in a less-than satisfactory situation. Jupiter at the top of your chart encourages you toward growth, adventure and expansion, but it needs to be on your terms and in a way that gives your life more meaning. Financial matters may appear to block your freedom. We all need money to live, but perhaps there's a compromise, a middle path. As the old saying goes, "Where there's a will, there's a way."
---
Capricorn: Your task right now is to create harmony within and without. No matter what is going on around you, a harmonious disposition will counter all challenges. As the year begins with intensity and Mercury grinds to a halt in your zone of resources, come back to your center, breathe, meditate, bathe your home in soft candlelight and relaxing aromas, and walk in nature. In short, align yourself with the Universe and then you will see that any financial problems are really lessons in disguise. We live in a world where, no matter how much we have, we still feel insecure, so make it your mission this week to find security from within. That way, nothing and no one will be able to rock your boat, and you will find that you're able to step forward with confidence.
---
Aquarius: It's never a good idea to hurtle full speed ahead into a new year. Instead, it's far better to step mindfully into this new beginning, especially with Mercury in your own sign, signaling for you to pause in order to get your bearings. Don't be in a rush; call on higher guidance should you feel confused or uncertain as to your next steps. Mars moves into the success and career angle of your chart on January 4th, making this a good time to move forward and pursue your ambitions, but Mercury suggests that you need to be mindful and check that your ambitions are in synch with your heart.
---
Pisces: This week, your thoughts are likely to be on your future and what your role is. There may be some sadness or maybe things feel different during this time, or maybe you need to close a door on the past and clear the decks so that you can move into a new life. Mercury grinds to a halt in the zone of retreat and restoration, so during this week, it would certainly be in your best interest to take it slow and to rest and reflect. You needn't worry that this state of affairs will linger because the world has big plans for you in 2016, but to put yourself in the best position, you must first empty yourself so that you're ready and open to receive.
---
For more information about your Horoscope and what the stars
have in store for you, order one of our detailed
Astrology Reports for Couples!