#Horoscope #Aries #Taurus #Gemini #Cancer #Leo #Virgo #Libra
#Scorpio #Sagittarius #Capricorn #Aquarius #Pisces
#Horoscope – overview of this week
The Center for the New Age is pleased to present
your Free Weekly Horoscope for January 10 — January 16, 2016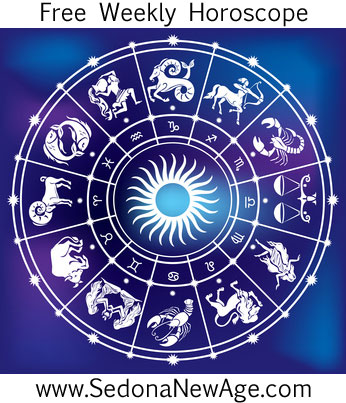 Receive our Free Weekly Horoscope in your Inbox

---

Aries Taurus Gemini Cancer Leo Virgo Libra Scorpio Sagittarius Capricorn Aquarius Pisces
New Moon in Capricorn on Sunday brings down-to-earth determination to our moods and urges us to create fresh goals and to set new heights for ourselves. The Capricorn Moon brings a powerful defiance in the face of adversity and we must not let dark feelings affect our sense of pragmatism and dignity. Go easy on people and use your protective emotional shields to combat the harsh attitudes of others.
January 15 – January 21, Mercury in Capricorn trine Jupiter in Virgo is a most favorable aspect that brings good news of expansion and prosperity to those who are open to broadening their awareness. Mercury brings news, while Jupiter brings wealth and prosperous change. This serves as a good time to advertise and put information out there concerning one's business endeavors, though perhaps with Mercury retrograde, it is best done with caution. It won't be difficult to get the attention of an audience, but it may cause some heat in how the message is received and reciprocated. However, this is still a good time to look openly for opportunity when sharing information, and to promote oneself and one's capabilities.
First Quarter Moon in Aries on Saturday inspires our moods in an active, upbeat manner. This is the time to get in tune with personal levels of energy, strength and vitality. There is a self-starter energy in the air and the active ones among us are on the prowl. As a general rule, moods are marked by confidence and sometimes cantankerous forcefulness due to the courageous vigor as well as a sense of bold adventure that Aries Moon brings on.
Aries Taurus Gemini Cancer Leo Virgo Libra
Scorpio Sagittarius Capricorn Aquarius Pisces

For more information about your Horoscope and what the stars
have in store for you, order one of our detailed
Astrology Reports!
Free Weekly Horoscope for your Sign
Aries: A transformative New Moon at the top of your chart suggests powerful new beginnings and a beneficial change in your professional life and your direction. Perhaps a door will open or an opportunity may present itself. With Mercury backtracking through the same area, though, it might be difficult to make progress. Perhaps the timing isn't quite right, so the best approach would be to take each day as it comes and allow the mystery to gradually unfold. Around the time of the New Moon on January 10th, consider writing down or creating a visual map of what you would like to see take place in your life. This way, you'll imbue your desires with creative power and give them a greater chance of manifesting.
---
Taurus: The New Moon on January 10 has the power to transform the way you see, so if you've been feeling stressed lately, us this New Moon to embrace a new way of looking at a situation. Our attitudes and beliefs are everything: they determine the shape our lives take. Perhaps now is the time to liberate yourself from a limiting old belief. It often seems as if you can't make progress until you've identified the thought pattern that hold you back. Once identified, do what you can to change it. Sometimes just being conscious of the way we think about something is enough to bring about change; other times, we need a little assistance through flower essences, counseling, action plans, or other supportive methods. Be ruthless in challenging the beliefs that do nothing for you, and embrace a way of thinking that's synonymous with where you want to be.
---
Gemini: The New Moon and Mercury retrograde in your relationship zone on January 10 makes this an opportune time to turn over a new leaf in your personal life. However, you may have to go over some old ground first. Mercury's purpose as he backtracks through your partnership area is to revitalize tired unions and to fix problems that have been left on the backburner. This, therefore, is a good time to air grievances and sort out any niggling problems. Sitting down and communicating honestly with the person in question should produce positive results as long as you can talk about things in a non-accusatory manner. All in all, this is a very transformative time as far as your relationships are concerned. Let go, surrender, and start afresh when necessary.
---
Cancer: The New Moon on January 10 is the time to turn over a new leaf as far as your health is concerned. With Mercury retrograding through this area, you first need to stop and take stock of your life before implementing any changes. Right now, you must be willing to stop doing whatever isn't working for you; release all toxins, such as processed food, bad relationships, or stress. This is the perfect time to begin releasing all that isn't healthy and to start bringing in positive elements that support your health and well-being. As William Londen said, "To insure good health eat lightly, breathe deeply, live moderately, cultivate cheerfulness, and maintain an interest in life."
---
Leo: The New Moon in your house of fun and creativity on January 10 makes this a perfect week to focus on recreational activities and shaking off any shackles that limit your freedom and self-expression. The cosmos is giving you permission to be yourself now; it always does, but sometimes we need a bit of extra encouragement. This isn't however, a good time to begin a new creative project, since retrograde Mercury encourages more time for reflection or revision on existing projects. Perhaps it's time to return to an old project that you've put aside or to bring back a neglected talent. Or maybe you simply need to spend some fun time with your children. The New Moon and Mercury encourage you to let go of any old attitudes that might be limiting your creativity or restricting your ability to live in a more heart-centered way.
---
Virgo: As 2016 gets under way, there are two main areas battling for your attention: the needs of your home and family versus your desire to do whatever the heck you feel like doing. Jupiter in your sign is encouraging you to follow the path of adventure and greater freedom. Likewise, the Sun and Pluto – soon to be joined by Mercury – highlight your need for enjoyment and perhaps a more creative life, a life that feels more in tune with who you really are. All of this has to be balanced, though, with your responsibilities and commitments to your home and your nearest and dearest. Remember that needlessly worrying about your loved ones wastes a lot of energy, so try to channel that worry into constructive actions. Ultimately, this week gives you permission to be yourself, but the best use of the current energies is not only to be yourself but to know yourself.
---
Libra: The New Moon on January 10 occurs at the base of your chart and is joined by Pluto and retrograde Mercury, creating a very intense spotlight on your domestic situation. It does, though, bring the possibility of change and transformation in this area, so whether you want to see changes with your home, family or issues connected with your past and your inner self, this is a fine time to welcome change. While now is not the best time for creating new things, especially in your home, work toward de-cluttering or fixing things that have needed attention for some time. It's also favorable to think about and plan what you would like to manifest in your home life, so this is an ideal time to create a collage of your dream home, for example, or to visualize letting go of an old attachment. This is a great time to cut those cords to people and situations from your past. It's time to move on.
---
Scorpio: With Mars now in your sign, you should be in a position to move mountains. At the very least, your increasingly passionate energy and enthusiasm will obliterate all but the most serious of hurdles. There is though, the little matter of Mercury retrograde in the zone of your mind. This suggests that the obstacles you're seeing are actually a product of your own faulty thinking and bear little connection to reality. With the New Moon also in the area of you chart, this is the perfect moment to pick apart any negative or limiting beliefs that hold you back. It's also important to remind yourself that Rome wasn't built in a day; you can't control and plan for every eventuality. There has to be an element of trust and fluidity to life; otherwise, it ends up resembling a prison cell so adopt a moment-to-moment approach this week, side stepping frustrations and roadblocks, and dance your way to wherever your feet want to take you.
---
Sagittarius: The New Moon on January 10 provides an opportunity to turn over a new leaf with your finances and material situation. However, Mercury retrograde in the same area suggestions that something needs to be resolved before you can move forward. This may involve a belief – perhaps something along those lines of it being impossible to make money doing what you love – that needs to be released. Now is the time to move toward a way of living that honors your need for freedom, movement, travel and adventure. There may also be a need for you to be more creative or to live in a way that feels right to you. Whatever is blocking you – fear of lack, material resources, and so on – needs to be worked on, because the planets are saying that the time for transformation is now.
---
Capricorn: The New Moon on January 10 aligned with Pluto occurs in your own sign and is a powerful opportunity for a rebirth. You may not feel your most sociable or gregarious around this date, as powerful changes are working at a deep level, so be mindful of this rebirthing process by spending some time alone or at least avoiding excessive busyness. If you feel tired, rest. If you feel emotional, allow the feelings to come. If you have an idea, write it down and allow it to germinate. Take this time to consider the changes you would like to make in your life and realize that you have everything you already need to make them happen. Consider this week to be your private New Year and make your resolutions/wishes/intentions on Sunday.
---
Aquarius: A New Moon joined by Pluto and a retrograding Mercury falls in your zone of soul and spirit, making this an opportune moment to get off the merry-go-round and take some quiet time to simply be. In those quiet moments, you may receive an intuitive or insightful hunch; act on this, especially if it seems to run counter to what logic would say. It may seem difficult to make progress this week. Even though you might have things you want to do, the universe seems to have other plans that would be wise to heed. It's as if you're being temporarily taken on a detour that might at first seem to be a pointless waste of time. However, stick with it because you might find that this annoying bypass becomes a useful diversion. Go with it.
---
Pisces: With the New Moon in your zone of hopes and wishes, now is a good time to contemplate what you want from your future bearing in mind a wonderful quote from Abraham Lincoln: "The best way to predict your future is to create it." However, don't be in too much of a rush to do the creating because Mercury's backward motion does not generally encourage forward movement or new beginnings but instead rewards the inner work, the slowing down, the pausing and the contemplating. Periodically, we all need to pause to review and possibly correct our course. Mercury retrograde can also bring us issues to deal with that, in the long run, we can be thankful for because it makes us conscious of them. You may now need to bring consciousness to your friends, groups and organizations as well as your hopes for the future. All of this will help you discover your place in the world, which is ultimately the purpose of Mercury retrograde.
---
For more information about your Horoscope and what the stars
have in store for you, order one of our detailed
Astrology Reports for Couples!