#Horoscope #Aries #Taurus #Gemini #Cancer #Leo #Virgo #Libra
#Scorpio #Sagittarius #Capricorn #Aquarius #Pisces
#Horoscope – overview of this week
The Center for the New Age is pleased to present
your Free Weekly Horoscope for January 17 — January 23, 2016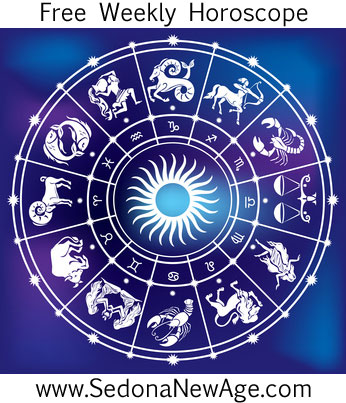 Receive our Free Weekly Horoscope in your Inbox

---

Aries Taurus Gemini Cancer Leo Virgo Libra Scorpio Sagittarius Capricorn Aquarius Pisces
Venus in Sagittarius squares Jupiter in Virgo (January 18 – January 29). Our experience of beauty and affection is challenged and tested with the difficulty of attracting or acquiring prosperity. Some might say that the act of appreciating beauty is a form of prosperity in itself. Unfortunately, this aspect may create the hardship of our not being able to acknowledge beauty as a form of wealth within itself. This aspect reminds us that something more than love's blindness is required in order for us to fully realize our riches.
Mars in Scorpio trine Neptune in Pisces (January 18 – February 2) may help empower personal beliefs. Energy is high for receiving spiritual gifts and helpful guidelines from the spirit world. Mars guarantees that significant activities will occur. With Neptune in the trine position, these activities will be favorably stirred up with spiritual and psychic awareness, all gifts from Neptune. This serves as a good time to initiate creative and imaginative spiritual practices and ceremonies, and empower your personal outlook and spiritual well being.
Mercury and Pluto conjunct in Capricorn (January 22 – January 28) raises issues of power. The areas of our lives that have required challenge, struggle, sacrifice and transformation now bring us to a place where we can talk about them. Mercury conjunct Pluto in Capricorn allows us to voice our hardships and to contemplate and deliberate over the powerful occurrences that challenge and change our lives. There will be a great deal of intensity in our conversations at this time, especially with regard to the fate of the world and our ongoing efforts to end hardship and suffering.
Venus enters Capricorn (January 23 – February 16) bringing out an attraction for the staunch and ardent duty of accomplishing goals, and creates stable ground for the development of relationships. The general course of affections will be oriented towards making impressions, with a hard and ambitious drive towards providing well for loved ones. And while Venus is in Capricorn, it is important to have respect and maturity in matters of love if we are to be taken seriously by our loved ones.
Aries Taurus Gemini Cancer Leo Virgo Libra
Scorpio Sagittarius Capricorn Aquarius Pisces

For more information about your Horoscope and what the stars
have in store for you, order one of our detailed
Astrology Reports!
Free Weekly Horoscope for your Sign
Aries: Your keyword for this week is courage. Born under the feisty sign of the Ram, you have a natural abundance of courage, but perhaps there's a situation in which you feel less than courageous. Maybe there's someone or something that needs to be confronted. Perhaps there's a situation that needs to change, but the only way is for you to stand up and become a warrior. Uranus's long journey through your sign encourages you to create freedom, independence and authenticity wherever it might be lacking. Right now you need to focus on making those independent, authentic changes that will make for a better future.
---
Taurus: There is an adventurous feel to your chart at present, perhaps best summed up by Marcel Proust: "The only true voyage of discovery would be not to visit strange lands, but to possess other eyes, to behold the universe through the eyes of another." It's amazing how we stop seeing things when we've become used to them. Quite often, what's needed is a change, whether it's a change of scene or of attitude. Look at your life now, and ask yourself where the stagnancy lies. Then seek to see the situation differently. If work is stagnant, inject new ideas or try a new approach. If home feels stagnant, try a new color scheme. If a relationship is lacking vitality, try putting some energy into it and creating some changes that would inspire both of you. Transformation of how you see things will give you a new set of eyes and could even result in changing the way you see yourself.
---
Gemini: As your ruler joins forces with powerful Pluto, monitor your passions and work toward maintaining self-control. This applies as much to harboring dark, depressive thoughts as to unleashing angry outbursts or jealous accusations. Keep a very watchful eye on where your mind is taking you this week; otherwise, you might find yourself in a dark, isolated place. While certain areas of life are very challenging, there is one area that holds the source of joy: home, family and domestic life. This is where you can heal, rejuvenate and laugh. So whatever is going on in your life, focus on creating the best home and family situation that you can, because as Confucius once said, "The strength of a nation derives from the integrity of the home."
---
Cancer: The current times are all about people, and right now you might be faced with the issue of what kind of people you want in your life. Are you surrounded by like-minded people who support and encourage your vision? Do you have people in your life with whom you feel equal? Do your relationships support, encourage and nurture you, or are you left high and dry when it really matters? All these questions and more are likely to arise as Mercury continues to make his way back through your zone of others. It's as if there's something that needs to be put right and now you have the opportunity to do so. Consider sitting down and writing the names of all the people who are important in your life – for good or bad – and about how each person affects you and your sense of being valued. In the relationships that leave you feeling unhappy, what changes can you work toward? Or would it be healthier to just accept people as they are or walk away? This may well be a soul-searching time, but one in which you will emerge strong and wiser if you keep the focus on empowerment.
---
Leo: As Mercury continues to draw your attention to your health and daily life, try to focus on what's really important to you. What matters most? What are your priorities? Are you spending your days in your ideal way, or would you secretly rather be doing something else? Edward Bach believed that people who live their lives with a sense of mission don't get ill. While there are always exceptions to every rule, this general principle is worth considering. Mars is currently directing your attention to your home and family. Are there issue there – perhaps baggage from the past that needs to be released? At the same time, Saturn reminds you of the importance of being authentic and living from the heart. It might seem as if life is a bit of a perplexing mystery at the moment, but creating a simpler way of living usually helps.
---
Virgo: The purpose of Mercury retrograding through your house of fun, recreation and creativity is to reactivate creative talents and encourage you to become the artist of your life by creating what you want to experience. Discover what you want through creative means; these will link directly to your heart. So this is an ideal time to express your inner self through art, music, writing or crafting with a collage or treasure map of your desires. If you simply want to do more with your gifts, then sign up for a photography or creative writing class, or try your hand at cookery, embroidery, pottery and anything creative. At the very least, put on your favorite tunes and express yourself through song and dance. This transit will also question how much fun and joy you are experiencing. If the answer is "not much," then you need to get to work. Life is for enjoying and now is the ideal time to sit down and figure out what you love to do. Then make sure you go and do it.
---
Libra: If things feel stuck or have been moving in a direction you don't like, perhaps you need to pay greater attention to your intuition. Maybe what you think you want isn't actually right for you. Quite often we are driven by the voice of the ego which is much louder than the gentle voice of spirit, so whether you need guidance with your health, work, relationships or some other matter, listen to your inner voice; it will direct you the right way. As Shakti Gawain said, "Notice what happens when you follow your intuitive feelings. The result is usually increased energy and power, and a sense of things flowing."
---
Scorpio: What are you putting off? It could be something small like paperwork or a closet too cluttered for the doors to shut. Or it could be something more abstract, such as the delayed manifestation of a dream or an important improvement. Perhaps you're staying in a less-than-satisfactory situation because of fear of the unknown. The planets suggest that it's time to place the last piece of the puzzle so that you can begin something new. Don't let fear and doubt stop you from creating a positive shift.
---
Sagittarius: "No problem can be solved from the same level of consciousness that created it." Albert Einstein invites you to look more deeply into a problem through different eyes. Imagine someone very different from yourself, perhaps someone whom you view to be successful in the area of your problem. How would he or she respond in this situation? We can easily become entrenched in our issues, which is why enlisting the views and advice of another can be very helpful. Your ruler, Jupiter, is helpfully supported right now, suggesting that a current dilemma need not be such a big deal and that help and support are available if you just reach out and accept it.
---
Capricorn: When Mercury backtracks through our own signs, it's rarely a cheerful time. It's as if the planet of communication wants us to stop and pay attention to something we hadn't noticed isn't quite right. Quite often at this time, we find we've forcibly been slowed down. Maybe our energy levels just aren't there, maybe illness takes hold, or maybe the car won't start or the computer won't do what we want. Whatever the challenge, tell yourself that a) it won't last and b) there is a lesson in there somewhere that's worth taking the time to look for. Gather your courage and ask yourself whether you need to face a fear or confront a rough situation. Maybe you need to allow sadness or sorrow to make its way out. Pay attention to your dreams, write in your journal, express your feelings through a form of art, or talk to a wise person. Do whatever it takes to see what it is that Mercury is trying to show you. Once you've got it, you'll be able to move on.
---
Aquarius: As Mercury heads back through your zone of the past, it may be time to let go of something or someone. Perhaps you need to draw a line under a chapter of your life or close a door on a finished phase. It's a good time to retreat and say goodbye to whatever is leaving your life. Allow yourself any feelings of nostalgia or sadness that this may bring up. The intensity of those feelings may take you by surprise, but so long as you accept them and don't try to distract yourself or suppress them, you will emerge ready and willing to embark on a new phase of your life.
---
Pisces: Mercury's rendezvous with powerful Pluto could bring forth a power issue or an intense situation with someone. The best course of action would not necessarily be to fight or argue but to consider that this person might have a lesson for you; by taking time out to figure out what that might be, the situation will naturally resolve itself. However, it may also be prudent for you to reassess some of your friendships and associations if they are not supporting you. Perhaps now is the time to let go of those people who don't reflect your vision or who aren't singing from the same hymn sheet.
---
For more information about your Horoscope and what the stars
have in store for you, order one of our detailed
Astrology Reports for Couples!