#Horoscope #Aries #Taurus #Gemini #Cancer #Leo #Virgo #Libra
#Scorpio #Sagittarius #Capricorn #Aquarius #Pisces
#Horoscope – overview of this week
The Center for the New Age is pleased to present
your Free Weekly Horoscope for January 31 — February 6, 2016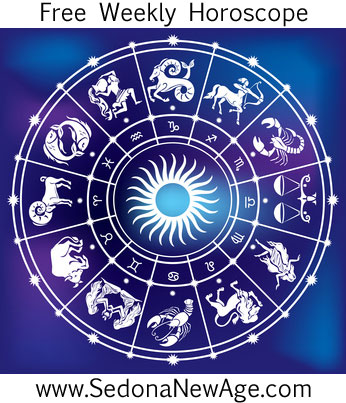 Receive our Free Weekly Horoscope in your Inbox

---

Aries Taurus Gemini Cancer Leo Virgo Libra Scorpio Sagittarius Capricorn Aquarius Pisces
Last Quarter Moon in Scorpio on February 1 focuses our attention on issues of passion and compassion. It is likely the dark secrets of our life will be touched on somehow. This Moon urges us to release stored up tension, and to find release for our emotional baggage without imposing it on others. Safety consciousness of any kind is particularly important during Scorpio Moon. Keep an eye out for suspicious activity – beware of thieves, smooth talkers and the potential for aggressive outbreaks.
Mars in Scorpio sextile Pluto in Capricorn (Feb 3 – February 12) brings the opportunity for powerful and swift action. This is a superb time to take up activities with people of a different culture, or with someone who is of a different level of maturity or experience. This is also potentially a good time to reconcile differences. Mars represents the masculine push of our personal lives, the area where we activate our will, strength and vitality; this brings opportunity, optimism and the added boost to face otherwise tense situations and predicaments. The activities of Mars sextile Pluto will teach us about hardships and what we can learn from other generations.
Venus and Pluto conjunct in Capricorn (February 5 – February 12) often places affections and love right where they are needed most: the areas of life that are deeply challenging and sometimes traumatic. It also intensifies love related efforts and, at times, our affections may seem overpowering or daunting in some way. Venus conjunct Pluto represents the union of beauty (Venus) and strength (Pluto). This is a time when the intensity or hardship of love and attraction create richly striking images and perspectives that we must eventually let go of completely in the hope that love and beauty will transform our lives once again. Venus conjunct Pluto occurring in Capricorn, emphasizes the sobering awareness that is taking place with regard to the transformation process of love and attraction. This is a good time to find love's powers and unite them within.
Mercury in Capricorn trine Jupiter in Virgo (February 6 – February 12) is a favorable aspect that brings the good news of expansion and prosperity to those who are open to broadening their awareness. Mercury brings news, while Jupiter brings wealth, a sense of well being, and prosperous change. For some, Mercury trine Jupiter serves as an advantageous time to ask for a job or a loan, or a good time to provide a service which may influence a potential promotion. This is an especially good time to openly look for opportunities to share information and promote your capabilities.
Aries Taurus Gemini Cancer Leo Virgo Libra
Scorpio Sagittarius Capricorn Aquarius Pisces

For more information about your Horoscope and what the stars
have in store for you, order one of our detailed
Astrology Reports!
Free Weekly Horoscope for your Sign
Aries: The Sun in your social zone is a positive start to the month, encouraging you to get out into the world and enjoy social events. On a deeper level, now is the time to think about your future and become more conscious of your hopes and dreams. Only when we are conscious of something can we become a master of it and effectively bring it into being. Don't be afraid to make changes if you need to adjust your course because it's more important to follow your true path now than play it safe.
---
Taurus: If you want success, accomplishment or a sense of achievement, you have to take a risk. You have to be prepared to leave behind the comfort of what you've known and step forward into a new environment. It may be that you're stuck in your comfort zone or fearful of making a change. Or maybe you're a victim of a rigid mental pattern that stops you from pushing forward. The Sun at the top of your chart is calling you onward and upward, and Uranus is doing his best to help you break those fixed thought patterns that have led you to believe that life has to be a certain way. Be open to the impossible and you may yet find a miracle occurs.
---
Gemini: The heaviness of recent times begins to ease, and this week brings an opportunity for you to break free from a negative situation. To do this though, you need to be willing to break a pattern or think outside the box. As soon as you decide to do things differently – without completely throwing caution to the wind – you'll find yourself winning. With the Sun in your zone of adventure, a more optimistic chapter awaits, and your task now is to find where you belong, even if that simply means being comfortable in your own skin.
---
Cancer: Each year for a few weeks, the Sun journeys deep into the underworld, offering us the opportunity to cleanse and heal. The time for you to embrace this journey is now. That's not to say you must drop everything and take yourself off into your cave for the next few weeks, but if you make some time for quiet contemplation, your inner self will thank you for it. This is a good time to ask yourself deep, probing questions or to release emotional wounds, perhaps by engaging in art, writing, dance, drama or anything that enables you to express your inner feelings. You need to focus on letting go now. The more you can release, the healthier you will be.
---
Leo: February may start under a cloud of guilt. Perhaps someone is making you feel bad about something, or maybe you genuinely made a mistake. Maybe you're thinking, "If only I'd done X, Y or Z, things would be different." Whatever the reason for your feeling bad, it is time to stop punishing yourself. Instead, be kinder to yourself, and focus on all the good you've done or all the challenges you've had to deal with. The Sun in your relationship zone suggests that now is the time to focus on others, improve relations and take solace in the comfort of others. As Lao Tzu said, "Being deeply loved by someone gives you strength, while loving someone deeply gives you courage."
---
Virgo: With the emphasis on your health and work, this is a good time to make positive changes to these areas of your life. It is also a good time to organize matters so that life flows more easily or feels more efficient. This organization and efficiency may have a positive effect on your health and work, for as you clear clutter and sort paperwork and filing systems, you will find it easier to do what you need to do. Your energy will lift as a consequence of clearing all that was dragging you down. Sometimes the simple things lead to the best results and by following your intuition, you'll instinctively know the best course of action to take right now.
---
Libra: If life has become a little too serious lately, perhaps it's time to adopt a more playful approach. The Sun in your house of fun and creativity gives you permission to take life a whole lot less seriously and to push aside some duties, chores and responsibilities to do what you enjoy. It's been said that if we spend just twenty minutes a day engaged in something creative, the benefits are enormous – one of which is that we actually feel like we have more time. As art therapists know very well, being creative can also help us process our hidden fears, doubts and insecurities and with a cluster of planets at the base of your chart, you may well find yourself facing issues from your past. So create a collage, sing a song, paint from your soul, make a Mandela or pen a poem to express what's going on deep within you.
---
Scorpio: The Sun at the base of your chart calls you home – wherever or whatever "home" means to you. Aside from the obvious, home could be where you feel most comfortable and at ease. Home could also be that deepest part of you, your inner foundations, or it can be that which gives you roots. We all know a plant cannot grow if it doesn't put down roots. Now is the time to see how your roots are doing. Are they thriving and being nourished, or are they just about clinging on, too delicate to establish a firm hold? There may be a lot going on in your head right now, but ideally you need to get out of your head and into your root chakra. By connecting with your base, you'll be able to establish what you need to foster a greater sense of security and inner nourishment.
---
Sagittarius: The Sun journeying through your zone of the mind is a reminder that your attitude is everything. Generally, Sagittarians have a very positive attitude, so capitalize on this and create more opportunities that will generate a sense of adventure or broaden your horizons. When one door closed, another one opens, so if work, money or responsibility are the big themes, be courageous in making a change that you know in your heart is right for you now. You need to keep expanding, growing and discovering, so don't be content to sit where you are just because it's reasonably comfortable; better things are available.
---
Capricorn: A cluster of planets in your sign combined with the Sun in your zone of money and resources implies that you have more power than you realize over your financial and material situation. Now is the time to take charge, to think positively and optimistically about what's possible and what you're capable of. Disruptions at home could distract you momentarily, but try to keep your focus on creating the kind of vision that feels empowering and constructive.
---
Aquarius: What burdens do you need to drop? It could be a mental burden such as guilt. It could be something from the past, or it could be a commitment or a project. No matter what it is, there's something dragging your energy down when you think of it. Uranus currently challenging a cluster of planets in the zone of the past suggests it's time to let go of something that isn't doing you any favors. To do that, you might need to confront a belief that says you can't let it go. With the Sun in your sign, you have the power to change more than you realize, and now is the time to focus on what you want and what's good for you. Watch where your energy flows; this is where you're meant to go.
---
Pisces: As the Sun journeys through your zone of rest and repose, tell yourself that it's perfectly okay to take some time out, even if it's just half an hour out of your usual day to do something restful. If you push yourself now, you won't be able to make the most of the Sun's arrival in your sign in a couple week's time, so don't allow your to-do list to overwhelm you. Instead, adopt a moment-to-moment approach, and take each thing as it comes, keeping your attention focused in the present. If there are emotional matters on your mind, then tend to these, as personal problems will sap your energy more quickly than anything else. Healing wounds and working to release patterns of the past will serve you well now
---
For more information about your Horoscope and what the stars
have in store for you, order one of our detailed
Astrology Reports for Couples!