#Horoscope #Aries #Taurus #Gemini #Cancer #Leo #Virgo #Libra
#Scorpio #Sagittarius #Capricorn #Aquarius #Pisces
#Horoscope – overview of this week
The Center for the New Age is pleased to present
your Free Weekly Horoscope for February 7 — February 13, 2016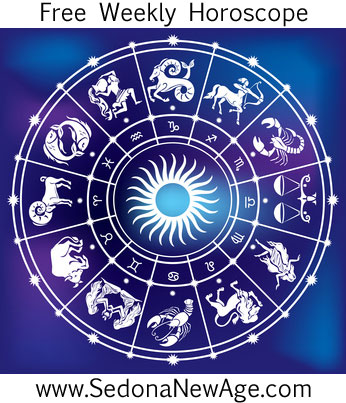 Receive our Free Weekly Horoscope in your Inbox

---

Aries Taurus Gemini Cancer Leo Virgo Libra Scorpio Sagittarius Capricorn Aquarius Pisces
Venus in Capricorn sextile Mars in Scorpio (February 7 – February 20) is a favorable aspect and brings opportunities to situations involving love and beauty. Venus emphasizes the vibrations of love, magnetism, beauty and sensuality. The Mars influence emphasizes the awareness and application of action, movement, involvement and also harnesses focuses of strength and energy. This week many love matters are being stirred. Venus reminds us to draw towards ourselves the pleasures we desire; Mars is reminding you to apply action with love.
February 8th, the New Moon in Aquarius is a good time to begin social and philanthropic endeavors, and to gain fresh knowledge by learning something new about ourselves or our ever changing world. Moods created by this New Moon may be bold or daring, with a flair for experimenting with life. This is the time to open up to a greater comprehension of the science and technology of these changing times, adding to our power.
On Saturday, Mercury enters Aquarius, the fixed sign of the zodiac which represents humanity's knowledge (February 13 – March 5). As the force of communication (Mercury) travels through the constellation of fixed thought and meditation (Aquarius), there are great opportunities for us to share and to empower each other through our knowledge. This is a splendid time to communicate ideas and investigate the latest in technology, science and the world of invention. Mercury in Aquarius is also a special time to speak out on humanitarian issues and the rights of freedom. Eccentric talk and unusual subjects will fill the airwaves while Mercury is in Aquarius.
Mars in Scorpio sextile Jupiter in Virgo (February 13 to February 24) brings the opportunity for action to be endowed with reward. Those who act on specific urges and impulses to achieve their heart's desire are more likely to make a breakthrough during this aspect. This is a time to make true efforts to promote career skills or to enhance a career move. Remember – action is required; mere good intentions will get you nothing while this aspect is in full force. This is a good time to go adventuring and exploring while Mars sextile Jupiter promotes opportunities.
Aries Taurus Gemini Cancer Leo Virgo Libra
Scorpio Sagittarius Capricorn Aquarius Pisces

For more information about your Horoscope and what the stars
have in store for you, order one of our detailed
Astrology Reports!
Free Weekly Horoscope for your Sign
Aries: The New Moon in your future zone is a positive omen for new beginnings, but if you're not sure what new beginning you'd like, then take a moment or two around February 8th to connect with your true desires and gain clarity. If you feel angry or passionate about something, this could be the driving force you need to make a change. Sometimes we need to get fired up in order to take action, so don't feel bad about the way you feel. Just turn it into fuel for movement, and you will find that before very long you're on the road to progress.
---
Taurus: Change is not something to be feared but embraced. So says the New Moon at the top of your chart on February 8, which offers you the opportunity for success and achievement if you're willing to make the change. It may not be easy for you, which is why Mars is getting in on the act to give you that push, so when someone in your life encourages you or yells at you to take action, know that this is the voice of Mars. If you want to reap the reward, get moving. It might help to pin up the following quote by Andre Gide: "Man cannot discover new oceans unless he has the courage to lose sight of the shore."
---
Gemini: The New Moon on February 8 brings the theme of adventure and you should seek to broaden your horizons in whatever feels most appropriate. It doesn't matter whether you go on a trip or stretch your mind through some kind of study. What matters now is that you have the courage to seek new pastures. Sticking with the same old life situations is not in your best interest at this point, so in the words of Helen Keller, "Life is either a wonderful adventure or nothing."
---
Cancer: The New Moon on February 8 brings the opportunity for a rebirth. If life has been stressful, this is the week when you can decide to let it all go and move on. Much of our stress is self-inflicted; we rush around here, there, and everywhere. We put ridiculous pressures on ourselves to succeed in both our personal and professional lives and feel that we have to do it all, so ask yourself under this New Moon what pressures or burdens you can let go of. It might be a belief that you have to be or do certain things, or it might be a situation or a relationship that drains you. Let you heart show you the way forward. What feels right to you is what you must keep, and what feels wrong is what needs to go.
---
Leo: The New Moon on February 8 brings the opportunity to turn over a new leaf in your personal life. This would be a good time, for example, to wipe the slate clean with someone and let bygones be bygones. Sometimes all that's needed to improve relationships is to focus on the good others do rather than on their mistakes or unfavorable attributes. As you stop trying to change another, you'll also give yourself permission to relax and realize that we're all okay just as we are. Acceptance, tolerance, compromise and compassion will go a long way to easing problems this week.
---
Virgo: The New Moon on February 8 is a great opportunity to begin a new regime with your health, perhaps by improving your diet or incorporating some form of exercise. Hopefully, that clearing and sorting that you were supposed to do last week, will have left you in an ideal position to create anew. Sometimes we have to consider that physical changes aren't enough. Sometimes we need to look at our beliefs, and now may be when you'd benefit from looking at what you've been conditioned to believe and stop it from working against you. Question your beliefs about your current situation, and allow the energies of the New Moon to entertain a new approach.
---
Libra: It takes a lot of strength and courage to be true to yourself and live in a way that feels right. With a New Moon in your zone of authenticity and creativity on February 8, ask what you can do to create more joy in your life. This is your cue to stop putting off making life-affirming changes and to imagine a more creative and joyful way of living. Perhaps it would help to express this in a visual manner or to at least write it down so that you're clear about what you want. Then apply some patience knowing that everything will unfold in its right time. In the meantime, see if you can feasibly drop one or two of your commitments so that you have more time to do whatever calls to your heart.
---
Scorpio: The New Moon at the base of your chart on February 8 is squared by Mars in your sign. This could give rise to a certain amount of conflict. Perhaps you're at odds with a family member or something connected with your home. Maybe the conflict is more psychological between what you want and what you've got. This can be resolved by refusing to put up with an unsatisfying situation any longer. The time to make a change is now. It may require you to be assertive. It may require you to take some action and to embrace a new beginning. None of this needs to be cause for concern: changes made under a New Moon are usually for the good, and chances are high that by no longer putting off something you know you need to do, you will move into a richer, more rewarding set of circumstances.
---
Sagittarius: The New Moon on February 8 is your window of opportunity to create a new vision. This may mean being open to seeing things in a new light, trying on a different set of beliefs, or taking a different approach. Whatever your scenario, it's important to realize that you don't need to compromise yourself. You don't have to lose out in one area just so you can have something in another area. Too many people compromise themselves in work, money and relationships – perhaps by not setting correct boundaries and by letting people take advantage, giving more than is received, or sacrificing enjoyment for security. Look at the ways in which you compromise yourself, and make a vow to live your life on your terms from now on.
---
Capricorn: The New Moon on February 8 directs your attention to material matters, and you have a choice whether to see your financial situation in terms of lack or abundance. Of course, what we focus on grows, so it makes sense to focus on what you have rather than on what's lacking. Use the energies of the New Moon to welcome financial opportunities, to turn over a new leaf, or to think differently about your situation. The key to success now is to focus your thoughts on what you want to manifest.
---
Aquarius: The New Moon in your own sign is your cue to celebrate and turn over a new leaf. This is a great time to focus on what you want from life, whether it's big changes or small tweaks. Don't let your ego push you down a path that's different than the one your heart calls for. Sometimes ambition, security, recognition and success can lure us away from what's really important. It might be an idea to write down what matters most to you and set that as your destination. Don't be afraid to walk away from pressure and conflict if it means you get to be happier.
---
Pisces: In order to move on, we have to leave the past behind. And this is what the New Moon on February 8 asks of you. Success beckons, but to accept it, you need to close the door on what has been. Let go of old, sabotaging beliefs and any sense that you need to put the last piece of the puzzle into place before there can be completion. Perhaps this New Moon simply asks you to finish what you've started, so tie up the loose ends, bring projects to a close and get ready to move on to the next level.
---
For more information about your Horoscope and what the stars
have in store for you, order one of our detailed
Astrology Reports for Couples!