#Horoscope #Aries #Taurus #Gemini #Cancer #Leo #Virgo #Libra
#Scorpio #Sagittarius #Capricorn #Aquarius #Pisces
#Horoscope – overview of this week
The Center for the New Age is pleased to present
your Free Weekly Horoscope for February 14 — February 20, 2016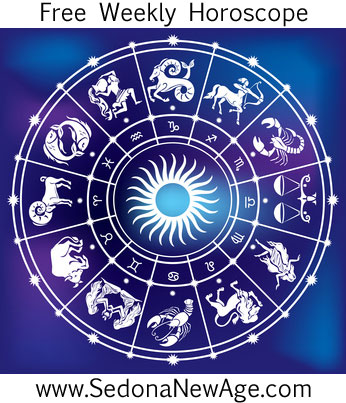 Receive our Free Weekly Horoscope in your Inbox

---

Aries Taurus Gemini Cancer Leo Virgo Libra Scorpio Sagittarius Capricorn Aquarius Pisces
First Quarter Moon in Taurus on February 15 brings the pressure to take care of essential needs. Taurus is the fixed earth sign, and the nature of Taurus Moon leads many folks to watch their pocketbook and make sure they're getting the most value possible out of all expenditures. There is also a need to let the beauty of our surroundings be accented and appreciated. Somewhere in between the processes of earning and reaping rewards, a happy medium is struck. The Moon is exalted in the place of Taurus, and harmony brings satisfaction.
On Wednesday, Venus enters Aquarius (February 17 – March 12) putting the focus of attraction and adoration on illuminating kinds of knowledge and on brilliant humanitarian causes and exploits. There is an especially strong attraction to all types of invention, and to the new technologies. Venus in Aquarius is a prime time to perfect and enhance our love of humanity, and to break down the barriers of useless and destructive prejudice and stereotyping.
Aries Taurus Gemini Cancer Leo Virgo Libra
Scorpio Sagittarius Capricorn Aquarius Pisces

For more information about your Horoscope and what the stars
have in store for you, order one of our detailed
Astrology Reports!
Free Weekly Horoscope for your Sign
Aries: The Sun's entry into your zone of soul and spirit is your cue to take your foot off the gas and turn to more inward and soulful pursuits. Immerse yourself in music, art, meditation, films or a good book to nurture your spiritual self. What you need to avoid is too much work, responsibility or focus on the outside world. By taking the time to nurture yourself, you will be in prime position for when the Sun returns to your sign at the end of next month, so don't be in a rush; instead, ask yourself what nurtures your spirit and make that your focus.
---
Taurus: In what way do you feel like an outsider? Do you think differently than others, or do you feel unwelcome or rejected? Do you feel you don't have what it takes to go out into the world and shine? Of course, all of these are false beliefs; even if you feel or think differently, that doesn't need to be a barrier, just as skin color or gender shouldn't be a barrier. Embrace your differences, no matter if it's a friend, group, organization or acquaintance. By focusing on inclusiveness and compassion, you will find that you can connect through your heart with anyone, and then you'll feel as though life wants you to attend the party.
---
Gemini: Sometimes, when life is challenging and seems dark, possibilities can seem few and far between. Eventually, though, we stumble out of the darkness and see the world in all its glory again. It's at this point when we begin to see the prospects that surround us. For you now, it's not just opportunities that becomes evident, but also the potential for success. Something is shifting in your life, and as long as you keep your eyes fixed on where you want to be and believe that it's possible, there is every indication that you'll be successful.
---
Cancer: As the Sun moves into your zone of adventure and expansion on February 20, your horizons begin to get bigger and brighter. Now is the time when you're likely to be gripped by a positive new vision of the future or to feel that possibilities are beginning to open up in your world. Believe in your dream, and begin to take the first steps whether your dream is simple and short term or something bigger and long term. It doesn't matter how big or small your dream is so long as it lifts your soul when you think about it, and when you get that positive feeling, it's time to act.
---
Leo: The arrival of Venus and Mercury in your opposite sign should do much to soften any creases in your relationships, and this is a great time to communicate in a loving manner. So if there's someone with whom things have been a bit strained recently, you can look forward to restoring harmony. Meanwhile, the Sun journeying down into your psychological underworld suggests that you need to apply courage to a particular situation – maybe to face your fears or the unknown, deal with something uncomfortable, or allow yourself to be vulnerable. Whatever the situation is, draw on your courage to see you through any tricky state of affairs.
---
Virgo: Patience is the key this week, so remind yourself that good things come to those who wait, which is often a case of "more haste, less speed." Mars is currently raising the tempo of your everyday life, giving you more energy and motivation but also increasing the risk of impatience and conflicts with others. Be prepared to wait, to compromise and to allow others the right to do as they see fit. It might be helpful to remind yourself of the following old proverb: "When you shoot an arrow of truth, dip its point in honey." By being kind, tolerant and patient with others, you will be more able to join forces and accomplish something of worth, which is the highest expression of Mars in the zone of your mind.
---
Libra: Venus and Mercury traveling together through your fun zone is a delightful combination, at least for creative ventures, romance and general happiness. This is a great time to express yourself creatively, from the clothes you wear to your romantic feelings for someone. Or you may prefer to start working on that bestseller or art exhibition. When the Sun moves into your work zone on February 20, this is your cue to start putting the effort in to making your work a source of inspiration. With Neptune also in this area, any leanings toward the arts or healing should be pursued. It seems some kind of higher or visionary aspect is calling you right now. Heed the call.
---
Scorpio: As the Sun moves into your zone of fun, a lighter, more creative and sweeter flavor begins to tackle your taste buds. How would it feel to do more of what you fancy and less of what you don't like? Do you believe it is possible to learn and grow through joy rather than through suffering? Do you feel able to make the leap from the known to the unknown? It seems that a more authentic and creative life is calling to you, but dare you take the risk? Think of these wise words of Ralph Waldo Emerson. "Don't be too timid and squeamish about your actions. All life is an experiment. The more experiments you make, the better."
---
Sagittarius: What needs healing? Aside from obvious physical ailments or lack of energy, it could be an emotion, a psychological wound, or a situation that has too much conflict. Mars is currently in your zone of the unconscious and is likely to dredge up any suppressed emotions or things you thought you'd forgotten about. Allow these feelings and memories to surface and to be felt and experienced. In doing so, a part of you will be healed, freeing up more energy because it takes a lot of effort to keep the lid on things. The Sun at the base of your chart increases this introspective and somewhat emotional time, so don't force yourself to carry on if what you need now is a bit of rest and reflection.
---
Capricorn: The Sun passes the financial baton on to Venus and Mercury, and these two planets should do much to help you improve things. Could you, for example, be more creative in your approach to money or in making more of it? Have you blocked yourself in, setting limits and narrow paradigms? Could you not use the power of your mind to manifest more of what you need? The Sun in your mental zone suggests that this is more than possible. Use the following words by Earl Nightingale as a source of inspiration. "A great attitude does much more than turn on the lights in our worlds; it seems to magically connect us to all sorts of serendipitous opportunities that were somehow absent before the change."
---
Aquarius: As Venus sails into your sign, you are being gifted with the opportunity to focus on and embrace the softer things: love, relationships, pleasure, beauty and harmony. Mercury also in your sign suggests that it's time to communicate. Is there something you need to say to someone? Could a relationship be improved or even healed by an honest and loving conversation? Or do you have some information that others would benefit from hearing? If so, now is the time to focus on getting your message out there.
---
Pisces: The Sun arrives in your sign on February 20, bringing a welcome boost to your energy and should serve to recharge you for the coming year. Now is a good time to focus on what is important to you and to make any changes that will allow the coming year to be a truer reflection of who you are. The Sun in your sign also encourages you to be more creative and playful, more expressive and less worried about what others may think, so let your hair down a little this week, and focus on enjoyment and just being yourself.
---
For more information about your Horoscope and what the stars
have in store for you, order one of our detailed
Astrology Reports for Couples!