#Horoscope #Aries #Taurus #Gemini #Cancer #Leo #Virgo #Libra
#Scorpio #Sagittarius #Capricorn #Aquarius #Pisces
#Horoscope – overview of this week
The Center for the New Age is pleased to present
your Free Weekly Horoscope for February 28 — March 5, 2016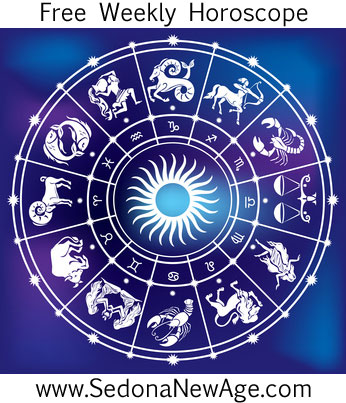 Receive our Free Weekly Horoscope in your Inbox

---

Aries Taurus Gemini Cancer Leo Virgo Libra Scorpio Sagittarius Capricorn Aquarius Pisces
Venus in Aquarius sextile Saturn in Sagittarius (February 29 – March 5) emphasizes the vibrations of love, magnetism, beauty and also sensuality. Saturn's influence emphasizes an awareness of time, limitations and restrictions. Saturn also harnesses our dedication to responsibility and discipline. Venus sextile Saturn aspect may provide an opportunity for some to experience a timely love. For a limited amount of time, luxury and beauty are enjoyed. There is a passionate drive to protect loved one and limit their exposure to danger.
Last Quarter Moon in Capricorn on March 1 emphasizes the need to take or let go of control, when necessary. Capricorn Moon connects our moods with a serious undertone of needing and wanting to grasp our goals and summon results. Saturn-ruled Capricorn emphasizes time and the timeliness of important events. This may be the time to address impending deadlines, and decide whether to proceed or to hold back. Certain quests in life may not be meeting personal needs. Is something which lacks substance taking up too much time in your life? Life is often so serious with Capricorn Moon and in its Last Quarter waning state, it reminds us that if we want control, we must let go of what we can't control.
On Saturday, Mercury enters Pisces (March 5 – March 22) bringing out the mystic in all of us and adds quite a bit of imaginative color and flare to our communication style. It's also a good time to immerse one's self in creative writing and music, and to open up channels to the spirit world, allowing messages from the other side to penetrate our psyches. This is a good time to listen and learn from the priests, holy teachers, loved ones and spirit guides of our choosing.
Aries Taurus Gemini Cancer Leo Virgo Libra
Scorpio Sagittarius Capricorn Aquarius Pisces

For more information about your Horoscope and what the stars
have in store for you, order one of our detailed
Astrology Reports!
Free Weekly Horoscope for your Sign
Aries: As the Sun journeys through your zone of rest and repose, don't feel guilty about taking things easy, especially if the energy isn't there. The Sun will soon return to your sign, bringing energy and new beginnings, but for now, you need to build your strength up and enjoy a little quiet time. Trying to create a better balance in your life will be a good use of the current energies, so try to even out any area that feels lopsided.
---
Taurus: This is a good week to cast off burdens, from heavy situations and responsibilities to limiting ideas and beliefs that stop you from getting where you want to be. It's time to set yourself free and join your tribe. Do you know your tribe or who your like-minded friends or family are? Family isn't always blood family; it can be soul family, or a family of souls who share your vision. Since it's now time for you to manifest your vision, it's also time for you to join forces with the right people.
---
Gemini: The Sun at the top of your chart puts the emphasis on your purpose and direction. Where do you want to go? What do you want to achieve? Is there a wound or negative pattern stopping you from following your dream? There's a lot to be said for believing in the impossible and having faith in a positive outcome. If you find yourself experiencing anger this week, it could be born of frustration at not being able to do what you want or not being supported. Try not to be too influenced by what others think; if you're committed to a plan, if you believe in yourself, then others will follow suit.
---
Cancer: This is a great week to go on a spiritual journey. It doesn't have to be a physical trip, though that would be wonderful if you can manage it. A spiritual journey could be a guided journey or a meditation. You could go to a workshop or experience something that connects you with your higher self. If stress is getting the better of you, some sort of adventure will work wonders for putting things into perspective. Aim now to engage in activities that will broaden your horizons, and quit trying to do too much.
---
Leo: The Sun's journey through your psychological zone brings the possibilities for a rebirth, making this an opportune time to shed your old skin. Whatever has gone before is gone, so let it go and prepare to arise like the phoenix from the ashes. The strongest way to heal and move on is through forgiveness and acceptance. Allow the serenity prayer by Reinhold Niebuhr to guide you: "God grant me the serenity to accept the things I cannot change, courage to change the things I can, and wisdom to know the difference."
---
Virgo: The possibility for inspired relationships occurs this week as the Sun aligns with sensitive Neptune in your partnership zone. At the very least, it's likely to result in a greater tendency to forgive and accept, both of which will help enormously in the smooth functioning of your personal life. Any wound, from heartbreak to disappointment, can be healed now, and this is a great opportunity to transform your patterns or relating.
---
Libra: The secret of health for both mind and body is not to mourn for the past, not to worry about the future, or not to anticipate troubles, but to live the present moment wisely and earnestly." Remember this principle from the Buddha as the Sun joins Neptune in your zone of health. You may need to pay some attention to your well-being now and the way forward is to be gentle with yourself and others. This isn't the time to stress and strain; instead, go softly into the world, and serve others as best you can.
---
Scorpio: Some things can't be rushed. There are times when we must be patient and allow things – projects, relationships, or desired changes – to unfold in their own time. The Sun's journey through your zone of creativity invites you to enjoy the process rather than stress about the destination. If you can relax into the flow of things, this could be a very satisfying week, so take things as they come, knowing that all will reveal itself in good time.
---
Sagittarius: The Sun shines its light on your home and family, bringing you back to base and reminding you of what's really important. You might also need to break free from some kind of family or ancestral conditioning so that you can live life more on your own terms. What would it take for you to be free? What family karma are you caught up in? Now is the time to bring long-standing wounds from the past to completion so that you and everyone else can move on.
---
Capricorn: This week brings a wonderful opportunity to experience a shift in your awareness. It may feel, for example, as though your consciousness is moving up a level, or you may be able to see something from a completely new angle, a higher angle that enables you to feel better about a situation. It will also be easier for you to practice tolerance, acceptance and forgiveness, especially if you've been experiencing any anger, judgment, criticism, or intolerance. Sometimes life can seem so difficult that it's hard to tolerate certain people, situations, activities or events, but this sets up resistance and separation. You can, therefore, look forward to feeling more connected with people as the barriers begin to dissolve.
---
Aquarius: Planetary activity in your money zone makes this a positive time to focus on your financial affairs, and perhaps more important than a drive to have more, is an attitude of gratitude for all you do have. Neptune calls for a more accepting approach to financial matters and a need to dissolve old patterns. This would be a good time to heal a fear or wound connected to money or to break away from society's beliefs around material things, so you do not necessarily need more, but you may need to simplify your life.
---
Pisces: As the Sun aligns with Neptune in your sign, this is not a time to be overly structured, determined or uptight. Trying too hard will only result in fatigue at best and failure at worst. Instead, do the natural Pisces thing of going with the flow, allowing the current to take you to wherever you need to be. There is no rush, nothing you must do, nothing you should be achieving or attaining. Yet, interestingly, the more fluid you allow yourself to be, the more success you're likely to have.
---
For more information about your Horoscope and what the stars
have in store for you, order one of our detailed
Astrology Reports for Couples!