#Horoscope #Aries #Taurus #Gemini #Cancer #Leo #Virgo #Libra
#Scorpio #Sagittarius #Capricorn #Aquarius #Pisces
#Horoscope – overview of this week
The Center for the New Age is pleased to present
your Free Weekly Horoscope for March 27 — April 2, 2016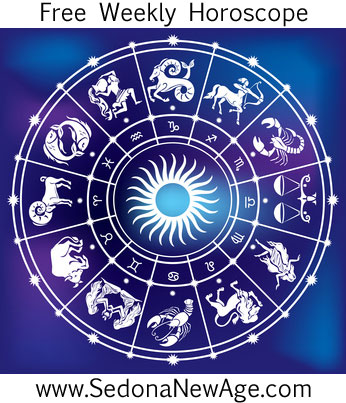 Receive our Free Weekly Horoscope in your Inbox

---

Aries Taurus Gemini Cancer Leo Virgo Libra Scorpio Sagittarius Capricorn Aquarius Pisces
Mercury in Aries trine Saturn in Sagittarius (March 30 – April 7) brings favorable dialog concerning where to draw the lines. This is a good time to make an impression, to teach and to communicate to others those important matters that must be clarified. Important news comes with this aspect and news concerning the end of a long and arduous task brings relief.
Mercury in Aries square Pluto in Capricorn (March 30 – April 4) brings obstacles and difficulties of communicating about power issues and the great dangers that our own concept of threat represents. This is a particularly difficult time to deal with harsh issues and discuss them in a manner that makes the hardships any easier.
March 31 Last Quarter Moon in Capricorn connects our moods with a serious undertone of needing and wanting to take hold of our goals and summon results. The Saturn-ruled Capricorn emphasizes time and the timeliness of important events. This may be a time of addressing the importance of pending deadlines. Is it time to proceed or is it time to let go? Is something which lacks substance taking up too much time in your life? Life is so serious with Capricorn Moon, and in its last quarter waning state it reminds us that in order to be in control, we must let go of what we can't control!
Aries Taurus Gemini Cancer Leo Virgo Libra
Scorpio Sagittarius Capricorn Aquarius Pisces

For more information about your Horoscope and what the stars
have in store for you, order one of our detailed
Astrology Reports!
Free Weekly Horoscope for your Sign
Aries: With the Sun and Mercury in your sign along with Mars in your zone of adventure, this is the time to be proactive and make changes, to move yourself forward and be more adventurous. Playing it safe is not an option now, so respond to the beating of your heart, and be bold and daring. Communicate clearly so that others know what's going on and what you're feeling. With the Sun in your sign, you have permission to dance to your own tune without feeling guilty about it. Sometimes we need to do what makes us happy rather than what makes others happy, because ultimately we're all responsible for living our lives in a way that feel right to us. This doesn't mean you can't be there for others; it does mean, however, that you shouldn't compromise yourself to keep others happy.
---
Taurus: As the planets pile up in your soulful zone, the prescription is to turn within and nourish your inner self, perhaps through creative, artistic or meditative pursuits. Get as much sleep and quiet time as you need. Pushing against your body's cries for rest will only backfire in the long run, so pay heed to James Freeman Clarke's words: "Never hurry. Take plenty of exercise. Always be cheerful. Take all the sleep you need. You may expect to be well."
---
Gemini: The Sun's journey through your zone of the future opens up possibilities that you might not have been aware of before. This is a time for doors to open, contacts to be made, and your hopes and dreams for the future to become more feasible. You will need to talk to people, which shouldn't be a problem for the most communicative sign of the zodiac! What you're not so good at, though, is difficult conversation, but you may need to face one of those with Saturn retrograde in your relationship zone. If someone appears to challenge you or cause you angst, you need to talk about it. You also need to apply forgiveness and tolerance without losing your assertiveness and boundaries. If it feels too tricky, ask for higher guidance to help move things forward.
---
Cancer: Provided that you have your work-life balance right and your body working for you rather than against you, this can be a time of success and achievement. This is your time to make progress, to fulfill an ambition, or to concentrate on your aims and goals. Be prepared to be a little bit different, as this will work in your favor. It's a good week to show your originality, so don't be afraid of what others think when you allow your innovative nature to shine through. It's really important for you to be your true self, so drop the mask, quit pretending and be your glorious natural self; the rewards will soon be forthcoming.
---
Leo: If you're excited at the prospect of transforming your consciousness, this week shouldn't disappoint. The Sun and Mercury in your zone of the higher mind inspire you to think higher than previously. On one level, this could bring a sense of optimism and possibility. You might find yourself believing in the impossible – though, of course, things are only made impossible by believing they are – and taking big strides forward with your new, more positive mindset. On another level, you could feel very inspired, presenting you with a good opportunity to open yourself up to divine guidance or to act as a channel for spiritual knowledge or creative expression. Either way, this is likely to be a week when you emerge from the underworld feeling renewed, reborn and ready for anything.
---
Virgo: If you want to make an omelet, you have to break a few eggs. This week you'll need to be courageous in dealing with change because it appears that things can't stay the way they have been. The planets are gearing up to shatter stagnancy and break old patterns. You may first experience an uncomfortable period as you come face to face with your fears and insecurities, but this won't last long, especially if you're willing to move through it and see the challenge as a gift. You're changing at a deep inner level, so be kind to yourself. Take things one day at a time, placing no expectations on yourself or anyone else. There may be a great releasing of the old, possibly through a burst of regressed emotions or through a revelation that quickly and easily leads to a rebirth. Either way, don't expect life to be humdrum this week; it could get a bit messy at times, but by the end of it, you will have a super omelet!
---
Libra: The focus is on your relationships, and it's important to remember that change can be a good thing. Indeed, it's the one thing we can rely on! People come and go in our lives, and we shouldn't hold on to them when the time has come to move on, nor should we allow relationships to become suffocating. As the planets invite changes to move through your relationships, remind yourself that any person who is meant to be with you will be. At the same time, allow any committed relationship to change and grow; you may find you change and grow together. It's important also to observe your attitude because with Mars and Saturn in your mental zone, you may find yourself being negative, angry or irritable. Use Saturn to help you focus on what you want to achieve and Mars to give you the energy and impetus to make it happen.
---
Scorpio: Your health and work are key areas right now, and the way forward is through seeking exciting and refreshing changes. If you're not firing on all cylinders, explore the causes of your tiredness. It could, of course, be a sign that you've just been overdoing it and need more rest, but it could also be that a lack of energy or something more serious is indicating a lack of fulfillment in your work. Whether you're living out your purpose or not, this could be a time of interesting changes and any opportunity to experience something different should be seized. The path to success for you now lies in being innovative, daring, experimental and open to new possibilities.
---
Sagittarius: As the Sun moves into your house of fun, a lighter, more enjoyable state of affairs begins to emerge. And as Saturn turns on his heels in your own sign, you are being asked to press the pause button and consider where you are. Can you lift your view to take in the offered possibilities? That can be difficult when Saturn stands over us – when life takes on a darker, heavier, grittier feel – but the opportunities are definitely there, and they can be found by listening to your heart. What calls to you? What would you love to do? What currently drains your energy or makes your heart sink? Part of Saturn's job while he's in your sign is to get you to look honestly at your life and yourself with a view to making constructive changes that are in alignment with your true self. Now is the time to think and then begin to make those changes.
---
Capricorn: A cluster of planets at the base of your chart suggests that it's time for change. This could be a change of environment, or it could relate to a change that needs to take place deep within. At the very least, move some furniture around and see how different you feel! Now may also be a time to make a decision, to complete something, or to make a commitment. One thing looks certain: you can't go on living out the same patterns you have been. Saturn's long journey through your house of endings strongly suggests that a chapter of life is coming to an end, so you need to clear the decks and prepare for new beginnings. Once you commit to this, life will begin to feel much easier.
---
Aquarius: "A great attitude does much more than turn on the lights in our worlds; it seems to magically connect us to all sorts of serendipitous opportunities that were somehow absent before the change." Earl Nightingale reveals the secret of success, and the cluster of planets in your mental zone creates a very timely opportunity for you to look at manifesting a more positive attitude. Negativity can creep in, in all sorts of ways, from cynicism and doubt to fear and anxiety. Now is not the time to listen to your doubts and fears but to instead find a way around them. Mercury asks you to be innovative in your approach and to see what you can do differently. By arming yourself with a positive can-do attitude, you may well find that opportunity strikes in the most unexpected ways.
---
Pisces: As the Sun moves into your money zone, it's time to focus on more tangible matters, such as your finances, work, and physical things. If there are any problems in these areas, though, you need to approach them from a different angle. As Albert Einstein once said, "No problem can be solved from the same level of consciousness that created it." With Mars at the top of your chart, there's a call for a more ambitious and determined type of action – the opposite state that the beginning of this month found you in, when Neptune was encouraging you to flow with the Tao. Now is the time to go for what you want without guilt (while still maintaining your flow) and for making changes that put you in a more empowered position.
---
For more information about your Horoscope and what the stars
have in store for you, order one of our detailed
Astrology Reports for Couples!