#Horoscope #Aries #Taurus #Gemini #Cancer #Leo #Virgo #Libra
#Scorpio #Sagittarius #Capricorn #Aquarius #Pisces
#Horoscope – overview of this week
The Center for the New Age is pleased to present
your Free Weekly Horoscope for April 3 — April 9, 2016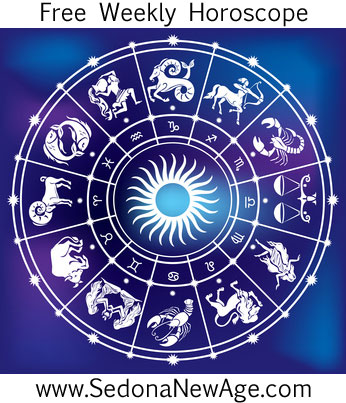 Receive our Free Weekly Horoscope in your Inbox

---

Aries Taurus Gemini Cancer Leo Virgo Libra Scorpio Sagittarius Capricorn Aquarius Pisces
Venus enters Aries on Tuesday (April 5 – April 25). While Venus is in the sign of Aries, the expression of love and beauty becomes a reflection of the self. Attraction is often impulsive and unpremeditated. Venus in Aries brings out the warrior and conqueror quality in many people and a new sense of life and vitality is brought to the surface.
On Tuesday also, Mercury enters Taurus (April 5 – June 12). Communications will focus on manifesting sales and generating economic growth. While Mercury moves forward through Taurus, it is a good time to clean up concerns around valuables and to deal with issues concerning documents, contracts, speeches and business procedures. In the fixed earth sign of Taurus, Mercury inspires the inclination to buy, sell, trade, barter and negotiate terms of sale. Resourceful thinking and information processing leads to the extra buck so this can be a very good time indeed!
New Moon in Aries on April 7th invokes the powers of initiation; it is the essential part of regenerative force to take the initiative and to start anew. This is the time when the new parts of the self begin to emerge, and our moods are encouraged by confidence, motivation, courageousness and fiery intent. Now is the time to generate and promote inspiration and happiness. In general, the spirit of our moods brings a strong sense of newness and a great deal of activity.
Aries Taurus Gemini Cancer Leo Virgo Libra
Scorpio Sagittarius Capricorn Aquarius Pisces

For more information about your Horoscope and what the stars
have in store for you, order one of our detailed
Astrology Reports!
Free Weekly Horoscope for your Sign
Aries: Much of the planetary activity takes place in your sign so expect plenty to happen in your life which is just how you like it. Boredom and stagnancy, along with too much peace and quiet, are an anathema to your soul so all you need to do to make it through this month is to ride the wave with courage. The New Moon in your sign aligns with Uranus and squares Pluto, signifying a need to embrace new beginnings and get rid of clutter – mental, physical and emotional. This is a great time for a spring cleaning, and while you're at it, begin to lovingly release any situation that is past its sell-by date. The universe is calling you on to new things.
---
Taurus: With a cluster of planets, including a New Moon in your zone of endings, this is a time of completion for you. Here you have an opportune moment to release any emotional baggage you've been carrying for too long to make way for new things to come. Clear as much as you can physically and psychologically. Don't let go of your vision, especially if it's of a creative nature, since Jupiter heralds a year of limitless possibilities, but for new things to grow, the soil must be clear of weeds. This is your job this week. "Weed" your garden and your seedlings will have a much greater chance of success.
---
Gemini: The New Moon on April 7 invites you to change the way you see your future. Indeed, something fortuitous may happen, but don't wait for the lady luck to strike. Make your own good fortune by holding a vision of what you would like your life to be, and then take little steps toward making it a reality. If you feel other people are holding you back, remember that we attract the people who can reveal the lessons we need to learn; perhaps you are being tested, so don't give up.
---
Cancer: As the New Moon aligns with Uranus at the top of your chart, it's fair to say that a new direction beckons. It's certainly time for a change of some sort, whether it's a break from the past or a new direction. Either way, this is not the time to stay exactly as you are or to tread water. It is the time to experiment, try something new, and push out of your comfort zone. As Muriel Strode wrote, "Do not follow where the path may lead. Go instead where there is no path and leave a trail."
---
Leo: It's time to ditch the old paradigms about life. At the top of this list are likely to be items related to work and health. Perhaps, for example, you tell yourself it's not surprising that you succumb to certain illnesses because they run in the family, or you think you have to stick with your job because it pays the bills, when you might be able to make a success of your dream. These, of course, are limiting beliefs, which the New Moon on April 7 will help you transform. What's needed is a more playful, open approach, almost as if life is a game and you're playing a role you can change at any point (unless you have a karmic obligation to fulfill it). This week, aim to set yourself free from the restrictions you have created.
---
Virgo: Now is the time to shed your old skin, especially if it's become a bit restrictive. The New Moon on April 7 is likely to see a release, or a letting go of some kind, and this should be welcomed as it will enable you to travel lighter and make more of your forthcoming opportunities. The planets are encouraging you to push out of your comfort zone and create more growth in your life; all you need is a little bit of courage to face your fears and manifest a rebirth.
---
Libra: It's time for change and transformation within your relationships, an area that may feel quite unstable – or perhaps "busy" would be a better word. Perhaps you're welcoming new people and saying goodbye to others, or you're experiencing a shakeup in existing unions. Be open to new beginnings, let go of the past, and try to release any feelings of alienation. As Robert Brault said, "If I could do it over again, there would be a hand I'd take…and a silence I'd break."
---
Scorpio: An electrifying New Moon brings change to your health and work. If you're not completely fulfilled in your day-to-day life or if your job has room for improvement, now is the time to make the necessary changes and take a risk. In the long run, your health and well-being will thank you for it.
---
Sagittarius: This is a good week to meditate on Shakespeare's saying, "to thine own self be true." Perhaps there's a situation that is no longer working for you or one in which you've compromised too much. Maybe you want to live freer with more creativity or control. If so, set your intention to go for it around April 7 and follow up by focusing on making your desires a reality. The more you focus on being true to yourself, the more successful you're likely to be.
---
Capricorn: The electrifying New Moon on April 7 requires you to be courageous and make a bold change, especially where your home and family are concerned. This is the time when you need to break an old pattern, shake things up a bit, and be open to doing things differently. Freshen up the energies at home and change the way you relate to another, where necessary. Interestingly, the more you go with what needs to happen, whether you initially welcome it or not, the more likely you are to enter a celebratory place in the weeks ahead.
---
Aquarius: There's likely to be a lot going on in your head, especially around April 7 when an electrifying New Moon gives rise to revelatory thoughts and ideas. Throw out the old rulebook as April calls you to do things differently. Aquarians thrive when they can be innovative and off the wall, so this should be a good time for you. It is probably best summed up by Albert Einstein: "The world as we have created it is a process of our thinking. It cannot be changed without changing our thinking."
---
Pisces: April brings changes of a financial or material nature. Perhaps this is the time to see the world of money – and your relationship to it – differently. Consider exploring how to become more financially empowered. Or maybe it's time to change what you're doing so that you can earn your living in a way that better matches your values. This is a great week to turn over a new leaf, financially speaking, and create a positive mindset that enables you to manifest more of what you need.
---
For more information about your Horoscope and what the stars
have in store for you, order one of our detailed
Astrology Reports for Couples!