#Horoscope #Aries #Taurus #Gemini #Cancer #Leo #Virgo #Libra
#Scorpio #Sagittarius #Capricorn #Aquarius #Pisces
#Horoscope – overview of this week
The Center for the New Age is pleased to present
your Free Weekly Horoscope for April 17 — April 23, 2016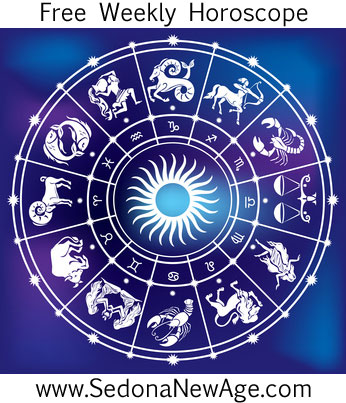 Receive our Free Weekly Horoscope in your Inbox

---

Aries Taurus Gemini Cancer Leo Virgo Libra Scorpio Sagittarius Capricorn Aquarius Pisces
April 17 Mars goes retrograde until June 29th urging us to face up to those heated events of the past, particularly regarding the actions of the past couple of months. Those who have overextended themselves may be due for a recreational healing period. During this period, beware of the tendency to act on dangerous impulses, as Mars retrograde is not a good time to take risks which may lead to disruptive and sometimes fateful accidents.
Mercury in Taurus trine Pluto in Capricorn (April 17 – April 23) brings favorable news and optimistic discussion around issues of control and power. This is a favorable aspect for attempting communications with those of another generation, and to put the message out there wherever the gap exists. This aspect brings hope like a gift, and although the myth of Pandora's box shows hope as an illusion and one of the dark mysteries of our souls, at times like the present hope regenerates our senses and fills us with the potential for triumph.
Venus in Aries trine Saturn in Sagittarius (April 18 – April 28) brings the timely gift of responsive and enduring love. Paradoxically, it also allows for some peace in the closure of a love relationship. Genuine love, when given without expectation, will return naturally, and bring love into your life. It is also wise to remember that the best love is given by a person who genuinely loves and respects the self foremost.
April 18 Pluto goes retrograde until September 26th. Pluto deals with the changes that occur in attitude concerning the overall group consciousness of each of the generations. Each generation has its own insight as to what hardship represents. This is a time to make life better by consciously transforming fear into determination and despair into belief in oneself, no matter what condition of fate surrounds us. The destructive habits, prejudices, sufferings and haunts of previous generations must be addressed and altered to suit our abilities to tackle the world of the future. Pluto retrograde forces us to look within; this is a good time to confirm our greatest strengths by directing abusive patterns into constructive and useful disciplines that will reshape and bring hope to the youthful outlook that is emerging.
Venus in Aries square Pluto in Capricorn (April 19 – April 28) usually involves difficulties such as loss or death of a loved one, and the obstacles of rejection and general oppression concerning those aspects of life to which we are undeniably attached and we hold dear. If something of this nature is occurring for you at this time, it is best to recognize that love will triumph in ever dimension despite the pain of separation, or the disease and strife of the beloved. To make matters worse by denying this process of life is to prolong the pain and make worse the necessary transformation that must occur.
Full Moon in Scorpio on Friday brings about moods that are intensified. As the lunar fullness builds to a crescendo of emotional dramas, our emotional patterns are being played out in interesting ways. Intense desires – and what provokes them – reveal a lot about who we are and what we need to appease the satisfaction-hungry inner child. Silly entertaining fun, and off-the-cuff kinds of play and humor are good medicine in this situation.
Aries Taurus Gemini Cancer Leo Virgo Libra
Scorpio Sagittarius Capricorn Aquarius Pisces

For more information about your Horoscope and what the stars
have in store for you, order one of our detailed
Astrology Reports!
Free Weekly Horoscope for your Sign
Aries: A change is as good as a rest, and this week offers the opportunity to jazz things up a bit, perhaps with a new hairstyle or by seeking ways to liven up a relationship. There's little danger of things being stagnant now; instead, the potential problem is that you could wind up feeling guilty around the time of the Full Moon on the 22nd if you don't act with care and attention, especially toward other people's feelings. Forewarned is forearmed, and by being mindful of others, you should still manage to avoid upsetting people while getting what you want. If all should fail, however, remember the power of a heartfelt apology and try not to brood over past mistakes. What's done is done.
---
Taurus: The Full Moon occurs in your opposite sign on April 22 bringing clarity and transformation to a confusing relationship issue. This is a good point to work toward creating balance and understanding between you and a partner. Consider what you want and what the other person needs. Does your relationship need more attention? Have you been too wrapped up in yourself and your own world, or do you need to give yourself more priority? Use the end of the week to consider your place in the world and what you want while remembering to also take the needs of others into account.
---
Gemini: Rather than succumb to guilt or other negative, passive feelings of victimhood, focus on courage. What do you need to do to change the situation? Forgive yourself for your mistakes (and others for theirs, while you're at it) and then focus on positive, constructive actions. Life may not be easy right now, but easy lives never produce people who make a difference. Adversity toughens us up, making us more inclined to do something with life. Remember this whenever you feel like giving up.
---
Cancer: Mars turns retrograde this week effectively halting your progress in your work and everyday life. Health issues may also arise, so pay attention to your body's messages right now. To avoid a period of frustration during this transit, examine the way you use your energy. Are you doing too much or too little? Do you strive too hard in your work and now need time to rest? Have you been using your energies wisely and productively, or have you scattered them or been heading in the wrong direction? See this retrograde Mars transit as an opportunity to check in with your body and to improve your physical health, and at the same time, assess whether you're spending your days in a way that makes you truly happy and fulfilled.
---
Leo: An overly structured approach to life rarely works, largely because what life wants for us and what we think we want are often two different things. If your creative efforts seem blocked, maybe it's because they're not what your heart really wants or it's not the right time. Saturn and Mars combined will conspire to block you, so what's needed is a very fluid approach; be like water, and flow around the obstacles. You may or may not get to the place you had in mind, but at least you'll get somewhere.
---
Virgo: This is a good week to practice the Buddhist philosophy of nonattachment, especially if others are posing certain challenges. People don't always behave in the way we want them to, but we can make life a lot less stressful by giving others permission to be themselves and to do things their own way. It may also help to trust that everything is unfolding in the way it's meant to and that you don't need to try to control the outcome. The message for this week is to relax and let go. Focus less on what others are doing and more on your own path.
---
Libra: This week, your ruler Venus spends most of her time sandwiched between powerful Pluto and unpredictable Uranus. This is unlikely to be a pleasant place, but if you allow these two planets to take you on their journey, you might emerge on the other side feeling reborn and revitalized. Don't be afraid of change and transformation. Be willing to make a space in your life for new things to emerge, and remember that if something is right for you, it won't leave you.
---
Scorpio: The Full Moon on April 22 is an opportune time to take stock and adjust your course, if necessary. It's also the time when you can set yourself free from a restrictive situation. Perhaps you've felt stuck or trapped for a while. If so, this week is likely to see you liberated and setting sail for a more positive, expansive and joyful future. Should you need any further encouragement or reassurance, remember that we tend to regret the things we didn't do.
---
Sagittarius: Patience is the key to success, so ease up on your expectations. Success is around the corner, so keep doing what you're doing to the best of your ability and the rewards will come. If there's one thing Saturn does, it's test people. As it journeys through your sign throughout this whole year, Saturn will test your patience, perseverance and determination, so if something knocks you down, get back up again. If there's a delay or an obstacle, find a way around it. If on some days life just seems plain hard, remember that you're being tested. All initiates have to be tested to see if they're worthy, so keep telling yourself, in the words of Friedrich Nietzsche, "That which does not kill me makes me stronger."
---
Capricorn: The Sun moves into your house of fun on April 20, setting the tone for a much lighter and more enjoyable time ahead. Seize your opportunity to enjoy yourself, to work a bit less, and to engage in activities that make you feel glad to be alive. The Sun's journey through your fun zone seeks to remind you of the importance of a playful spirit. When we stop taking everything so seriously, life becomes a journey to be enjoyed rather than a test to be endured.
---
Aquarius: The Full Moon on Friday puts the focus on success and what it means to you. Do you feel that you are being successful, or is there more to do? Is it a healthy kind of success, or does your personal life suffer for your professional endeavors? This is a good week to look at the balance between your home life and your role in the world at large. You might feel determined to go after what you want, but take care if the desire for increased material security comes into the picture because this could be an illusion that leads you away from what really matters. Spend some time going within to access your wise quiet voice, and don't allow insecurity, fear or doubt to influence your choices.
---
Pisces: When we are happy and content at a very deep level, we can be happy anywhere. The current challenge posed by the planets is to find your place in the world, whether that's the four walls you live in or about feeling secure in your own skin. You may be experiencing some confusion over your identity and purpose in life; if so, it's a sure sign that you need to return to base and spend time getting to know yourself, for that is where everything else falls into place. By the time you get to the end of the week, the Full Moon should have helped to bring clarity to any sense of confusion and disorientation.
---
For more information about your Horoscope and what the stars
have in store for you, order one of our detailed
Astrology Reports for Couples!