#Horoscope #Aries #Taurus #Gemini #Cancer #Leo #Virgo #Libra
#Scorpio #Sagittarius #Capricorn #Aquarius #Pisces
#Horoscope – overview of this week
The Center for the New Age is pleased to present
your Free Weekly Horoscope for April 24 — April 30, 2016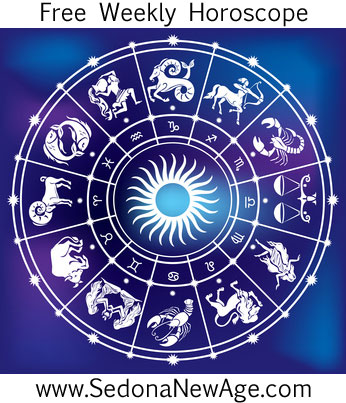 Receive our Free Weekly Horoscope in your Inbox

---

Aries Taurus Gemini Cancer Leo Virgo Libra Scorpio Sagittarius Capricorn Aquarius Pisces
Mercury in Taurus goes retrograde on Thursday (April 28 – May 22) bringing communication breakdowns for issues around business, salesmanship, the practical feasibility of investments and keeping track of shipments and goods. A poor sense of timing in communications is always evident with Mercury retrograde, and important connections, often business related, are likely to be missed by minutes. The key to getting through the Mercury retrograde period is to anticipate trouble in relaying information. This is the time to pay careful attention to messages, and to not get bent out of shape when misunderstandings and setbacks occur.
Venus enters Taurus on Friday (April 29 – May 24). In the sign of Taurus, Venus is at home nurturing our sense of sensual pleasure and enhancing our appreciation of having valuable items, wealth and riches. Venus draws and attracts and Taurus represents material acquisition and containment. Now is the time to acquire, polish, clean and beautify the things that give us a sense of truly having something. To create beauty around oneself is to enhance a sense of well being; it's a human nature thing.
April 30, Last Quarter Moon in Aquarius encourages our conscience to have compassion for our kinfolk, to sort out what it means to assist and guide others. A kind word or a sympathetic ear has great healing power and oftentimes this promotes greater peace. This Moon beckons to us to find solutions to human problems and it connects us with the dichotomies and ironies of the human experience.
Aries Taurus Gemini Cancer Leo Virgo Libra
Scorpio Sagittarius Capricorn Aquarius Pisces

For more information about your Horoscope and what the stars
have in store for you, order one of our detailed
Astrology Reports!
Free Weekly Horoscope for your Sign
Aries: With the Sun now in your zone of money and resources, this is an appropriate time to focus on your material life and generate ideas to improve your situation. However, with Mars your ruler in retrograde, this isn't a great time to begin new projects or to try pushing forward in life. Think of it as more of a time to pause and survey your situation. Though it's a good time to make plans, don't be surprised if charging full steam ahead doesn't work. There is a way out of limiting situations, but it requires a shift in attitude, values, or beliefs rather than trying to batter down a wall.
---
Taurus: The Sun's return to your sign will feel like you've plugged into the cosmic battery: you'll have increased energy and motivation and a sense that a new chapter of life is beginning. Use this time to discover what you need next on your life journey and to push out into the world with your renewed energy and enthusiasm. Only fear, insecurity and suppressed emotions can hold you back, so try to be mindful of your fears and feelings and allow them expression when appropriate. By clearing your dark, heavy stuff, you'll find that you have more energy and enthusiasm to do what you want to do.
---
Gemini: Who is being too controlling: you, another, or both? The tension in your life is palpable, and while you might be trying very hard to keep it all together, the best advice as the Sun journeys into your zone of rest and relaxation, is to let it all hang out. So cry if you want to. Rest and get more sleep if you need it, or spill your emotions out to a friend or confidant. Expressing your feelings will be very cathartic for you now, so get talking, journaling, painting, singing or expressing yourself in whatever way helps. You may at times feel as if you're not getting anywhere, but the blocks are temporary and may be there to remind you that it isn't necessary to always be on top of things.
---
Cancer: With Mars and Saturn in your health and daily life zone, you might think life feels quite serious at the moment; yet seriousness is the one thing to avoid to be happy and healthy. A fun, playful spirit does much to counter the body's ailments and day to day challenges. The Sun moving into your social zone invites you to go out and play with people whose company you enjoy, and sometimes all you need to lift your spirits is to see a funny or inspiring film or spend an evening in the company of your dearest friends. If life is getting you down, take steps to bring yourself back up again. Then your challenges will seem doable.
---
Leo: In what way are you compromising yourself? Where are you going against your heart and settling for less? When we do something solely for the money but are left feeling empty inside, for example, we are compromising ourselves. Likewise when we stay in unhappy relationships or allow others to treat us disrespectfully, we allow ourselves to feel less than. Living a life that doesn't match our values is another way to be inauthentic. Saturn and Mars are calling you toward greater authenticity so that your life matches your essence. Take some time this week to look at making alterations that will enable you to live a more real life.
---
Virgo: This week you may face a case of an unstoppable force meeting the immovable object. The result, if you're not wise and cautious, could be quite unpleasant. Instead of trying to force something that's resisting, step back and try to figure out the lesson behind why you're being blocked. Perhaps what's going on is a manifestation of an unconscious belief, or maybe the timing simply isn't right, and the lesson may be one of patience. Look at your conditioning because what seems to be restricting you at present may simply be a mirror of your own belief that this is as good as it gets. When you can identify and reject a limiting belief, you may find circumstances begin to ease up.
---
Libra: The purpose of Saturn and Mars in your mental zone is to show you that your attitude counts for everything. Life will always bring challenges and obstacles; it's up to us how we respond. As the Sun journeys to the deepest area of your chart, you may not feel like responding in the most positive way, but stick with it; keep a positive and expectant mind, and circumstances will almost certainly shift in your favor. As Earl Nightingale said, "A great attitude does much more than turn on the lights in our worlds; it seems to magically connect us to all sorts of serendipitous opportunities that were somehow absent before the change."
---
Scorpio: Life is full of possibilities, but we don't always see them. Much depends on our state of mind and whether we're turned to a positive frequency. If we don't believe a dream is possible, chances are we won't see the opportunities. Conversely, if we are willing to break out of old paradigms and see what's possible, the chances are much higher for us to spot arriving opportunities. Your big challenge right now is to embrace a more authentic way of living and to be creative in your thinking so that you can bring about a more fulfilling future.
---
Sagittarius: Although the focus is on your work – and possibly your health, especially if you've been overdoing it – there is the ongoing theme of becoming the master of your destiny. Do you feel in control of your life? Is your work satisfying? If your home life happy? Do you feel your life is moving in the direction you want it to? If the answer to any of these questions is no, this is a good week to start making some small changes to affirm your control. The simple act of clearing and organizing can feel very empowering, so take charge of your office or your home. The more organized you are, the more in control you'll feel.
---
Capricorn: Mars heading backward through your unconscious zone is likely to reveal a self-defeating behavior you weren't previously aware of. Therefore, if you confront yourself when feeling upset or angry, rather than displace blame on others, you will slowly but surely start to become a master of your situation. Since so much in your life is governed by your unconscious programming, this is a very good time to become more aware of the ways you self-sabotage. In fact, just asking, "How do I sabotage myself?" could procure the truth. However, it's not all heavy stuff this week, because the Sun is still in your house of fun. This is bound to offset any out-bursts or upsets which can be ameliorated by using art or creativity to understand your inner dynamics.
---
Aquarius: For a car to run optimally, everything has to be in order, such as oil and water in the engine, fresh spark plugs and a fully charged batter. Each part of the engine serves an important purpose, and if one part doesn't function properly, the whole car will struggle to work efficiently. The same can be said of you. Are all the bits of your engine working properly, or do you need service? Check out both your inner and outer levels. Is there an area of your life that is out of balance? Are you giving too much energy to one thing and not another? Are you neglecting some aspect of yourself? Use this week to create inner unity, and you will find your energy and enthusiasm return to propel you forward once more.
---
Pisces: If you want to make headway on your path, you may first need to make sure you have a yin-yang sense of balance operating in your life. If you are in any way out of kilter – too much work and not enough play, too much indulgence and not enough moderation, too much spending and not enough saving, and so on – it will be difficult to move forward. Saturn and Mars are currently retrograde at the top of your chart, suggesting that you need to stop or at least slow down. First, check that you're actually heading in the right direction, and second, focus on any area of your life that is calling for your attention. If you feel that there's too much responsibility or you're no longer enjoying life, now is a good starting point for empowering a can-do attitude.
---
For more information about your Horoscope and what the stars
have in store for you, order one of our detailed
Astrology Reports for Couples!