#Horoscope #Aries #Taurus #Gemini #Cancer #Leo #Virgo #Libra
#Scorpio #Sagittarius #Capricorn #Aquarius #Pisces
#Horoscope – overview of this week
The Center for the New Age is pleased to present
your Free Weekly Horoscope for May 1 — May 7, 2016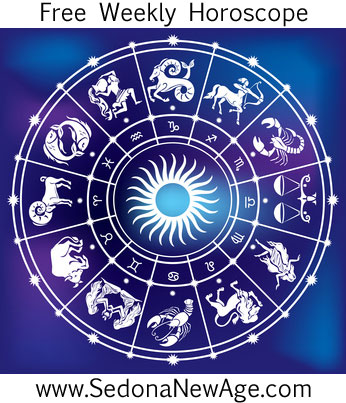 Receive our Free Weekly Horoscope in your Inbox

---

Aries Taurus Gemini Cancer Leo Virgo Libra Scorpio Sagittarius Capricorn Aquarius Pisces
This week is relatively quiet in the heavens with only the New Moon in Taurus on May 6 encouraging the acquisition of new possessions or emphasizing the necessity to restore, replenish and maintain the old ones. Personal contentment can be found in possessions. Search for the value of what you need and want. This serves as a good time to clean the bad energy off misguided objects of power. The Moon is exalted in Taurus and calls to us to enjoy the beauty that surrounds us, turn down the noise and go enjoy nature.
Aries Taurus Gemini Cancer Leo Virgo Libra
Scorpio Sagittarius Capricorn Aquarius Pisces

For more information about your Horoscope and what the stars
have in store for you, order one of our detailed
Astrology Reports!
Free Weekly Horoscope for your Sign
Aries: It's all about the money as the New Moon and Mercury retrograde highlight the financial area of your chart. New beginnings are in the cards but not before you've sorted something out, and now would be a good time to resolve any problems with money – especially longstanding ones. This is a good time for letting go of a few possessions that no longer resonate with you, as is releasing beliefs around money that are holding you back. On a practical level, this is a good week to go over your financial details and check bank statements. Once you've cleared the old – whether it's letting go of stuff you no longer need or releasing negative beliefs around prosperity – you will find that you can become more of a creator and less of a victim.
---
Taurus: With the New Moon in your sign on May 6, this is a good week to be thinking about new beginnings. With Mercury retrograde also in your sign, this isn't actually a good time to initiate anything new, but you could certainly think in this direction. It is more a time to go over stuff that needs your attention so that you can be free to move into the new when the time is right. This is a great week to clear your clutter, tie up loose ends, revise projects, repair and rethink. Once you've tended to matters that need concluding, you will find that later on in the month you'll be in a better position to create anew. The planets are calling you to participate, so if there's been any sense of withdrawal, isolation, or distancing yourself from life or people, this is the week to dissolve your barriers and get out there to make a difference.
---
Gemini: With the New Moon and Mercury retrograde in your zone of the past, this is a good week to bring closure to an area of life. Focus on clearing the decks to make way for the new beginnings that will emerge in the near future. This is also a time when your energy levels are unlikely to be very strong, so don't push yourself if you feel tired or in need of quiet time. This build up of planets in your private zone will instill the need to retreat from life for a little while so that you can recharge your batteries. It's a great time to meditate, go on long walks, lie in a candlelit bath, or curl up with a good book. The world will get on with its business while you rest, regenerate and prepare yourself for the new phase to come.
---
Cancer: With a New Moon in your hopes and wishes zone, it's time to set your intention for the future and lift your gaze to view the possibilities that are currently on offer. With Mercury retrograde, you could need to come to a decision before you can begin to move forward. This decision might involve a friend, a group, an organization or your social life. It's important to take a mature response and do what feels right. For example, it might be time to move on if you've outgrown the person or situation in question. Or you might need to sit down and talk things through in an adult manner. Ultimately, you need to be guided by the understanding that the more outgrown stuff you can cast off, the more able you will be to soar.
---
Leo: The focus is on your direction and the opportunity for new beginnings with your professional life and vocation, so where do you want to go? What are your ambitions? Do you need to alter your course? Mercury retrograde suggests that initially it won't all be smooth sailing. Perhaps there's a glitch that needs addressing or something that you need to revisit or bring to a close before you can head off in a new direction. It might be that you need courage to bring about your desires and ambitions. We don't always know what the outcome will be, but the chances are that if you take a calculated risk and follow you heart, all will work out well.
---
Virgo: Travel and adventure are your themes for this week and indeed much of the month, so if you can, pack a bag and head off somewhere that excites you. Be prepared for the odd hiccup, though, as Mercury retrograde in this zone hints at obstacles and delays. Double-check everything, and allow extra time for getting from A to B. It could also be useful to stretch your mind to accommodate greater possibilities. Now is the time to think big, push out of your comfort zone, and take risks that will make you feel better about yourself in the long run. Playing it safe is not an option!
---
Libra: The New Moon on May 6 is a cleansing and cathartic one, so prepare to shed your old skin. It's likely that you'll experience liberation from an emotional pattern or wound. All that's required for you to experience this liberation is to take off the mask of pretense and allow yourself to be both vulnerable and authentic. By letting go of your need to control something (yourself, a situation, an outcome, or a person), you give yourself and others freedom. It's likely that Mercury's backtracking through your psychological basement has unearthed something that needs dealing with. Perhaps it's jealousy, anger, fear, insecurity or some other kind of pain. This New Moon will enable you to heal it and move on.
---
Scorpio: The New Moon and Mercury retrograde put emphasis firmly on relationships and this is a good week to strive to change in at least one particular relationship or in the way in which you generally relate to others. Mercury's backward motion suggestions that you need to air your grievances so that progress can be made. Committed Scorpios can benefit from this transit by taking time out from the usual way of relating, which could mean engaging in some couple's therapy on a professional level or just the two of you taking time to sit and talk about where the relationship is going and what you want and need individually within it. Overall, it's a good week to talk and really listen to others.
---
Sagittarius: The New Moon in your work zone suggests the possibilities of new beginnings and opportunities, but it might be wise not to rush things, as Mercury is currently retrograding through this same area of your chart. This could suggest a mix of old and new vying for your attention or the need to resolve old stuff before you can progress with new opportunities. Try not to overstrain yourself since it looks as though there's a lot going on in your life at present. Try to keep some energy reserves. That way you'll be able to successfully navigate the trials while making the most of new possibilities.
---
Capricorn: The New Moon along with Mercury retrograde raises the question, "How much fun and joy are you experiencing?" If the answer is "not much," then you need to set to work. Life is for enjoying and now is the ideal time to sit down and figure out what you love doing. The best way to do this is to observe your energy. When you approach a task, does your energy rise or fall? Where do you feel pulled, and where do you feel down? As Shakti Gawain said, "Notice what happens when you follow your intuitive feelings. The result is usually increased energy and power and a sense of things flowing."
---
Aquarius: The New Moon and Mercury retrograde put the focus firmly on your home, domestic life and inner world. It could be that you feel stuck in some respect. Perhaps life at home isn't going quite as you planned. Perhaps on an inner level, you're feeling less than buoyant. Perhaps you can't make progress with a project of move forward in the way you would like. Mercury retrograding through this deepest area of your chart suggests that now isn't the time to push on but to pause and check in with yourself. For example, this would be a good time to reflect on your childhood or the past with a view to understanding some things that have happened to you. Forgiving others – especially your parents – and making peace with them is a good use of the current energies. Don't feel guilty if all you want to do is sit and contemplate, because reflecting is exactly what you need to do now.
---
Pisces: "Without leaps of imagination, or dreaming, we lose the excitement of possibilities. Dreaming, after all, is a form of planning" (Gloria Steinem). With a New Moon and Mercury retrograde in your mental zone, new beginnings and opportunities are most likely to come through an attitude that embraces positive belief and good use of your imagination. The downside of this cluster of planets in the zone of your mind is that life happens too slowly. If you find that you want something and it's not happening, you need to apply patience and remind yourself that things happen when the time is right. In the meantime, use your imagination to create your future.
---
For more information about your Horoscope and what the stars
have in store for you, order one of our detailed
Astrology Reports for Couples!