#Horoscope #Aries #Taurus #Gemini #Cancer #Leo #Virgo #Libra
#Scorpio #Sagittarius #Capricorn #Aquarius #Pisces
#Horoscope – overview of this week
The Center for the New Age is pleased to present
your Free Weekly Horoscope for May 15 — May 21, 2016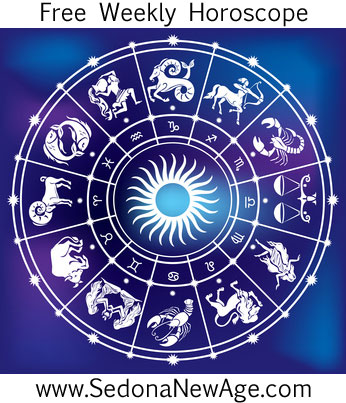 Receive our Free Weekly Horoscope in your Inbox

---

Aries Taurus Gemini Cancer Leo Virgo Libra Scorpio Sagittarius Capricorn Aquarius Pisces
Full Moon in Sagittarius on May 21 brings new insights about life, and emotional energy runs very high. For many, there is a tendency to go way out beyond the usual bounds and discover new territory as a matter of circumstance. How we chose to perceive and develop our understanding of this new territory has a lot to do with what stage in our life we have come to, and what kind of philosophy best suits our own individual needs.
Aries Taurus Gemini Cancer Leo Virgo Libra
Scorpio Sagittarius Capricorn Aquarius Pisces

For more information about your Horoscope and what the stars
have in store for you, order one of our detailed
Astrology Reports!
Free Weekly Horoscope for your Sign
Aries: You are still very much in a yearly financial peak. Your money house is very powerful – and chock full of beneficent planets. This is a week of happy money – money that is earned in happy and enjoyable ways and your personal creativity is more marketable now. Even though your social connections are more important than how much money you have, there is a transformative element to your life at present, and you could need to let go of something to make a big leap forward. As David Lloyd George said, "Don't be afraid to take a big step if one is indicated. You can't cross a chasm in two small jumps."
---
Taurus: Strive to become a master of your emotions this week as a feisty Full Moon in Sagittarius in your zone of the underworld could unleash buried passions. Be mindful of how you react to triggers. If you feel the flickers of anger, jealousy, hatred and so on, see whether you can go into the feelings to make them more conscious. Where do they come from? What's at the root? With Saturn already in this area of your chart, you are on an inner journey to find and release those monsters lurking in the shadows. Actually, when you find them, they might not be monsters at all, just frightened children who need a cuddle, so be kind to yourself and others, and you could find that the week ends far more successfully than it had a right to.
---
Gemini: The Full Moon on May 21 is likely to draw your attention to relationships, and it is possible that you'll see some level of conflict here. Fortunately, it should blow over fairly quickly. In regard to heated debates and angry outbursts, you might be better off by being assertive. Say how you feel at the time rather than ignoring it, because things tend to fester and emerge at a later date. A balancing act needs to take place with everyone's needs taken into account. Get clear on what you want, and listen to what the other person wants. By putting yourself in another's shoes while making sure that your needs are being taken into account, you might find that what begins as a conflict can be resolved into a satisfying result for both of you.
---
Cancer: If you didn't slow down last week, then this is the week you will pay the price. The Full Moon in your health zone is likely to bring a matter to a head, and it could be that this is the point where your body says it needs a rest. If you're finding that life won't "do" as you want it to – your health, work or day-to-day life – it might help to see whether there are issues of control at the root of it. You, Cancer, like to be in control, and it might be that you have become too fixed or rigid in your approach. Could you soften a bit or be more flexible? Remember that the tree that doesn't break in the storm is the one that bends the most.
---
Leo: The Full Moon on May 21 should be beneficial in bringing clarity and illumination to a previously confusing matter. Anything involving children, creativity or your own sense of authenticity will be illuminated around this time. Perhaps this Full Moon is asking you to become a master of your destiny instead of a victim of fate. So what can you do to take charge of your life? This is perhaps the most important question you can ask yourself this week.
---
Virgo: What are you putting off that you could start now? Many of us are masters of the art of procrastination, so you might need to give yourself some gentle encouragement when you are tempted to give in to a pleasurable distraction rather than knuckle down and do what needs to be done. Remember that Jupiter in your sign wants you to push out of your comfort zone, broaden your horizons, and believe that you're entitled to more, whether it's a happier and more successful life, a more fulfilling vocation, a healthier body, or satisfying relationships.
---
Libra: There is a lot of movement in your life now. New vistas are opening and you will be meeting people from different cultures and nationalities. You are greatly influenced by a person from an entirely different background. This person may play the role of a guru or mentor and will have a huge impact on your life, encouraging you to be calm, proactive and relaxed in your dealings with others. You want to evolve into a person of consequence and the Full Moon on Saturday will help you to be clear about your ambitions and how to work towards achieving all that you want to be.
---
Scorpio: The Full Moon on May 21 brings illumination to a financial matter. Hopefully, you've used the past few months to make solid plans as you can now start putting those plans into motion. Hopefully your stress will dissipate along with the financial improvement and it will have a positive effect on your health. You should still try to get as much rest as practical and certainly avoid getting overtired. Don't try to run the car on an empty gas tank. In many cases what seems like a serious health problem on the surface is cured by a good night's sleep or a brief vacation. It was never a real health problem, though there might have been symptoms. It was a low energy problem most probably caused by financial stress.
---
Sagittarius: This is likely to be an interesting week with the days around May 21 of particular importance. If you feel stretched at both ends, the Full Moon on Saturday is likely to see an eruption of some sort. This might take others by surprise but really, when we look at how much life has been demanding of you, it's perhaps no surprise at all. Once you've had your blow out, don't allow things to return to their status quo. Instead, see how you can make your life function better.
---
Capricorn: The Full Moon on Saturday is likely to bring a head to a stressful situation. This could result in a surprising expression of emotion on your part – but better out than in, as the saying goes. Don't be afraid to release pent up feelings. It could be that those feelings have been lying dormant for some time. It can also help to realize that you're not personally responsible for setting the alarm clock for the Sun to rise each morning. If you let go of one or two of your responsibilities, would everything really collapse, or is that your fear speaking? Give yourself permission to rest and play, and you will avoid much of the potential tension of the week ahead.
---
Aquarius: The Full Moon in your social zone is liable to strip away pretense and illusion. Perhaps someone isn't who he or she seemed, or perhaps it's you who feels able to step forward and express yourself authentically. Certainly it looks as though a confusing or uncertain situation is about to have the spotlight of truth shone on it. This might involve a friend, a group, or an organization or it could relate to a dream you have about the future. What these all have in common is the need for you to be courageous and do what has to be done.
---
Pisces: The Full Moon at the top of your chart on Saturday puts the focus on success, work and achievement. At the same time, you are asked to balance work and home, the inner and outer, and the public world and your private life. If you don't have balance this week – around the Full Moon in particular – you could feel a bit like an outsider, probably in the area that you've been neglecting. Alternatively, you could feel alienated from a situation because it's the universe's way of telling you that you need to back off and focus your energies on more important things.
---
For more information about your Horoscope and what the stars
have in store for you, order one of our detailed
Astrology Reports for Couples!