#Horoscope #Aries #Taurus #Gemini #Cancer #Leo #Virgo #Libra
#Scorpio #Sagittarius #Capricorn #Aquarius #Pisces
#Horoscope – overview of this week
The Center for the New Age is pleased to present
your Free Weekly Horoscope for May 29 – June 4, 2016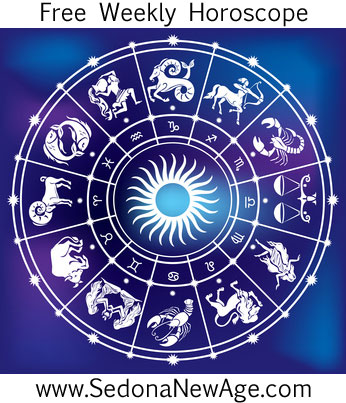 Receive our Free Weekly Horoscope in your Inbox

---

Aries Taurus Gemini Cancer Leo Virgo Libra Scorpio Sagittarius Capricorn Aquarius Pisces
Last Quarter Moon in Pisces on May 29 brings a dreamy sort of atmosphere. Waning Pisces Moon tends to keep us entranced by those areas of our life that bring depth and meaning. This is a good time to cleanse the spiritual cobwebs from our own lives. Reinforce personal fortitude with the strength to overcome additions by using sheer willpower and belief.
Mercury in Taurus trine Pluto in Capricorn (May 30 – June 4) brings resourceful thoughts and communications that will have powerful results. This aspect brings hope like a gift, and the myth of Pandora's Box shows us that hope regenerates our senses and fills us with the potential for triumph over difficulties. Mercury in Taurus gives a very practical and logical quality to our methods of communicating. This would be a good time to share tales of triumph, spreading those miraculous stories that remind us of the great potential of winning against all odds.
Venus in Gemini square Neptune in Pisces (June 3 – June 12) may be a difficult or extra busy time to be drawn to or to meditate on spiritual matters or activities. Art with a spiritual approach may appear more phony than ethereal. Feminine expression may be set back by antiquated beliefs. Love matters could be rocky due to a conflict of beliefs.
Venus in Gemini opposes Saturn in Sagittarius (June 4 – June 11) and this brings daring, assertive and sometimes impetuous expressions of love at odds with the even-tempered scrutiny of restrictive types of discipline. While there is a very strong need to attain a sense of beauty, there is also a constantly forceful and obsessive compulsion to press on with work and vital responsibilities. This may be a difficult time for some to feel in tune with loved ones, and career related disciplines may be impeding on recreations needs and desires.
Venus in Gemini square Jupiter in Virgo (June 4 – June 13) brings love and attraction (Venus) into difficulty or hard work (the square aspect) over the need for prosperity, growth and jubilation (Jupiter). This aspect may create an obstacle to acknowledging the expenses incurred by our attractions and love-needs. It reminds us that something more than love's blindness is required in order for us to fully realize our riches and the value of what we care about most.
Aries Taurus Gemini Cancer Leo Virgo Libra
Scorpio Sagittarius Capricorn Aquarius Pisces

For more information about your Horoscope and what the stars
have in store for you, order one of our detailed
Astrology Reports!
Free Weekly Horoscope for your Sign
Aries: As William Shakespeare wrote, "There is nothing either good or bad, but thinking makes it so." The judgments, attitudes and beliefs we attach to things determine whether we feel positively or negatively about them. If there is a situation that is currently getting you down, try seeing it from a different perspective. A positive mindset this week that says, "I can do it" or simply a gentler and more peaceful mind will reflect your good attitude back to you in the form of increased opportunity for happiness and success.
---
Taurus: Become empowered as you ask yourself how much you are worth. The more you value yourself and what you have to offer, the more the world will reflect that back to you in the form of increased prosperity, respect and admiration. Examine your fears and insecurities so that you can begin to surge forward and receive what you are entitled to.
---
Gemini: You are in a fantastic creative phase this week. You want to experience every vista of life and leave no stone unturned leading to significant, life-changing encounters around the Last Quarter Moon on Tuesday. When you're not busy enjoying yourself, and have extra time, you'll get the chance to bring completion to something – to put the final piece of the puzzle into place. This could feel like a satisfying week when loose ends are tied up, progress is made and opportunities for pleasure and enjoyment continue to present themselves.
---
Cancer: As the month of May ends, you may broaden your scope of work with new ventures in the offing. And your actions are tempered by kindness as you experience a need to help out the less fortunate. The universe has sent you the message of humility and you touch all your ventures with it. As June arrives, it will pay you to rest a bit more. James Freeman Clarke offers advice on creating better healing: "Never hurry. Always be cheerful. Take all the sleep you need. You may expect to be well."
---
Leo: "Try not to become a man of success, but rather, try to become a man of value" said Albert Einstein. The Last Quarter Moon on Sunday approves of your dwelling on the lighter aspects of life. You are not particularly disciplined and are not in the mood for hard, sustained work because you feel like stepping back from the hurly-burly of life and having fun. However, life is full of possibilities, but it takes courage to grasp on to them. After your days of fun and games, keep that thought in mind.
---
Virgo: The Sun and Venus make a beautiful conjunction at the top of your chart, putting the focus on success and achievement in a beautiful, relaxed and creative kind of way. There's no need to overdo. Just follow your passion – whatever it is – and the helpful alignments of the planets will do the rest. You are inspired and your creativity is in full bloom. Spending time with family and loved ones provides enormous enjoyment and relations with women, regardless of your gender, is unusually powerful and beneficial at this time. An active and hectic month is ahead, so be prepared.
---
Libra: Have you thought about taking a trip and expanding your mind through travel or new experience? Maybe take up a course of study and learn something new? It need not be a big commitment; sometimes a day workshop or a weekend conference is all that's needed to brush away the cobwebs and see life in a different, more expansive way. This is a period of ideating; you are not actually in an action mode. Action will come later but you have to get the blueprint organized first.
---
Scorpio: Something has to change, and Mars in your sign will be most timely in helping you to get proactive and make some changes, so what do you need to wrestle with? Where do you need to apply energy and motivation? What do you need to overcome? It's time to face inner demons as much as outer ones and push yourself to do what you know needs to be done.
---
Sagittarius: As the month of May ends you enjoy spending time with friends and family and let the softer side of you take over. A beautiful conjunction of the Sun and Venus aligns in your relationship zone. If you are wise (which you are!), you'll make more time for your partnerships and enjoy spending time with those you love. The first few days of the week is not a time for concerted, focused action. This could be a very romantic time, so align your heart and mind to love and let cupid's arrow work its magic.
---
Capricorn: Most of the planets are now in the Western, social sector of your chart. This means that the planetary power is moving away from you rather than towards you. The softer side of you is emerging keeping your emotions in control and your reactions mature and deliberate. You project warmth and concern and are easily able to relate to others. This is the time to take a vacation from yourself and let others have their way so long as it isn't destructive. Your good will come from others and their good graces and not from your initiative or personal abilities. A new foreign posting, immigration, a holiday, even a home away from home might very well be in your cards.
---
Aquarius: This is a great time for laying a foundation for future projects and as the month ends, you are on a roll. Your career is expanding. You're being elevated. New and happy opportunities are coming, although most probably with a delayed reaction as Pluto, your career planet has been retrograde all month. Review things and see where improvements can be made both in your personal finances and in your environment. New opportunities need more research; don't just jump in.
---
Pisces: This week, turn within and connect with your inner self to experience a breakthrough regarding your internal comfort and security. The Last Quarter Moon will arouse your sensitivities and perceptions. You could even find yourself feeling quite at peace with the world. You can use this inner happiness and peace to reach out into your world and shape it accordingly. At the end of the week, the spotlight is cast on your home and family urging you to make this area more beautiful reflective of your inner harmony.
---
For more information about your Horoscope and what the stars
have in store for you, order one of our detailed
Astrology Reports for Couples!