#Horoscope #Aries #Taurus #Gemini #Cancer #Leo #Virgo #Libra
#Scorpio #Sagittarius #Capricorn #Aquarius #Pisces
#Horoscope – overview of this week
The Center for the New Age is pleased to present
your Free Weekly Horoscope for June 5 – June 11, 2016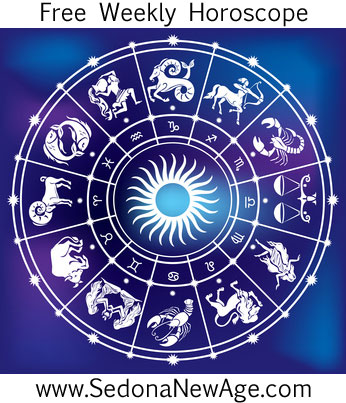 Receive our Free Weekly Horoscope in your Inbox

---

Aries Taurus Gemini Cancer Leo Virgo Libra Scorpio Sagittarius Capricorn Aquarius Pisces
New Moon in Gemini on June 5 allows for new thoughts and ideas to begin to flow; new feelings about the way we are thinking will begin to emerge. New Moons are like clean slates. It's time to begin a process of strengthening and celebrating your energy, to plan new vistas for growth, particularly the emotional well-being of your mental growth. This represents a time for paying attention to those newer thoughts, ideas and caprices in the wind. Making a new attempt at reaching out to an old friend or opening up communications with a new circle of friends will bring great new insights to one's field of knowledge.
Mercury in Taurus opposite Mars in Scorpio on Thursday (June 9 – June 16) is certainly not a time to lose one's temper. It may also be a particularly common time to observe a number of people doing just that! This aspect creates an acute awareness of the need to let the mind spout off with regard to heated subjects, but his is actually a time to be especially careful to watch what you say, preferably before you speak. Words can be easily taken the wrong way. This requires thinking before acting because this aspect generally brings arguments and debates concerning the actions or active thoughts of others. Mercury opposite Mars makes it difficult for some to justify their actions or explain why they take a certain stand in life. This is a good time to hold off on making comments that might be taken the wrong way, particularly around associates, customers and strangers.
Aries Taurus Gemini Cancer Leo Virgo Libra
Scorpio Sagittarius Capricorn Aquarius Pisces

For more information about your Horoscope and what the stars
have in store for you, order one of our detailed
Astrology Reports!
Free Weekly Horoscope for your Sign
Aries: There is a lot on your mind especially around the New Moon. There could be domestic affairs which need your immediate attention or children may be leaving home or there could be illness in the family with elders needing your attention. Your own health may need looking into, thanks to your indulges. All this aside, this is also a good time to catch up on old times perhaps with a friend or friends from your past.
---
Taurus: Prosperity is the theme of the week for you as a New Moon on Sunday invites you to embrace abundance, yet it would seem that you are postponing your entitlement to this. One problem with Taureans is their rigidity and their displeasure of change. "A closed mind is like a closed book, just a block of wood," says a Chinese proverb. Open your mind and heart to change. Be open to new knowledge, communicate furiously, make elaborate plans and look at new, altogether different road maps!
---
Gemini: The big themes of life – relationships, work/direction, and home and family – are all highlighted at present. It could be a tricky balancing act to keep them all on an even keel. At the same time, the New Moon in your sign on June 5 urges you to focus on what you want, which might be challenging when so many other people and situations are vying for your attention. Do what you can for others, but remember the importance of carving out some time for yourself. We can be of little use when we're not firing on all cylinders.
---
Cancer: There is an ebb and flow to nature. The tide doesn't constantly come in, and this is the time of year when your tide is going out. If you can enjoy a bit of quiet time, your batteries will recharge faster, and you'll be ready for the new opportunities that will come later in the month. If you're not feeling great, this is a time when you will benefit from taking better care of yourself and perhaps looking at your daily life to see how you can tweak things so that they work better for you.
---
Leo: Your instincts are heightened under the New Moon and this could lead to wrong assumptions on your part. You may then work on these assumptions and act recklessly. Impulsive behavior could lead to trouble so take care and watch your step. On the other hand, this is also a week rich in possibility that requires you to be brave, bold and resilient. Windows of opportunity come and go so don't sit around too long wondering and waiting. Decide what you want and then take a bold step in that direction. You will be amazed at how outside forces step in to help you on your mission.
---
Virgo: Now is the time when you can really press forward and be more of a presence in the world. This could mean creating or embracing new beginnings in your work or professional life, or it could mean following a dream that you have. Either way, it's certainly not the time to stay cozy in your comfort zone. Rather, face your fears and press on. As Anais Nin said, "Life shrinks or expands in proportion to one's courage." Jupiter in your sign is a constant reminder that this is the year when life is meant to expand.
---
Libra: Adventure is your theme for the week ahead as a glorious New Moon occurs in the expansive regions of your chart, but you might have to push to break out of your confines. Don't allow a negative attitude to stop you from living life to the fullest and experiencing new things. This is a great time to broaden your horizons by having different experiences and seeing or doing new things. Work to eradicate any guilt that blocks you from taking time out to replenish your spirit or that says what you're thinking isn't possible. If you believe in something, you're halfway to manifesting it.
---
Scorpio: Rebirth is the theme this week, and if you're hoping for a breakthrough, the New Moon on June 5 could be when you shatter the status quo and break into new pastures. It's certainly an opportunity to let go of the old – a situation, a relationship, or a way of being. If change feels scary, remind yourself to act boldly, and unseen forces will come to your aid.
---
Sagittarius: If you're feeling isolated or a bit like an outsider, the New Moon on Sunday brings an opportunity to forge deeper, more loving connections with others. Perhaps all you need to do is reach out to someone or make the effort to see things from another's point of view. Robert Brault offers good advice for where you are at now: "If I could do it over again, there would be a hand I'd take…and a silence I'd break." The advice for you is, "Act accordingly!"
---
Capricorn: "Put your heart, mind, intellect and soul even into your smallest acts. This is the secret of success." Swami Sivananda's wise words could also contain the secret of happiness. When we love what we do, life is so much more enjoyable. The New Moon on Sunday brings opportunities for a new start relating to work. This suggests that you can enjoy your daily tasks much more by being mindful of what you are doing.
---
Aquarius: "Always be a first-rate version of yourself and not a second-rate version of somebody else." Jud y Garland's quote sounds easy enough, but it can be difficult to be true to yourself. Society expects certain things of us. Our partners and family cast us into roles, and childhood programming sometimes tells us not to expect too much of ourselves. So what can you do as a New Moon in your zone of authenticity kicks in? Well, you could start by being determined to march to the beat of your own drum, and dare to be who you really are!
---
Pisces: In general, if things aren't right at home, it's difficult for life to flourish in the outside world, so spend more time enjoying your family. The New Moon on Sunday is an opportunity to embrace a new start or a fresh approach to matters connected with your home and family. It could also be seen as an opportunity for a new phase of life, especially if things have felt stagnant recently.
---
For more information about your Horoscope and what the stars
have in store for you, order one of our detailed
Astrology Reports for Couples!