#Horoscope #Aries #Taurus #Gemini #Cancer #Leo #Virgo #Libra
#Scorpio #Sagittarius #Capricorn #Aquarius #Pisces
#Horoscope – overview of this week
The Center for the New Age is pleased to present
your Free Weekly Horoscope for June 12 – June 18, 2016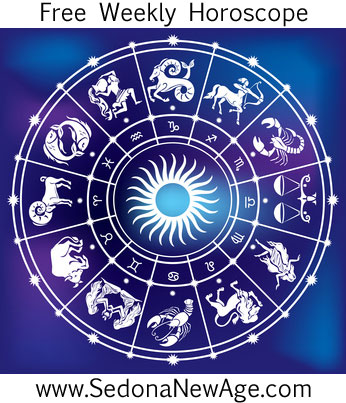 Receive our Free Weekly Horoscope in your Inbox

---

Aries Taurus Gemini Cancer Leo Virgo Libra Scorpio Sagittarius Capricorn Aquarius Pisces
On Sunday, the First Quarter Moon in Virgo brings about a strong investigative curiosity emphasizing the need to maintain fluidity both on a logical and practical level of application, especially when passing on information.
Sunday, Mercury enters Gemini increasing our attention to detail and covering a wide range of interesting topics. Mercury is at home in Gemini and it directs information – like food for the brain – in an exciting and captivating way.
Neptune goes retrograde on Monday (June 13 – November 19). Neptune harmonizes spiritual vibrations and represents intuition and higher feminine wisdom. While Neptune is retrograde, many of the spiritual issues that have come up in the last five to six months will reoccur. Be aware of the frequency of escapist tendencies and of the inclination to internalize deep-rooted spiritual matters. Be careful not to blindly disrupt the core of another's belief system, nor to become ensnared by someone else's blindness with regard to your own beliefs during Neptune's retrograde months.
Venus enters the nurturing sign of Cancer, an appropriate place for the expression of love and affection, on Friday (June 17 – July 12). It invites those with rocky love relationships to patch things up, and to do so with more heart and less uncertainty. Venus in Cancer encourages our affections and affinities to be carefully placed and nurtured. When attractions occur, they will have a lasting impression and will seem very strong and emotionally sound.
Saturn in Sagittarius square Neptune in Pisces on Saturday is the strongest planetary aspect occurring in all of 2016. Saturn represents the ability to focus, to keep track of time, to apply discipline, and to exercise authority. Saturn's influence also assists us to accurately determine our perimeters and limitations. Neptune connects us with the higher and more spiritual realms of the universe where there are no boundaries that can be compared to the world of harsh physical realities and the demands of time. The square aspect creates tests and challenges in achieving hopes and dreams and may produce delays and restrictions from other people or events. Only time, self-discipline, patience and persistence will overcome any fears and lead to the achievement of your hopes and dreams while Saturn is square to Neptune.
Aries Taurus Gemini Cancer Leo Virgo Libra
Scorpio Sagittarius Capricorn Aquarius Pisces

For more information about your Horoscope and what the stars
have in store for you, order one of our detailed
Astrology Reports!
Free Weekly Horoscope for your Sign
Aries: The Sun, Venus and Mercury in your zone of the mind urge you to put your attention firmly on the here and now, as there is much opportunity to be found in being present. Thus, if you're distracted by something that should be forgotten, then let it go. Aries are usually pretty good at living in the present, but we can all get bothered by things that happened to us last week or allow our attention to drift back to happier times. Make it your mission to stay present. That way, you will not only be more relaxed, but also more likely to embrace opportunity when it comes along.
---
Taurus: The universe will pay you to do what you love. If money is short or you do not love what you're doing, ask the question: "What do I love?" Allow your answers to guide you toward a more prosperous and joyful future. If you still feel there's room for improvement once you've answered this question, next ask yourself: "Do I value myself enough?" We usually get the amount of money that corresponds with what we feel we're worth, so if you love what you're doing but are still struggling to pay your way, you might benefit from looking at yourself in a better light.
---
Gemini: The Sun, Venus and Mercury give you permission and encouragement to do what you enjoy and to focus on yourself a bit more, so don't worry unduly what others might think if you want to go your own way for a bit. Saturn in your opposite sign encourages both independence and commitment, so depending on which is your weaker area, the chances are that events will challenge you to set boundaries or drop your fears regarding a partnership. Don't be afraid to go it alone if you need to, and at the same time, don't be afraid to reach out to others for help.
---
Cancer: There is more stability now but be aware that tendencies from one week often spill over into the next. With a cluster of planets in your zone of meditation, it is advisable to slow your pace. Make time for turning within so that you can recharge, listen to your inner voice, and find a sense of inner peace. With work there is money to be made. You are aware that there are opportunities, but right now is not the time to pursue them. Life is pretty hectic at the best of times, and we all need a break from it. This is your time to slow down, rest and relax at least until the weekend when things will change with Venus entering your sign.
---
Leo: What's your hope? What's your dream? Has it languished for so long on the backburner that you're in danger of forgetting it? A cluster of wonderful planets in your zone of the future is very auspicious for you, but to manifest its golden opportunities, you might need to be courageous in order to make the changes and do what you need to do. If you have any doubts, simply listen to your inner voice. It will guide you in the right direction.
---
Virgo: The Sun, Mercury and Venus at the top of your chart bodes well for all professional ventures and ambitions, but you will probably have more success if you feel your way forward slowly rather than pushing or striving. There should be no difficulty in what you do this week; otherwise you could wear yourself out or find that what you're grasping at slips from your hands. A gentle approach to your desires will work wonders. Let's also remember that life is for experiencing which means being present enough to enjoy what's going on right now rather than fantasizing or worrying about some point in the future that might or might not materialize.
---
Libra: With the Sun, Mercury and Venus in your adventure zone, this should be a positive and optimistic time for you, so long as you can keep an ear out for any negative self-talk. Saturn is taking a long journey through your mind zone, which in some cases can manifest as depression, fear or anxiety. If you're suffering from any of these, the prescription might be to go somewhere to gain a new perspective and to breathe new life into tired situations. As Marcel Proust says, "The real voyage of discovery consists not in seeking new landscapes but in having new eyes."
---
Scorpio: We all need to periodically shed our skins so that we can emerge into the world in a new way. This is often easier said than done even though Scorpio naturally represents the need to transform. One of your symbols is the phoenix. Mars retrograding through your sign suggests that you can't move forward until you've addressed a particular issue and either transformed it or consigned it to the furnace. There is nothing to fear, though, because as soon as you let go, the new will begin to emerge.
---
Sagittarius: While Saturn's journey through your sign will be helpful in the sense of enabling you to make constructive changes to your life, take on more responsibility, or give you the strength to deal with challenging situations, the danger is that you might be becoming too stiff or serious. There is much more to life than being on top of things, and this week as the Sun and Venus enjoy themselves in your relationship zone, your best medicine would be to chill out with the people you love.
---
Capricorn: The beautiful combination of the Sun, Venus and Mercury is a great omen as far as your work and health are concerned. If your work is at all creative, this should be a very enjoyable phase for you. You might find that you're on the receiving end of some ideas for positive changes. Jupiter and the north node of the moon at the top of your chart is another indication of success, but not without a challenge. It might be that this challenge or block has been bugging you for a while, but it is indicative of a rebirth, so hang in there; progress is around the corner.
---
Aquarius: Fun, pleasure, sensuality, art and creativity – how much of these are you experiencing at present? As the Sun, Mercury and Venus journey through your house of fun, you are being invited to remember that the purpose of life is to enjoy it. While some believe that we are here to suffer, it would be a strange god who wanted his children to be miserable so dispense with any guilt you have about engaging in fun, and make this a week to simply enjoy.
---
Pisces: This week could be a time to complete something, but you might need patience for the last t's to be crossed and the final i's to be dotted. There is a great outlook now for new beginnings, especially in your home and domestic life. The more beauty and harmony you can focus on this area, the better. It's a good time to make your home more beautiful, for example, or look at how you can create more peace and harmony around you. Likewise with your family, is there a relationship that could be more harmonious? This is a great week to practice patience with those you love and to help create more beauty in your surroundings. Doing this will lift everyone's vibration!
---
For more information about your Horoscope and what the stars
have in store for you, order one of our detailed
Astrology Reports for Couples!