#Horoscope #Aries #Taurus #Gemini #Cancer #Leo #Virgo #Libra
#Scorpio #Sagittarius #Capricorn #Aquarius #Pisces
#Horoscope – overview of this week
The Center for the New Age is pleased to present
your Free Weekly Horoscope for July 3 – July 9, 2016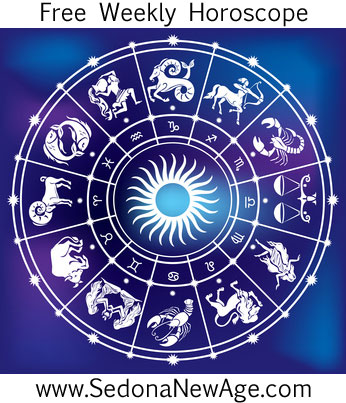 Receive our Free Weekly Horoscope in your Inbox

---

Aries Taurus Gemini Cancer Leo Virgo Libra Scorpio Sagittarius Capricorn Aquarius Pisces
New Moon in Cancer on July 4 beckons to our moods to tune into newly emerging feelings about ourselves. The new Cancer Moon invites new desires to nurture the child within and build up a fresh outlook on our home life. Cancer focuses on the nurturing strength of the mother. This is a good time to bring new things to the home and brighten up one's outlook with nurturing and uplifting moods and feelings.
Mercury in Cancer trine Neptune in Pisces (July 5 – July 9) brings thoughtful and engaging discussions and intuitive knowledge and perception. Communicate about spiritual needs with helpful counsel and receive gifts of renewed faith in your own beliefs. Spiritual affirmations and important messages may seem complex while these planets are in the trine position, but they are designed to ease the mind and comfort the heart. This is a superb aspect for discussing personal philosophies and metaphysical subjects.
Venus in Cancer trine Mars in Scorpio (July 6 – July 18) brings love in action. When Venus and Mars are well harmonized by this ideal aspect, there is a greater opportunity for peace and healing in relationships. There will be lots of excitement as well as clever, imaginative and thoughtful love at play.
Mercury in Cancer opposes Pluto in Capricorn (July 7 – July 12). Emotional perspectives of the intense and grotesque aspects of the news may be emphasized, causing horror, fascination, realization and for some people, a kind of triumph as well. The news highlights power issues and the ensuing struggles for a breakthrough. Mind boggling awareness abounds as the need to comprehend awakening powerful issues comes through in our thoughts and discussion.
Mercury in Cancer sextile Jupiter in Virgo (July 8 – July 11) is a most favorable aspect that brings the potential to receive good news of expansion and prosperity to those who are open to broadening their awareness. Mercury brings news and talk while Jupiter brings wealth and prosperous advancement. It may be an advantageous time to ask for a job or a loan. The sextile aspect between Mercury and Jupiter indicates that opportunity is out there for both the employer and the employee.
Aries Taurus Gemini Cancer Leo Virgo Libra
Scorpio Sagittarius Capricorn Aquarius Pisces

For more information about your Horoscope and what the stars
have in store for you, order one of our detailed
Astrology Reports!
Free Weekly Horoscope for your Sign
Aries: Home is where the heart is. This motto takes on extra relevance as a lovely New Moon on July 4 puts the focus on your zone of home and family. This is an ideal time to make your home more beautiful, nourishing and aligned with your essence, perhaps with a bit of feng shui. When everything is right at home, the rest of life falls into place, so don't ignore your domestic life if it seems to call to you now
---
---
Taurus: "A great attitude does much more than turn on the lights in our worlds; it seems to magically connect us to all sorts of serendipitous opportunities that were somehow absent before the change" (Earl Nightingale). If attitude truly determines success, then this week's New Moon is good news for you, as it encourages you to clear the cobwebs from your mind and eliminate negative thinking. Now is the time to adopt a can-do attitude and to believe that anything is possible. With faith and perseverance, even the most unlikely ambitions can become reality.
---
---
Gemini: The New Moon in your zone of resources on July 4 is good news for your finances and anything connected with material matters. Now is a good time to attune yourself to the principles of prosperity and to make changes that will empower you in the long run. Perhaps you need to adapt a more mature attitude or a desire to turn over a new leaf. Whatever your financial situation, you can initiate positive developments by seeing your money as a garden that is time to lovingly tend.
---
---
Cancer: The New Moon in your sign on July 4 is your opportunity to blossom and celebrate. Perhaps you're realizing that there's more to life than duty and responsibility and that now is the time to step into your creativity and sensuality and to enjoy the beauty of the world. Pluto's opposition to this New Moon suggests rough waters ahead, possibly in the guise of someone testing you. Sail on anyway because this is all about your personal transformation, and the more you resist outside attempts to mold or manipulate you, the sooner you'll step into your own power.
---
---
Leo: As the planets line up in the zone of quiet repose, perhaps all you need is to rest awhile. Society expects us to be constantly busy and productive, but nothing in nature operates this way, so it's no wonder we have illness and depression. Honor what your body and soul ask for, and enjoy a little quiet time. Summon the courage to say no to people to preserve your heath and sanity. When you return to your duties, you will find you will perform them with greater enthusiasm and productivity.
---
---
Virgo: You might have a desire for participation, but something, it seems, is getting in the way. Perhaps there is something you need to resolve within before you are able to go out into the world and shine. However, it's a mistake to completely avoid the outside world, for this is where your potential currently lies, so as the New Moon develops around July 4, accept an invitation and engage in a little socialization. There is a balancing act between spending time alone and being with others, and this week, your biggest challenge is getting that balance right.
---
---
Libra: The New Moon at the top of your chart on July 4 is indicative of new beginnings and success in your goals and ambitions. You do, however, need to let go of anything weighing you down or holding you back before you can manifest this state of progress. There looks to be a tug of war between your past – childhood baggage, a nasty breakup, a fearful attitude, or a lingering attachment – and your future and since you can't go back, it makes sense to haul up your anchor and set sail to a new destination. Abundance awaits if you can manage to set yourself free.
---
---
Scorpio: Adventure beckons, but will you accept the invitation? Of course you will; you're a fearless Scorpio! You will probably have doubts, for that is only natural, but you just need to remember that staying in your comfort zone isn't working for you, and change is often good. So if you want to broaden your horizons by taking up a course of study or visiting new places, then do so. As Ralph Waldo Emerson said, "Don't be too timid and squeamish about your actions. All life is an experiment. The more experiments you make, the better."
---
---
Sagittarius: The New Moon on July 4 offers you the chance to release heavy emotions or situations, putting you on track to experience a rebirth. If you've felt that life has been hard for some time and made you weary, this New Moon will give you hope that things will soon begin to change for the better.
.
---
---
Capricorn: The New Moon on July 4 puts the emphasis on your relationships and brings the potential for positive changes. Perhaps you will get a chance to be more authentic because you are allowed to express yourself more openly and honestly or a limiting situation is ending. Sometimes we need to rebel and stand up for our right to be who we are. This could be one of those times.
---
---
Aquarius: The new Moon on July 4 invites you to welcome new beginnings in your health or your work. Problems in either area can be resolved now, although, with Pluto in opposition, you might have to dig deep to find the cause and the courage to face your inner demons. Once that's done, day to day life should begin to change for the better. Perhaps a health problem will improve, a situation at work will transform, or you will feel as though life in general is turning over a new leaf. The best philosophy to abide by this week is "out with the old, in with the new."
---
---
Pisces: With a cluster of planets and a New Moon in your zone of fun, this is the week to be playful and let your hair down. You have permission to indulge in activities that make you feel glad to be alive, even if it requires you to work less. It isn't healthy to be productive all the time; everyone needs to replenish their weary souls from time to time with rest, play, creativity and fun. Around the time of the New Moon on July 4, make it your mission to say no to what drains you and yes to what ignites your spark.
---
---
For more information about your Horoscope and what the stars
have in store for you, order one of our detailed
Astrology Reports for Couples!
---