#Horoscope #Aries #Taurus #Gemini #Cancer #Leo #Virgo #Libra
#Scorpio #Sagittarius #Capricorn #Aquarius #Pisces
#Horoscope – overview of this week
The Center for the New Age is pleased to present
your Free Weekly Horoscope for August 14 – August 20, 2016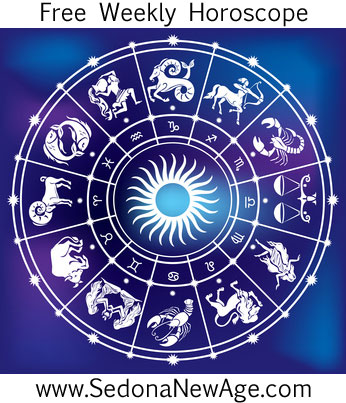 Receive our Free Weekly Horoscope in your Inbox

---

Aries Taurus Gemini Cancer Leo Virgo Libra Scorpio Sagittarius Capricorn Aquarius Pisces
Venus in Virgo is opposite Neptune in Pisces (August 14 – August 27). Venus is the attraction magnet in all of us; Neptune represents our deepest instincts and spiritual understanding of life. This aspect brings an awareness of the dichotomy between fashion's feminine archetypes versus a natural or spiritual expression of femininity; that is, the feminine parts of the spirit (Venus) are being made acutely aware of the divine parts of the spirit (Neptune) in one way or another.
Venus in Virgo trine Pluto in Capricorn (August 17 – August 25) is certainly exciting – with fate, power, love and intensity at work. This aspect represents a love or fascination occurring with regard to the work of fate as well as power. Venus trine Pluto allows a breakthrough to occur for those who have trouble accepting the work of fate and this aspect allows loving energy to flow more easily between generations. Love triumphs over all, especially with Venus trine Pluto.
On August 18 the Full Moon in Aquarius enlivens our senses with the need to apply clarity and definition. There is also a Full Moon Lunar Eclipse on this date that encourages us to get rid of bad habits and those deriving from pride, as well as obsolete relationships and unnecessary things. The moods of the day are likely to be blanketed in bizarre and unusual occurrences, and often focus on modern technological breakthroughs and invention. People may seem idealistic and generous in some respects or out of control and downright unrealistic in other respects in this full lunar expression of Aquarius.
Aries Taurus Gemini Cancer Leo Virgo Libra
Scorpio Sagittarius Capricorn Aquarius Pisces

For more information about your Horoscope and what the stars
have in store for you, order one of our detailed
Astrology Reports!
Want to know the theme of your relationship? This report compares your temperaments and personalities, whether you are married or living together.
Compatibility Report

Reveal as much information about you and your partner intention of opening doors of understanding and awareness.
Love Cards Report
Free Weekly Horoscope for your Sign
Aries: If you've been experiencing any confusion or uncertainty over your future, the lunar eclipse on August 18 should help. For example, you could suddenly see what your path is, or you might experience a sense of clarity about how you can help to make your world a better place. This is a good time to focus on your hopes and dreams and to take a step toward making them reality. Any blocks that have been stopping you from manifesting your dreams can be cleared now, enabling you to take a big leap forward.
---
Discover a personal profile and 1-year forecast based on advanced calculations of your name and birth date.
Numerology Report
---
Taurus: Your direction in life might be called into question this week as a lunar eclipse on August 18 occurs at the top of your chart. Perhaps you feel disgruntled or uncertain about some aspect of your professional life, such as your career and ambitions. If so, this eclipse should dissolve the confusion and leave you with a much clearer sense of where you're going that could involve some big changes. To assist the process, you will need to let go of the past so that you can move forward with less baggage. Don't be afraid to let go and move on.
---
Need a guide for your growth and personal evolution based on astrological influences upon your personality?
New Age Natal Report
---
Gemini: Adventure calls as the eclipse on August 18 seeks to push you out of your comfort zone, and initially you might feel as though you'd prefer to stay snuggled up in front of the fire with your slippers on, but this eclipse wants to remind you that there's a great big world out there, ripe for exploration and enjoyment. You might not have to step outside you door if you decide to take a correspondence course. This eclipse doesn't care whether you stretch your mind through travel or study so long as you shake the cobwebs from your mind by trying something new. Life is meant to be experienced, so get out there and live a little.
---
This interpretation of your birth chart is written in simple language could be beneficial in self undestanding.
Merlin Report
---
Cancer: With an eclipse in the deepest, darkest part of your chart, your keywords for this week are "rebirth" and "transformation." To get to that point, you might need to look at certain areas of your life that normally remain hidden and private. If you have any issues relating to sex, death, wealth or loss, this eclipse could help you work through them, and you could come out smiling on the other side. This could be a time of profound healing and transformation if you allow yourself to let go of any pain. It could also signal the end of a chapter of your life and the beginning of a brand new one so don't be afraid to confront your inner demons if you want to experience a psychological renewal.
---
Indra reveals your life's contradictory urges & drives as well as your basic motivation, perceptions, inclinations and character.
Indra Report
---
Leo: This week's eclipse falls in your relationship zone, initiating growing awareness and clarity within at least one relationship. By the end of the week, you should feel as if progress of some kind has been made in your personal life, and Venus, Mercury and Jupiter are working to ensure good fortune in your financial and material worlds. Perhaps you'll be on the receiving end of some good fortune or a lucky break. With just a bit of ingenuity or follow-through, you could make some big improvements to your situation. You probably need to be creative in some way, not necessarily artistic (often we think of creativity as bringing something into being that wasn't there before), to get a clearer sense of what you need to be doing. Consider what is possible, and then believe in your ability to bring it into being.
---
Want a detailed report for parents to help with the child's growth to strengthen the assets and avert possible problems that the child could face in their life?
Child Astrology Report
---
Virgo: A lunar eclipse in your zone of health and well-being on August 18 suggests that this could be a turning point in matters of your physical or mental wellness. Perhaps something can't continue as it is. If so, this would be the time to begin to make a change. Because a lack of purpose or frustration with our work can create health difficulties, this eclipse also offers you the opportunity to create a better working situation in which you can make the most of your talents for the benefit of others. If you have been working too hard, this eclipse could help you set some boundaries that will enable you to create some time for yourself.
---
Want a birthday to birthday practical guide to help you recognize opportunities and to learn from them.
Astrological Solar Return Report
---
Libra: A lunar eclipse in your zone of fun, children, romance and creativity means that any of these areas could be illuminated this week. Perhaps you realize that you haven't had as much fun as you should, or a creative project is put in the spotlight, and you begin to see the way forward. Alternatively, a romantic relationship could be tested. By expressing yourself authentically, problems can be healed, and progress made. Ultimately, this eclipse encourages you to connect more deeply with your soul. You can do this by following where your energy feels good. Does your heart sink on Monday morning at the thought of going to work? Do you feel a surge of energy or excitement when you think about a particular activity? Notice what gives you joy, and make it your mission to do it more often. By following your heart in all your endeavors, you will find that your life begins to take a much more enjoyable shape, which is what this eclipse is asking you to do.
---
Want to know the actual dates when the energies will influence your life in money, career, relationships, and communicaton?
Astro Forecast Report (3 months)
---
Scorpio: The lunar eclipse on August 18 will bring matters of a domestic nature to a head. Whether it is something to do with your family, a person close to you, or a situation involving your home or property, you will realize that things can't go on as they are. The good news is that this eclipse will enable you to make progress, and you can look forward to a growing sense of clarity and illumination to replace the previous confusion and uncertainty.
---
Want a one year forecast to understand the scope of influence for your personal Cards of Destiny?
Cards of Destiny Report
---
Sagittarius: Expect an "aha" moment this week as the lunar eclipse on August 18 brings clarity to an area of confusion. This should feel positive, as once you know where you stand, you'll know what action you need to take. This eclipse also calls you to cleanse your mind to weed out any negative beliefs and thought patterns. This lunar eclipse will help you to see where your attitude sometimes lets you down so that you can change it and, consequently, improve your life.
---
Contemplating a move? This report tells how you will react to the energies of the specific locations for relationships, finances, and security.
Relocation Information Report
---
Capricorn: A lunar eclipse in your money zone on August 18 carries an important financial message. The day of reckoning has come monetarily, and you'll soon start to see changes, or you'll realize that you have to make changes, depending on how you've lived to date. Perhaps what once worked for you no longer does, and a different approach is necessary. There could be an event this week that helps you see financial and material matters more clearly which in turn enables you to make the necessary modifications. Ultimately, what happens now will pave the way for financial improvements.
---
Discover your character traits, relationship and career potentials – based on Edgar Casey Readings.
Cayce Past Life Report
---
Aquarius: A lunar eclipse in your sign on August 8 could be uncomfortable, as it will become impossible to sweep your dissatisfaction under the rug. This is an eclipse of clarity, awareness and things coming to a head. As such, it is a great time to take stock of your life and make important changes. You might feel emotional this week. If so, take it as a sign that something needs to change, or at the very least, something needs to be examined in the honest light of day. Don't hide who you are or deny what you want. The more honest you can be during this eclipse the better, as then you and the people around you can start to move forward.
---
Discover your past life connections that can carry over into your current life, accounting for interests, habits, even phobias.
Karmic Past Life Report
---
Pisces: It's time for some serious letting go. The universe is preparing you for a new chapter in your life, but you can't move forward unless you've released that which you no longer need. This is a perfect time for clearing out those closets and getting rid of stuff you no longer use. This also applies on an emotional level so you might look at certain relationships, asking yourself whether it's time to move on. The same philosophy can be directed toward your habits and patterns so that anything that no longer serves you can be released. Basically, this is the time to end anything that has passed its sell-by-date. You will know what this is by simply being aware of your energy when you think of the person, place, habit or situation. If it is good for you, your energy will rise; if it isn't good for you, your energy will drop. If you truly wish to move forward in your life, you need to be free of energy drains.
---
Discover your soul's intention for this lifetime, the lessons to be learned, qualities to develop, problems to be resolved, services to be rendered.
Karmic Insight Report
---
For more information about your Horoscope and what the stars
have in store for you, order one of our detailed
Astrology Reports for Couples!
---
Want to know the theme of your relationship? This report compares your temperaments and personalities, whether you are married or living together.
Compatibility Report

Reveal as much information about you and your partner intention of opening doors of understanding and awareness.
Love Cards Report