#Horoscope #Aries #Taurus #Gemini #Cancer #Leo #Virgo #Libra
#Scorpio #Sagittarius #Capricorn #Aquarius #Pisces
#Horoscope – overview of this week
The Center for the New Age is pleased to present
your Free Weekly Horoscope for August 21 – August 27, 2016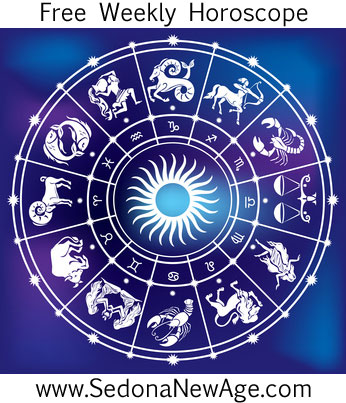 Receive our Free Weekly Horoscope in your Inbox

---

Aries Taurus Gemini Cancer Leo Virgo Libra Scorpio Sagittarius Capricorn Aquarius Pisces
Mercury and Jupiter are conjunct in Virgo (August 22 – August 31). News and discussions (Mercury) revolve around our joys, our prosperity and our wealth (Jupiter) particularly relating to fulfilling our desires and abiding by our deep passions in life. Thoughts and information with regard to a prosperous and visionary breakthrough will be highlighted. It's a great time to boost the morale of others by complimenting them on their skills.
Mars and Saturn conjunct in Sagittarius (August 24 – September 8) unites the forces of action itself (Mars) with the diligence to take this action to the limit (Saturn). It is always important to pay attention to those aspects of one's life that are active and hold the potential for accidents. Keep the fire extinguisher on hand. Overall, when applying caution and discipline as a basis for constructive activity, Mars conjunct Saturn is an excellent time to put the all important theory to practice. Mars is the fire of our actions being precisely contained and preserved by the crucible, Saturn. Saturn is there to teach us about our limitations, and our sense of control is exercised through applying discipline.
Last Quarter Moon in Gemini on Thursday brings out talkative moods and informative interactions. People will have a lot on their minds and intellectual pursuits will be emphasized. It is a good time to release any unwanted or frustrating mixed thoughts by talking them through with others.
Mars in Sagittarius square Neptune in Pisces (August 26 – September 7) produces heated activities that run into obstacles concerning the fulfillment of spiritual harmony. Active aggression occurs around spiritual groups and religious institutions, often targeting the belief systems of others. This aspect also brings the potential for accidents and temper tantrums, especially with regard to opinions about substance abuse and sacred matters. And while Mars is square to Neptune it is best to anticipate confrontations concerning moral or spiritual issues.
Venus and Jupiter are conjunct in Virgo (August 27- September 2). The powers of attraction (Venus) blend with the powers of prosperity and dominion (Jupiter). The influence of Jupiter reminds us that the resources of love in the universe are inexhaustible, and love's great bounty is designed to be shared and can be infectious.
Aries Taurus Gemini Cancer Leo Virgo Libra
Scorpio Sagittarius Capricorn Aquarius Pisces

For more information about your Horoscope and what the stars
have in store for you, order one of our detailed
Astrology Reports!
Want to know the theme of your relationship? This report compares your temperaments and personalities, whether you are married or living together.
Compatibility Report

Reveal as much information about you and your partner intention of opening doors of understanding and awareness.
Love Cards Report
Free Weekly Horoscope for your Sign
Aries: As the Sun moves into your zone of health and work, it's time to buckle down and tend to whatever needs your attention. This is a good opportunity to become more organized and efficient. Looking at your life with a critical eye to determine how it could function better would be a good use of the planetary energies. You could benefit from tidying your office or clearing out an overstuffed cupboard, or maybe you need to tend to your paperwork or mange your time better.
---
Discover a personal profile and 1-year forecast based on advanced calculations of your name and birth date.
Numerology Report
---
Taurus: What is your dream? Can you still remember? Have you forgotten what you used to dream of being, doing or having? We all start out in life with dreams, but as we get older and disappointments take their toll, we begin to settle for less. It's time to remember what brings you happiness. What do you love doing? Can you do it more often? Can you think or act more creatively to break out of any box that you feel stuck in? If you're not sure what you want to do, then start listening to your gut. As Frank Capra said, "A hunch is creativity trying to tell you something.
---
Need a guide for your growth and personal evolution based on astrological influences upon your personality?
New Age Natal Report
---
Gemini: As a cluster of planets gathers in your zone of home and family, perhaps that is where your heart should be. It certainly looks as if the domestic side of life is where your joy can be found, so perhaps spending less time focusing on career or personal disputes will enable you to focus on what really matters. This is also a good opportunity to spend time alone, getting to know yourself and your needs better so that you can create a deeper sense of happiness and contentment.
---
This interpretation of your birth chart is written in simple language could be beneficial in self undestanding.
Merlin Report
---
Cancer: As the Sun joins a highly auspicious combination of planets in your zone of the mind, it appears that your mental approach holds the key to your success. The following quote sums it up perfectly: "A great attitude does much more than turn on the lights in our worlds; it seems to magically connect us to all sorts of serendipitous opportunities that were somehow absent before the change." By being open to possibilities, you will increase the likelihood of converting opportunities into successful outcomes. Saying yes to life is your mission this week, which is highly likely to lead to positive developments.
---
Indra reveals your life's contradictory urges & drives as well as your basic motivation, perceptions, inclinations and character.
Indra Report
---
Leo: As the Sun joins the cluster of planets in your zone of money, there is a huge emphasis on this area of your life. What changes do you need to make to your material life? This could be a great time to apply for a new job or create a new role for yourself. It might be a good time to generate extra income. Focus on abundance and prosperity, knowing that if you see and feel yourself as abundant, the results will surely follow. You are in a great position to be very lucky in the material sense, so make the most of this auspicious planetary alignment by making sure your thoughts are in alignment with your desires.
---
Want a detailed report for parents to help with the child's growth to strengthen the assets and avert possible problems that the child could face in their life?
Child Astrology Report
---
Virgo: As the Sun joins a positive cluster of planets in your sign, this week should feel like a breath of fresh air especially after what could have been a bumpy week or two. Now you can press forward with more energy, enthusiasm, and motivation, clearer about who you are and where you want to be going. The Sun in your sign gives you permission to think about your needs for a while, making your well-being and happiness a priority. There is much to feel positive about right now, and with the right attitude, you can shape things the way you want them.
---
Want a birthday to birthday practical guide to help you recognize opportunities and to learn from them.
Astrological Solar Return Report
---
Libra: If you feel tired, irritable, frustrated or depressed, perhaps you need to rest. The planets certainly suggest so. We only have so much energy and nothing in nature is on the go 24/7. Maybe you need to turn within to nourish your inner self. There is a time to focus on getting ahead in the outside world and a time to be quiet, turn within, and nourish the soul. Which do you feel is calling to you right now? It might be time to end something, and this in turn could free up some energy, especially if the thing in question has been draining you. This is a good week to identify your energy drains to either fix them or get rid of them.
---
Want to know the actual dates when the energies will influence your life in money, career, relationships, and communicaton?
Astro Forecast Report (3 months)
---
Scorpio: Getting out and joining the world can probably cure whatever ails you this week. When we feel down, we have a natural tendency to isolate ourselves or alienate others, which can make us feel even sorrier for ourselves. If you feel in any way left out, it's probably a false perception that can be alleviated by making the effort to connect with others. From something as simple as getting together with friends to joining a new group, the answer to your current situation is to gather with others and be a part of the world – and to tell yourself that you're good enough as you are.
---
Want a one year forecast to understand the scope of influence for your personal Cards of Destiny?
Cards of Destiny Report
---
Sagittarius: This could be a frustrating week if you allow events to get the better of you. Perhaps you want to move forward but can't. Maybe you take one step forward just to take two steps back. Saturn and Mars in your sign aren't easy bedfellows. Mars wants to get moving and Saturn applies the brakes and wants to make sure that everything is in the right place before anything happens. In the worst-case scenario, you could end up wanting to hurl something at the kitchen wall or scream at the sky. Actually, the latter might not be such a bad idea, as getting out into nature will do much to offset frustration and anger so if it all gets a bit much this week, go for a long walk, and allow nature to soothe your frazzled soul.
---
Contemplating a move? This report tells how you will react to the energies of the specific locations for relationships, finances, and security.
Relocation Information Report
---
Capricorn: The mood begins to lighten as the planets gather in your zone of optimism and adventure. This is the time to push open the gate that you previously thought was locked and to gather your faith for the journey ahead. On a simple level, this could represent a good time to go on vacation. On a more abstract level, the planets could be representing your need to believe in your dreams and to take steps toward manifesting them. The planets might simply want to gently shake you out of your stupor and show you that there's a bright world out there that's inviting you to participate. Take whichever meaning feels right to you and whatever you choose to do this week – whether it's an inner or outer journey – make sure it feels vibrant and colorful.
---
Discover your character traits, relationship and career potentials – based on Edgar Casey Readings.
Cayce Past Life Report
---
Aquarius: It is very difficult to pretend that we're okay when we're not while the Sun journeys through our zone of psychological rebirth. You might not initially welcome this journey into the underworld, but if you stay with it and do not run from any uncomfortable feelings, you might find that you receive the gift of heightened consciousness. Part of evolving requires us to deal with the less than salubrious aspects of our personalities. Now you have the opportunity to gain a deeper insight into why you behave the way you do. Remind yourself that sometimes treasure has to be mined for.
---
Discover your past life connections that can carry over into your current life, accounting for interests, habits, even phobias.
Karmic Past Life Report
---
Pisces: This week is ideal to spend time with the people who matter most. Whether you're listening and helping others or whether you're allowing others to help you, this is a week when the importance of communication, giving and receiving, is paramount. We can only get by for so long being complacent, but periodically there are times when it becomes evident that we need to become more people centered. This is one of those times, and the more time you can carve out for others – whether it's your partner or the lady in the grocery store – the more you will notice a growing sense of inner happiness as you share your light with others.
---
Discover your soul's intention for this lifetime, the lessons to be learned, qualities to develop, problems to be resolved, services to be rendered.
Karmic Insight Report
---
For more information about your Horoscope and what the stars
have in store for you, order one of our detailed
Astrology Reports for Couples!
---
Want to know the theme of your relationship? This report compares your temperaments and personalities, whether you are married or living together.
Compatibility Report

Reveal as much information about you and your partner intention of opening doors of understanding and awareness.
Love Cards Report