#Horoscope #Aries #Taurus #Gemini #Cancer #Leo #Virgo #Libra
#Scorpio #Sagittarius #Capricorn #Aquarius #Pisces
#Horoscope – overview of this week
The Center for the New Age is pleased to present
your Free Weekly Horoscope for September 11 – September 17, 2016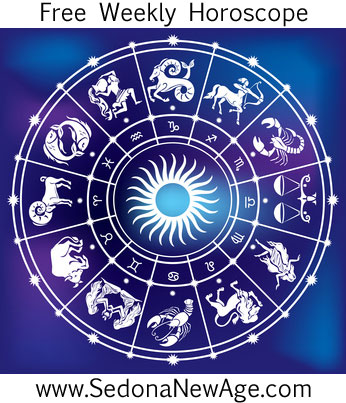 Receive our Free Weekly Horoscope in your Inbox

---

Aries Taurus Gemini Cancer Leo Virgo Libra Scorpio Sagittarius Capricorn Aquarius Pisces
Venus in Libra square Pluto in Capricorn (September 11 –September 18) often involves such difficulties as loss or death of a loved one, the obstacles of rejection and general oppression for those aspects of life to which we are undeniably attached and which we hold dear. If something of this nature is occurring for you, it is best to recognize that love will triumph in every dimension, despite the pain of separation, or the disease and strife of the beloved. Let the obstacles of love's pain become the building blocks of a better outlook, and a stronger love will supersede these trials of the heart.
Mercury in Virgo square Mars in Sagittarius (September 12 – September 19) promotes skeptical thinking that creates complications, and indecisiveness around some activities. Under the influence of this aspect, it is not a good time to lose one's temper. Be especially careful to watch what you say, preferably thinking before you speak; words can be easily taken the wrong way. This aspect stimulates arguments and mental blocks concerning the actions of others. Mercury square Mars makes it difficult for some to justify their actions or explain why they take a certain stand in life. Refrain from making risky comments, and be careful not to misinterpret information as being hostile or personal.
Full Moon in Pisces on September 16 brings out the psychic in everyone. Sensitivity runs very high on a Full Pisces Moon, and people express themselves in very artistic or perhaps nonsensical ways. Imaginations will run wild and anything is possible. There is also a Penumbral Eclipse on Friday. A Penumbral Eclipse occurs when the Sun, Earth and the Moon are aligned in an almost straight line. When this happens, the Earth blocks some of the Sun's light from directly reaching the Moon's surface, and covers a part of the Moon with the outer part of its shadow, also known as the penumbra. The dark side of the Pisces Moon eclipse is evident in depressing or melancholic feelings. Be watchful of the true signs of despair. Eclipses in Pisces bring out the dark side of our beliefs and are a time of vulnerable confidences and deep sensitivity. The sanctity of human life gets pondered, and our souls are baffled by the unfathomable crimes of the heartless. Take heart and be cautious as well as vigilant.
Aries Taurus Gemini Cancer Leo Virgo Libra
Scorpio Sagittarius Capricorn Aquarius Pisces

For more information about your Horoscope and what the stars
have in store for you, order one of our detailed
Astrology Reports!
Want to know the theme of your relationship? This report compares your temperaments and personalities, whether you are married or living together.
Compatibility Report

Reveal as much information about you and your partner intention of opening doors of understanding and awareness.
Love Cards Report
Free Weekly Horoscope for your Sign
Aries: While Jupiter is in your opposite sign over the next twelve months, this will be the perfect time to begin a new committed relationship, such as getting engaged or married. Whatever your current state, romantically speaking, Jupiter will give you the confidence to go for what you want and to enjoy it, but get ready for some serious letting go. The universe is preparing you for a new chapter of life, but you can't move forward unless you've released that which you no longer need. This is a perfect time for clearing out those closets and getting rid of stuff that you no longer require.
---
Discover a personal profile and 1-year forecast based on advanced calculations of your name and birth date.
Numerology Report
---
Taurus: If your health hasn't been great, Jupiter will act like a shield, protecting you from harm and offering a general boost to your well-being: a word of caution, though. This is a good time to start to exercise a bit more and watch your diet because the downside of having Jupiter in your house of health is weight gain, and we don't want that, do we? The lunar eclipse on September 16 illuminates your hopes and dreams so if you've been experiencing confusion or uncertainty over your future, this lunar eclipse should be very revealing. You might receive clarity about how you can help make the world a better place or suddenly see what your path is. Meanwhile, any problems in your social life or with groups and organizations can be alleviated as the eclipse starts to clear any confusion. Basically, any blocks that have previously stopped you from manifesting your dreams can be cleared, allowing you to take a big leap forward.
---
Need a guide for your growth and personal evolution based on astrological influences upon your personality?
New Age Natal Report
---
Gemini: The main purpose of Jupiter moving through your Fifth House (house of pleasure) is to encourage authenticity and joyful self-expression. If you previously found yourself apologizing for your existence or found it difficult to demonstrate who you are or what you want, then Jupiter will give you the confidence you need to expand your sense of self. The lunar eclipse on Friday is likely to bring changes to your direction or career. Perhaps you feel disgruntled or confused about some aspect of your career, aim or ambitions. If so, this eclipse should dissolve the confusion and leave you with a much clearer sense of where you're going. Whatever your current situation is in your employment, developments this week should lead to a happier state of affairs.
---
This interpretation of your birth chart is written in simple language could be beneficial in self undestanding.
Merlin Report
---
Cancer: Our attitudes and beliefs are the foundation of our realities. When we have a negative outlook, the world seems to shrivel and offer fewer opportunities than when we are buoyant, positive and optimistic. This week's eclipse highlights the beliefs area of your chart, and as such, it is likely to reveal where your attitude might sometimes let you down. Should someone point out a character flaw, don't go on the defensive. Rather, consider that there might be a grain of truth in what's being said. Be receptive to whatever is going on this week, and see it as a possible reflection of what is going on within you.
---
Indra reveals your life's contradictory urges & drives as well as your basic motivation, perceptions, inclinations and character.
Indra Report
---
Leo: The lunar eclipse on September 16 brings the opportunity to cleanse, so if you feel that you could release some physical or emotional toxins, this is a good week to do it. The eclipse is also likely to shed light on a difficult matter – one that you might be reluctant to discuss – or it could provide insight into a financial problem that has previously been a source of confusion. Whatever the particular issue, you can be sure that events this week will bring a sense of resolution, especially if you're prepared to be assertive or creative in your approach.
---
Want a detailed report for parents to help with the child's growth to strengthen the assets and avert possible problems that the child could face in their life?
Child Astrology Report
---
Virgo: You'll be feeling more positive about your situation this week, sensing that things are going to improve, or maybe you'll receive a gift or two or gain a bit of good fortune – all of which is likely to lift your spirits and prepare you for the growing abundance to come. Mercury retrograde in your sign is involved in the eclipse on Friday, throwing the emphasis on your relationships and personal life. Mercury is stating quite clearly that any confusion or sadness can be cleared or at least improved by your expressing how you feel. Make a strong effort this week to communicate and make connections with other people, but make sure you put your own well-being first. Otherwise, you could end up being drawn into unhealthy situations. Share your feelings in a compassionate way, but make sure your boundaries are firmly in place.
---
Want a birthday to birthday practical guide to help you recognize opportunities and to learn from them.
Astrological Solar Return Report
---
Libra: While you might not be able to charge headlong into new beginnings until the Sun and Mercury retrograde have completed their business in your zone of endings, you can at least welcome Jupiter's arrival by asking what your soul needs for growth and working toward creating expansion in that area. The lunar eclipse in your zone of health and work on September 16 suggests that something needs to change here. Perhaps your work has been affecting your health or vice versa. The planets would suggest that it's time to say goodbye to something, to draw a line under the past and move on. This will pave the way for a more fulfilling future and a healthier mind, body and spirit.
---
Want to know the actual dates when the energies will influence your life in money, career, relationships, and communicaton?
Astro Forecast Report (3 months)
---
Scorpio: The lunar eclipse on Friday highlights the creativity area of your chart, making this the perfect time to get in touch with your deepest desires. What do you want to create? What would you like to share with the world? Are you having enough fun, or has life become a little too serious? Notice where your energy feels good, and follow it. For example, does your heart sink on Monday morning at the thought of going to work, or do you feel a surge of energy or excitement when you think about a particular activity? Notice what gives you joy, and make it your mission to do more of it.
---
Want a one year forecast to understand the scope of influence for your personal Cards of Destiny?
Cards of Destiny Report
---
Sagittarius: The lunar eclipse on September 16 shines the spotlight on your domestic situation. Whether it's your family, a person close to you, or your home or property, you will realize that things can't carry on as they have been, and now is the right time to embrace change. If you can, try to move things forward, but don't rush things or push too hard because right now, it might be enough to receive clarity on any matter close to home that has been confusing, uncertain or upsetting.
---
Contemplating a move? This report tells how you will react to the energies of the specific locations for relationships, finances, and security.
Relocation Information Report
---
Capricorn: Inasmuch as Jupiter will be in your career zone for a whole twelve months, you have plenty of time to create a more successful state of affairs for yourself. You can start this week by being open to opportunities and keeping your eyes peeled for that lucky break that's bound to be just around the corner. If you follow where life seems to be directing you, you won't go off course. Furthermore, the lunar eclipse this Friday is likely to have the effect of switching on a light bulb in your head. This is good news if you've recently been dogged by confusion or uncertainty. To get the most out of this eclipse, engage in a thorough spring cleaning of your mind to uproot any negative beliefs and thought patters. This eclipse will help you to see where your attitude sometimes lets you down so that you can change it and, consequently, improve your life.
---
Discover your character traits, relationship and career potentials – based on Edgar Casey Readings.
Cayce Past Life Report
---
Aquarius: With a tense lunar eclipse and Mercury retrograde spanning the financial areas of your chart, money and resources are likely to be an area of concern this week. You can remedy any heaviness and negativity by involving yourself in the world a bit more; sometimes just getting out and socializing helps us to make light of problems. Also, if guilt or other negative emotions are coming up due to financial matters, it might help to ruminate on the following quotation: "Don't tell me where your priorities are. Show me where you spend your money and I'll tell you what they are."
---
Discover your past life connections that can carry over into your current life, accounting for interests, habits, even phobias.
Karmic Past Life Report
---
Pisces: A lunar eclipse in your sign on Friday could be an initially uncomfortable process, as it will become impossible to sweep your dissatisfaction under the rug. This is an eclipse of clarity, awareness and things coming to a head. As such, it is a great time to take stock of your life and make important changes. You might feel emotional around this time; if so, take it as a sign that something needs to change, or at the very least, something needs to be examined in the honest light of day. Don't hide who you are or deny what you want. The more honest you can be around this eclipse, the better. Then you, as well as the people around you, can start to move forward.
---
Discover your soul's intention for this lifetime, the lessons to be learned, qualities to develop, problems to be resolved, services to be rendered.
Karmic Insight Report
---
For more information about your Horoscope and what the stars
have in store for you, order one of our detailed
Astrology Reports for Couples!
---
Want to know the theme of your relationship? This report compares your temperaments and personalities, whether you are married or living together.
Compatibility Report

Reveal as much information about you and your partner intention of opening doors of understanding and awareness.
Love Cards Report