#Horoscope #Aries #Taurus #Gemini #Cancer #Leo #Virgo #Libra
#Scorpio #Sagittarius #Capricorn #Aquarius #Pisces
#Horoscope – overview of this week
The Center for the New Age is pleased to present
your Free Weekly Horoscope for September 25 – October 1, 2016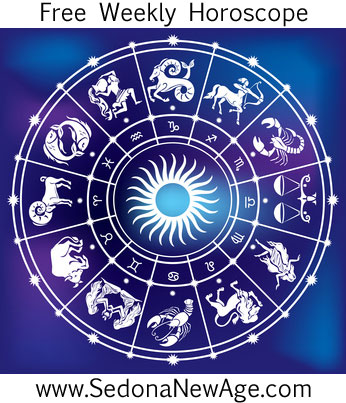 Receive our Free Weekly Horoscope in your Inbox

---

Aries Taurus Gemini Cancer Leo Virgo Libra Scorpio Sagittarius Capricorn Aquarius Pisces
On Tuesday, the planet Mars, known to many as "the god of war," enters the sign of Capricorn (September 27 – November 8). The main thrust of activities will be inspired by the industrious push of Capricornian persistence. Mars in Capricorn is the place where it's exalted. Activities will shift towards dynamic, ambitious and enterprising endeavors. With Mars in Capricorn, a sense of duty is instilled. Activities, if successfully managed, will produce long lasting results.
New Moon in Libra on October 1 is a time of reaffirming and harmonizing our relationships with friends and partners as well as a time of initiating friendships while autumn activities create a fresh working environment for many people.
Venus in Scorpio trine Neptune in Pisces (October 1 – October 8) enhances spiritual love. This aspect brings passionate and vigilant kinds of love into harmony with a very fluid kind of spiritual expression. Venus trine Neptune delivers a calmness and tranquility that are vitally needed and there is a greater potential to create a spiritually enhanced atmosphere.
Aries Taurus Gemini Cancer Leo Virgo Libra
Scorpio Sagittarius Capricorn Aquarius Pisces

For more information about your Horoscope and what the stars
have in store for you, order one of our detailed
Astrology Reports!
Want to know the theme of your relationship? This report compares your temperaments and personalities, whether you are married or living together.
Compatibility Report

Reveal as much information about you and your partner intention of opening doors of understanding and awareness.
Love Cards Report
Free Weekly Horoscope for your Sign
Aries: As the Sun joins forces with Jupiter, your relationships are your area of focus right now. The brightest scenario is either you find yourself having lots of fun with people or partners or you meet someone new who instills a fun, positive, adventurous spirit. Either way, it looks likely that this will be a very optimistic week, largely due to the company you're keeping. You can enhance this feel-good factor by being grateful for all the wonderful people you have in your life. Even the relationships with those you sometimes have issue with can be improved now by simply extending your love and appreciation for the good things about them.
---
Discover a personal profile and 1-year forecast based on advanced calculations of your name and birth date.
Numerology Report
---
Taurus: As the Sun and Jupiter join forces in your health and work zone, it is likely that one or both of these areas are about to benefit. At the very least, you should feel more jovial about your life and see ways in which to improve it. This is a good time to reach out for opportunities that offer you growth or adventure or that challenge you to be more of who you are. Work could be very satisfying this week. It could show you what you need to do more of. This is a great week to notice what you enjoy and what you're good at and to make those things a bigger part of your daily life.
---
Need a guide for your growth and personal evolution based on astrological influences upon your personality?
New Age Natal Report
---
Gemini: It is a good time for you to evaluate your creative abilities and begin to develop them. We are all creative in some way, from the obvious artistic talents, such as painting, writing and photography, to the less obvious skills, such as gardening, cooking and decorating. Think about what you love doing – or what you would love to do – and make a commitment to this side of yourself. When you do, you might find that life feels like it is opening up, revealing a whole lot of potential that you never realized was there.
---
This interpretation of your birth chart is written in simple language could be beneficial in self undestanding.
Merlin Report
---
Cancer: If we only knew where to look to find joy, our lives would be so much happier. Well, the good news is that the universe is pointing quite clearly toward your home and family as your potential source of joy, so it could be a mistake to channel most of your energy into other areas of life right now. Our homes are meant to be sources of nourishment, warmth and safety. Consequently, this is a good time to turn to your home and your family to provide you with the nurturing your soul needs. By focusing your attention closer to home, you might find the answers you've looking for.
---
Indra reveals your life's contradictory urges & drives as well as your basic motivation, perceptions, inclinations and character.
Indra Report
---
Leo: This is an interesting period with several possibilities. You need to look at yourself with honesty and clarity. The New Moon in Libra brings about a period of introspection and self-analysis, and confrontations with the self. This is a great time for Leos to study or to help others with their own learning. It's also perfect for expressing your creativity or for anything that involves writing, speaking or teaching. It's certainly not the time to hide your light under a bushel; it seems the universe is asking you to step forward and share more of what you have to offer.
---
Want a detailed report for parents to help with the child's growth to strengthen the assets and avert possible problems that the child could face in their life?
Child Astrology Report
---
Virgo: What can you do to make positive changes in your life? Can you develop a more empowered attitude? Maybe you won't need to do anything as some Virgos will find their material needs taken care of via a generous dose of good fortune. The last week of September is strong for attracting who and what you want through your communications. On the 27th, a long-awaited Mars transit of your romance and creativity sector gets the ball rolling on these matters and you're far more confident about pursuing your desires. It won't do you any harm, though, to focus on generating more of whatever you need and to believe that, materially speaking, this week anything is possible, especially around the New Moon.
---
Want a birthday to birthday practical guide to help you recognize opportunities and to learn from them.
Astrological Solar Return Report
---
Libra: As the Sun joins Jupiter in your sign just in time for your birthday month, why not throw yourself a party! Jupiter enjoys a good party and Libras need little excuse to socialize and to enjoy good food and delightful company. Besides, it will put you in a jovial spirit, reminding you that you are worth celebrating. And there should be lots to celebrate in the coming year, but for now, just concentrate on having a good time and gratefully receiving all the goodies that the universe wants to bestow on you. Where you feel there is room for improvement in your life, consider that an adventurous and expansive spirit is probably what's needed. The more willing you are to push out of your comfort zone and follow your joy, the more likely you are to see some magical developments.
---
Want to know the actual dates when the energies will influence your life in money, career, relationships, and communicaton?
Astro Forecast Report (3 months)
---
Scorpio: There are lots of things going on in the heavens right now. You are being gifted with a very real opportunity to develop the spiritual side of life and to find inner peace. Of course, this is unlikely to happen while operating at breakneck speed or being a slave to technology, so try to make some space in your world for the quiet and the soulful. Perhaps an art class is what you need or a spiritual development group. Whatever you feel drawn to is probably what you should seek, so whether it's rest, a holiday, a yoga retreat, a creative group, time alone, or time with your loved ones, honor your soul's call and soon you will begin to reap the rewards.
---
Want a one year forecast to understand the scope of influence for your personal Cards of Destiny?
Cards of Destiny Report
---
Sagittarius: Jupiter is likely to have a positive effect on your social life now, so whether you're meeting new people and making new friends or whether you are joining a group or simply enjoying time with existing friends, this is the week to get yourself out there and enjoy the social whirl. Several challenges may be thrown at you, but you grapple with them and learn new things about yourself. At a deeper level, the Sun and Jupiter encourage you to start the process of manifesting a hope or dream and to remember that your Sagittarian faith and optimism can move mountains.
---
Contemplating a move? This report tells how you will react to the energies of the specific locations for relationships, finances, and security.
Relocation Information Report
---
Capricorn: The Sun and Jupiter at the top of your chart beckon you toward greater success and achievement. However, you first have to make sure that the direction you're heading in is the one that calls to your heart; otherwise your victory could feel rather hollow. Assuming that you're moving in the direction that feels right for you, this is a great time to fulfill your ambitions and to make positive changes in your vocation. Ultimately, this extremely positive duo at the top of your chart is likely to play a key role in helping you take some big steps forward toward fulfilling your purpose. Destiny is calling.
---
Discover your character traits, relationship and career potentials – based on Edgar Casey Readings.
Cayce Past Life Report
---
Aquarius: After what could have been a heavy few weeks, the end of September brings a much lighter vibration, and you should need no encouragement to embrace a more positive and adventurous spirit. This is a great week to go on a trip – or at least plan one – or visit somewhere new, or engage in something you've not tried before. The New Moon in Libra is an agreeable influence. You are feeling pleasant and charming and the mood is contagious. This is a great period for all types of relationships, be it professional or personal. There is little discipline at this time and so no great advancement in work takes place; however, you are feeling optimistic, warm and loving and luck journeys alongside you.
---
Discover your past life connections that can carry over into your current life, accounting for interests, habits, even phobias.
Karmic Past Life Report
---
Pisces: As the Sun joins forces with Jupiter, it's as though a light is being switched on in your basement. This means that whatever you might have been afraid of or reluctant to see will become a much less fearful process. You're being given the confidence to look your demons squarely in the eye, and instead of a fight or a struggle ensuing, your demon is likely to hand you a precious nugget of wisdom. In short, you're about to discover that what you were afraid of is actually a benevolent force in disguise.
---
Discover your soul's intention for this lifetime, the lessons to be learned, qualities to develop, problems to be resolved, services to be rendered.
Karmic Insight Report
---
For more information about your Horoscope and what the stars
have in store for you, order one of our detailed
Astrology Reports for Couples!
---
Want to know the theme of your relationship? This report compares your temperaments and personalities, whether you are married or living together.
Compatibility Report

Reveal as much information about you and your partner intention of opening doors of understanding and awareness.
Love Cards Report