#Horoscope #Aries #Taurus #Gemini #Cancer #Leo #Virgo #Libra
#Scorpio #Sagittarius #Capricorn #Aquarius #Pisces
#Horoscope – overview of this week
The Center for the New Age is pleased to present
your Free Weekly Horoscope for October 2 – October 8, 2016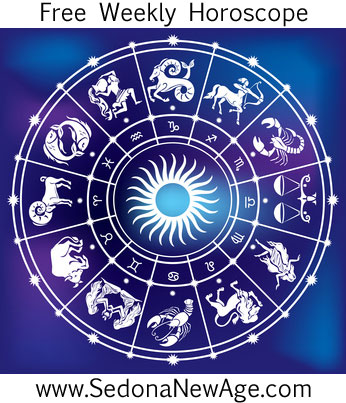 Receive our Free Weekly Horoscope in your Inbox

---

Aries Taurus Gemini Cancer Leo Virgo Libra Scorpio Sagittarius Capricorn Aquarius Pisces
Venus in Scorpio is sextile Pluto in Capricorn (October 5 – October 14). Venus in Scorpio focuses on the need for swift, passionate, attentive and urgent responses in love matters. Pluto in Capricorn changes the structure of power, fate and career advancement. This aspect is most useful for those who command an element of love and passion for their work or career and it allows them to optimize beauty in the course of their efforts. Venus sextile Pluto may bring exceptional breakthroughs in relationships. Sometimes this aspect helps us to recognize the devotion of our loved ones, to see the acceptance of the difficulty and hardship that comes with their devotion. Now is a good time to recognize and acknowledge their efforts.
Mars in Capricorn squares Jupiter in Libra (October 5 – October 15). When Mars squares Jupiter, various activities, especially those of a heated nature, are often met with the obstacles of economic oppression or shortcomings. This is a very difficult time to excel in business endeavors especially in active trade markets. This aspect advises us that it would not be wise to aggressively approach the job market. Trying to get ahead with headstrong attitudes and unwarranted self confidence impedes progress.
Mercury enters Libra on Friday (October 7 – October 23) aligning us with diplomacy, tact and the need to connect with friends and loved ones. Mercury in Libra will bring a focus on harmonizing with others and preparing for the pending change of the season. This is a good time for people to communicate by gathering important information as our decision making process kicks into high gear.
Aries Taurus Gemini Cancer Leo Virgo Libra
Scorpio Sagittarius Capricorn Aquarius Pisces

For more information about your Horoscope and what the stars
have in store for you, order one of our detailed
Astrology Reports!
Want to know the theme of your relationship? This report compares your temperaments and personalities, whether you are married or living together.
Compatibility Report

Reveal as much information about you and your partner intention of opening doors of understanding and awareness.
Love Cards Report
Free Weekly Horoscope for your Sign
Aries: "The greatest good you can do for another is not just to share your riches, but to reveal to him his own" (Benjamin Disraeli). Now is a great opportunity to heal rifts, bring people together, spend time with those you love, and rebuild your relationships in need of attention. The focus this week is not so much on work or personal ambitions as on giving to and helping the people who matter most.
---
Discover a personal profile and 1-year forecast based on advanced calculations of your name and birth date.
Numerology Report
---
Taurus: "The best way to find yourself is to lose yourself in the service of others." Mahatma Gandhi sums up the vibe of the moment . This could mean contemplating how you can give more in your work or how you can improve the service you provide to others. It could mean expanding your role so that you can have more of an impact. In any case, this is not a time in your life to keep yourself small. On the contrary, life is inviting you to play a bigger part, so get moving!
---
Need a guide for your growth and personal evolution based on astrological influences upon your personality?
New Age Natal Report
---
Gemini: The planets urge you to be true to yourself. This could mean saying no to things that aren't good for you and yes to the people and experiences and activities that lift your spirit and give you energy. You will need to start listening to your gut feelings. As Gisele Bundchen says, "The more you trust your intuition, the more empowered you become, the stronger you become, and the happier you become."
---
This interpretation of your birth chart is written in simple language could be beneficial in self undestanding.
Merlin Report
---
Cancer: Confuscius once said, "The strength of a nation derives from the integrity of the home." How much integrity is there in your home? Does it serve your spirit? Does your home feel like a home, and if not, what changes would you need to make for it to feel more homey? Would you need to be there more often? Would someone else need to be there more often? Do more care and love need to be directed to your home or family members? Jupiter in your domestic zone suggests that your greatest source of joy right now is within your own four walls.
---
Indra reveals your life's contradictory urges & drives as well as your basic motivation, perceptions, inclinations and character.
Indra Report
---
Leo: "There is nothing that cannot be achieved by firm imagination." This Japanese proverb reminds you that the most powerful tool you have at your disposal is your imagination. We all constantly paint pictures in our minds of future hopes and fears. Obviously, the more we entertain images of fear and negativity, the more likely these are to eventually come to pass. Likewise, if we entertain images of success, we are more likely to find ourselves in an enviable position. It is prudent to take control of your mind and to repeatedly picture that which you would like to see happening in your life.
---
Want a detailed report for parents to help with the child's growth to strengthen the assets and avert possible problems that the child could face in their life?
Child Astrology Report
---
Virgo: Early October brings an opportunity to start fresh financially as Jupiter creates a once-in-a-twelve year chance to expand your material life. It could help to ruminate on the following quote by Mike Phillips: "Money will come when you are doing the right thing." What does the right thing constitute for you? Doing what you love? Being a person of integrity? Helping others? Whatever the right thing means to you, you are now in a wonderful position to start creating a more prosperous and abundant life.
---
Want a birthday to birthday practical guide to help you recognize opportunities and to learn from them.
Astrological Solar Return Report
---
Libra: Lucky Jupiter in your sign offers a rare opportunity to embrace a new start in life. If you haven't already done so, now is the ideal time to consider how you would like your life to change. Do you need more freedom, more adventure, more creativity or simply more time to enjoy life? If you want to make the most of Jupiter's once-in-a-twelve-year opportunity for positive change, you must adopt an adventurous spirit and be bold in your actions. As David Lloyd George says, "Don't be afraid to take a big step if one is indicated. You can't cross a chasm in two small jumps."
---
Want to know the actual dates when the energies will influence your life in money, career, relationships, and communicaton?
Astro Forecast Report (3 months)
---
Scorpio: "Your inner knowing is your only true compass." Joy Page reminds you that the path forward is through your intuition and gut feelings, so regardless of what other people might think or what logic seems to dictate, if something doesn't feel right, then it probably isn't. Many people make the mistake of looking outside themselves for answers, and this often leads them to make choices that aren't authentic. As a Scorpio, you are blessed with powerful intuition and a strong sense of self. Remember that when decisions have to be made this week. If you do what feels right when the time feels right, then you won't go far wrong.
---
Want a one year forecast to understand the scope of influence for your personal Cards of Destiny?
Cards of Destiny Report
---
Sagittarius: "In the long run, the pessimist may be proved right, but the optimist has a better time on the trip." Daniel Reardon's quote has a negative undertone, but the way the planets are stacked in your favor this week, it might be that you have a better time on the trip and you are proved right at the same time. Whatever has been an albatross around your neck or a heavy burden on your shoulders is soon likely to leave you in peace, liberating you to move on to a happier future with renewed optimism.
---
Contemplating a move? This report tells how you will react to the energies of the specific locations for relationships, finances, and security.
Relocation Information Report
---
Capricorn: "A man is a success if he gets up in the morning and gets to bed at night and in between he does what he wants to do." Bob Dylan's quote highlights the theme for the first week in October as the planets beckon you toward a more successful future. It is highly likely that if you haven't already, you will soon experience a lucky break or a positive development in your professional life. This is a great time to push forward with your ambitions or even to head off in a new direction.
---
Discover your character traits, relationship and career potentials – based on Edgar Casey Readings.
Cayce Past Life Report
---
Aquarius: "The real voyage of discovery consists not in seeking new landscapes but in having new eyes." Marcel Proust reminds us that the need to constantly seek new places and novel experiences could actually distract us from a more meaningful existence. If we need to keep jetting off to find happiness, then perhaps there is something wrong in the way we're living. This week, the planets invite you to be adventurous, but maybe what's really needed is a mental or spiritual adventure or for you to simply see the beauty of what's already around you.
---
Discover your past life connections that can carry over into your current life, accounting for interests, habits, even phobias.
Karmic Past Life Report
---
Pisces: You can experience a new lease on life as you prepare to transform either an aspect of yourself or your entire life. This involves letting go of the old since we can't experience rebirth while we're clinging to the past. This needn't be difficult or painful. In fact, it could all feel quite easy, especially if you're ready to move on, in which case you can expect events this week to be rather liberating. Thinking about the following quote by Danielle LaPorte could be helpful: "Can you remember who you were before the world told you who you should be?"
---
Discover your soul's intention for this lifetime, the lessons to be learned, qualities to develop, problems to be resolved, services to be rendered.
Karmic Insight Report
---
For more information about your Horoscope and what the stars
have in store for you, order one of our detailed
Astrology Reports for Couples!
---
Want to know the theme of your relationship? This report compares your temperaments and personalities, whether you are married or living together.
Compatibility Report

Reveal as much information about you and your partner intention of opening doors of understanding and awareness.
Love Cards Report