#Horoscope #Aries #Taurus #Gemini #Cancer #Leo #Virgo #Libra
#Scorpio #Sagittarius #Capricorn #Aquarius #Pisces
#Horoscope – overview of this week
The Center for the New Age is pleased to present
your Free Weekly Horoscope for November 13 – November 19, 2016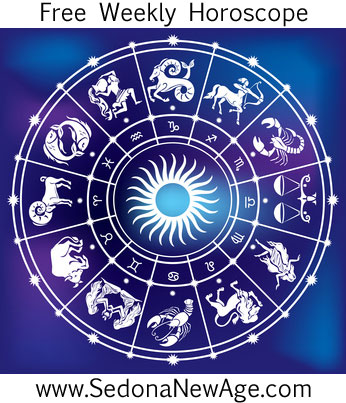 Receive our Free Weekly Horoscope in your Inbox

---

Aries Taurus Gemini Cancer Leo Virgo Libra Scorpio Sagittarius Capricorn Aquarius Pisces
Full Moon in Taurus on November 14 invites us to celebrate beauty and the perfection of the valuable elements of the earth, and brings us an appreciation for the beauty in nature. The Taurus totem is the bull and in all its splendor, the bull is a marvelous and classically stubborn creature of habit. This Full Moon reminds us to take the time to enjoy and create beauty around us, and indulge ourselves a little in some luxurious pleasures or leisure time. For those who realize the importance of celebrating planet Earth, now is the time to reflect on what you do have and how it is that these physical gifts of Earth can be enjoyed. Ask Mother Moon to bring you what you need and she will teach you how to sow for the harvest of your desire.
Finally, Neptune resumes a direct-moving course in Pisces on November 19 after five months of being retrograde. This will regenerate the process of our spiritual and intuitive work and facilitate our progress. Neptune's calming and forgiving nature helps us let go of all malicious and non-productive crystallized thoughts and melts away cold-heartedness. Invoke often the spiritually uplifting meditations that work for you, and you will soon find that you are on a positive and regenerative track with regard to your spiritual evolution.
Mercury in Sagittarius sextile Mars in Aquarius (November 15 – November 19) brings out opportunities that can be received, recognized, communicated and acted upon. News or information may lead to the taking of immediate action. People are likely to back up their statements with action during this period, and it would be a good time to apply diplomacy.
Mercury in Sagittarius square Neptune in Pisces (November 18 – December 2) brings about difficulty with communications concerning the challenges and obstacles of the spirit world and human spirituality. While Mercury is squaring to Neptune, our minds are a lot more challenged regarding issues of divine experience, and relaying all this information may seem all the more difficult with this aspect. Anticipate religion related arguments and disputes, and resistance to spiritual teachings.
Venus in Capricorn is sextile Neptune in Pisces (November 19 – November 27). Love, art, beauty and feminine expression enhance spirituality. Love is given an opportunity to infiltrate in a spiritually enhanced fashion. Venus sextile Neptune is a good time to focus love on spiritual beliefs. This aspect can have a strong healing effect on the soul, and reaches into the feminine parts of our being with a calm fortitude.
Aries Taurus Gemini Cancer Leo Virgo Libra
Scorpio Sagittarius Capricorn Aquarius Pisces

For more information about your Horoscope and what the stars
have in store for you, order one of our detailed
Astrology Reports!
Want to know the theme of your relationship? This report compares your temperaments and personalities, whether you are married or living together.
Compatibility Report

Reveal as much information about you and your partner intention of opening doors of understanding and awareness.
Love Cards Report
Free Weekly Horoscope for your Sign
Aries: Financial matters can be brought to a head when the Full Moon illuminates the material angle of your chart. This would be a good time to wrap things up or make an important decision. Just be aware that our judgment can often be a little off the mark under a Full Moon, and also consider that the answer to any problem could very well be to make an adjustment. It might not need to be a big adjustment. Sometimes a minor tweak is all that's needed, but whatever the state of your finances and material life, now is the time to sort things out.
---
Discover a personal profile and 1-year forecast based on advanced calculations of your name and birth date.
Numerology Report
---
Taurus: As the Moon begins to grow full in your sign, marking a turning point, it might be helpful to release unnecessary attachments. Who or what do you need to let go of? Who or what are you still emotionally attached to that is no longer (or should no longer be) in your life? The current planetary picture suggests that it's time to cut loose and move on. Those under the sign of Taurus find it difficult to let go of attachments, so you may need a bit of help with this one. You could try taking the honeysuckle Bach flower remedy to help release the past and live in the present. Perhaps you could take a photograph or an image that represents the situation and burn it, or you could visualize the person or situation drifting away in a hot air balloon. Find a way to release old, unnecessary attachments and you'll feel lighter, more energized, and more able to move forward.
---
Need a guide for your growth and personal evolution based on astrological influences upon your personality?
New Age Natal Report
---
Gemini: As the Moon grows full in the zone of your past, it could be time to bring conscious awareness to stuff that has been going on behind the scenes for some time. Bringing things out into the open is a wise move now so long as you feel ready to do so, and this is a good opportunity to heal old wounds and move on from the past. Work and health might be strained in the days leading up to and around the Full Moon., but there is plenty of good that is likely to emerge at this time; namely, you will experience a growing sense of clarity and awareness and an end to confusion and uncertainty.
---
This interpretation of your birth chart is written in simple language could be beneficial in self undestanding.
Merlin Report
---
Cancer: The good times continue as the Moon grows full in your social zone. This is a week to remember the importance of friendships and that happy times spent in good company are what really matter. Therefore, social events get a five-star rating this week, especially early in the week. This is a good time to connect with like-minded people. The Full Moon should inspire you to take time out to relax and enjoy yourself. Everything else can, and will, wait.
---
Indra reveals your life's contradictory urges & drives as well as your basic motivation, perceptions, inclinations and character.
Indra Report
---
Leo: Leos don't usually have a problem when it comes to tooting their own horns, and the Full Moon on November 14 is a good time to let it be known that you exist and that you're good at what you do. Perhaps this is the week for a spot of self-promotion if you feel that you could be playing a more influential role. If there's a position that you would like, go all out for showing people why you're the best, and if you have an ambition that you'd love to fulfill, now is the time to start waving your own flag and believing that anything is possible.
---
Want a detailed report for parents to help with the child's growth to strengthen the assets and avert possible problems that the child could face in their life?
Child Astrology Report
---
Virgo: Life has a tendency to feel stagnant when we keep doing the same things over and over, and every so often, it helps to push out of our comfort zones and try something different. The Full Moon on Monday encourages the spirit of adventure, so think outside the box and broaden your horizons by subjecting yourself to new people, places, or concepts. And if you can't go on an actual adventure, heed Marcel Proust's quote: "The real voyage of discovery consists not in seeking new landscapes but in having new eyes."
---
Want a birthday to birthday practical guide to help you recognize opportunities and to learn from them.
Astrological Solar Return Report
---
Libra: The financial theme continues this week, but this time it's imbued with complications, probably involving other people, and you might need to consider whether everything is as fair and balanced as you would like. Either way, a financial matter is likely to come to a head around the Full Moon and the best way forward is to be willing to adjust. Sometimes what appears to be a big problem can be resolved by making a small tweak, so don't look for a big dramatic solution. Instead, look for that which is easy, simple and really quite obvious.
---
Want to know the actual dates when the energies will influence your life in money, career, relationships, and communicaton?
Astro Forecast Report (3 months)
---
Scorpio: The law of inertia states that an object will keep going on its trajectory unless acted on by an unbalanced force. In other words, objects have a tendency to keep doing what they're doing unless forced to change. This applies to people too. While there isn't likely to be an unbalanced force making you completely change course, this week's Full Moon could require an adjustment, which is probably no bad thing. If something in your life isn't working, then this week could be uncomfortable. If you start making those all-important adjustments, you'll be rather impressed with the results, and where previously there was stagnancy, soon there will be progress.
---
Want a one year forecast to understand the scope of influence for your personal Cards of Destiny?
Cards of Destiny Report
---
Sagittarius: The Full Moon is likely to bring to a head whatever issue the New Moon raised at the end of last month. That is why it was important for you to not bury any uncomfortable feelings or issues. The more you dealt with them, the easier this Full Moon will be, confirming that you're on the right track. It could be that you need to make one or two further adjustments, and it's likely that your work, health or day-to-day life is the key area needing some adjustment. If your energy seems low or you lack your usual motivation and enthusiasm, take it as a sign that you need to rest and focus more on your inner world as opposed to your outer life.
---
Contemplating a move? This report tells how you will react to the energies of the specific locations for relationships, finances, and security.
Relocation Information Report
---
Capricorn: The Full Moon on Monday brings the opportunity for some light relief, so if life has been intense recently, then this would be a good time to embrace spontaneity and have some fun. We all need to remind ourselves periodically not to take things so seriously, so whether you immerse yourself in a creative activity or simply enjoy an extended lunch break, the challenge is to take pleasure in whatever you're doing and seek out opportunities for fun and creative expression. You might need to be mindful of what's going on at home or around you with people close to you, but try not to let this impinge on having a good time. You deserve to let your hair down once in a while.
---
Discover your character traits, relationship and career potentials – based on Edgar Casey Readings.
Cayce Past Life Report
---
Aquarius: As the Full Moon grows in your domestic zone, you will likely have to spend some time dealing with family or home issues this week, or perhaps the Full Moon highlights an emotional situation that needs your attention. Either way, this is a week when matters are likely to come to a head. You need to make sure that your boundaries are in place – literally or figuratively. Changing your attitude could be the key, as a simple adjustment in the way you see a situation could instantly turn it from a negative to a positive one.
---
Discover your past life connections that can carry over into your current life, accounting for interests, habits, even phobias.
Karmic Past Life Report
---
Pisces: Authenticity in your communications is the theme for the week ahead as the Moon grows full in the zone of your mind. This can be a time of blossoming and fulfillment within a relationship, especially if you're willing to listen. Or the Full Moon could bring clarity to an area of confusion. It would help to question whether you are being allowed to speak your truth or not, and if you're not, who or what is stopping you? By the end of the week, you should be furnished with some answers that will enable you to be better able to direct the course of your own life.
---
Discover your soul's intention for this lifetime, the lessons to be learned, qualities to develop, problems to be resolved, services to be rendered.
Karmic Insight Report
---
For more information about your Horoscope and what the stars
have in store for you, order one of our detailed
Astrology Reports for Couples!
---
Want to know the theme of your relationship? This report compares your temperaments and personalities, whether you are married or living together.
Compatibility Report

Reveal as much information about you and your partner intention of opening doors of understanding and awareness.
Love Cards Report