#Horoscope #Aries #Taurus #Gemini #Cancer #Leo #Virgo #Libra
#Scorpio #Sagittarius #Capricorn #Aquarius #Pisces
#Horoscope – overview of this week
The Center for the New Age is pleased to present
your Free Weekly Horoscope for November 20 – November 26, 2016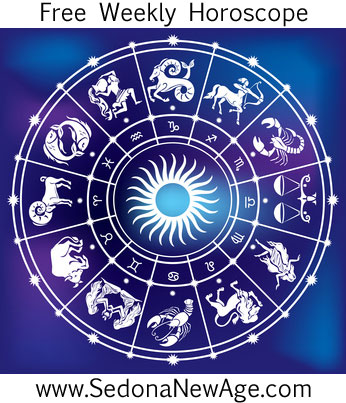 Receive our Free Weekly Horoscope in your Inbox

---

Aries Taurus Gemini Cancer Leo Virgo Libra Scorpio Sagittarius Capricorn Aquarius Pisces
Last Quarter Moon in Leo on November 21 urges us to take special care of ourselves as well as the children in our lives. Projects of interest are sometimes considered to be children as well. If you have a hobby of special interest, take the time to brighten and enliven this work which represents your own talent and bears the mark of your own approval.
Mercury in Sagittarius sextile Jupiter in Libra (November 22 – November 26) is a most favorable, although short lived aspect that brings the potential to receive good news of expansion and prosperity to those who are open to broadening their awareness. Mercury brings news while Jupiter brings wealth and prosperous advancement. For some folks this serves as an advantageous time to ask for a job or a loan. This is an especially good time to look openly for opportunity when sharing information, and to promote oneself and one's actions. For some folks this may even be a good time to start a new enterprise.
Mercury and Saturn conjunct in Sagittarius (November 23 – December 2) brings critical thinking that needs to be applied to serious or challenging mental work. Without a productive outlook for the intellect, your mind may dwell on negatives and you would find it difficult to get out of such a rut. Such negative thinking can lead to depression and difficulties in communication. The key to dealing with the heaviness of this transit is positive thinking and applying your brain to important tasks or even routine duties. Keeping yourself busy will counteract the tendency toward melancholy and meanness. This is a good time for things requiring sustained concentration, patience and sound judgment. A common sense approach, attention to detail and long-term outlook make this an ideal time for setting long-term plans.
Jupiter in Libra is square to Pluto in Capricorn (November 24 – October 20, 2017). This aspect last occurred in May of 2010 and it usually happens every six years. Jupiter represents prosperity, and plays a big role in the ebb and flow of our expenditures and economy. Pluto represents power structures and the transformations we undergo to main them. The square aspect brings obstacles. This aspect is likely to bring an economic shift that, for some, may seem rather hellish. Avoid heavy gambling and risky expenditures, and expect a few rounds of difficult economic transformations during this tricky period of the Jupiter-Pluto square.
Venus and Pluto conjunct in Capricorn (November 25 – December 2) often places affections and love right where they are needed most: the areas of life that are deeply challenging and sometimes traumatic. It also intensifies love related efforts and, at times, our affections may seem overpowering or daunting in some way. Venus conjunct Pluto represents the union of beauty and strength; in the sign of Capricorn, this conjunction emphasizes the sobering awareness that is taking place with regard to the transformation process of love and attraction. This is a good time to find love's powers and unite them within.
Venus in Capricorn is square to Jupiter in Libra (November 25 – December 5). A love for variety and the pursuit of pleasure is often stifled by the realization that many prudent measures are needed to deal with economic shifts. Hardships around money issues may be prevalent in love relationships. Don't let money matters soil the beauty of loving affection for your relationship, but expect the possibility that this might well be the case with others.
Aries Taurus Gemini Cancer Leo Virgo Libra
Scorpio Sagittarius Capricorn Aquarius Pisces

For more information about your Horoscope and what the stars
have in store for you, order one of our detailed
Astrology Reports!
Want to know the theme of your relationship? This report compares your temperaments and personalities, whether you are married or living together.
Compatibility Report

Reveal as much information about you and your partner intention of opening doors of understanding and awareness.
Love Cards Report
Free Weekly Horoscope for your Sign
Aries: The intensity of the past few weeks is nearly over, and from November 22, life will begin to feel lighter and more adventure filled. However, battening down the hatches and waiting for the planetary energies to shift would waste an opportunity to learn something important about yourself. The Sun's journey through the deepest, darkest area of your chart will not always be pleasant, but it will procure some useful insights if you're prepared to sit with or examine any uncomfortable feelings. Running away from what you fear will only make the fear stronger. Conversely, turning around and facing the fear head-on will drain its hold over you and set you free from its grip. Be brave this week.
---
Discover a personal profile and 1-year forecast based on advanced calculations of your name and birth date.
Numerology Report
---
Taurus: What would you take with you if you were journeying to the underworld? Maybe you would take a torch, blanket, and lucky charm? A map or a compass would probably be of little use; items that will keep your spirits up and enable you to tackle things that you might find lurking in the shadows might be better. Journeys are always a lot easier when we prepare for them, so this week as the planets get ready to descend below ground, it might help to have an idea of what you hope to emerge with from your journey. Some form of buried treasure lies waiting; all it takes to claim it is a little courage.
---
Need a guide for your growth and personal evolution based on astrological influences upon your personality?
New Age Natal Report
---
Gemini: The themes of work and health continue until the latter part of the week, but matters should now be easier or at least improving. From the end of the week, the emphasis shifts to relationships, and you could find that you're being called to greater responsibility or a need to sort things out and resolve issues. When dealing with other people – colleagues, romantic partners, or acquaintances – it's easy to react emotionally or immaturely, but what's called for now is a more mature way of relating to people. For example, perhaps you need to be firm in setting boundaries, or maybe you need to communicate in a more assertive manner. Maybe you need to take more control or have more authority. Whatever feels right for you is probably the best way to improve not just your relationships but also your self-esteem.
---
This interpretation of your birth chart is written in simple language could be beneficial in self undestanding.
Merlin Report
---
Cancer: Much of the week holds opportunities for fun, relaxation and enjoyment, so use the next few days to get in touch with what's really good for you. If you're not sure, simply watch where your energy wants to lead you. Observing the body can be very useful to help us realize what we need to do more or less of. If your energy lifts or falls when doing a certain activity, then make a mental note to see whether you can make appropriate changes. The purpose of life is to do what we love, not spend our days being miserable or simply getting through the week. You have the chance now to become more aware of what brings you joy and to make those things a bigger part of your life.
---
Indra reveals your life's contradictory urges & drives as well as your basic motivation, perceptions, inclinations and character.
Indra Report
---
Leo: Getting the balance right between work and home isn't always easy, but it's a balancing act that is worth perfecting. When we are stable and happy at home, we have the perfect foundation upon which to build our ambitions and go out into the world, confident that we're capable of achieving them. Conversely, when our home life (or inner selves) is neglected, any success in the outside world is likely to be temporary or somewhat empty. If you're not completely happy at home, use this week to work out why, and try to make the necessary adjustments. Sometimes thinking creatively enables us to make a simple change that solves the problem.
---
Want a detailed report for parents to help with the child's growth to strengthen the assets and avert possible problems that the child could face in their life?
Child Astrology Report
---
Virgo: The power of the word is often underestimated; we don't always realize how damaging a sharp word or a lack of proper listening can be. If only everyone spoke nicely and kindly to everyone else, then we would live in a peaceful world. As the Sun continues his journey through your zone of communication, this would be a good time to pay attention to how what you say (and how you say it) affects others. Make it your mission to communicate with love and understanding, and any tensions will be quickly ironed out.
---
Want a birthday to birthday practical guide to help you recognize opportunities and to learn from them.
Astrological Solar Return Report
---
Libra: As the Sun continues his journey through your financial zone, the potential to make progress in this area is high. In fact, the ability to make progress in any area that feels important is high now as Jupiter in your sign gives you the potential to make life-affirming choices. Any limitations are likely to be of your own mind, so watch out for self-sabotaging thoughts. Think big, aim high, and keep the faith, and the pieces should all start falling into place. If you have to try too hard, you're probably barking up the wrong tree. Switch to what feels easy, enjoyable and effortless and what brings a sense of expansion.
---
Want to know the actual dates when the energies will influence your life in money, career, relationships, and communicaton?
Astro Forecast Report (3 months)
---
Scorpio: As the Sun moves into your money zone and joins Saturn and Mercury, it's important now to focus on the material side of life with a view to becoming more empowered, responsible or innovative. Take whichever trait feels the most relevant and work toward implementing it. For example, if you need to be more financially empowered, what would that look like? What would you be doing? What changes would you need to make? How would you be different? There is great potential for long lasting and constructive change in your material life now, so don't waste this valuable opportunity.
---
Want a one year forecast to understand the scope of influence for your personal Cards of Destiny?
Cards of Destiny Report
---
Sagittarius: Life takes a turn for the better this week as the Sun enters your sign and joins Saturn and Mercury. Now is the time to take charge, and you should feel that you can move forward again. Your energy and enthusiasm should return; until you get to that point, it's a case of tying up loose ends, sorting whatever needs sorting, and preparing a space for the new, which is just around the corner. This is a week for biding your time for the tide to turn, for turn it certainly will – and sooner than you think.
---
Contemplating a move? This report tells how you will react to the energies of the specific locations for relationships, finances, and security.
Relocation Information Report
---
Capricorn: This week, the emphasis is on friends, groups, your hopes for the future, and the difference you're capable of making to society. One of these is likely to be a theme now, along with increasing responsibility – which sometimes might feel a bit heavy. Remind yourself that you're in a position to make constructive changes and that a mature attitude will be a shining example to others, as well as having a positive effect on the outcome of your own affairs. Don't get caught up in gossip or negative talk. For example, it could be easy for a friend or an associate to be less than encouraging, so what's needed is a shield to protect yourself and the conviction that you can make a difference or that you can achieve what you've set out to do.
---
Discover your character traits, relationship and career potentials – based on Edgar Casey Readings.
Cayce Past Life Report
---
Aquarius: The focus is still on where you're going in life, whether that relates to what you're doing with your work or more that you feel as though you're truly fulfilling your purpose and heading in the right direction. It could also be time to consider whether you have ambitions that you still feel would be nice to fulfill. Whatever occurred around the start of the month can be capitalized on now, so do your best to move things forward rather than allowing things to slide.
---
Discover your past life connections that can carry over into your current life, accounting for interests, habits, even phobias.
Karmic Past Life Report
---
Pisces: If your energy isn't as strong as you would like it to be, now is a good time to look at what invigorates you and what drains you. The Sun – the source of all energy – is travelling through your zone of adventure, inspiration and expansion, thus encouraging you to reach beyond your normal everyday confines and tap into something that ignites your imagination. Whether this is a short-term or long-term measure is up to you, but you are being advised to spread your wings and take flight. Perhaps now is a good time to weed out anything that weighs you down and stops you from soaring.
---
Discover your soul's intention for this lifetime, the lessons to be learned, qualities to develop, problems to be resolved, services to be rendered.
Karmic Insight Report
---
For more information about your Horoscope and what the stars
have in store for you, order one of our detailed
Astrology Reports for Couples!
---
Want to know the theme of your relationship? This report compares your temperaments and personalities, whether you are married or living together.
Compatibility Report

Reveal as much information about you and your partner intention of opening doors of understanding and awareness.
Love Cards Report